With Election Day tomorrow, many bars and restaurants have gotten into the patriotic spirit by creating cocktails just for the occasion. Here's a few that have of popped up around the country. Are there any others you know of?
At the Grant Grill in San Diego, inside the historic U.S. Grant Hotel where 14 U.S. Presidents have stayed, Mixologist Jeff Josenhans has created the Off the Record ($12) cocktail. The cocktail is made with Kona Coffee Bean Infused High West Double Rye Whiskey from Utah to represent GOP hopeful Mitt Romney, and Macadamia Nut Liqueur to represent President Obama. It's finished with a Macadamia Nut Rim, a Coffee Bean Garnish and served on the rocks.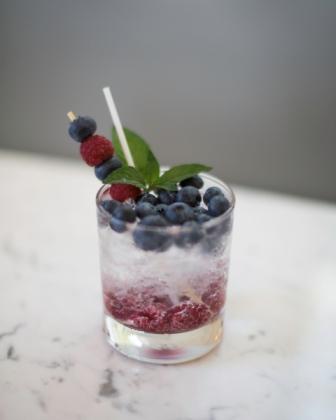 Credit: Washington School House
Jay Z's The 40/40 Club in Midtown Manhattan is offering the USA Martini ($10), a layered cocktail made with Godiva white chocolate liqueur, grenadine, blueberry vodka, vanilla vodka and blue Curacao. The upscale restaurant and sports lounge recently reopened following a $10 million dollar renovation and expansion.
The Washington School House Hotel in Park City, Utah is named after, yes, George Washington himself. As an ode to its name and to election season, the hotel has created The First President. This festive cocktail incorporates fresh berries, High West vodka from the local High West distillery in Park City, St. Germain, club soda and is free to guests of the hotel.
On Tuesday, November 6th, Brasserie by LM in Chicago invites guests to their restaurant and bar to watch Election Day coverage. Located across the street from Grant Park, President Obama's 2008 celebration site, the restaurant will offer Stars and Stripes Cocktails for $9. The Red is a Cosmopolitan with vodka, Triple Sec, lime and cranberry juice, and The Blue is a Blue Crush Cosmopolitan with vodka, Blue Curacao and white cranberry juice. Guests can also enjoy Brasserie's Chicken Liver Mousse served with crostini, cornichons and grainy mustard, complimentary with purchase of a drink.
Searsucker, located in downtown San Diego and run by Top Chef finalist, Brian Malarkey, is known for its fun and uncomplicated cuisine. His Election Day cocktail comes from Pick & Rocks Cocktails, the in-house mixology firm that provides the cocktail menus and programs for all of five Malarky's restaurants. Ever flip flopping, but always optimistic, Searsucker will offer the Pundit's Punch ($12) made with Rum, Ginger, Lemon and Melon, for now... but by tomorrow, could be made differently.
At the Royal Palms Resort & Spa in Phoenix, Arizona, you'll find T. Cook's, The Great American Cosmopolitan. This cocktail takes a twist on the traditional recipe by combining Ketel One Citron vodka with lime juice, Cointreau, Grenadine and a pineapple foam.
Looking over the city of Chicago, Cityscape Bar will be offering two specialty cocktails representing each candidate, on November 6th. The "O"Bama-Tini will feature Absolut Mandarin Vodka, Blue Curacao, Amp Decibel and Sierra Mist, while the Warm Mittens Cocktail, will feature Cityscape's 12-year-old Elijah Craig Bourbon, fig preserves, Grand Marnier and soda. Each cocktail will be available for $9.