Beer on tap and now... cocktails? Yup, it's true. With the craft cocktail movement in full swing and everyone looking for the coolest, newest way to market alcoholic beverages, this is the latest trend to hit the bar scene. So who's doing it and how does it work? Read on...
The latest spot to debut this system is San Diego's The Neighborhood. While this downtown eatery has already cornered the market on fresh, sustainable food and craft beers (as well as craft cocktails in its hidden speakeasy-style bar, Noble Experiment) now, they feature an avant-garde, custom-made, 18 tap system that takes the time out of cocktail making and adds in sustainability.
By reducing the amount of cans, bottles, cups, and other components necessary to make a custom cocktail, bars reduce a significant amount of waste. Neighborhood owner, Arsalun Tafazoli says, "The new tap system offers a cleaner, better tasting beverage, whether it be wine, cocktails, or soda. In reducing the waste associated with bottles and cans, it's a more environmentally friendly way to serve any beverage." Simple cocktails like a Classic Negroni (made with gin, sweet vermouth and Campari) and a bourbon and root beer, are currently on tap/draft but additions and changes to the menu are likely.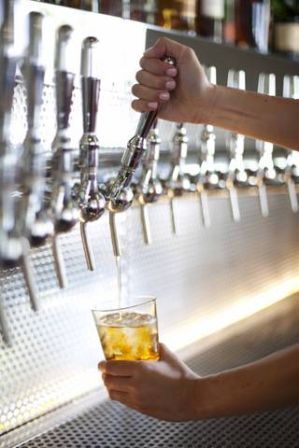 Tap System at The Neighborhood Credit: H2 Public Relations
At Tavernita, Chicago's trendy, Spanish-inspired bar/restaurant, three draft cocktails are currently on their menu, including the Booty Collins, which features green tea-infused Absolut vodka, passion fruit, lemon, cayenne and yohimbe for $11.50. In New York, head over to the new Saxon & Parole, where classic Manhattans are served from the tap for a whopping $15 and in foodie capital, San Francisco, you can get a Hanky Panky; made with Tanqueray gin, fernet and house sweet vermouth at Jasper's Corner Tap and Kitchen for a mere $9.
Though the trend is small, it's steady and definitely has innovation on its side. While it may not taste exactly like your hand-made-takes-a-million-hours-to-make cocktail, give them a try for yourself and tell me what you think. I'm betting if you're thirsty on a Saturday night, you won't miss the wait.