Trying to fit into your new bikini? Too bad. Because the following fatty-tastic foods will enlarge your waistline just by looking at them. Several state and county fairs have introduced new food items this year, that shouldn't be missed. Hint: There will be bacon. Lots of bacon.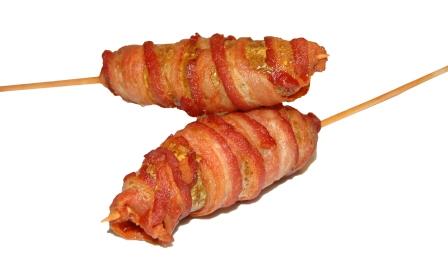 Deep Fried Bacon Wrapped Pickle Credit: Del Mar Fairgrounds
Made by food vendor, Bacon-A-Fair, this meat masterpiece is marinated, grilled, stuck on a skewer and served on a bed of veggies. And really, what's wrong with that? You can find this big boy exclusively at the Orange County Fair in Costa Mesa, California, July 12 - August 11.
Pink's Hot Dogs has created a beef dog topped with cream cheese, honey mustard, crumbled bacon and dark chocolate. Yes, chocolate. This decadent dog will also be found at the Orange County Fair.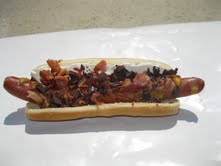 Ghiradelli Dog
Credit: Orange County Fair
Deep Fried Bacon Wrapped Pickle
From the people who brought you the Krispy Kreme chicken sandwich, comes the deep fried bacon wrapped pickle. Masters of the fryer, Chicken Charlie's, sticks this pickle on a stick for easy eating. You can find them first at the Del Mar Fair in San Diego until July 4, then at the Orange County Fair, and finally at the Los Angeles County Fair from August 30 - September 29.
You read that right. BACON BEER. Don't get too excited though, it's non-alcoholic. Made with root beer and a beer-battered slice of bacon, it's brought to you, again by those wizards of bacon, Bacon-A-Fair.
That's right; saucy, salty, meat, slapped between a Krispy Kreme Donut, and you can find it at all three So-Cal fairs: Del Mar, Orange County, and Los Angeles. Another shout-out to Chicken Charlie's for thinking of this one.
Sweet and salty all in one, that's the genius behind bacon cotton candy. You can find this sweet creation presented in a plastic bag at Odyssey in the Del Mar Fair.
From Piggly's at the Fair comes gator on a stick. Tenderized, then dipped in beer batter and deep fried until golden brown, it can be paired with BBQ sauce or Ranch dressing. Piggly's will share its creation at the Washington State Fair from September 6 - 22, the Arizona State Fair from October 11 - November 3 among others.