Ever wonder what the difference is between sushi and sashimi? How about roe versus caviar? Us, too! Check out the popular dishes and ingredients making waves on menus across the country to make the most of your next seafood feast.
1. Ceviche
Ceviche is a dish popular in the coastal regions of Latin America that's typically made with raw seafood cured in citrus juices -- lemon, lime, grapefruit or even orange -- and spiced with chili peppers. Other seasonings and herbs like onions and cilantro are often added for an extra kick of flavor.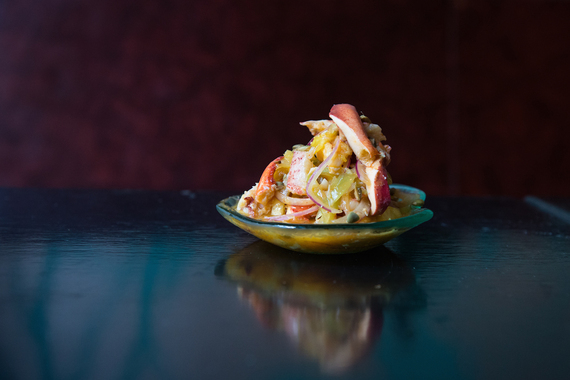 Photo provided by Mercadito.
At Mercadito in Chicago, guests can choose from four different types -- mahi mahi with chile de arbol, shrimp and pickled jalapeño, lobster with grapes or a seafood medley in passion fruit-serrano broth -- all tossed with fresh pico de gallo.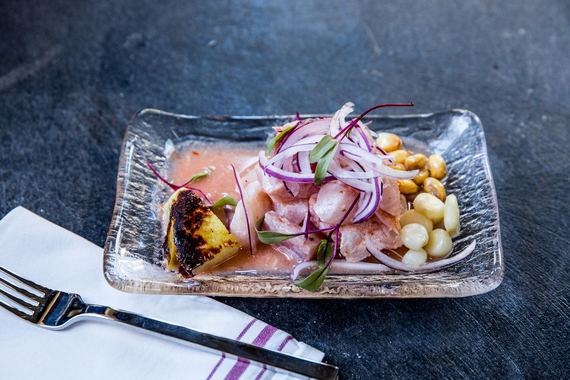 Photo provided by Mochica.
In San Francisco, Peruvian hot spot Mochica serves up several tasty combinations including mixed seafood with mussels, clams and shrimp, and Ahi tuna ceviche with toasted nori.
2. Crudo
Meaning "raw" in Italian, crudo is raw or almost raw meat or fish, often thinly sliced and lightly dressed with oil (extra-virgin olive oil is the standard), acid (such as lemon or lime juice) and aromatics (fresh herbs). The delicate slices are typically enjoyed as a light first or second course.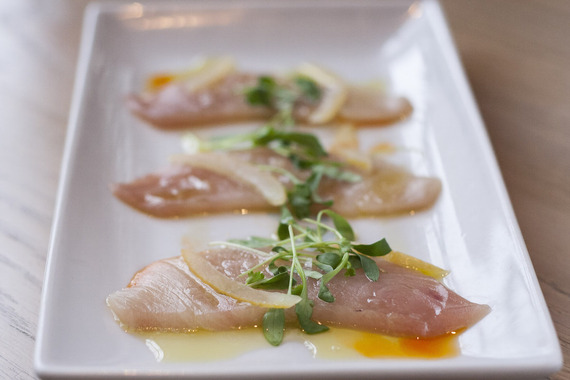 Photo provided by MK.
In the crudo at MK in Chicago, the daily catch of fresh seafood is drizzled with lemon Agrumato oil, and ingredients like blistered shishito peppers, seasonal apples or torpedo onion dust.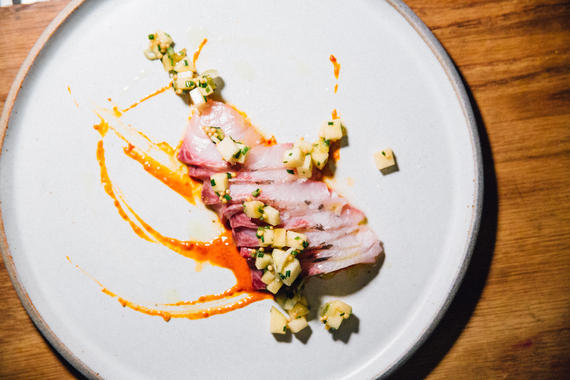 Photo provided by Dudley Market.
The daily selection of crudo at Dudley Market in LA is always beautifully presented and prepared using only the freshest seafood.
3. Razor clams
Razor clams -- which resemble a straight razor when closed -- are long, narrow saltwater clams.
Photo provided by Row 34.
Usually served raw or lightly cooked, they're often topped with a combination of delectable seasonings including toasted bread crumbs or nuts, peppers and spices -- like this preparation from Row 34, served only when local, fresh clams are available from Duxbury Bay.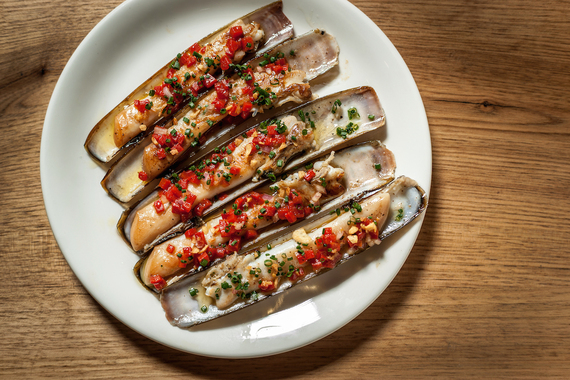 Photo provided by Toro.
Toro in NYC prepares razor clams with piquillo pepper, garlic and lemon -- perfect for sharing with friends and a glass of sangria.
4. Roe
The word "roe" refers to the eggs of fish and certain marine animals such as shrimp and scallops. Though "roe" and "caviar" are sometimes used interchangeably, caviar is technically a type of salted roe which comes from wild sturgeon found in the Black Sea or Caspian Sea.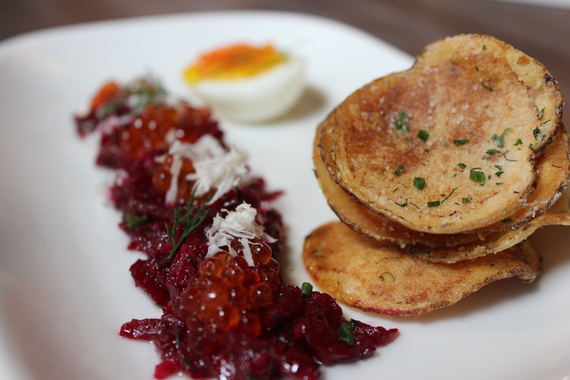 Photo provided by Abe Fisher.
In both cooked and raw forms, roe is often used as bright, briny garnish to add lovely color, flavor and texture to everything from raw tartares to lightly cooked eggs.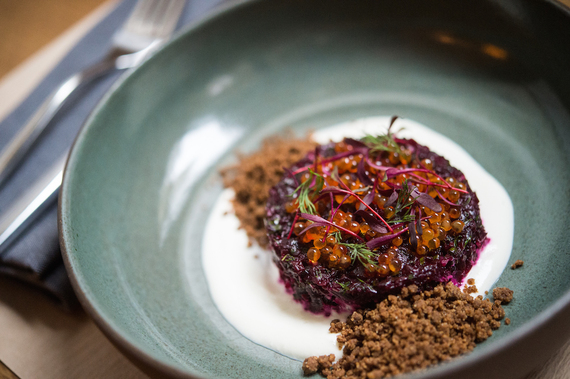 Photo provided by Little Park. Photo by Daniel Krieger.
In the beetroot tartare at Little Park in NYC, sweet and savory chopped beets are served with horseradish, rye and smoked trout roe.
5. Sashimi
Sashimi, meaning "pierced body," is a delicacy of extremely fresh, thinly sliced raw meat or fish. Often served with accompaniments like soy sauce, wasabi paste, fresh ginger and daikon radish, many chefs consider sashimi the finest dish in Japanese formal dining and recommend it be eaten before other strong flavors hit the palate.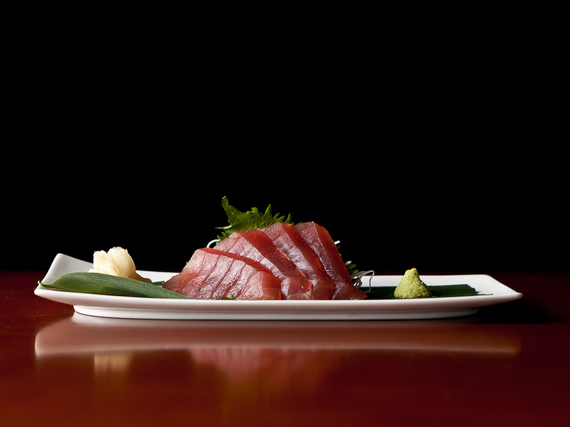 Photo provided by Ichi Sushi + Ni Bar. Photo by Alana Hale.
Ichi Sushi + Ni Bar in San Francisco offers seasonal, assorted sashimi to pair with a variety of rolls, skewers, salads and hot entrees.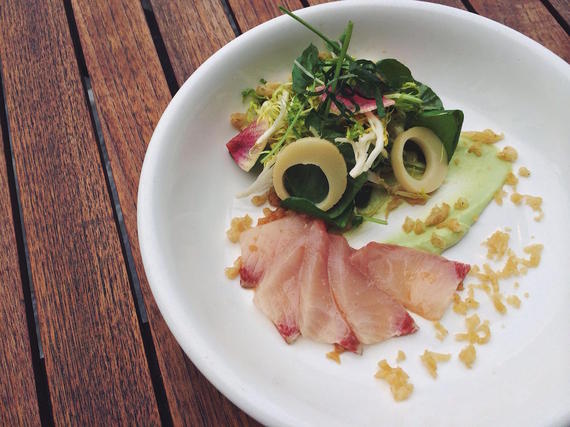 Photo provided by Abigaile.
At Abigaile in LA, hamachi sashimi is served with cucumber radish and other fresh, seasonal vegetables.
6. Sushi
Sushi, as opposed to sashimi, refers to any dish served with vinegared rice. Though raw fish is one traditional sushi component, some types of sushi contain cooked seafood or none at all. Presentations and ingredients vary widely, from petite rolls to palm-sized wraps, tropical fruit to pickled vegetables.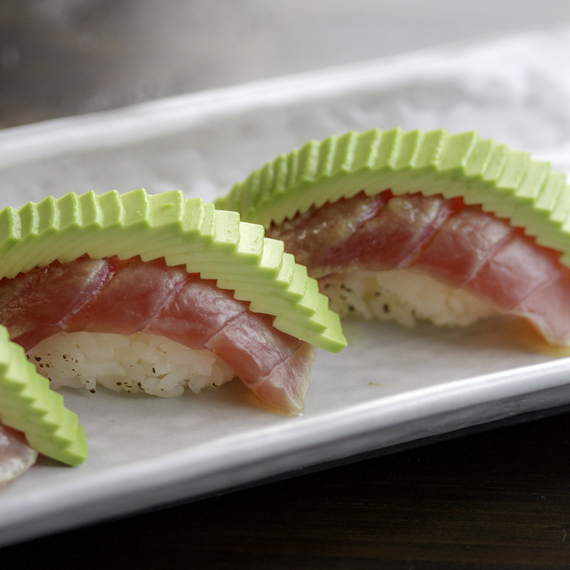 Photo provided by Sushi Dokku.
Sushi Dokku in Chicago delivers endless fresh sushi options -- including a stunning Tuna Truffle with seared bigeye tuna, truffle sauce and avocado.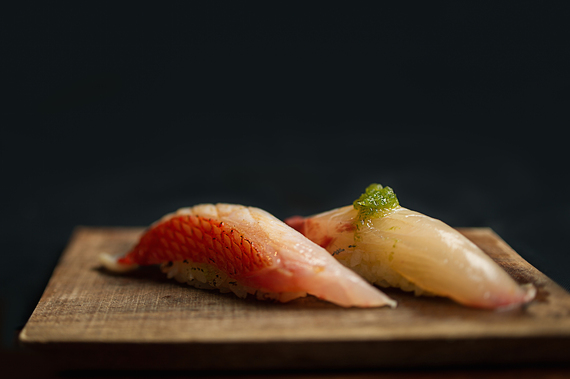 Photo provided by Maruya.
In San Francisco, Maruya features pristine sushi on its nightly omakase ("chef's choice") and a la carte menus.
7. Uni
Uni is the Japanese name for the edible part of the sea urchin, specifically the animal's gonads. The culinary delicacy ranges in color from rich gold to light yellow, has a creamy consistency and has a slightly sweet yet briny taste.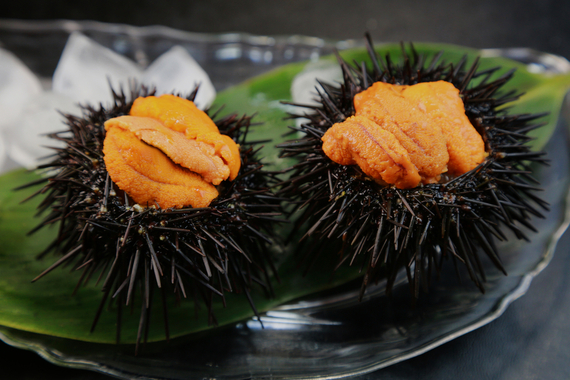 Sea urchin with uni inside.
It's often added as a final flourish to top off lots of dishes including pastas, toasts and even waffles!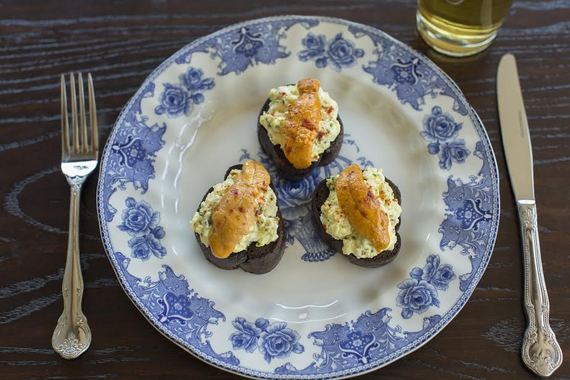 Photo provided by Ox & Son.
Ox & Son in LA dishes out delicious Uni & Eggs -- soft eggs and sea urchin atop black bread.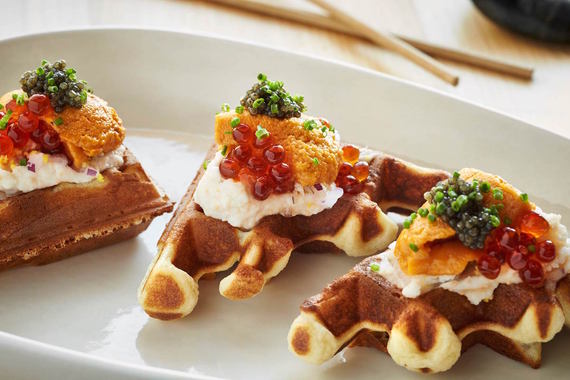 Photo provided by Yona.
At Yona in Washington D.C., the uni waffles come with a schmear of taramasalata (cured roe spread) and a dollop of caviar.
For all the latest on food, drinks and restaurants, visit the Reserve blog and follow us on Twitter, Facebook and Instagram.
Also on HuffPost:
PHOTO GALLERY
Seafood Recipes