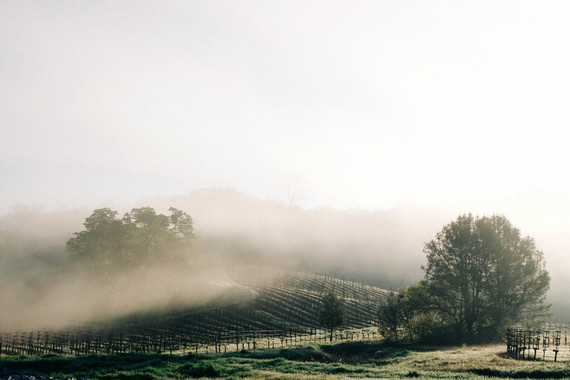 A winery in Napa Valley (Photo by Michelle Rae Uy)
It was a gorgeous scene--rolling hills of grapevines laid before us, half covered by the early morning fog, half painted by the sun's diffused light. It was dreamy and it was picture perfect; and more than enough to make getting up very early on a Saturday worth it.
We didn't come up there for the view, however; at least not from the ground. Disappointment marked our faces as our guides threw their hands up in defeat, apologizing profusely. Apparently, it was clear and sunny a few minutes before we arrived at the take off location; and the Napa Valley Aloft team was midway through inflating the vibrantly colored balloons that were going to take us up over the valley before "fogmageddon" started. It was only the fourth time that has happened in a year, they explained. Unfortunately, luck was simply not on our side that Saturday morning.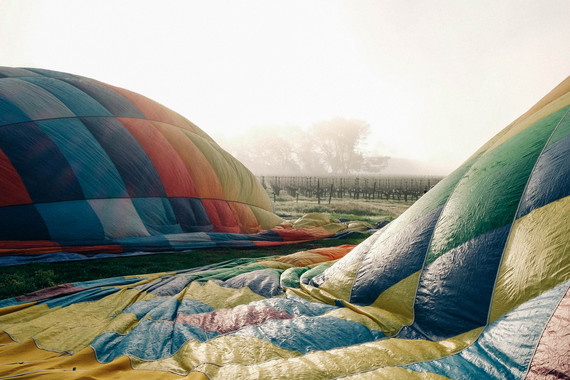 A hot air balloon ride is one of the many things you can do in Yountville, CA. (Photo by Michelle Rae Uy)
This setback on our Yountville weekend, however, was temporary. To start, the heavenly Bouchon chocolate cupcakes they had waiting for us at the original meeting point were enough to lift our spirits. As we made our way through each experience, one lovelier than the last, we were becoming convinced that it's impossible to ruin a trip there. The idyllic town located about two hours north of San Francisco is, after all, not only the preferred base for many of the unforgettable experiences Northern California's wine country has to offer. It's also home to some of the state's most amazing culinary spots, including the three Michelin-starred restaurants that choose to call this 1.5-square-mile town home.
Most of all, it's simply, undeniably, appealing--from its well-trodden streets bordered with open herb gardens and public sculptures to the ivy-covered buildings of wineries, restaurants and hotels that occupy most of the town's main strip, as well as the hills and vineyards that surround it. And that hot air balloon flight that never happened was soon forgotten.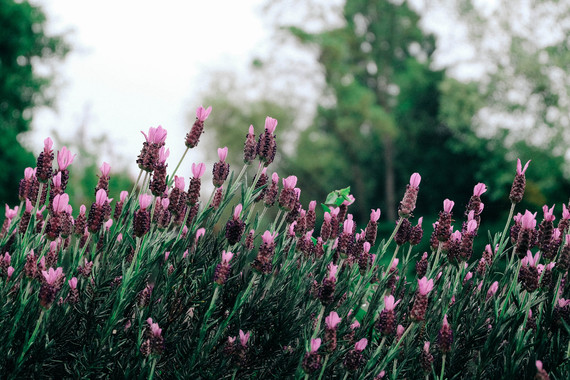 Lavenders abound in Yountville, CA (Photo by Michelle Rae Uy)
This being the wine country, one cannot walk or drive anywhere without seeing a winery, which can mean that it would be hard-pressed to find one that offers a more unique experience. It's its less traditional approach that we loved most about Ma(i)sonry on Washington Street. The winery collective hybrid--easily recognizable by the antique bicycle with sidecar that sits on its front porch--boasts a slew of occupations in its portfolio, including art gallery, vintage furniture shop and event space. This means that wine tastings and pairings here are more than just a gustatory experience, they're also a visual affair.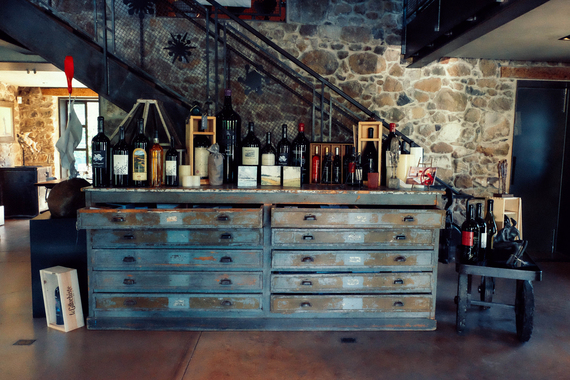 Inside Ma(i)sonry (Photo: Michelle Rae Uy)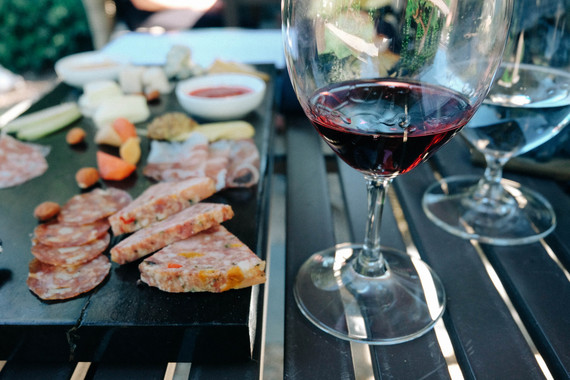 Wine and cheese/charcuterie tasting at Ma(i)sonry (Photo: Michelle Rae Uy)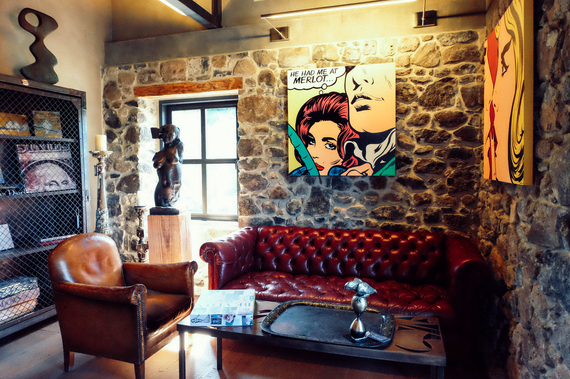 One of Ma(i)sonry's beautifully furnished rooms (Photo: Michelle Rae Uy)
Same can be said, actually, about our base for the weekend. A block away, the North Block Hotel--whose rooms are beautifully presented with gorgeous mahogany doors and chic yet simple décor--is ivy and wisteria covered, with Tuscany-inspired architecture and a less crowded location that gives guests a sense of intimacy and solitude. Much like most of the establishments in town, the boutique hotel welcomes guests with a glass of local wine and offers complimentary wine tastings. But it's also home to Chef Richard Reddington's casual outpost, Redd Wood Pizza Restaurant, which incidentally creates the lovely cheese and charcuterie plate served at Ma(i)sonry.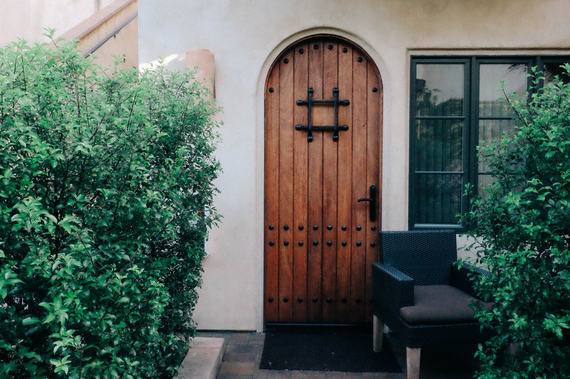 North Block Hotel (Photo: Michelle Rae Uy)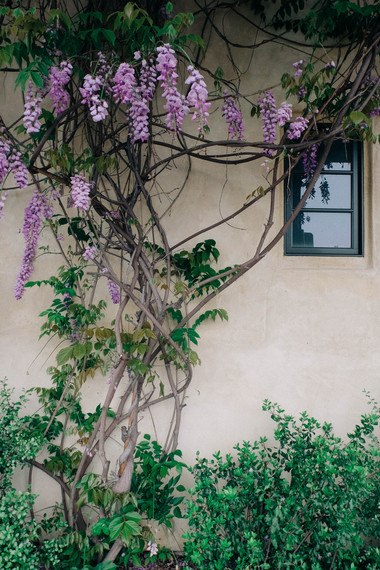 North Block Hotel (Photo: Michelle Rae Uy)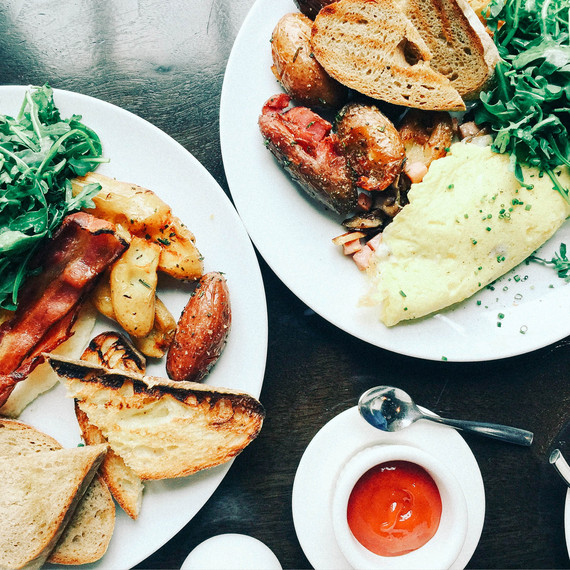 Breakfast plates at Redd Wood (Photo: Michelle Rae Uy)
Sundays in Yountville are traditionally spent on a leisurely brunch with families and friends, and none in town is as easy-going as that of Chef Thomas Keller's Addendum. Known as Ad Hoc's "footnote", Addendum's Sunday brunches are held outdoors at the establishment's private garden. But Ad Hoc, also known as French Laundry's casual, younger sister, is really more famous for its family-style, prix fixe dinners whose items are consistently amazing. It's a fact we can attest to, having experienced its cult classic buttermilk fried chicken; clam bake; and Cowgirl Creamery Mt Tam cheese, preserve and biscuit plate the night before. As someone who's sampled more than her normal share of fried chicken, I can say with certainty that Ad Hoc's is one of the best out there.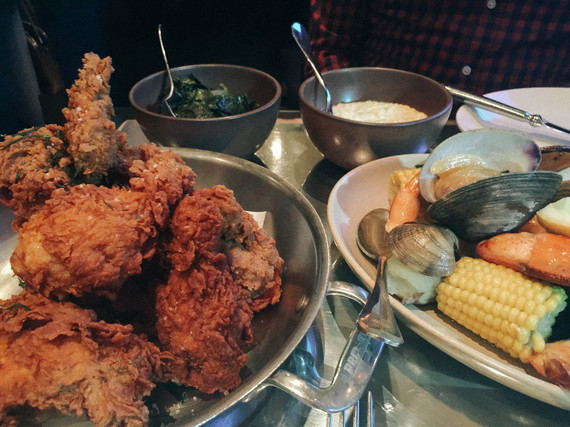 Ad Hoc's famous buttermilk fried chicken and clam bake (Photo: Michelle Rae Uy)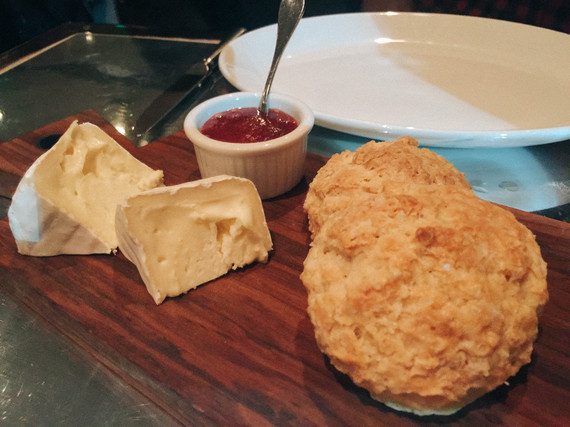 Ad Hoc's Cowgirl Creamery Mt Tam cheese, preserve and biscuit plate (Photo: Michelle Rae Uy)
Let's not forget, of course, Yountville's key players. Chef Thomas Keller's three-Michelin-star French Laundry, set in a stone farmhouse, is hailed for its elegantly prepared dishes; while sister property, one-Michelin-star Bouchon is loved for its traditional French bistro food. Or sample California wine country cuisine at Redd, which holds one star. Another worthy of a mention, although located outside of town, is Farmstead at Long Meadow Ranch and its hearty farm-to-table fares.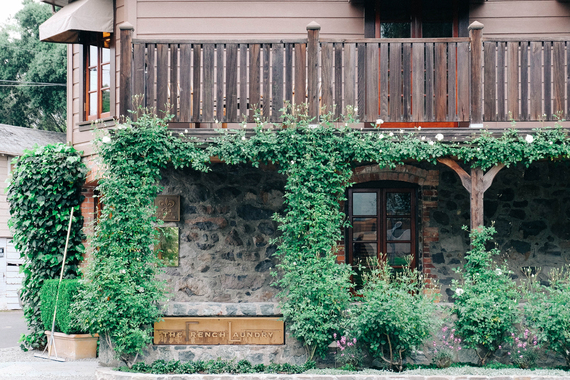 French Laundry (Photo: Michelle Rae Uy)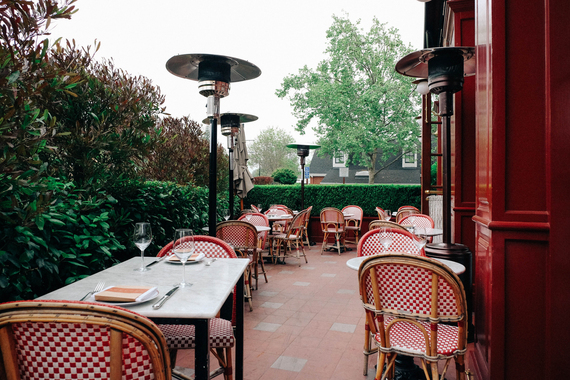 Bouchon (Photo: Michelle Rae Uy)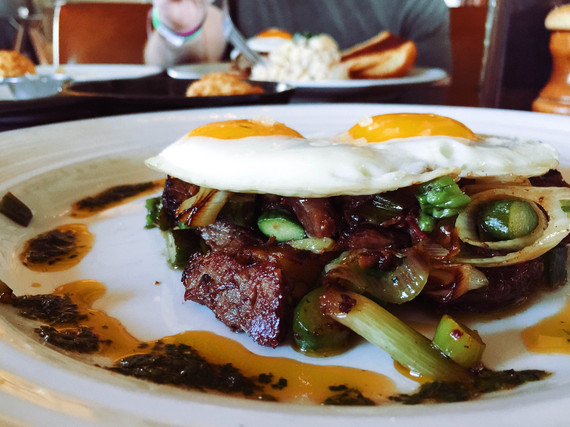 Beef hash at Farmstead at Long Meadow Ranch (Photo: Michelle Rae Uy)
Good food and great wine aren't Yountville's only draws, however. Our quick, Sunday morning bike ride around town and along the bike path running parallel with St. Helena Hwy revealed nearby rolling vineyards, expanses of green and more charming buildings imbued with endeavors and activities that come hand-in-hand with the slow paced life in the wine country.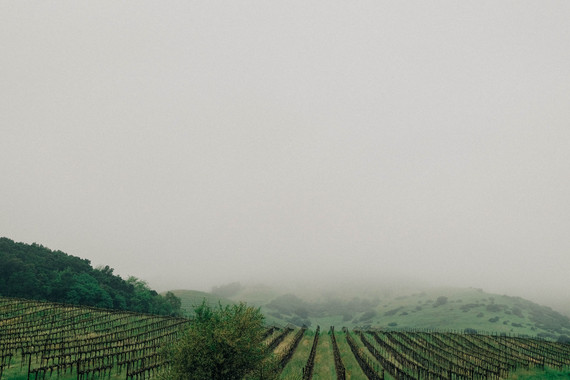 View from Yountville's bike path (Photo: Michelle Rae Uy)
Consider also Bardessono whose biggest accomplishment is being one of the select few hotels in the country that has been awarded LEED Platinum certification. The boutique hotel is one of the greenest in the country, employing some of the most eco-friendly materials and initiatives from housekeeping to heating and cooling. At $600 or more a night, accommodations at the hotel may be for those who can splurge; but treatments at the onsite spa are considerably more affordable for those on a tight budget. This being the wine country, a yummy vinotherapy massage may be on point; but the Bardessono Massage is also a good way to get rid of all those knots and tension.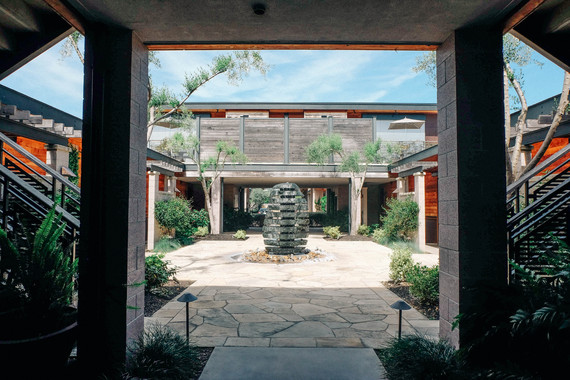 Bardessono (Photo: Michelle Rae Uy)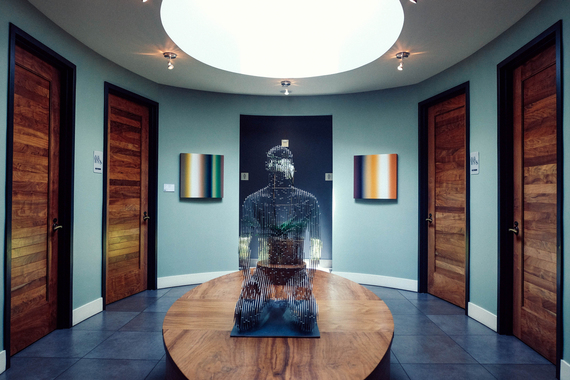 Inside Bardessono (Photo: Michelle Rae Uy)
Fall may be the wine country's busy season, but spring is a great time to go as well. Two of the town's biggest festivals, Yountville Live! and Taste of Yountville take place in spring, and attract wine lovers from many countries. This year, both events coincided on the first weekend of April, giving weekenders like us a chance to sample food and wine from some of the small town's best establishments (Bardessono's Lucy was in attendance, and their risotto is nothing short of wonderful!), as well as enjoy music from acts like the Goo Goo Dolls and Mayer Hawthorne.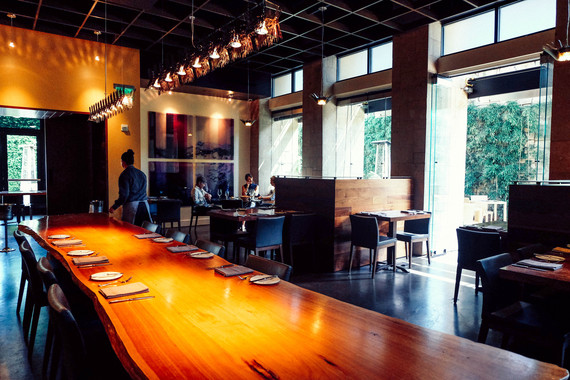 Lucy at Bardessono (Photo: Michelle Rae Uy)
Among the other hotspots in town worthy of a visit are V Marketplace, where Kollar Chocolate is located, Chef Michael Chiarello's Bottega Napa Valley, and the Outdoor Sculpture Walk, which features over 30 sculptures--most for sale--on loan from several different artists.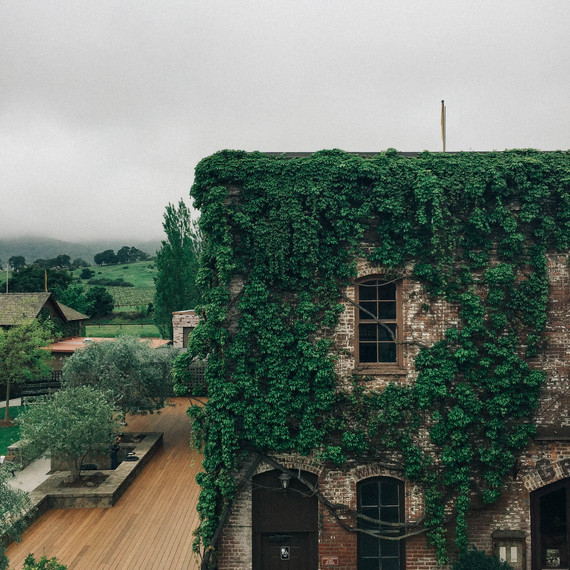 V Marketplace (Photo: Michelle Rae Uy)
But really, it all circles back to food and wine. It's no mystery why this small town's slogan is "Taste Life Here." People come to Yountville to quite simply enjoy life: to drink fine wine and appreciate good--nay, divine--food, the combination of which can and will put the crankiest and the most cynical in a happy, untroubled mood. Like I said, it's almost impossible to ruin a visit in this town.
On our last day, we were reluctant to leave. The harried streets of LA, while miles away still, threatened like an incoming storm. Before we went on our not-so-merry way, we had to make one last food stop. The line was already spilling out the door at Bouchon Bakery when we arrived that early Sunday morning, unsurprisingly. There's almost never no line there, it seemed; but that chocolate cupcake Aloft handed out as consolation was now forever stamped in my palate and I had to have it again.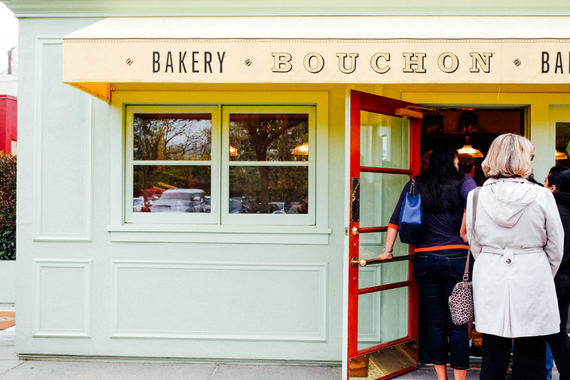 Bouchon Bakery (Photo: Michelle Rae Uy)
Inside its tiny shop, patrons huddled like sardines so there's barely any opportunity to feast on the goodies on display until it's your turn. But occasional glimpses of the bread, cookies and pastries on the glass-covered shelves are enough to make anyone want to order one of everything: madeleines, macarons, chocolate chip cookies, blueberry muffins, canelés, chocolate bouchons, pain au chocolats, croissants, oh ohs and more. So much more. We felt like what Charlie Bucket must have felt when he first walked into that chocolate factory (you know, if he were real.) When it was finally our turn, we managed with a great deal of effort to settle on a few items.
It was a hard thing to do when all that deliciousness was calling out to you.
Michelle Rae Uy is a travel writer, editor and amateur photographer based in Los Angeles. Check out her adventures on Another Spur on the Road. Click here for more of her photos from Yountville.