I had the pleasure of meeting Birgit one day when her good friend and furniture designer icon, Christopher Guy, introduced us to each other. We first met through email and as nervous and hesitant as I was I decided to ask her if she can help a starting designer/entrepreneur like me by offering some advice. She graciously accepted. We decided to meet over a cup of coffee at Urth Café in Beverly Hills. I made sure to get there at least 15 minutes early as I know Birgit is a very busy person. As I stood there anticipating her arrival, thoughts of "What if I don't ask the right questions?" or "I don't want to waste her time" ran through my mind. Finally, five minutes before our expected meeting time, I saw this blonde petite woman sporting an up-do ponytail and a beautiful warm smile approach me. She was everything and nothing that I thought she would be. She was glamorous and chic yet not the egotistical, overpowering persona as you would expect a woman of her stature to be. We talked and chatted about fashion and she gave me plenty of advice on what to do and expect in the fashion world. She listened to my plans and concerns and assured me that I am heading in the right direction. Birgit was nothing but pleasant and supportive. Right then and there, she instantly became another inspiration in my book.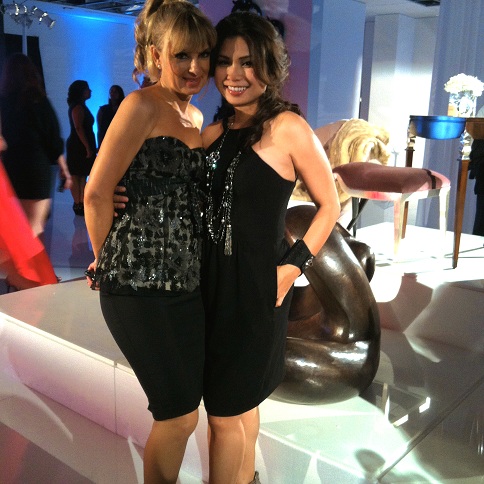 (At Christopher Guy's LA showroom unveiling. No purse needed... just a Miventi Wristlet on my wrist)
Birgit C. Muller is a talented and accomplished fashion designer who has come a long way from her beginnings as an assistant beauty and teen fashion editor for the German Conde Nast publication Miss Vogue. This was her first job post-college after graduating in London with a degree in journalism, publicity, and promotion. Her journey as a designer began when she was asked to style a photo shoot for Details magazine featuring Guns 'n' Roses. This project meant she would have to travel to LA and work on the shoot for several weeks. She immediately accepted this opportunity to venture out and see what else is out there. What was supposed to be a short six-week trip turned into a more permanent move as she quickly landed one job after another working as a photo editor for Transpacific magazine and finally at Sony producing a few low-budget martial arts movies.
She worked for more than a decade in the film and television industry for powerhouse conglomerates like Paramount, Disney, and Universal as an assistant costume designer and designer. During these years she had the opportunity to work for well-known and respected directors such as William Friedkin, David Lynch and Ridley Scott. She also worked as a right-hand person for award-winning costume designer, Marilyn Vance. Ms. Vance is credited in notable films such as Fast Times at Ridgemont High, The Breakfast Club, The Untouchables and Pretty Woman.
It wasn't until 2001 when Birgit joined the famous and most watched daytime soap opera, The Bold and the Beautiful, as their in-house costume designer, that she herself began making waves in the category of costume design. That same year, she was nominated for an Emmy award in the category of "Best Costume Design in Daytime TV" and was nominated again for the same category two years thereafter, eventually dominating the category and taking home the award in 2004, 2005 and 2006.
She definitely had her work cut up for her. Birgit not only had the responsibility of being the costume designer for the main characters but also had to fulfill the challenging role of designing the clothes for the show's rival fashion houses, Forrester Creations and Spectra Fashions. This meant often working on entire collections in less than 10 days.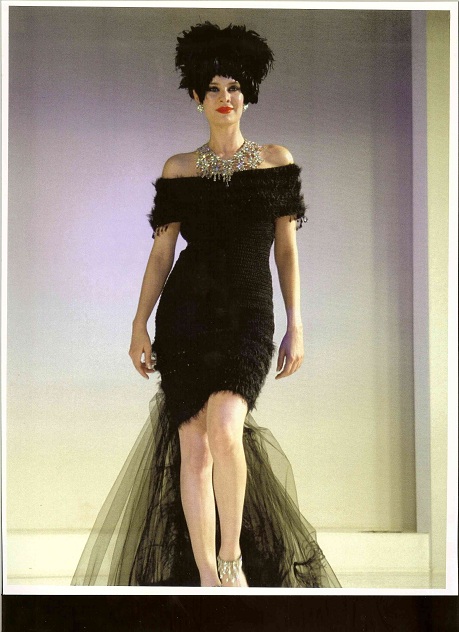 This was a dream come true for Birgit. As a child, she used to watch the Oscars and fantasize that one day, she would be a designer for the stars. She decided to expand her dream and start her own line of designer gowns using her signature name Birgit C Muller Couture. Her collection currently found at www.BirgitCMullerCouture.com will soon be expanding to major department stores including a swimwear and cocktail line. All of her couture designs are handmade in the U.S. and requests for custom made dresses are available.
Birgit was also recently appointed as the brand ambassador for Christopher Guy Furniture; a sophisticated furniture line used in luxury hotels like The Savoy, Trump Plaza, including exclusive estates like La Zagaleta in Marbella, Spain. La Zagaleta is a frequent vacation spot for celebrities such as Eva Longoria.
Aside from all these accolades and accomplishments, Birgit still finds the time to give back to the community producing documentaries to shed light on different causes. Her documentary America's Second Chances about the homeless situation in America was recently screened at the Hollyshorts film festival. She also founded the Three Doves Foundation -- an organization to raise funds for natural disasters, disease prevention, and cure.
I had asked Birgit to answer a few questions to give us some more insight in her amazing journey.

1) What made you realize you wanted to be a designer?
At the age of 3, I was constantly punished for cutting up everything from my parent's clothes down to the Belgian lace table cloths just to create new things. When I was a bit older I crocheted awful dresses for my sister to wear.

2) How did you get started in your journey?
I made clothes for my friends and sister, sometimes held together with staples. In boarding school I decided to make a ball gown for my roommate partially with staples and she still loved it. I knew then that this is what I wanted to do in life even if I had to resort to staples now and again. Today one of the most talented couturiers in the world collaborates with me.

3) What inspires you in life?
Beauty, style, elegance, grace. I love the saying, "God gives you grace, the rest you can buy" and I love people who have a lot of talent and big heart.

4) What is a typical day in your shoes?
I love making people happy by giving style advice on how to look and feel beautiful. I am usually working on new designs for my next show or for clients and friends who come to me in search for their perfect red carpet gown. I also spend time reading scripts for TV and film projects as well as organizing Fashion shows to raise money for good causes. I love to help others so I spend a great deal of my day doing so.

5) How do you de-stress?
Salsa dancing, shopping (spending other people's money), having dinner with friends, and my summer trips to Spain.

6) How do you balance work and personal time?
Sometimes work takes over all personal time, but I enjoy what I do.

7) What keeps you going when faced with adversity?
I count all my blessing and deal with whatever problem I am facing. Designing for a soap opera you learn that there is no such thing as "I cannot do it" you have to! There is always a solution to everything and I love a good challenge. I also work well under pressure.

8) One thing you can't live without?
Laughter, passion and my home in Spain!

9) Where do you get your inspiration for your designs?
All the old masters! Valentino, Christian Dior, Givenchy, Balenciaga, and Solstiss Lace. My designs are all very feminine and timeless. I also travel to Paris four times a year for inspiration.

10) Any advice to new designers?
Affordable fashion that transcends time is the key to success. Most people do not have money anymore to spend on some crazy design that is out of fashion next season. Care about quality not just the style!