Why do kids bully? Is it due to their lack of self confidence that they feel the only way to be accepted and get respect is to make someone else feel bad? Is it an outcry for love and attention? Is it the lack of parental guidance to treat others with respect and equality? Or are the parents showing these similar bullying behaviors towards others that their children end up mimicking them?
No doubt that each one of us has experienced the effects of bullying at least once in our lives whether it is us being the bully or the one being bullied. But why is something that seems so simple to solve be so complex? Is bullying inherent in human nature? Or is it base on our culture?
Whatever it is, bullying is an issue that has been increasingly gaining attention especially since it is being linked to the growing number of school-shooting incidents and teen suicides.
Thankfully there are more and more support groups and organizations being created in the last decade or so to help victims find positive ways of dealing with this important issue. But these organizations lack the marketing channels needed to help spread awareness and effectively reach out to victims everywhere due to their limited budgets. I happily discovered through my friend and mentor, Birgit Muller, who herself has helped create several programs to help children in need, about a new charitable program called Fashion for Compassion.
With Birgit Muller who donated some of her handmade couture gowns for the silent auction.
Fashion for Compassion just launched their first event, which included a silent jewelry and couture fashion auction, at the beautiful Christopher Guy Showroom in West Hollywood, CA and was hosted by Owain Yeoman from "The Mentalist". 100 percent of donations will go to charity.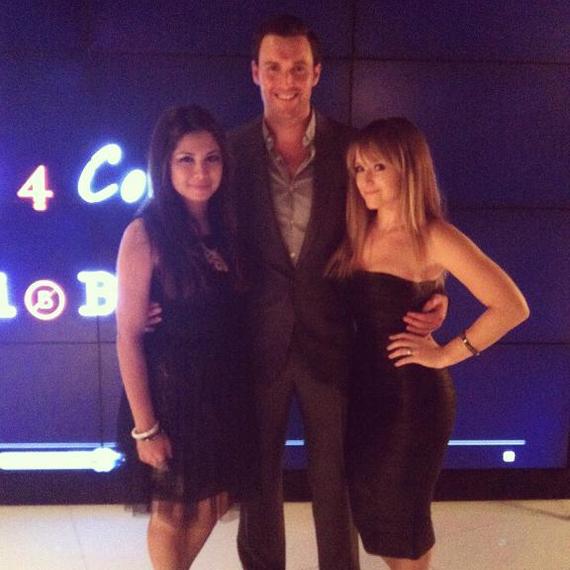 Owain Yeoman and his wife Gigi Yallouz who donated some of her handcrafted jewelry for the silent auction.
I've asked Owain to tell us more about Fashion for Compassion and why this cause is important.
Q: What prompted you to support this cause?
A: My wife, Gigi Yallouz, is a principal/founder of Fashion for Compassion and she brought up the issues of bullying to me. It seemed like every day there was a new case regarding a child who hurt themself or someone else because they were bullied. It's heartbreaking to see young children going through this kind of pain, no one should have to grow up in an environment filled with such negativity when the solution is so simple, everyone should just be nice to each other! The members of her group come from various areas of the fashion industry so when they discussed what we could do to help with this issue they decided to take the one thing they knew, which is fashion and combine it with what they believed in, which is spreading a positive message.
I've been a passionate supporter of many animal charities for years including PETA and the HSUS so it seemed about time to throw my support behind a cause that aims to promote ethical treatment and kindness to those of us on two legs!
Bullying is an issue that is so pervasive at the moment in schools, in sports, in the workplace. Almost everyone has been a victim of bullying or known someone who has been bullied at some point in their lives. And yet we still seem to lack the proper support network for victims of bullying to reach out to.
I think Fashion 4 Compassion is positioning itself uniquely as a movement who are not only providing a desirable fashion brand but one which has a worthwhile purpose- to build and support charitable causes.
Bullying really is something that can be eradicated. By spreading the message of compassion I believe we can live in a world where bullying is a thing of the past. My wife Gigi has inspired me to use a public platform to spread this message of kindness. Fashion 4 Compassion is the first movement that will allow people to realize a more compassionate world and look good doing it! I think that's an aim worth striving for!
Q: What do you want people to know about the effects of bullying today?
A: The effects of bullying can last a lifetime not only for those being bullied but for the bullies themselves. Those who are involved in bullying at any level may be more at risk of negative outcomes, such as depression or suicidal ideation. It's important to understand the "Circle of bullying" which involves not only the bully or the person being bullied but those who assist in the taunting as well as those who stand by and do nothing, they are all contributing factors.
Q: How will the contributions/donations help against bullying?
A: We established, Fashion 4 Compassion, a 501 C3 organization to partner and provide financial assistance to established and emerging Anti Bully charitable organizations to further build awareness, education, reform and counseling programs; Host local and national positive messaging and educational community events such as "Catwalk 4 Cause" and "Skate Against Hate", and provide positive messaging through national marketing (PSA) campaigns in the effort to end bullying.
We have reached out to charities that are currently involved in programs we believe provide critical value, such as live line chats and hot lines for people in need of immediate assistance and school Anti Bully outreach programs. Our goal is to raise and sustain funding to help each of these charities and platforms expand their Anti Bully programs in order to reach more people in need of help on a 24-7 platform and to further educate everyone on the importance of just being nice.
Charities have limitations as they are only allowed to use a small percentage of donations received to market and advertise themselves. By creating positive awareness, reinforcing compassionate and kind behavior through our Anti Bully cause consumer product platforms and messaging we hope to provide a centralized forum for hundreds of thousands of voices and organizations who can campaign against bullying on a daily basis.
Q: How can victims of bullying get assistance through this program?
A: We plan to provide detailed information relating to support hotlines, online chats and support groups via signage and product tags at retail locations so people can be aware of where they can go to get immediate assistance. We will also be bringing awareness to these charitable programs through events, social media, and national PSA's marketing initiatives.
To get more info and learn how you can support this cause please go to www.fashion4compassion.org.
Enter a chance to win a stunning Baume and Mercier watch and a private luncheon with Owain Yeoman from the CBS tv show "The Mentalist" OR win a custom designed couture gown by three time Emmy award winning designer Birgit Muller by going to www.charitybuzz.com.
A special thanks to Paul Palacios of Hint Water for donating some products to yesterday's fashion charity event.