This is the fourth story in a four-part series on the culture of domestic helpers in Hong Kong. To read Part Three, click here.
Four years ago, "The Help," an American drama showcasing the segregation of black domestic workers in 1963 Jackson, Mississippi, opened to rave reviews. The public lapped it up, one of its supporting actresses, Octavia Spencer, even taking home the Academy Award for Best Performance. While the film breathed life into the history of the American civil rights movement, what it didn't do was spark a cognitive discussion on the issue of domestic helpers still very much prevalent the world over, albeit in different forms of legal discrimination.
Exposure of Hong Kong's domestic helpers is a key problem, but not in the way one might imagine. For starters, there are certainly enough of them to establish a visible presence. Half of the territory's ethnic minorities in 2011 were foreign domestic helpers, according to the latest available census data. Like many other parts of Southeast Asia, the ability to hire household assistance is regarded as a basic privilege, further upheld by the fact that the government only requires each household to have a minimum monthly income of HK$15,000 (US$1,935) to be considered eligible employers. Each month, helpers are paid a minimum wage of HK$4,110 (US$530), and there are no inspections to enforce standardized living conditions.
For decades, tourists and expats alike have ventured out into the city on Sunday afternoons to be amazed by the sight: thousands of helpers encamped on the streets of some of downtown's main shopping districts. They sit cross-legged in cliques, resting on collected pieces of cardboard and bamboo mats, armed with umbrellas and paper fans to provide some relief from a subtropical climate. Many take off their shoes and stretch out barefoot. Some play bingo or the guitar or chatter on their cell phones. You will almost certainly see a dance group or two rehearsing. For most of Sunday, the one day of the week that the majority of helpers are allowed off, Hong Kong's main financial district echoes in a cacophony of dance music and the chitter-chatter of Tagalog and Bahasa, the dialects of Filipinos and Indonesians, two of the most represented groups among the city's migrant workers. Passersby grow awkward as they realize they've intruded on these helpers in their makeshift homes.
Helpers generally arrive around lunchtime, after attending service in the morning. "A lot of domestic workers are religious. That's where they get their sense of belonging, and that's where they congregate," said Allan, who focuses the clinic's outreach efforts at churches and mosques.
They set up their spots on footbridges overlooking freeways, in public squares and opposite ferry piers. Workers who attend communion at select churches like the Baptist Church or St. John's Cathedral are allowed to stay inside the whole day. "If they go to coffee shops, they have to spend money, right? So they'd rather sit outside. They can't stay in the house with their employers, because they can't bring their friends there. And sometimes they'll have to work," Allan said. "Sometimes you'll see them sleeping [on the streets]."
Indeed, some helpers make a point to their employers of having the day off to themselves. Miriam turned her cell phone off every Sunday, irking my mother whenever she was looking for something. Che Che would leave the house at 7 a.m. on the dot.
It was at the Jesus is Lord Church in Discovery Bay that Che Che found a place in the predominantly Filipina community. It was there that she met four women who would come to be her best friends, "Aunty Fely, Aunty Remy, Aunty Mercy, Aunty Zeny," she listed aloud. "They're very welcoming people. Friendly."
She'd spend the rest of the day with her friends in the plaza and only return home around 14 hours later, at "9 o' clock latest," she said. Usually, they set up camp "near the escalators" of the shopping complex, where they prepared songs for service the next Sunday.
When I asked why she didn't just hang out at the local Coffee Bean, she said that they didn't want to spend any money and that the group was too large anyway. "We can sit there, but not for long. Because we are about 20, 20 or 25 people in our group. At least, in front of Toysland, we can practice our dancing."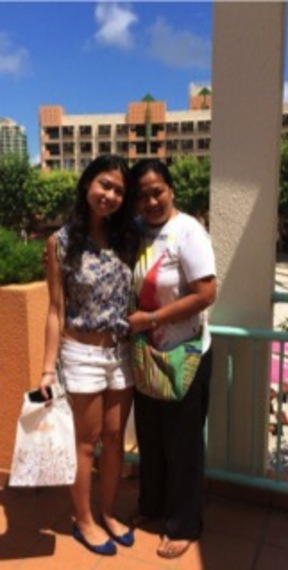 Every week would be the same, except for the first Sunday of every month, when Che Che would take the ferry to the Central district to go to Western Union. Often when I'd call Che Che on a Sunday night to see where she was, she and her friends would be at McDonald's. Because "it's cheap," she said, laughing. "That's the only reason why. If we will eat at the restaurant every Sunday? Oh, my goodness."
I'd always get the same answer whenever I offered to get her something. "Just a Coke with no ice," she'd reply. "Because if they will put ice, there's only little Coke in there."
After dinnertime on Sundays, when helpers eventually return to their employers, sometimes to stacks of unwashed dishes, they disappear as a sector of society from plain sight once again, only to be glimpsed introducing their alaga from the kitchen window or bargaining for meat with some pung yao at the market.
The older I become, the more I have thought about Che Che and her life outside of me - her now-adult daughter Hazel back in Clark and their large, affectionate family I'd sporadically meet over pixelated Skype sessions. Not unlike my mother, as I came to learn more of her story, I realized there was some contentment to be found. While I still struggle with the principle of having a helper, it is gratifying to know that while her daughter hadn't had her mom growing up, at least something good had come from it all. Hazel, now 28 years old and engaged, never had to leave OB Montessori all those years ago, and is currently in medical school.
I have always wondered what it felt like for her to grow up without her mom, whether she secretly resented my presence in their lives. But as someone who grew up with essentially two mothers, I decided I couldn't bring myself to ask, that she was too nice to say anything hurtful anyway.
Instead, I asked Che Che how it felt to live apart from her daughter. "Once, she told me that her moods... She's saying that I really don't know her," she said quietly. "She wanted to tell me something, but she couldn't tell me, because she didn't know how I'd react. And I feel sorry for that."
Like many other domestic workers, Che Che tried to bridge the distance with technology, becoming well versed on Skype, FaceTime, Viber, and every other free calling app. She kept tabs on the best phone plans that offered competitive rates for international minutes. "Three or four times a day, I am calling her. Morning before she will go to school, and after school, and before going to bed," she declared. "Every time I am free, I am calling her."
Seeing how far Hazel was able to come only solidified Che Che's decision to work abroad. "I have to earn for her," she said resolutely. "I know she felt lonely, and she's missing me, and she couldn't say anything, because if I stayed here, no one would."
As I pieced together the details of our conversations, I was ashamed to admit that most of it was news to me.
"You're so strong," I told her one day.
"I am, but I'm also weak," she replied. "I don't want people to know that I'm weak. When I'm alone, I'm crying."
"Why?"
"Because, you know?" she said, a sad smile, almost shrugging, forming in her eyes. "Life."