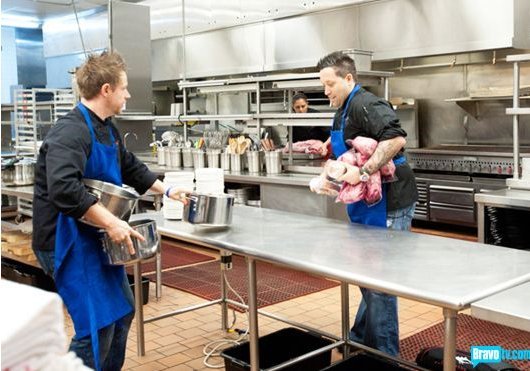 Editor's Note: Michelle Weber of Thursday Night Smackdown is liveblogging Top Chef with HuffPost Food tonight. To participate, leave your comments below.
03/23/2011 11:00 PM EDT
Next Week: Create the restaurant of your dreams. Blais is nervous. I am too, about a Mike Isabella victory.
03/23/2011 10:58 PM EDT
Antonia, pack 'em up. GODDAMMIT.
03/23/2011 10:58 PM EDT
Antonia, your dish was aggressive but good. Mike, your tartare was bland but your sauces were punchy.
AND ENOUGH WITH THE COUSINS.
03/23/2011 10:55 PM EDT
Still more commercials, which is the real point of the Tweest. If you don't have an iPhone, you probably shouldn't bother leaving the house.
03/23/2011 10:53 PM EDT
Colicchio looks upset with Wolfgang says he liked Antonia's. Bias, much?
03/23/2011 10:52 PM EDT
Mike is getting tepid reviews, probably because the editors are trying to fuck with me.
03/23/2011 10:50 PM EDT
Antoinia's dish looks lovely. Mike's got a lot going on. Neither one of them is one bite.
03/23/2011 10:49 PM EDT
"What would an "aggressive" dish be? Would it be like a bear wrapped around a shark? " (via @roadtohell)
03/23/2011 10:48 PM EDT
Mike wants to be original, so he's going for beef tenderloin and lobster tail, which is TOTALLY original. Personally, I would make lobster stuffed with tacos.
03/23/2011 10:47 PM EDT
THE TWEEST: You have 45 minutes to make one perfect bite.
So the point of the actual challenge was what, exactly?
A preview of tonight's action, from Bravo:
It's the pen-ultimate episode before the big finale and with only THREE chef'testants left, the heat is on for these All-Stars to deliver perfection-only. But will the seemingly-simplest of Quickfire Challenges end up tripping up the chef'testants when they must make the most delicious one-pot meal? And when the remaining three concept their ideas for their Elimination Challenge, a nervous Richard Blais starts to realize that perhaps Mike Isabella is more of a threat than initially realized. Is Mike the quiet underdog? Find out this Wednesday 3/23 @ 10/9c on BRAVO's Top Chef All-Stars *Final Three*
A Simple Challenge: Antonia Lofaso explains that it's those simple challenges that throws everyone for a loop
Calling out Mike: Antonia Lofaso needs to call out Mike Isabella about the preparing the hardest dish.