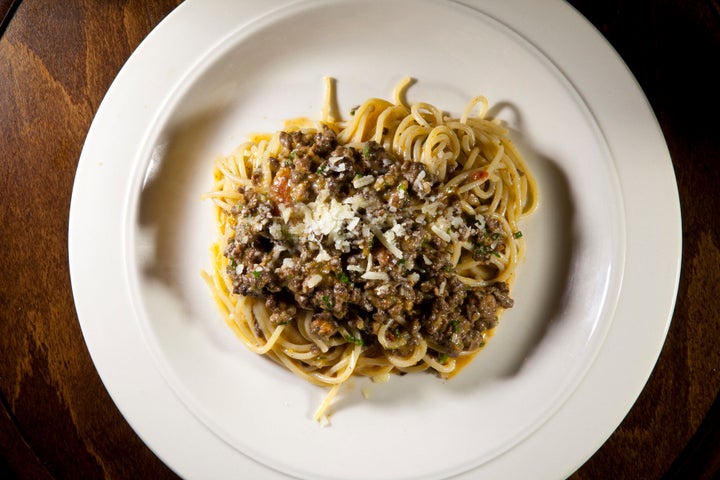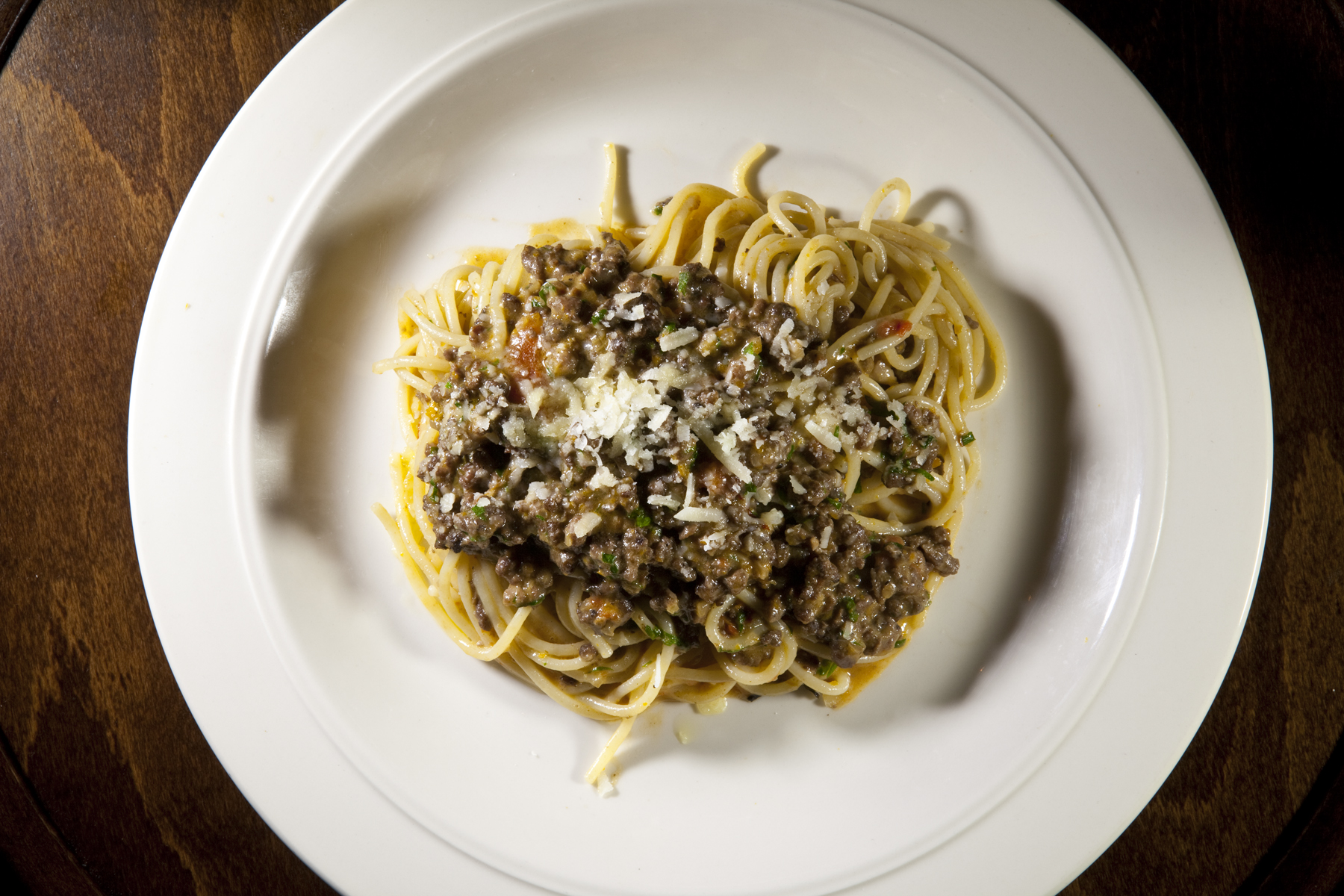 Obviously, that photo is probably all you needed to decide you want to make this recipe.
Unless you are one of those low-carb people, in which case, you might as well ignore all my blogs because, as an Asian New Yorker, I live off rice, bagels and pizza.
But despite the awesome photography, I want to tell you why I love this bolognese recipe.
I went to Bill's with my longtime girlfriend Melanie. We had been talking about it since it opened because it was an immediate hot (read: impossible to get) reservation in NYC. Lucky for me, she pulled a couple strings.
I try not to make a habit out of eating in Midtown, but the space looks like it should be downtown. It has kind of an old school ruggedness, with a club-kid, artistic edge.

The restaurant is in the former Bill's Gay Nineties space (thus the name of the new restaurant). Us longtime New Yorkers loved the establishment. It was one of the most infamous Prohibition speakeasies and kept the party going for many many years.
Now, the restaurant still has some of the BGN flavor. They have preserved the original beams and moldings and some of the murals are from the 1940s. Sorry, I'm a nightlife history geek so this is awesome to me.
I'm sure you are all like, "I don't give a flying frying pan. Give me my bolognese."
Let me just say this. I loved this bolognese. It wasn't because Cameron Diaz was sitting in the restaurant while we ate. It's because it's creamier and zestier than most bolognese. It's certainly not traditional, but it is delicious. So if you want to walk in the steps of the Prohibition drinkers and live on the edge, go with this pasta sauce.

Bill's Food & Drink Bolognese

1 pound ground lamb chuck
1 pound ground goat chuck
2 tbsps olive oil
Kosher salt, Clove & Allspice
2 quarts Soffritto ( 2-1-1 Minced red onions, celery, carrots -- cooked soft in olive oil)
1 cup ground dry Porcini Mushroom
Zest of 4 oranges (to be removed from sauce eventually)
Sachet Rosemary, Bay leaf (to be removed from sauce eventually)
2 magnums of red wine
2 cans crushed plum tomatoes, strained
2 quarts of whole milk
fresh pasta of your choice (I like spaghetti, but your choice, fellow-pasta-lover)
- Brown the meat in a sauce pan with olive oil
- season with salt, clove and allspice
- Add Soffritto and dry Porcini Mushroom
- Add Zest of four oranges, make sure you add in chunks so these are easily removed when your sauce is done
- Add sachet of Rosemary and Bay leaf
- Deglaze the pan with red wine. Reduce the sauce until dry
- Add two cans crushed plum tomatoes
- Add milk
- Cook your sauce for another 30 minutes
- Skim off excess oil and remove the zest and sachet
- Serve with fresh pasta
- Garnish with Parmesan cheese