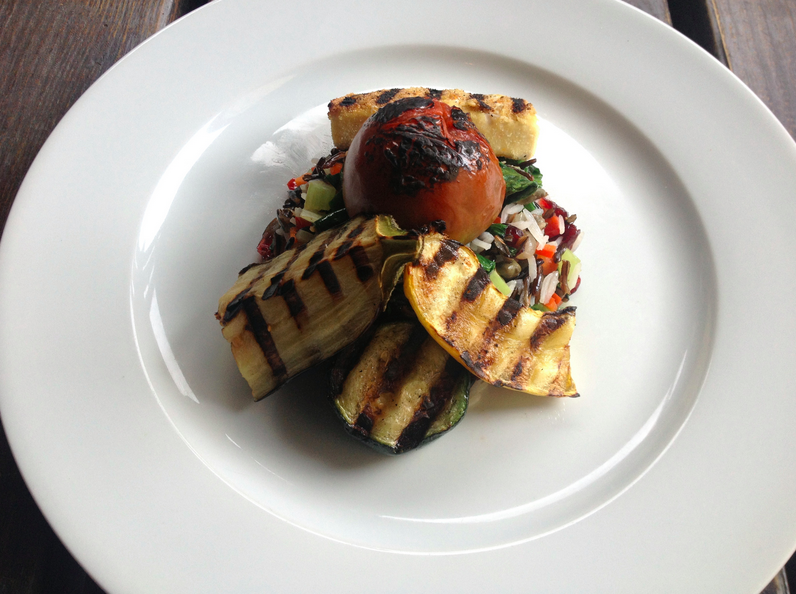 I know, I know. A vegetarian dish is quite a departure from what I am usually cooking, but hear me out.
Vegetables are good for you. I know this (1) because my parents have always told me this (2) because after eating vegetables, the next morning my... morning toilet ritual is much easier. (Thank you, fiber!)
Sorry about the TMI but I'm Asian, the latter is a common topic of conversation in my culture.
Also, I was vegetarian for five years (I know this is unbelievable, but it's true), so when I see a vegetarian entree that sounds good, I tend to order it.
I took my fiance to Hill Cafe in Brooklyn because the African, French, American menu was so interesting to me. Also because he was the only person who agreed to brave a snowstorm to trek to Brooklyn.
The restaurant is beautiful. Plus, I love Brooklyn eating because it is less crowded and less sceney. It's all about the food. Oh, and the prices. Everything is so much more affordable when you leave the island of Manhattan!
Chef Samuel Beket was such a pleasure. He has a kind face and a knack for combining many different types of cuisine. He was nice enough to give me the recipe for his vegetarian entree. It has grilled, meaty vegetables like eggplant and zucchini. It has grilled tofu, which I absolutely love. Adding the corn meal crust makes it nice and crispy. It also has the delightful texture of wild rice.
Anyway, it was fabulous. And I had a good morning the next day. I'm being overly scatological, sorry. But I had to share because that's always a plus.
Legumes Au Riz Sauvage
(serves 1-2)
Ingredients:
1 tbsp diced carrot
1 tbsp diced celery
1 tbps diced red pepper
1 tbsp diced Spanish onion
1/2 tsp chopped garlic
1 tsp non pareil capers
1 tbsp dry cranberries
1/2 cup cooked black wild rice
1/3 cup cooked Basmati white rice
1 cup baby spinach
1 baby eggplant
1 baby zucchini
1 plum tomato
2 oz firm tofu (coated with cassava meal or corn meal)
Salt & pepper to taste
Procedure:
-Sauté the carrots, celery, red pepper, onion and garlic in a pan with olive oil until cooked through.
-Add non pareil capers and dry cranberries and toss.
-Then add cooked black wild rice and basmatic white rice and toss.
-Finally, add baby spinach and cook until spinach is wilted. Add salt and pepper to taste. Set aside.
-Grill the baby eggplant, baby zucchini, plum tomato, and coated tofu.
-To plate, lay grilled vegetables and tofu over the rice and serve.
Hill Café is located at 17 Putnam Avenue, 718-230-3471, www.hillcafe.net