"Let's go somewhere warm. This weather is killing me." It all started with my dramatic plea for a vacation.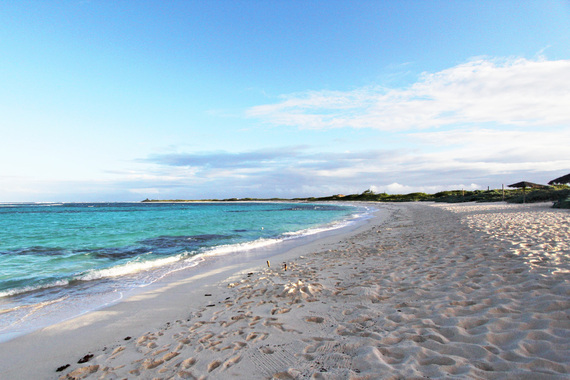 My husband and I have been to many warm destinations when the New York temps start to threaten frostbite. We've done the typical: Miami, California. We've done the cultural: Argentina, Brazil, Chile. But we had yet to do the tropical.
Lo and behold, the British Virgin Islands were hosting a Lobster Festival. For two people who love food, this was the perfect reason to venture to the Caribbean.
I didn't know much about Anegada, the island where the festival was taking place. I googled and researched and phoned a friend. There isn't much written about it. The most helpful piece of information I could find was from Wikipedia. "Anegada is the second largest of the British Virgin Islands, but it is also the most sparsely populated of the main islands... Local fishermen provide the majority of the fresh fish and lobster catch for the rest of the British Virgin Islands."
This sounded perfect to me. Fresh Caribbean lobster on a deserted beach with clear blue water? Sign me up.
I greatly enjoyed our time in Anegada, but if I were to do it again, I would change the order, remove some stops, and extend others. So, in chronological order, here is how I would spend two days in Anegada.
Day 1
Dinner at the Lobster Trap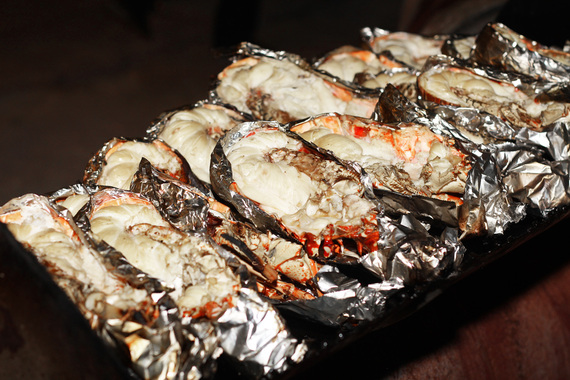 Immediately after setting foot off the puddle jumper from Tortola to Anegada, I would book it to the Lobster Trap. It is a small restaurant on the water. The owner, Wilfred, is a cheerful man with twinkling eyes and rugged hands. He pulls your dinner straight from the lobster trap on their dock. He let us hold them, in all their wriggling, spiny glory. (This experience, while a great photo opportunity, is not amazing. They kind of hurt your hands.) He will even chop and prep the crustaceans right in front of you, armed with a giant machete and decades of skill.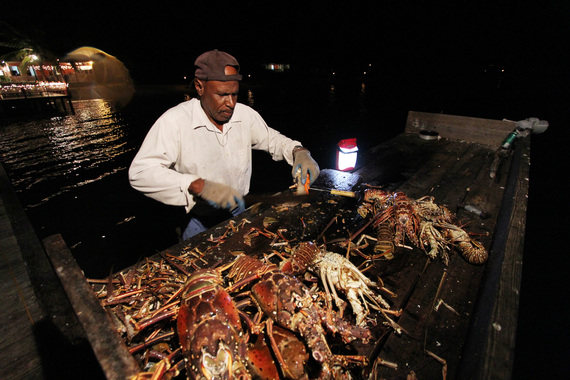 After prepping, Wilfred wraps the lobster in foil, adds some butter and Goya seasoning salt, and then places them gently into one of his oil drums. Island wood is used as charcoal. The baked potato you get on the side also gets cooked in the fire.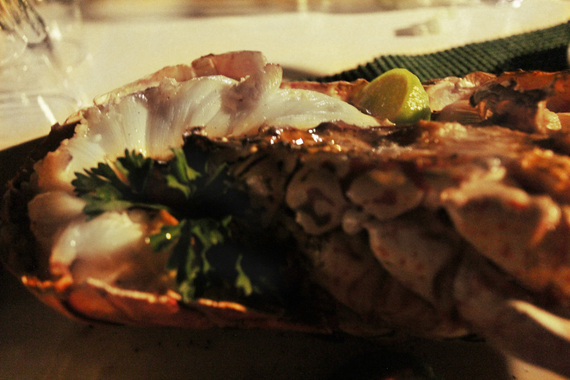 Start with the conch chowder, full of meaty chunks of conch pulled from BVI waters. It will warm up your stomach and whet your appetite for the main event. His friendly wait staff will present you with giant halves of lobster, laid out on plates that look like they came from your home kitchen. The dish comes scantily dressed, with just some lime slices and sprigs of parsley -- just like you would imagine your Caribbean aunt would make for Sunday supper.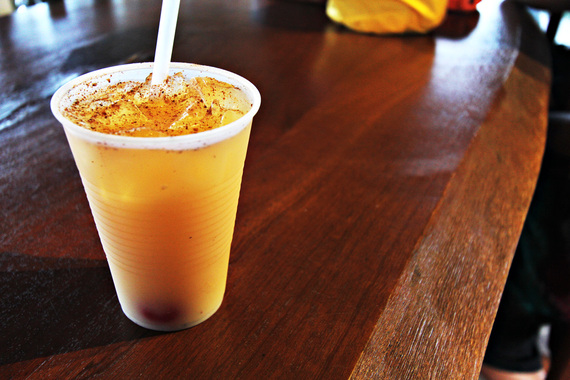 Make sure you order a painkiller, the specialty drink of the British Virgin Islands. It's a tropical, magical mixture of pineapple juice, orange juice, cream of coconut, and a lot of rum, topped with some nutmeg.
Day 2
Bonefishing with Garfield
One of the locals we met told us we had to try bonefishing with Garfield, the best bonefishing guide on the island.
This means waking up early on your vacation, but it's an exhilarating start to your day. Being out on the calm, shallow water in a tiny boat with the sun making its way into the sky is an unrivaled experience.
Garfield has been bonefishing for 30 years. He seems more comfortable on his boat than standing on the sand. He untangles fishing wire with ease. And he is of the master of finding "mud spots" or areas in the shallow water that look slightly muddy because the bonefish have
recently been kicking up sand around there.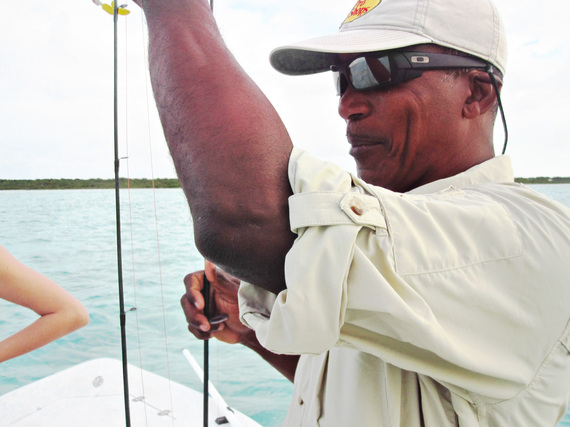 I had never heard about bonefish, but locals told me, "Oh, they are small fish. No one eats them." As a fishing newbie, I didn't imagine catching much. When our first spot didn't yield much after 10 minutes, Garfield moved us on to the next location. And within minutes, I caught one! The "small" fish put up a hell of a fight. Halfway through trying to reel it in, I told Garfield, "I can't do this. The fish is too strong. Can you reel him in for me, please?" Like a good teacher, Garfield smiled ear to ear, "You can do it. Go ahead."
To my surprise, bonefish are not small at all. Around 5-6 pounds, they are feisty silver fish. I held up my catch for a photo and then released it back into the water. Garfield assured me the fish was not harmed.
Beach Time
I could have stayed for another week, just to swim in the turquoise-hued waters. Because Anegada is so far removed from the other islands, when you look out from the beach, the clouds touch the waves. The balmy temperature, sunlight filtered through palm tree leaves and smell of seaweed make sitting on the beach the ideal afternoon activity. We stayed at the Anegada Beach Club, the newest hotel on the island. It is on the north side, and a bit of a trek on dirt roads from the ferry dock or airport, but the water is clearer than on the other side of the island.
The water is warm; it's perfect for dipping in and out. Also, because of how tranquil the surface is, paddle boarding and snorkeling can fill your relaxation time.
For this New Yorker, getting to lie on the sand, midday, with only the sounds of water lapping on the shore was the definition of paradise. I had a painkiller in one hand, and nothing in my other hand. No phone, no ipad, no laptop.
Dinner at Anegada Beach Club
The Scottish head chef of the Anegada Beach Club Restaurant, Peter, is ingenious in the kitchen. His space is an outdoor makeshift with no walls and dried palms for a roof. He has a pizza oven, an induction burner, and a small deep fryer. With these tools, he has constructed an elegant menu that would fit in on the streets of New York City.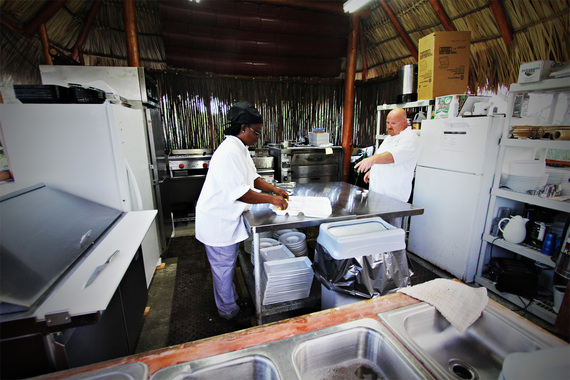 We had heard from so many locals that the traditional home meal of the islands was fish in mayonnaise sauce. And yet, we couldn't find it on a menu anywhere. I took my plea to the gracious cooking staff at the hotel. Sous chef Krell is a local boy who laughed at my excitement
over the dish. He used what he calls "ol' white," a type of triggerfish. With a combination of spices, salt, pepper, lemon and mayonnaise, he essentially poached the fish until the meat and the sauce around it was creamy with hints of citrus.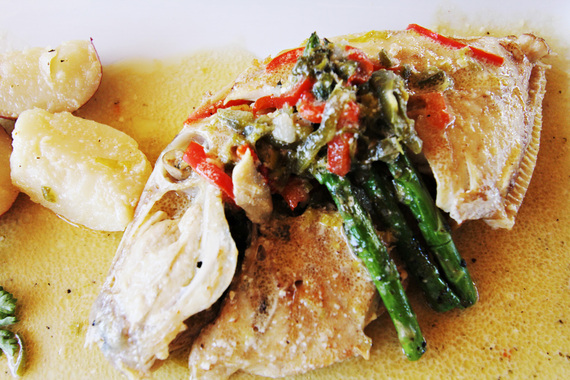 The meat of the fish is flaky and chewy. It holds the milky, fattiness of the sauce while imparting the aroma of the ocean. Bell pepper slices and onions are also simmered with the fish, but Krell said you can really add any vegetable you like. Luscious slices of potato, drenched in the sauce, stood next to the fish. Topped with asparagus, which is not traditional, Krell presented an extraordinarily special meal.
Day 3
More Beach Time
Seriously, enjoy it while you can.
Lunch/Dance Party at Cow Wreck Beach Bar
The bar/restaurant is outdoors, right on the beach. In fact, you can take your drink to one of the beach chairs and enjoy the view.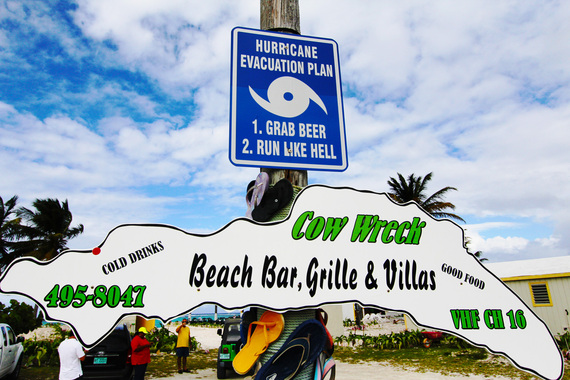 The family that owns it is flush with girls. There is grandma, there are her two daughters, and then there is a brood of about eight granddaughters. They have been on Anegada for generations with their bar on the water. When we asked how it was named, they told us there was a wreck of a ship carrying cows. The bones washed up on shore. It was a chilling, odd image that morphed into a celebrated local hangout.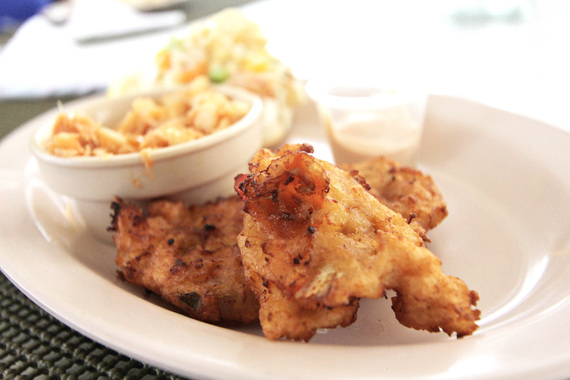 Order their lobster fritters. They are crispy on the outside, chewy and warm on the inside. They have flecks of red pepper, giving them a bit of heat. And of course, big chunks of Caribbean lobster meat, which is mild at first bite, pleasantly bitter towards the end.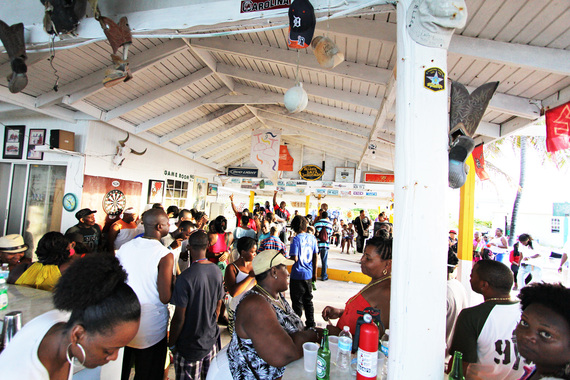 We also happened on an afternoon dance party at the bar, hosted by a local DJ. Revelers danced, sang, and drank to Caribbean music and the sunset. As New Yorkers, we certainly didn't blend in, but we felt welcome by the locals. Painkillers aplenty, punctuated with calypso beats, gave me the perfect excuse to kick off my flipflops and dance on the white sand. It is the perfect end to two days in paradise.
Every local we ran into was friendly and helpful with suggestions. They were always willing to share a drink and tell us how they ended up sitting on the stool next to us. The journey from New York is by no means short. A plane to San Juan. A puddle jumper to Tortola. And then, an even smaller puddle jumper to Anegada. The plane barely rises above the clouds. One friendly veteran Anegada traveler on our plane pointed out that you can see the manta rays and reef sharks from the plane, so look out your window.
You can fly, take the ferry from Tortola, or sail to Anegada.