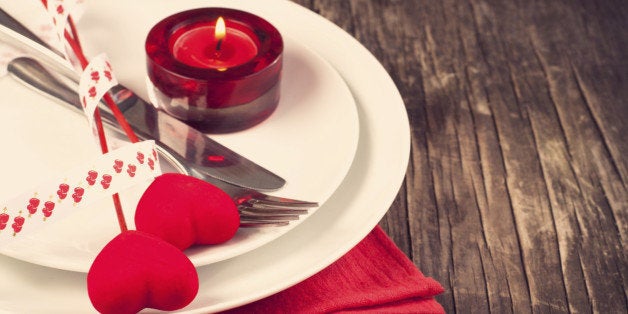 Over the last couple of years, I've stopped caring about Valentine's Day. Maybe it's all of the commercials for heart-shaped necklace pendants or candy and flowers. Or the fact that the valentine displays come out before I get my Christmas tree down. It's become easy to shun Valentine's Day. To harden my heart to it. To say, "Oh, every day is Valentine's Day in my house."
And though that may be true, that we celebrate the love on a daily basis, I'm feeling a little differently this year.
When I was young, a few years out of college and working in New York City, I had a long-time boyfriend who, on Valentine's Day, sent me a dozen long-stemmed roses at work. Gorgeous. They were delivered in a tall white box filled with lightly-scented pink tissue paper. Another year, that same boyfriend created a personalized crossword puzzle filled with statements that you might find on a candy heart and scored a reservation for us at a popular romantic NYC restaurant.
For the Valentine's Day of our last year together, he bought me a green-faced watch with diamonds that was so not my taste that I thought, "He doesn't know me at all." I ended up returning it for big silver hoops that I still have. After that, he started to become verbally abusive, especially when we were out drinking. (We were young, without kids and living in the big city, so that was often.) I broke up with him and moved out under the cover of darkness.
My first husband was a big celebrant of Valentine's Day as well. Cards with lengthy sentimental verses hand-written next to cheesy-inked ones thought up by people sitting around a table in an office building. Roses and champagne. Dinners out ending with big molten chocolatey desserts. And sex because, well, it was Valentine's Day and sex equaled love.
I've been married to my husband, my second one, for almost 10 years. And in that time, I don't think that we've ever really celebrated Valentine's Day. A couple of those years, he's been out of town. Gone skiing with a friend. Other years, he's had to work in his restaurant. One year, when we were still dating and he was working on Valentine's Day, my kids and I brought red heart-shaped votive candles and chocolate roses to the restaurant and had dinner at a back table so I could keep my eye on him.
But mainly, it's been yet another occasion to profess our love for each other. And laugh at the poor suckers that pick Valentine's Day night to go out to dinner. The restaurants are over-crowded and offer prix-fixe lovebird specials. Service is slow and the food is not as good as it usually is.
But this year, I'm thinking that maybe I've been a bah humbug. I'm thinking that maybe I do want to celebrate Valentine's Day in a bigger way. Love is something to rejoice in and I'm feeling a lot of love these days. (Maybe that comes from not wearing underwear.)
So, I'm going to give in to my Valentine's Day lust and do something special for my husband. Food and drink first. All of his favorites. Oysters. Stone crabs and steaks. Bourbon and champagne. A little dark chocolate. Then a planned ahead romp in the bedroom. Maybe some candles and lingerie. I can't wait!
All of this will have to take place a few days early because on Valentine's Day, our house will be filled with our teenagers. And I'm planning a different kind of celebration with them. Still special though. Take-out Thai food, ice cream sundaes and a romcom. Because they're my Valentines too.
Suddenly, it seems, I'm loving this holiday.
What are you doing on Valentine's Day?