Celebrities go with charities like crash diets go with awards season. Everybody does it, it's expected (if not demanded), and unless an individual makes a really big deal out of it, it usually goes under the radar.
Well this one, in my humble opinion, happens to break the mold. Not only because it involves Charlize Theron -- one of my favorite actresses -- but also because it has to do with TOMS Shoes, a brand and cause that I've become very fond of in the last few months.
If you don't know about TOMS (and you're not following my blog religiously -- thanks, mom), let me recap. Founded by Blake Mycoskie in 2006, TOMS shoes were initially inspired during a trip to Argentina when Mycoskie was struck by the poverty and health issues that surrounded him. Compelled to take some personal responsibility, Mycoskie set out to create a shoe inspired by the traditional Argentine alpargata, and for every pair of shoes sold, one pair of TOMS Shoes would be given to a child in need. One for One.
So this holiday season TOMS has joined forces with the Charlize Theron Africa Outreach Project (CTAOP) to create a limited edition shoe for men and women. Theron and TOMS co-designed the eco-friendly shoe which is made from vegan materials and is embroidered with South Africa's Native baobab tree. This sexy collab benefits CTAOP and commemorates 10,000 pairs to be given to kids living in remote communities of South Africa.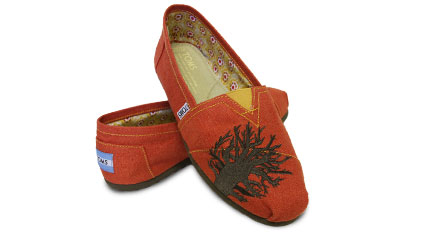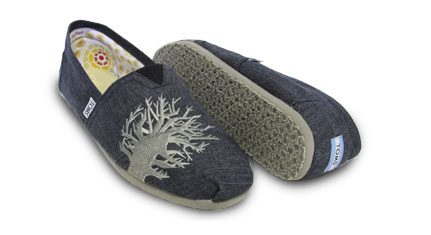 Says the actress:
"I'm thrilled to have TOMS Shoes as a partner. We are so grateful for their generous donation of shoes to the students that we work with. They are passionate about the kids and have been incredibly supportive of the work of the Africa Outreach Project. It's exciting that we're able to come together in such a cool and creative way to bring attention to the needs of many South African youth."
Interest piqued yet? Ain't picked up them holiday gifts yet? You can holler at these limited edition Baobab Sunset and Baobab Night on www.TOMSshoes.com. They're only $54, and a portion of the proceeds from each pair will go directly to the Charlize Theron Africa Outreach Project. For more info on CTAOP check out www.charlizeafricaoutreach.org and to pick up a pair of those excluuuuusive kicks head to www.tomsshoes.com.
Happy Holidays, and Happy Shopping.