I experienced my first full clarity of purpose standing on a wide-open Nicaraguan field with my two best friends as we watched the sun set over the mountains of Ciudad Sandino. Never in a million years would I have imagined that in college I would find myself working in Nicaragua with an NGO youth empowerment organization planning the construction of a public BMX/Skate park to fund art programs for at-risk youth. Raised in boardshorts on a mellow Caribbean island, the idea of starting a philanthropic clothing company based out of my living room would have been an equally crazy thought. Luckily, the universe has an awesome tendency to send you on some fascinating journeys, and that's exactly where we have found ourselves the last half year.
Mark, Kappes and I began talking about creating something cool together not much long after we became friends on the first day of freshman classes at the University of Miami. We wanted to inspire good moods, share genuine smiles, and pass on the positive vibes that made living life so awesome. On top of motivating our friends to live more positively, we wanted to create something greater than ourselves that could serve as a sustainable source for good around the world. We wanted to prove to our peers, and especially ourselves, that anyone is capable of making a difference for someone in the world. Good intentions didn't cut it anymore. We needed to contribute.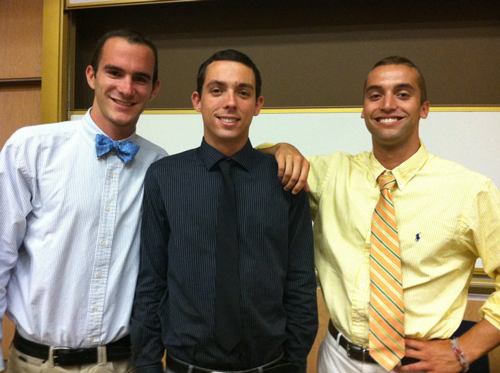 It was a typical 1am school night in Coral Gables last November, as the three of us, now roommates, sat around our kitchen eating our favorite fruits, talking about ideas, good music and fun times. It was that November night, apparently in some creative place between our blender and Panini maker, that the vision which became Give Tanks was born.
Our original goal to create something significant was developed around the idea of somehow having sustainable social philanthropy built into our products DNA. We understood that as college students with a humanitarian dream and a simple message, business would be the most effective way of getting our voice heard and our message felt. I'm hardly an expert on entrepreneurship, but my thoughts are if you're gunna start a philanthropic clothing company, may as well make a product you love. Tank tops it is.
Finally, we had a message, a purpose, and a product. Give thanks for the little things. Give Back. Tank Tops. Give Tanks! Could the Universe have possibly scripted it any more awesome than that?
Our weapon of mass positivity ~ smiling tank tops.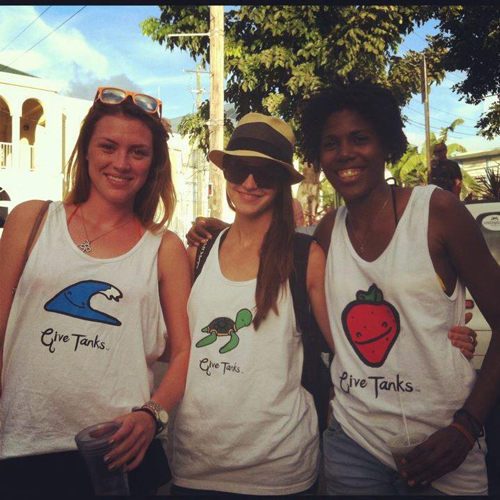 In an elevator, Give Tanks are smiling tanktops of awesome things to 'give tanks' for, reminding everyone to 'be tankful' for the beautiful, little things in life, with 25% of profits going towards community-based development programs in overlooked communities around the world.
At the dinner table, Give Tanks is a little bit more.
Our mission is two-fold, with equal focus placed on the conscious consumer and the community development project they are actively representing with their purchase. Each Give Tanks bears a smiling graphic of something to be 'tankful' for. Our designs are of things we personally give tanks for (sailboat, shining sun, fresh pineapple, etc.), but the simple message behind Give Tanks is universal: life is more awesome when you wear a smile and give thanks for the little things. By making people more conscious of their feelings of gratitude, Give Tanks aims to inspire people to be more tankful for life's incredible gifts and to constantly strive to live a little more positively and progressively each day.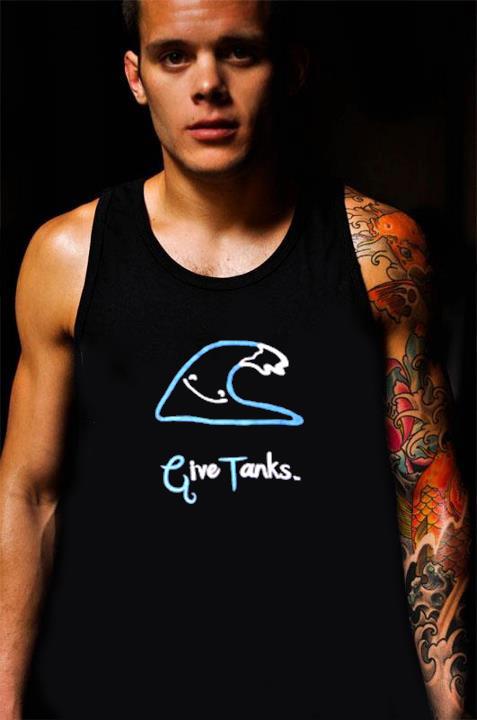 Give Tanks invests 25% of profits after tax in community development projects in overlooked communities around the world. Our mission is to partner with the local organizations and people working to sustainably educate and empower communities from within. Being 3 students with a small grassroots company, we wanted to initially assist grassroots causes in places where we had existing connections and knowledge of. Today we have done work in the U.S. Virgin Islands, where a special edition tank and fundraiser went to subsidized spay/neuter services for at-risk pet owning families, and namely Nicaragua, where we have set out to create jobs for mothers, establish adequate learning environments, and help provide programs for youth to educate themselves and increase their measures of livelihood.
Ciudad Sandino was first settled some 40 years ago as a shelter for refugees of catastrophic natural disasters and a civil war that contributed heavily to Nicaragua's current struggles. Today, Ciudad Sandino is one of the most densely populated and poorest areas in Nicaragua.
Despite their tumultuous history, the people of Ciudad Sandino are some of the most accepting, compassionate and loyal people you will ever encounter in your life (not to mention some of the best hosts). In spite of the poverty, gang violence, drug use and prostitution that is an all too common reality in Ciudad Sandino and Nicaragua, there exists a strong dedication to family and community that radiates when you enter the city. In spite of what they 'lack', there is such a powerful feeling of hope, love, and gratitude that resonates with the people of Ciudad Sandino. We felt it. We knew that Give Tanks was exactly where it was supposed to be.
We targeted 3 community development projects this past summer during our first project in Ciudad Sandino. We supplied a microfinance grant to a group of local mothers/dressmakers to start a microbusiness of affordable, locally made school uniforms for local school children. The grant went towards the purchase of sewing machinery and supplies such as fabric, thread, buttons and zippers. Public school in Nicaragua is free, but a costly school uniform is required, and this often times becomes the only reason many kids do not attend school. The dressmakers expect their enterprise to be scaled by January. We also helped a local high school purchase laboratory materials for their new, under-supplied Science department. Our most hands on project was the renovation of a local family owned library which shared a block with a local preschool. We repainted the entire inside and out, installed a ceiling fan for the ridiculous heat and supplied them with 83 brand new Spanish-translated reading books.
These projects were invaluable, if not life changing, to the locals involved and the experience and understanding we gained was immense. We helped to create jobs for mothers, gave a family-owned library a new breath of life, and assisted a local high school working to teach children. Although necessary and effective, these projects will only benefit a few hundred children or so. In a city where the 120,000 youth under the age of 25 make up 60% of the population, we understood that in order to make a significant impact on the lives of Ciudad Sandino youth, we needed to significantly expand our outreach projects.
The three of us stood in that open-field this summer, thoughtless, not hearing a sound besides the steady breeze and distant laughs of children that are inescapable in Ciudad Sandino. Despite its history of political oppression and civil violence, I have never experienced such serenity and bliss as I did living amongst this incredible community in Nicaragua. As we watched the sun disappear behind the Nicaraguan mountains, there existed an unspoken understanding amongst the three of us that our work in Ciudad Sandino had only just begun. It was time to partner with the best organization in town already working in the sector of youth empowerment.
Meet the Phoenix Foundation -- a non-profit youth empowerment organization located in the heart of Ciudad Sandino. The Phoenix Foundation's mission is to create a safe future for Nicaraguan youth free from the pollution, drug abuse, gang violence, and prostitution that litter the city. With core values centered on love, compassion, and respect, Phoenix offers much needed free, before & after school, programs that teach kids valuable life skills, personal values, and prevention methods. Phoenix's bountiful land sustains 4 greenhouses, and serves to teach at-risk youth how to grow, cultivate & sell their own food. Through their programs and partnerships with local grade schools, Phoenix's programs have reached a combined total of over 5,000 students, teachers, and parents.
In a city where youth are the vast population majority, Phoenix continues to be a guiding light for youth empowerment in Ciudad Sandino. However, their dreams for the city sadly far outweigh their funding. They face the daunting challenge of being relatively small, located on the outskirts of town, and still unknown to many at-risk youth that could benefit from their programs.
During our 9 weeks working with them this summer, the Phoenix Foundation expressed their desires to maximize their outreach and to diversify their available programs and activities.
Their dream is to create a powerful community of young dreamers where at-risk youth have a place to safely and freely cultivate their intellects, develop positive self-esteem, interact with peers and find a sense of belonging in a city of turbulence. In order to enhance their programs, methods to increase and then sustain Phoenix's revenues must be put in place.
Specifically, their dream is to design and construct the city's first and only public BMX/skate park. This would achieve giving kids a safe, clean place to practice two of the most booming sports in Latin America that are healthy for both your body and your mind. Having a safe, established place to practice a true passion promotes personal dedication, discipline, and responsibility. Passion for a sport has the potential to save kids from the streets and drugs. Our conversations with local youth can be summed up by the words of Jonathan, age 17; "If they (youth) were committed to their bikes, the wouldn't focus on the wrong things and they would forget about drugs and everything because we would all practice together." Sport provides a sense of belonging and a feeling of expression. This park would succeed at both giving at-risk youth an awesome, valuable alternative to drugs and gang life and it would increase Phoenix's recognition and positive influence among the city youth.
During our time in Ciudad Sandino, we also learned that there are no art classes taught in public school. Phoenix has wanted to expand their programs to include the creative arts such as music, dance, crafts, and song for quite some time.
It was interactions with locals like these during our time in Ciudad Sandino that laid the beginning foundations for our next project in Ciudad Sandino.
In partnership with the Phoenix Foundation, we've developed a project to construct the Give Tanks BMX/Skate Park for the Arts.
This park will be the cities first public half BMX, half skatepark at Phoenix, with sustainable income from the park used to help fund free art programs for local girls and boys. Income generated from this park through regional competitions, equipment rentals, and the sale of homegrown fruits and vegetables will not only help sustain the park; it will also help to subsidize start-up Phoenix Art Programs such as dance music, painting and crafts. By doing so, we will be laying the foundations for the city's girls and boys to discover their talents, practice their passions, and add a significant measure of improvement into their lives. All of their personal development and empowerment comes from within. We are only seeking to put the community programs in place.
Nicaragua is known domestically as the 'land of poets' and a famous quote amongst the population states, "In Nicaragua, everyone is a poet until proven otherwise." There is intrinsic value in making a child aware of the artistic capabilities that lie within them. A child's life can be transformed forever if she discovers her voice produces beautifully melodious harmonies, or if you give him access to a paintbrush and canvas, pencil and paper or beads and wire. They gain a feeling of confidence, self-sufficiency, independence, potential income, and for many their first self-empowering experiences. In a country where only 5% of kids graduate high school, and many more work all day to earn cents to support their families, it is so important for Phoenix to give kids access to the resources that could allow them to realize their dreams, perfect their talents, create lasting friendships and discover lifelong passions.
Phoenix's and Give Tanks' dreams for this city are real, but we need your help, your voice, your passion and your positive vibes to make this incredible project a reality and this philanthropic mindset a movement. If you are inspired to do so, please share our story with a friend or loved one. Join the tankful movement and become a part of the conversation on Facebook, Twitter, Instagram (@Give_Tanks), and Tumblr (betankful). If you're interested in giving tanks, you can purchase your favorite products here (hyperlink: http://give-tanks.com/store/). If you are truly compelled, the Phoenix Foundation is a 501(c)(3) tax-exempt status NGO which will be accepting donations for this specific project.
During life's moments in between all of this, make a conscious effort to smile more, take deeper breaths, laugh, radiate joy to the world and never forget to give tanks for the little things!