In the first century A.D., the Virgin Mary was travelling from the Judaean port of Jaffa to Cyprus when she was blown violently off course, so tradition has it, coming ashore far to the northwest on Athos, easternmost tentacle of Greece's Chalkidiki peninsula.
Overwhelmed by the savagely wild beauty of its forested mountains, precipitously rugged cliffs and plunging emerald valleys, she asked her son, who just happened to be God, to make it her garden which, true to filial piety, he did.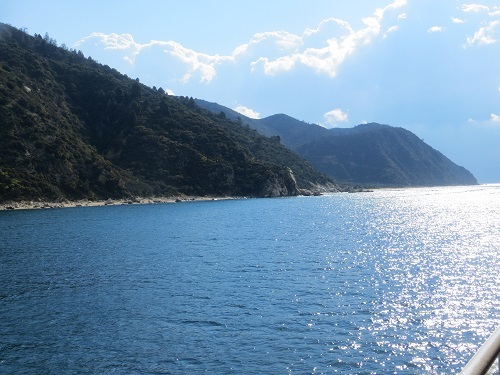 Typical Athos coastline
Ever since, it has been one of the holiest places in Christendom, eventually hosting some 20 spectacular centuries-old Orthodox Christian monasteries, some quite small, others resembling little mediaeval towns, virtually all walled in and built like fortresses to resist the predations of pirates in ages past.
On inaccessible peaks single hermits' dwellings cling to the precipitous rock face. In all there are some 3,000 to 3,500 inhabitants, including monks and workers.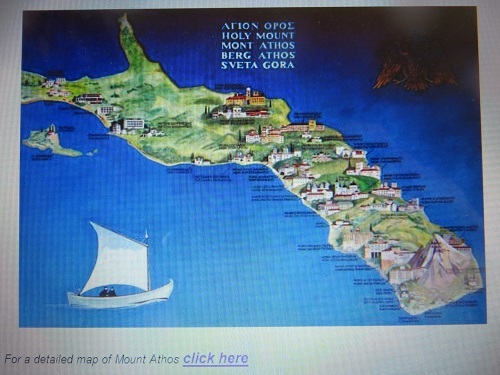 Athos map with monasteries - Ouranoupolis website
Ironically, given the traditional source of its holiness, what is now a 130-square-mile semi-autonomous monastic republic known as the Athonite State, remains out of bounds to women. This may be because Mary is held to encompass all the femininity that Athos requires - or else the fairer sex might distract the monks back to impure thoughts of a little orgy here and there.
It's said that even the sheep and goats tended here are only male, but Yours Truly has no intention of scraping around on all fours trying to scope out if this is true. Hens are apparently allowed because they produce eggs.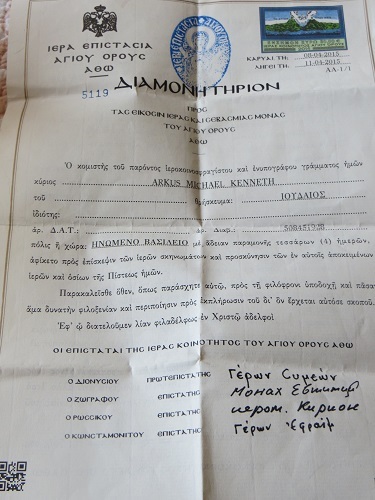 Entry permit with religion (Jew) noted
To visit what the Greeks call Agion Oros, or Holy Mountain, after the majestic 6,670-foot Mt. Athos that soars above the southern tip, one needs a permit from the Pilgrims' Office in Ouranoupolis, the nearest town, which grants only 100 entries per day, with only 10 allotted to non-pilgrims, and then only for four days/three nights.
The monasteries provide free bed and board once you arrive, provided you've booked first. The only access is by boat, generally down the west coast from Ouranoupolis, a pleasant little fishing village surrounded by hills, with bright yellow lemons glistening in its gardens and a square tower on its shore dating from at least 1344, though repeatedly repaired because of earthquakes.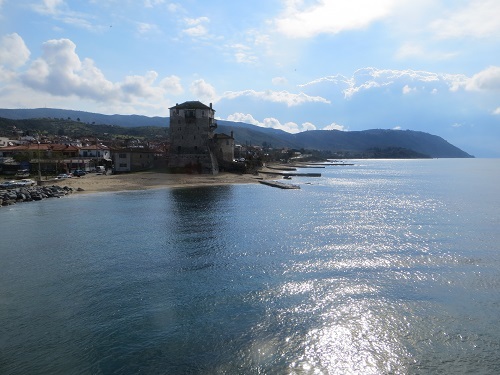 Ouranoupolis
Sailing in early April is magnificently free of in-season hordes, and this year the weather was superb, barely a cloud in the sky even if a bit on the chilly side. The monasteries on their bluffs and cliffs are indeed like mediaeval fortresses, the upper floors extending out from high walls in wooden buttressed bays. Some have lofty cranes working on restoration.
Monastery landing site
Groves of pines and cypress surround Dochiarou Monastery, and trees overloaded with iridescent oranges abut its walls. Russian Orthodox Panteleimon is particularly notable with its green onion domes and spires.
Dochiarou Monastery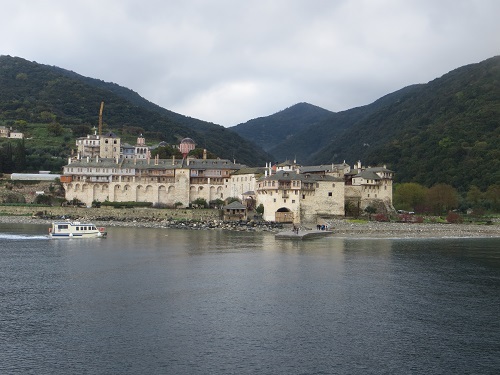 Another view
Whole flocks of huge seagulls follow us, hovering, swooping and performing all sorts of improbable acrobatic feats as passengers throw food. Hey, watch out there, that's too close. Agggh, Hitchcock's The Birds!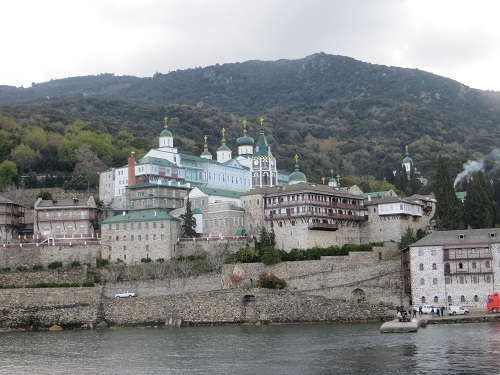 Panteleimon Monastery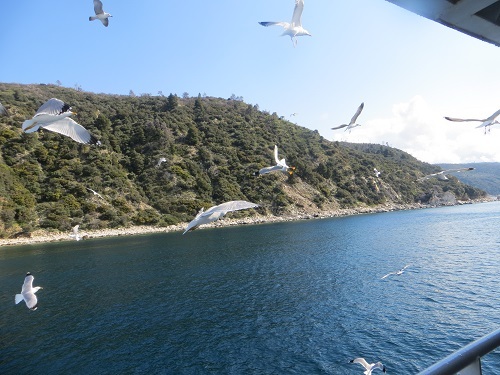 The birds!
Once landed in Dafni, the main port, you can either follow in the footsteps of the famously intrepid British traveller Patrick Leigh Fermor, who did much of his hiking on shanks pony in 1935, or take a bus to Karyes, the capital, and thence onward by minivan. Naturally I plump for the latter, but in my defence, Leigh Fermor was 60 years younger when he did his caper.
My stop for the first night is Stavronikita Monastery on the east coast. Leigh Fermor, arriving on foot - of course - from the south, marvelled at its 'wild, feudal and mediaeval' aspect, 'its massive walls running up in lofty windowless bastions to little windows and jutting balconies,' with the 'rough, machicolated belfry of the chapel' showing above the walls.
Stavronikita Monastery from afar
It is indeed beautiful, clothed in light-coloured stone with a square tower on a cliff-top aerie. Originally founded in the early 11th century it was abandoned in the 13th because of constant pirate attacks and re-established in the 1530s.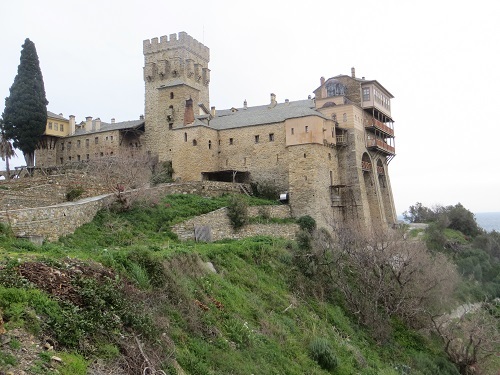 A close-up
I do partially follow in the intrepid traveller's footsteps, though. In 1935, he made his way from Stavronikita to the large monastery of Pantokratoros, describing the way as 'rocky and wild... running through a thick undergrowth of broom and briar growing so thick at times that it was difficult to make a way through.'
When the path turned downhill 'a fast stream suddenly covered it so that the only way down was to spring nimbly from stone to stone.'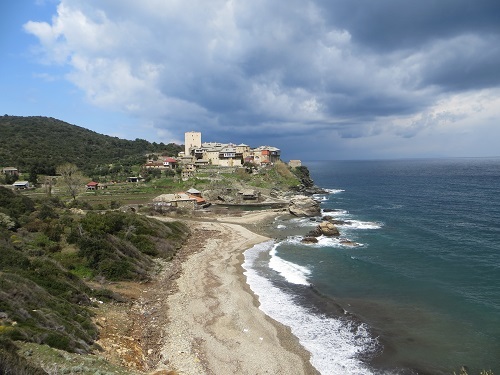 Pantokratoros Monastery
Eighty years on, Yours Truly sets out on the same path. It's a rocky up-and-downer hundreds of feet above the crags and crashing white foam. But now the path is easily defined despite the thick undergrowth, taking about one hour.

They say you can't get lost, but how dare they underestimate me! I can get lost on the way from my bed to the bathroom.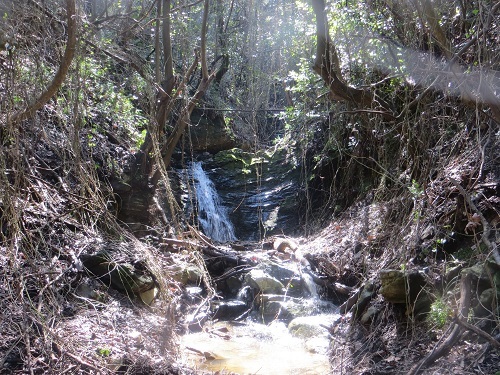 The trail from Stavronikita to Pantokratoros
A rivulet still flows over much of the rocky stepping-stone course, which I imagine could provide some nice miniature white water after heavy rain. But I don't get lost. I'm panting quite a bit, though - not from lechery, unfortunately - and I'm springing anything but nimbly from stone to stone.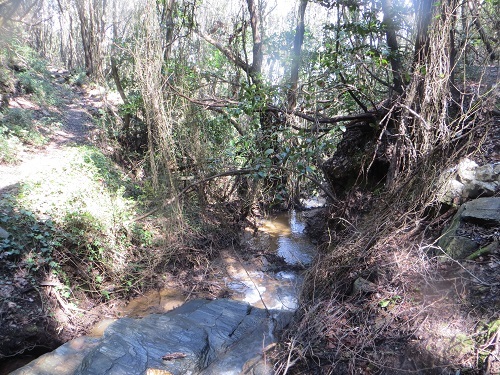 Another view of the trail
The large Pantokratoros Monastery, founded in 1363, is almost at sea level. Its deep pink Katholicon (main church) is in a courtyard graced with gleaming orange mandarin and yellow lemon trees. Within, it is heavy with gold-haloed icons, kissable and much kissed, and doubtless very communicative with little gifts of saliva. Anybody for a bit of Ebola, guys?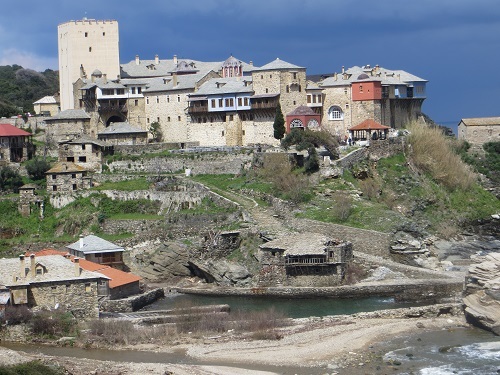 A close-up of Pantokratoros
Large gold candelabra - literally because there's no electricity - and numerous gold baubles hang from the ceiling, giving a glowing impression of richness as a monk intones away.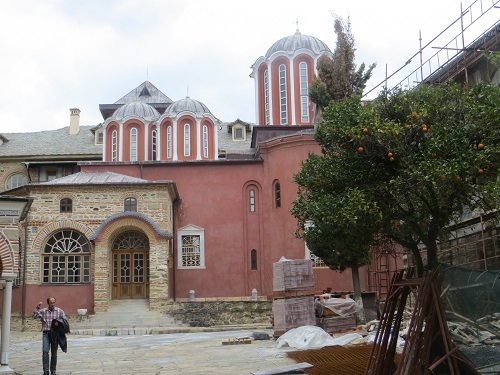 Inside Pantokratoros' walls (no photos allowed inside churches)
Back at Stavronikita, dinner at six in the refectory is a simple but tasty 'mess of pottage' - a vegetable soup thickened with rice - eaten on long wooden tables and benches. There are remnants a 16th century fresco of the Last Supper.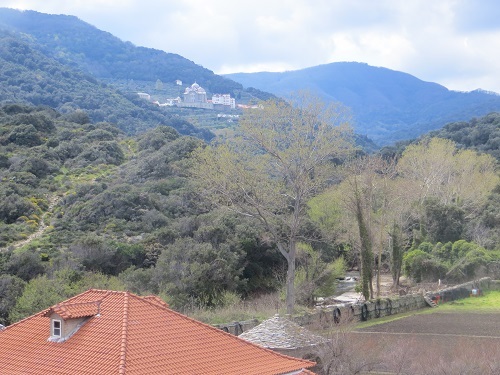 Church view from Pantokratoros
At the end people disappear through a low wooden door, reappearing soon afterwards. I ask whether it's the toilet. Oh, Lordy, Lordy me! It turns out to be a sacred holy of holies with a richly gilt and silvered icon of the Virgin and Child to whom they are giving thanks.
At 7.45 there's a half-hour evening service. It's a spectral experience with black garbed monks - there are some 25 here in total - looming out of the candle-lit gloom, their black cylindrical hats playing off the dim outline of painted and haloed saints on the walls under candled chandeliers. Each chanter holds a candle to sing the verses from a large book.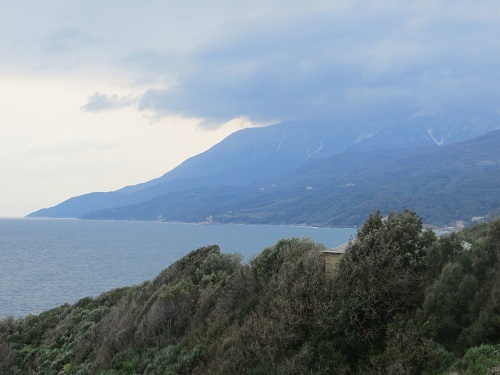 View towards Mt. Athos from Stavronikita
At the end, they line up before a wall of silver relics, including a large cross said to contain a piece of wood from the cross Christ was crucified on, and a silver box holding a bejeweled wooden hand. They dip precipitously to one knee, bow and kiss each relic. More Ebola, anyone?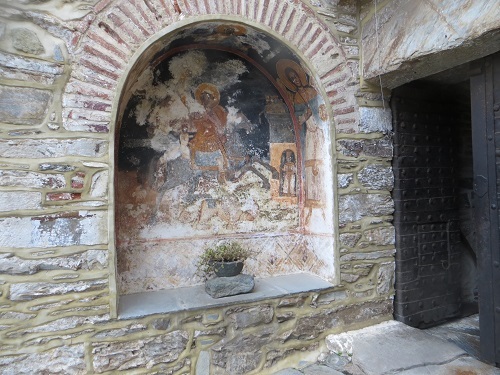 Fresco inside walls of Stavronikita
In a side chapel is Stavronikita's best known relic, a 14th century icon of Saint Nicholas lavishly enriched with silver. It's called Streidas (oyster) because it was discovered on the sea bottom with an oyster stuck to its forehead. When the oyster was removed, the saint's forehead bled, so they say. Here, too, there are ample kissings with communicative saliva. No pictures are allowed.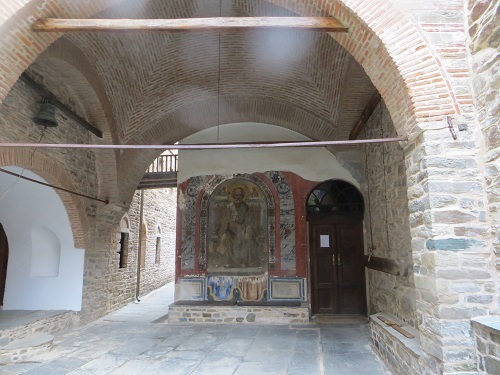 Another fresco
There's a morning service at 3 A.M., too, which I will most definitely miss, though two of the pilgrims in the four-bed room go.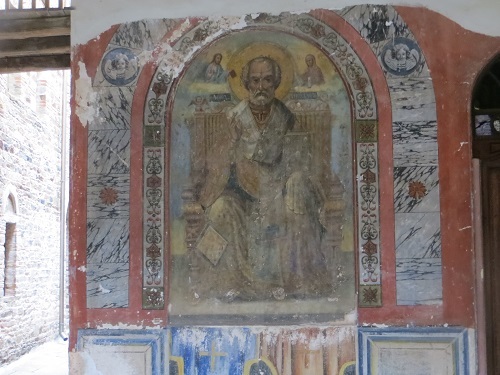 Close up
______________
By the same author: Bussing The Amazon: On The Road With The Accidental Journalist, available with free excerpts on Kindle and in print version on Amazon.
Swimming With Fidel: The Toils Of An Accidental Journalist, available on Kindle, with free excerpts here, and in print version on Amazon in the U.S here.