There they are on my netbook, e-mails from the kids: Mum missed the flight; please phone.
OK, first a little background. Rivka does have this little tendency to be late, miss planes, forget where she's put her passport and having to rush off to seek an emergency new one. So when she does come along on my trips, it's usually on a boat cruise where once I've managed to haul her on board, she can't miss connections or otherwise foul up travel schedules.
Thus did we have great trips to Antarctica and the Galapagos Islands. So this time the idea is for a glorious boat trip north up the coast of Labrador in a 'luxury cabin' aboard the Northern Ranger ferry to the little villages of Nunatsiavut, the province's autonomous Inuit area, which means 'our beautiful land' in Inuit.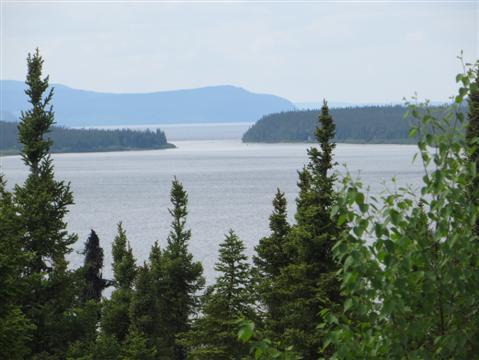 View of Lake Melville
But this year, getting wind of my plans, the Arctic spirits decreed a particularly harsh winter, meaning there are still masses of pack ice and Titanic-worthy icebergs ambling all over the place. Thus the Northern Ranger has postponed this year's initial voyage from June 30 to July 14, fully validating Robbie Burns adage: 'the best laid plans of mice and men often go astray.'
The only other way to go thither is by plane-hopping. Now, with Rivka's cavalier attitude towards plane timetables even in the best of non-kangaroo circumstances, this promises to be 'interesting,' to say the least, with all the attendant and abundant opportunity this gives Rivka to go AWOL just when the flight is meant to depart.
As it is, three days before my own departure on June 1 I made her find her passport to make sure she still had it. OK, we found it alright, so I look inside just for the heck of it - and it bloody well expires there and then right before my very eyes on that very day right as I'm looking at it, Her Grace being totally unaware of this happenstance.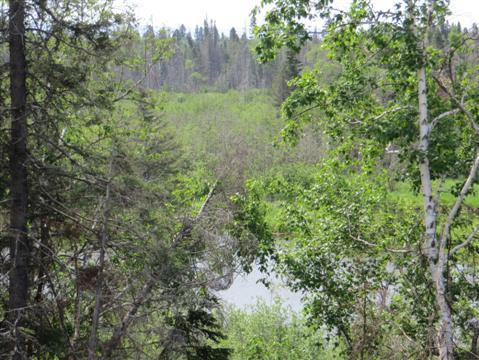 Forest stream
Wow, that was indeed a happy happenstance on Yours Truly's part. She managed to get an emergency renewal, at an exorbitant supplement, just in time for her own departure on June 28. But can you just imagine the high jinks at the airport on this particular day, had I not thought to look inside?
And now - forget the kanagaroo-hopping we're gonna do by tiny planes in Nunatsiavut - she's gawn and missed the flight from New York to Montreal on the very first segment of the trip to Happy Valley-Goose Bay. If only I'd been in New York to put her under lock-down for three days prior to departure.
OK, that's the background.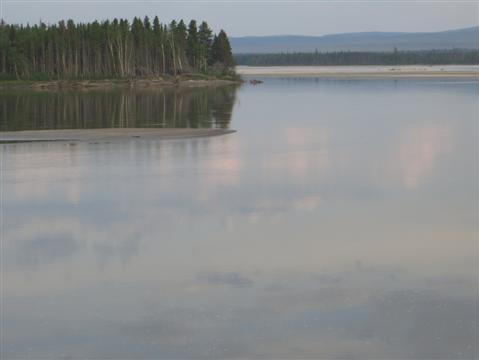 River scene
I pick up the phone. 'What? Air Canada cancelled your flight?'
Wow, the first one of Rivka's myriad flight misses that's not her own fault! Now I really am truly into how-I-learned-to-hate-Air-Canada mode.
It transpires that Madam arrived at New York's La Guardia airport in good time for her 1100 departure, but there's no Air Canada flight for her departure. They tell her the 1100 flight to Montreal has been cancelled, that she was put on the 0635 flight instead and that there's nothing they can do but to re-book her for tomorrow.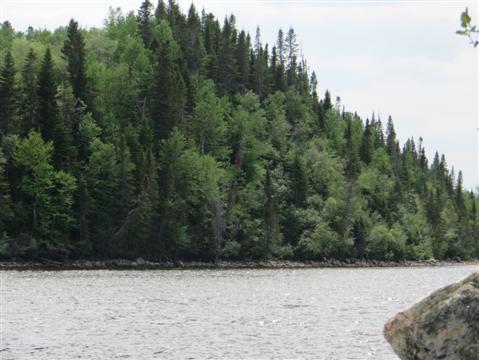 River scene
They're all very apologetic but say it was Orbitz's duty to inform us as we purchased the ticket through Otbitz and they told Orbitz long ago that the 1100 flight no longer operates. Well, it's Saturday, our flights for Nunatsiavut don't start till Monday, so she'll still be here on Sunday evening in good time.
Now, I'll let you into a little secret, though I'm not yet sure if I'll let Rivka in on it, too. Just for the heck of it, see, I check back on Orbitz-sent e-mails in both my in-box and spam to see what the hell's going on.
And there in spam I find an Orbitz item dated May 30, headed Subject: Your flight reservation changed. What is worse it had apparently arrived in the in-box and was summarily dispatched to said spam basket by none other than Yours Truly, his imperial self. Oh Gawd! Well, I'm a busy man, see. I receive oodles of e-mails every second, I have to do triage. Well, it wasn't my fault, see. Well, I can't read every detail, can I now; well... well... well...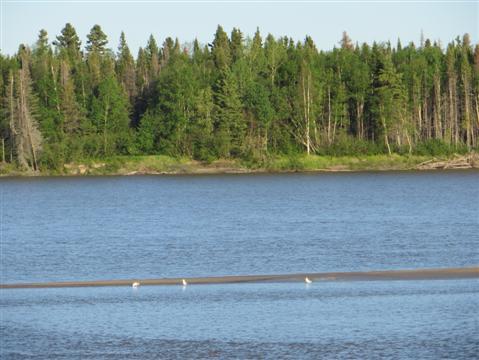 Another river view
In the meantime I have a day to kill looking round Happy Valley-Goose Bay and its environs.
The Churchill River on which the town nestles is Newfoundland and Labrador's longest at 532 miles, draining an area of 30,800 square miles. Now, the Innu and Inuit, who have cohabited with the river for millennia, couldn't give a monkey's toss about Sir Winston Churchill, or for that matter Sir Charles Hamilton, Newfoundland's Governor in the early 19th century after whom the invading Europeans first baptised the river.
For the Innu it was and still is the Mishtashipu, and for the Inuit the Grand River. As usual, the invaders paid scant attention to the indigenous names of major geographical features.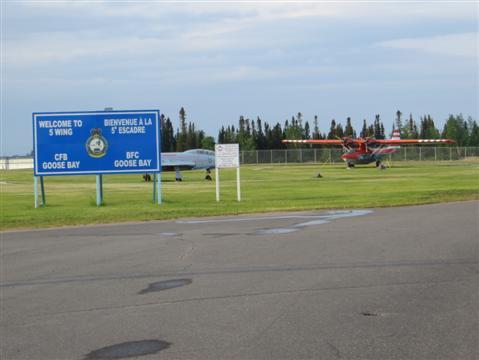 Goose Bay airbase
It's the same story as with Mosi-oa-Tunya (the Smoke that Thunders), the age-old name for the cataracts that David Livingstone 'discovered' on November 16, 1855, and re-christened Victoria Falls; and for the Nepalese Sagarmatha or the Tibetan Qomolangma, now known around the world as Mt. Everest.
Even Hamilton wasn't sacrosanct. On February 1, 1965, Newfoundland Premier Joey Smallwood dethroned Sir Charles in favour of Sir Winston, blind and deaf to the confusion he was causing as Canada already had a Churchill River in Manitoba and Saskatchewan.
A vast wilderness of 114,000 square miles, Labrador - the name comes from the Portuguese lavrador, or small landholder, a name they previously ascribed to parts of Greenland - has less than 30,000 inhabitants - a population density of 0.5 per square mile, about the same as the Falkland Islands and less than a third that of Mongolia.
In the forests leading north from town, the moose warnings are out again by the roadsides, but it's a whopping black bear that draws Yours Truly's attention as we drive the 16 miles to Sheshatshiu, pronounced quickly like a stifled sneeze, that means 'narrow place in the river' in the Innu language.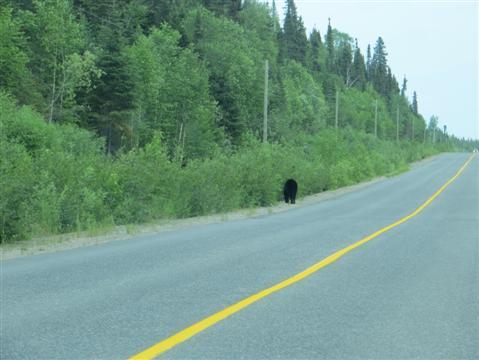 I Twaut I Taw a Bear Tat
The taxi driver says I'm incredibly lucky because you hardly ever see them here. He or she (the bear that is, not the driver) looks up from the roadside as we stop a little ways away, saunters across, then turns and ambles towards us before veering back off into the forest.
I snap him/her through the front window. Evidently he/she's not the sort of animal you get out to snap, calling 'here, kitty, kitty, kitty.' They can show some pretty sharp claws and teeth and some pretty unsocial attitudes towards their human cousins.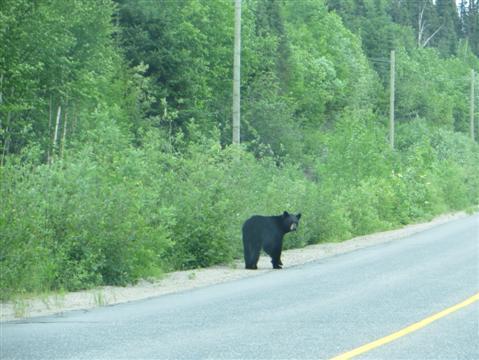 I did, I saw a bear
The reason we're off to 'stifled sneeze' and North West River, a settlement on the other side of a bridge across a narrow inlet, is to visit the Labrador Interpretation Centre and the Labrador Heritage Museum.
The Museum is set up in the evocative old Hudson Bay Company building on the banks of the inlet and contains the old store and post office, with an exhibition of food once sold and photographs of old expeditions and activities.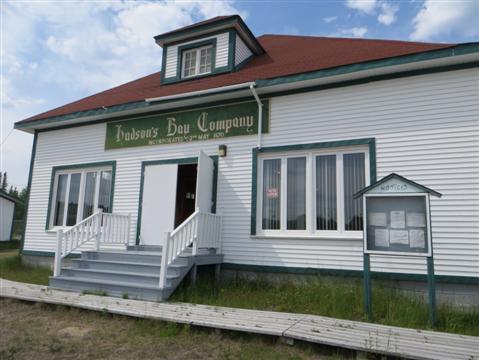 Hudson Bay Company
The Centre is beautifully presented with panels on the history of the whole area from the Innu-Aimun myth that Wolverine created the world, to the 3.9-billion-year-old north Labrador shield, among the oldest massive rocks in the world, to the ravages of the ice age and the first human settlers with their flint weapons.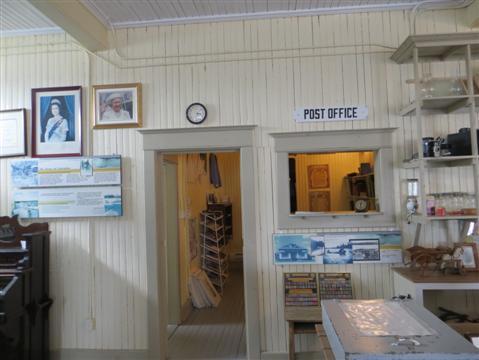 Inside the museum
There's a wonderful room of dioramas presenting the lives of the Innu-Aimun, the Inuit, the metis mixed Indigenous-European people, and the European settlers. You can pick up a phone at each exhibit, press one of three buttons and get an explanation in Innu-Aimun, Inuttitut or English. I think I'll try Inuttitut - it must be more comprehensible than the accent Newfoundlanders massacre English with.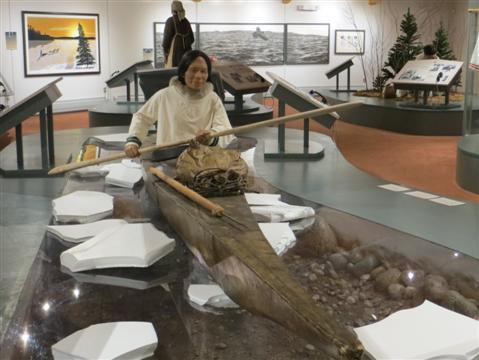 Inuit in Kayak at Labrador Interpretation Centre
But you mix up your Innu with your Inuit up here, me old matey, at your own peril. A recently arrived worker did that recently, so says the taxi driver, calling a local an eskimo, two nearly fatal missteps.
Firstly eskimo is considered derogatory by the Inuit, for whom it is used, coming from an Innu-Aimun root meaning eater of raw meat. And secondly the addressed individual wasn't even Inuit. He was Innu, who are related to the Algonquin. It took all the driver's diplomatic skills to extricate the newcomer from at least some fisticuffs.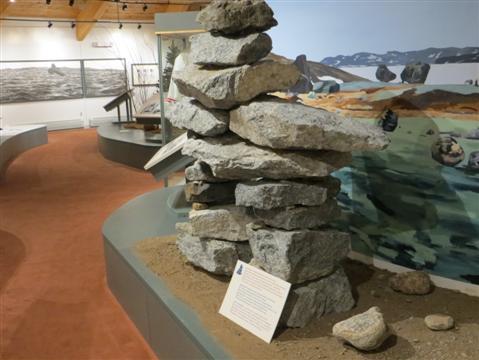 An inukshuk, Inuit landmarker
I'm back now at the airport, and I can now report that the eagle has landed.
After nearly all the passengers have descended, giving me incipient pangs of a heart attack, Rivka at last struggles down the steps carrying a large litter of hand baggage and a white styrofoam container in a plastic bag.
'Part of my lunch,' she says breezily. 'A smoked salmon sandwich I got in Halifax. It's enormous and I couldn't eat it all. It'll do for later.'
Labrador sunset
I take the plunge and tell her about that little 'unhappy happening' with the Orbitz e-mail. And what does Madam do? She bursts out laughing, thinking it's really funny.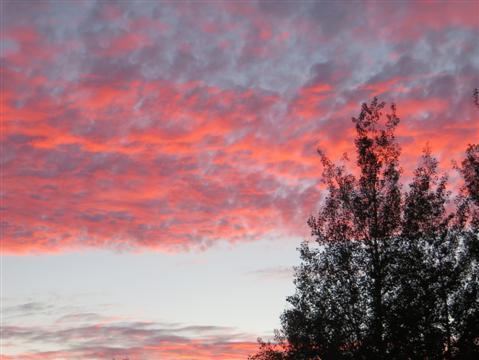 Another sunset view
That's the great thing about Rivka. Just when you think you're going to get a right bollocking, she finds the situation hysterically hilarious. It happened on one of our first dates 44 years ago in Israel when I nuzzled up to her in the back row of the cinema to whisper sweet nothings in her ear - and my chewing gum disappeared into her long blond tresses.
It took us forever trying to disengage the ever expanding morass of sticky goo, followed by a visit to the coiffeur. But what did she do? Collapsed laughing, thinking it was the mother of all laughs.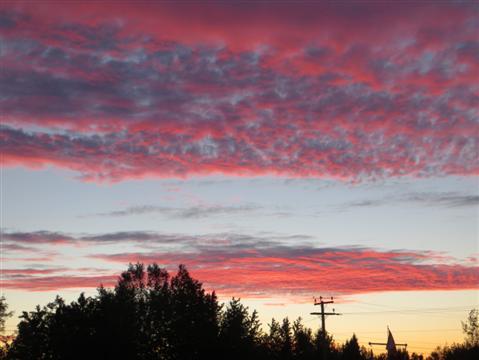 Yet another Goose Bay sunset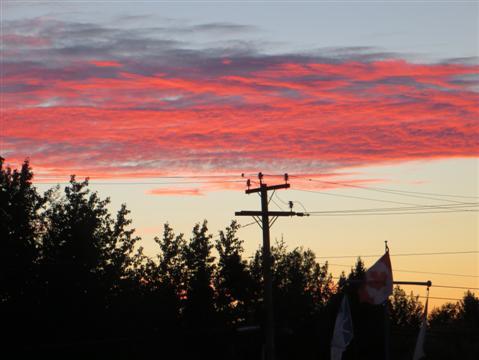 And another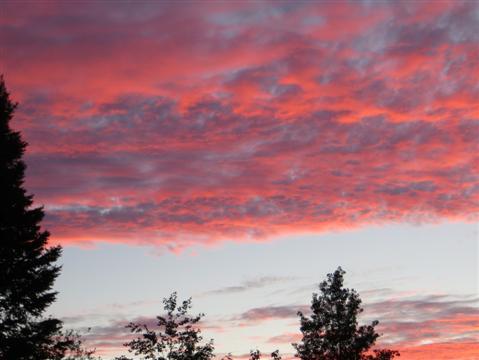 Yet another
______________
By the same author: Bussing The Amazon: On The Road With The Accidental Journalist, available with free excerpts on Kindle and in print version on Amazon.
And Swimming With Fidel: The Toils Of An Accidental Journalist, available on Kindle, with free excerpts here, and in print version on Amazon in the U.S here.