Greenland's indigenous Inuit, inured though they were to the rigours of the far north, never established any permanent settlement in Kangerlussuaq at the top end of a 118-mile-long fjord on the west coast of the world's largest island. It wasn't that it was 60 miles above the Arctic Circle; many of their settlements were far further north than that.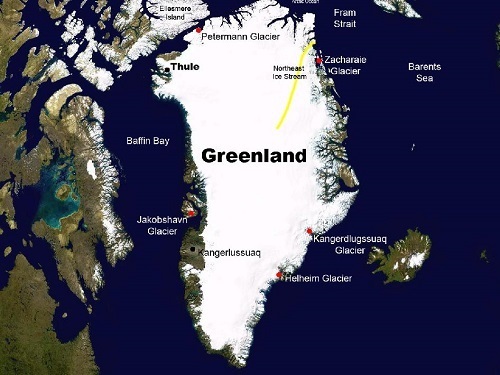 Kangerlussuaq, in black on west coast -- NASA map
But this rugged region of crags and fjords a scant few miles from the permanent Ice Cap was apparently far too cold in winter even for them, far away from the relatively speaking much balmier coastal climes, even if they visited on hunting expeditions as the area abounds in muskoxen, caribou and gyrfalcons.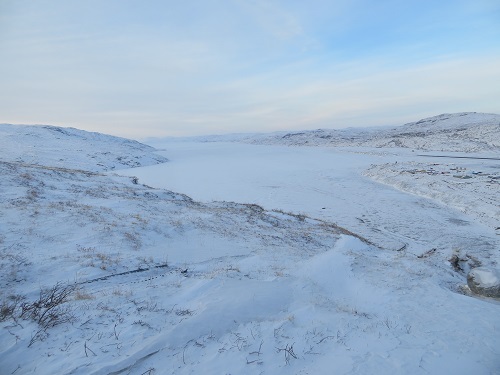 Top end of Kangerlussuaq fjord
It took World War II and United States security needs to found what is now Greenland's coldest inhabited place. Way back in 1941 the U.S. Air Force decided that this little patch of permafrost was the ideal spot for an air base, and what is now Greenland's main international airport began its life as Bluie West-8, restocked by boat during the fjord's summer melt.
At the end of the war it was renamed Sondrestromfjord base after the Danish Søndre Strømfjord until the U.S. air force left in 1992, bequeathing a ready-made airport for international flights and a permanent community of some 500 mainly Inuit attracted by service work.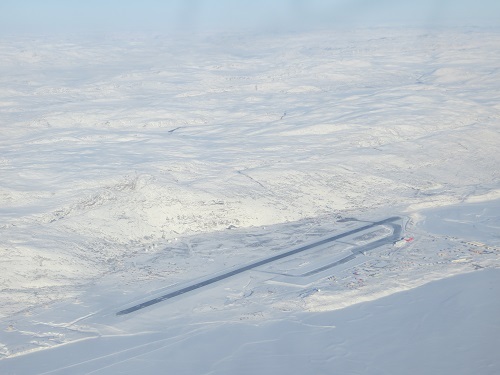 Kangerlussuaq airport
It was also rechristened Kangerlussuaq (big fjord) under Greenlandic Home Rule, which saw indigenous names replacing Danish and other geographical terms, including Kalaallit Nunaat (land of the Kalaallit) for Greenland in what is now an independent country within the Danish Kingdom.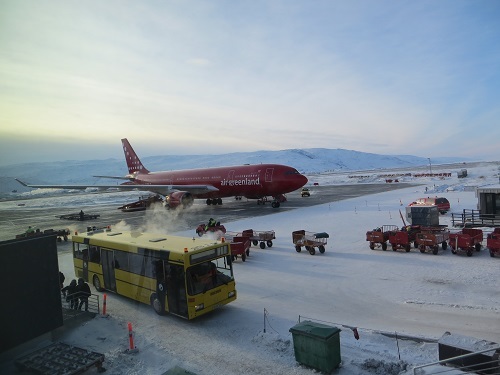 Airport, ground view
This year has been particularly cold in Greenland. In Kangerlussuaq it's not unknown for the mercury to dip to -51 Celsius, -60 Fahrenheit, and that's without the wind chill factor.
Although Svalbard off northern Norway is much closer to the North Pole, only about 800 miles away, it's much warmer there thanks to the Atlantic current than it is here at double that distance, which the airport signpost records in flight time at three hours 15 minutes.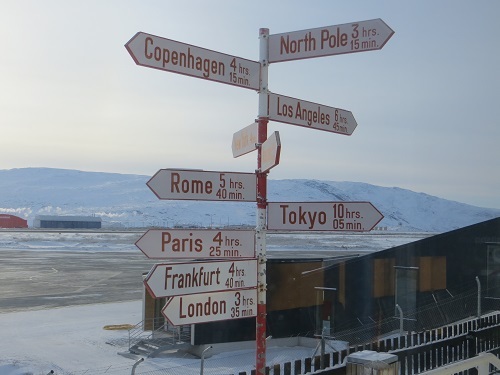 Airport signpost
On this particular day in late February the temperature has just gone up to a balmy -32 Celsius, or -27 Fahrenheit from the -36C or -32.8F, it was clocking on the airport café's digital time-weather-date piece a couple of hours ago.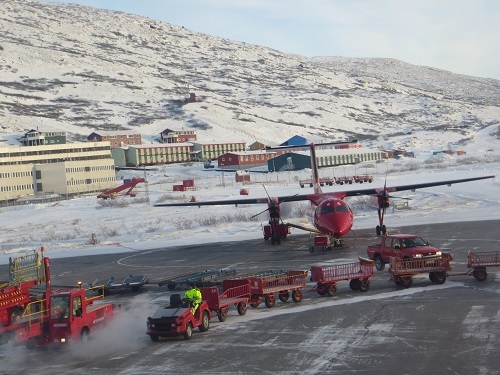 Settlement at top of airport
Beyond the airport there's not much to Kangerlussuaq. The buildings, including inns, are all situated around the top of the runway, many in metal or wooden container-like structures painted in various glaring hues of red, yellow, blue and green.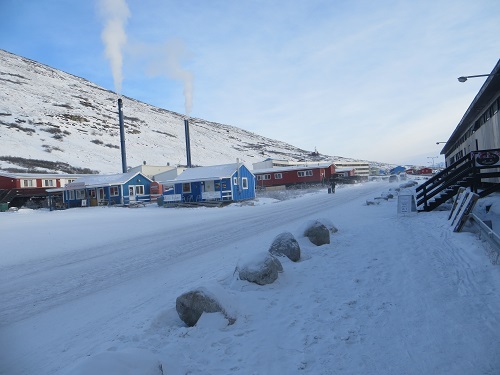 A Kangerlussuaq street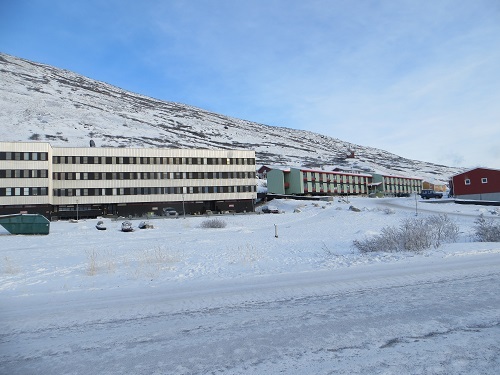 And another
The settlement's port is nine miles west of town at the end of Greenland's longest fully asphalted road. A couple of boats emerge, frozen in the ice, and the large fuel tanks for the airport are already stocked for the winter. The fjord, between snow-draped craggy cliffs, won't melt until about June 1, freezing over again by early December.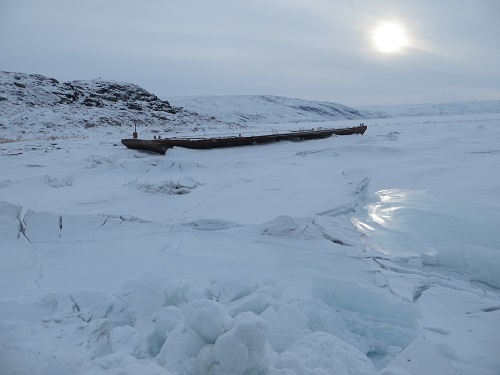 Kangerlussuaq's frozen port
The scenery is nothing extraordinary, but pleasantly wild. Bald bushes push their barren branches up through the snow as do yellow-green stalks. In the summer the snow and ice on the lower levels will be gone and the crags will be covered in sage green and wonderful Lilliputian trees and flowers, barely a few inches high, mirroring the full spectrum of colours of their larger more southerly cousins.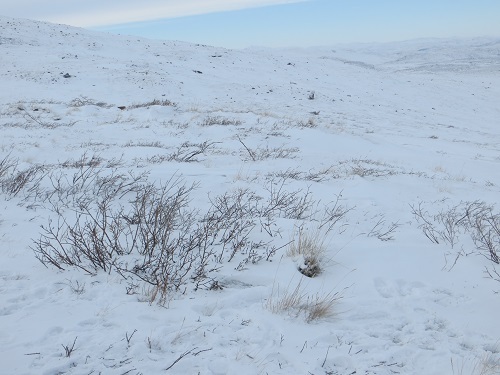 Kangerlussuaq's winter plants
The heating in the red high-wheeled tourist box contraption that takes visitors around is not working properly so our breath is leaving all sorts of intricate vapour trails within. Fortunately the heat is working in the somewhat larger white box we use for a night drive out of town to escape light pollution and view the Aurora Borealis, the fabled Northern Lights.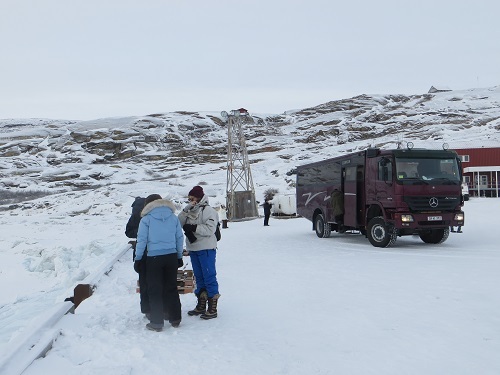 Unheated red box
Well, at least it's a little more successful than last March's spectacular fiasco in Svalbard and Tromsø, northern Norway, where I succeeded in seeing absolutely zilch. Here a bright whitish aura spreads across the horizon, waves at us a little, shoots up a couple of fountain-like columns now and again.
But that's about it. Ms. Aurora is definitely a tad shy tonight. What about all those billowing curtains of deep iridescent greens and shocking electric purples that you see sweeping the northern heavens in all those films and photos?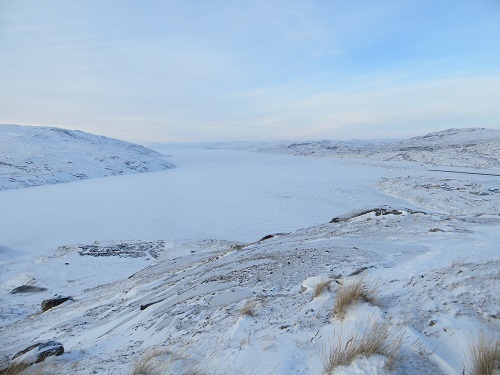 Another fjord overview
At one point she seems about to turn a column green. It's going a bit sickly - but nah! She can't be bothered.
Kangerlussuaq being the epicenter for Greenland wildlife -- excluding polar bears, that is, who prefer coastal regions further north and along the east coast -- we're back in the red tourist box, this time with the heat working, for a morning's royal hunt for animals in them thar hills.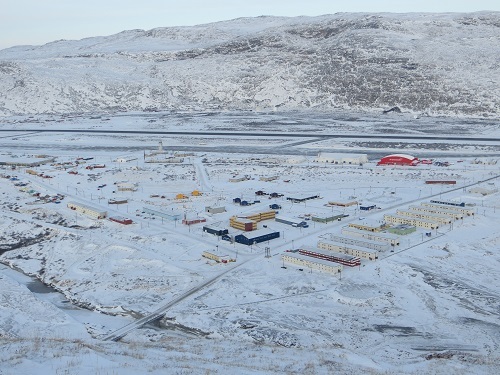 Airport and town from the hills
There are some 25,000 musk oxen in this region of Greenland alone. Actually they might be called oxen but they're of the goat family, all descended apparently from a few ancients who decided to go walkabouts across the frozen strait from what is now the Inuit province of Nunavut in Canada some 5,000 years ago. They get the musk addition from the pong males emit when rutting.
From photos and stuffed specimens in museums their heads have the longish narrow structure of the bison, and they have a bone plate that parts neatly in the middle of their foreheads. Males can weigh up to almost a ton, and they particularly like it here because it's easy for them to dig through the powdery snow for shoots and other delectables in winter.
Red tourist 'box' in snowy wilderness
Some 3,000 are killed annually, mostly for food but sometimes by stupid frigging arseholes who go trophy hunting.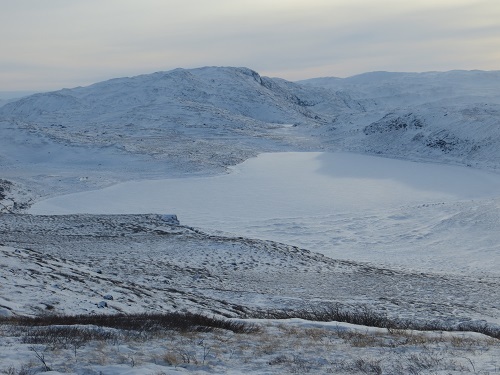 Snowy wilderness and frozen lake
Well, give us this: we do at least see a few paw prints. But of the 25,000, not a single one. On the other hand we do espy a couple of unimpressive female reindeer, cousins of the European reindeer, who because of their sex have no horns. And packs of beautiful sled dogs are howling nicely in their enclosures on the edge of town down below.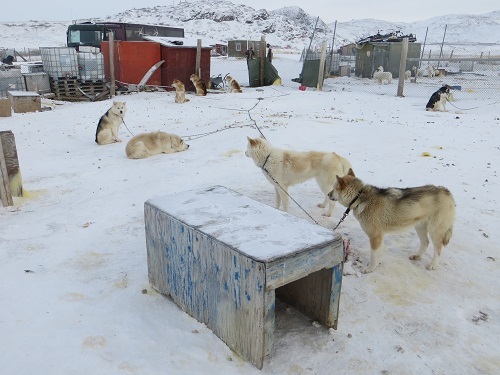 Town sled dogs
The scenery from atop the hill is spectacular: the frozen fjord, the airport, what there is of a town, and an overview of the world's northernmost 18-hole golf course. All you can see of that, though, is the club shack emerging from a sea of snow.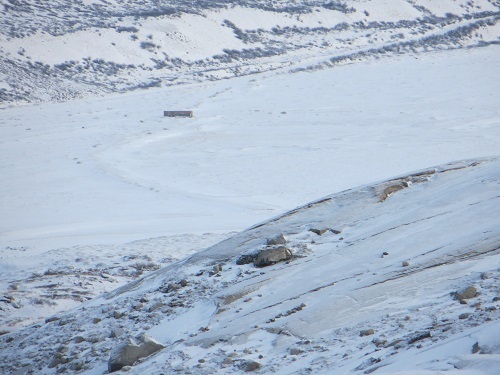 World's northernmost 18-hole golf course
There are in fact three or four paid up members, at $60 a year. In winter they can work on their under-swing at Kangerlussuaq Bowling Centre, a deep blue container-like building in town.
Further afield, on the road to the Ice Cap, a few addled fir trees imported from Siberia, Alaska and northern Scandinavia bear sickly witness to a 1976 experiment to see if they would be fruitful and multiply here. They wouldn't.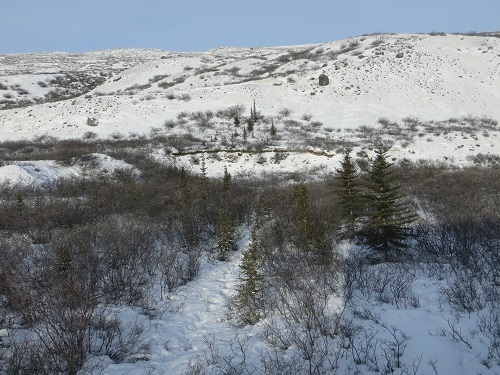 Forestation experiment
And a little further on, the wreckage of a U.S. T-33 Shooting Star jet trainer bears shattered witness to a would-be pilot's 1968 effort to fly from Iceland to Canada. The trainee was not yet ready for prime time. He ejected safely but clearly needed more training.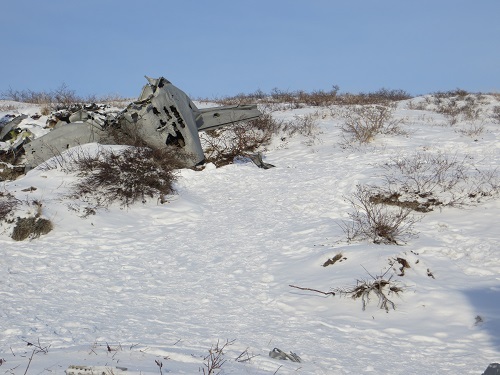 Crashed T-33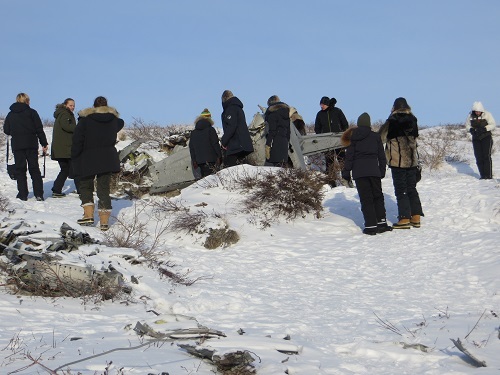 Tourists nip off 'red box' for a quick decko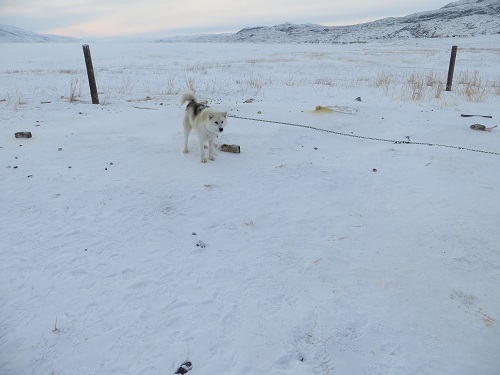 Sled dog in his element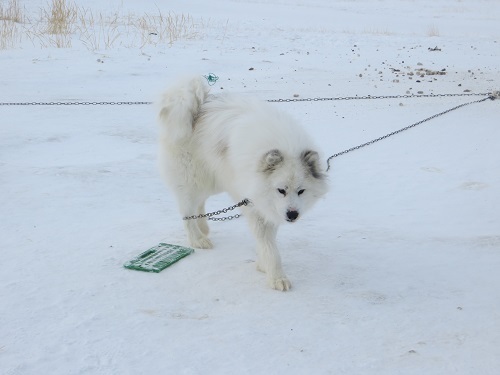 And another
______________
By the same author: Bussing The Amazon: On The Road With The Accidental Journalist, available with free excerpts on Kindle and in print version on Amazon.
Swimming With Fidel: The Toils Of An Accidental Journalist, available on Kindle, with free excerpts here, and in print version on Amazon in the U.S here.