There's a whole new meaning to Canada Dry up here in Nunatsiavut, Labrador's autonomous Inuit area. It's not the beverage company of that name and its bitter lemon and ginger ale, but the actual shades of the prohibition area. A board at Makkovik's airport hut warns that it is prohibited to sell, barter or supply alcohol, to be intoxicated or have alcohol in one's possessions in the community of Natuashish, under pain of a $1,000 fine or six months in jail or both. Moreover carry-on or checked baggage will be searched.
Now, Natuashish is an Innu community and one of the stops on our way to Nain, and Madam is very concerned at the thought of what might befall her cherished bottle of Shiraz. The Air Labrador lady assures us there's nothing to worry about as we don't disembark in Natuashish.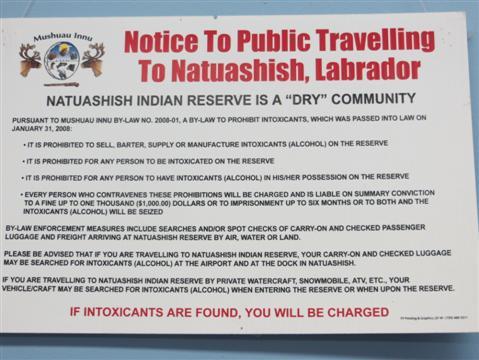 Alcohol banned in Innu community
There are also bill boards here warning you against bootlegging elsewhere in Nunatsiavut where alcohol is legal. Profiteers apparently smuggle alcohol in and then sell it without the taxes, undercutting the official outlets.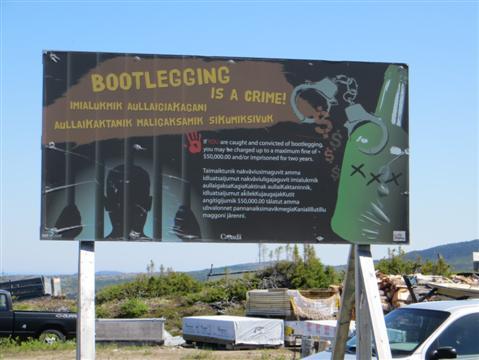 No tax-avoiding bootlegging elsewhere, either
The little DHC-6 takes to the skies, but flies so low that this is better than a cordon bleu sight-seeing flight. The scenery is absolutely spectacular: low copses with trees getting scarcer and lower the further north we fly, thousands of lakes and inlets in all shapes and sizes sparkling deep blue in the brilliant sunshine, a myriad little dome shaped islands, vast patches of yellow-green lichen scoring the grey crags, jagged peaks towering over white chunks of ice and ice floes.
In-flight views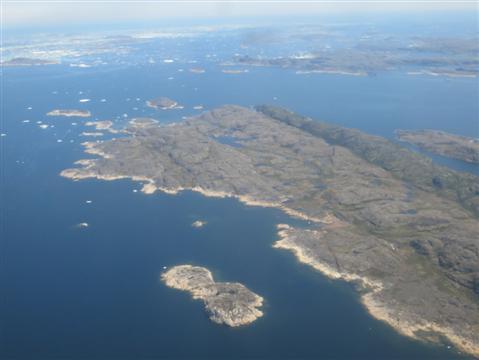 Another in-flight view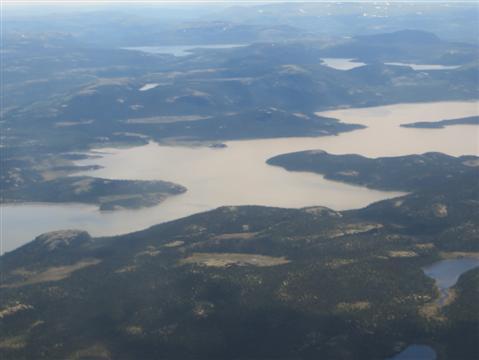 And another
Absolute barren beauty! And this time Rivka is indeed impressed. She's absolutely wowed and she's not muttering that she might just as well have stayed in new York and seen it all in comfort on a NatGeo TV special.
We make intermediate stops at the little villages of Postville and Hopedale, negotiate Natuashish without anything untoward befalling Rivka's Shiraz, and at last touch down in Nain, 27 hours after our originally scheduled arrival.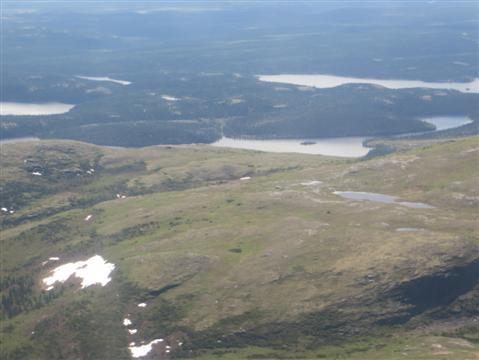 More in-flight views
And another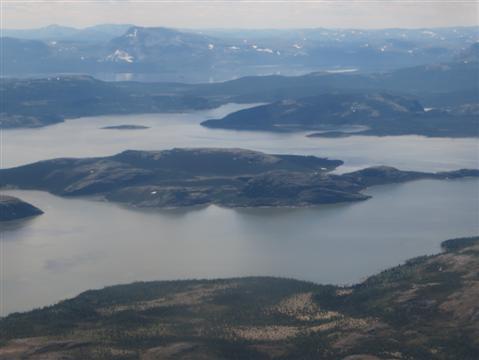 Yet another
This is indeed the end of the line. Nain, a town of just 1,200 people and Nunatsiavut's administrative capital (Hopedale is where the legislature meets), is as far as you can go by public commercial transport - either plane or boat. From here on northwards it's expensive charter by plane or boat.
It's almost the end of the tree line, too. There are still groves of beautiful bright green firs, but they're short and more slender than further south, fewer and farther between.
Yet more in-flight photos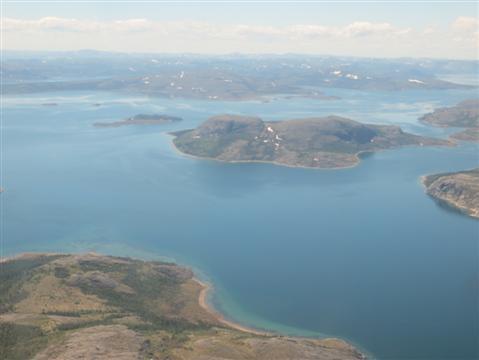 Another
The town's low wooden buildings range from utilitarian to downright ugly, but the surroundings are superb: steep green hills with patches of icy snow caught in the folds, jagged grey granite peaks, a vast deep blue inlet encircled by high indented ridges, and islands in the stream.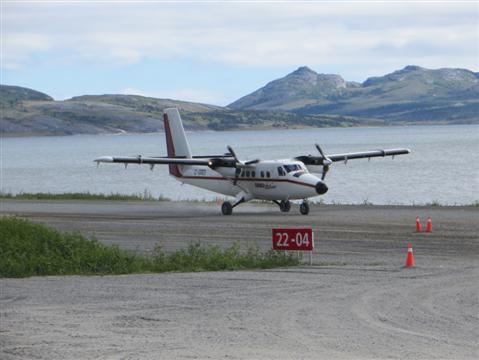 Nain airport
The barren mass of Mount Sophie, a rocky cliff, looms over the town. Mosses and countless plants cover lower rocks with a carpet of emerald Lilliputian trees an inch or so high, and the mainly Inuit people welcome you with a smile and a hi.
Nain was founded in 1771 by Moravian missionaries and now hosts the OKalaKatiget Society (the Nunatsiavut news agency), the Torngat Fish Producers Cooperative for local arctic char and the Voisey's Bay Nickel Mine.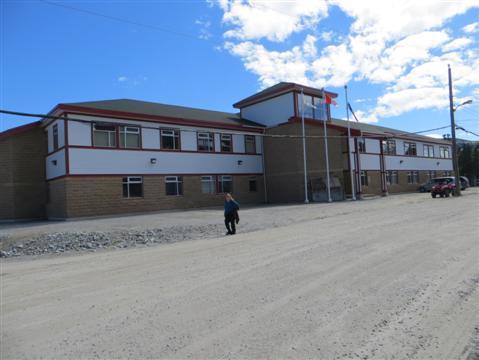 Nain government building
I'm going nuts over the landscape, and Rivka's going plain nuts. I'm saying look at that peak over here and that ice patch over there, and she's saying: 'I am looking at it, I looked at it from the plane and it was beautiful. But the town is depressingly ugly. Now let's move on.'
So we do move on - in the direction of Rivka's landscape predilection, the arts and crafts shop that I've been promising her ever since we started out from Goose Bay, as purchasing is one of Rivka's greatest passions, on which she can, and does spend endless hours.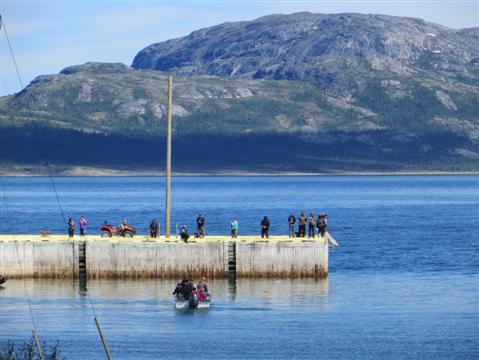 Nain pier
We repair thither immediately after lunch at the Atsanik Inn. The shop is in the same wooden building as the Canada Parks headquarters for the Torngat Mountain National Park to the north, the Mounties, and several student programmes.
But oh Gawd, disaster descends, catastrophe clobbers, and catechism, I mean cataclysm comes crashing down. The shutters are drawn on the arts and crafts shop . A little notice broadcasts the sad tidings: due to staff shortages the shop is open only on Monday, Wednesday and Friday, and then only between the hours of 4 and 4.30. Wow, that's not even one hour and today is Thursday anyway.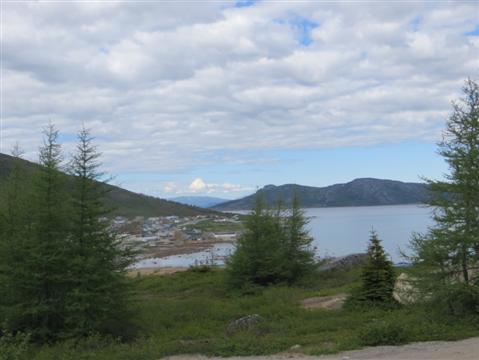 Nain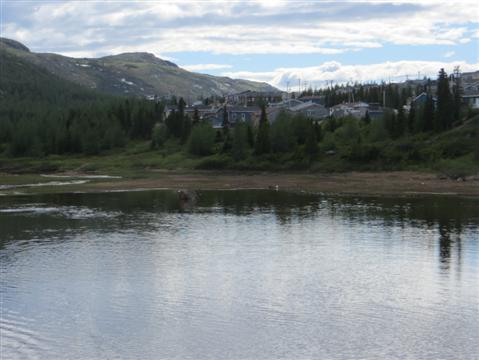 Another Nain view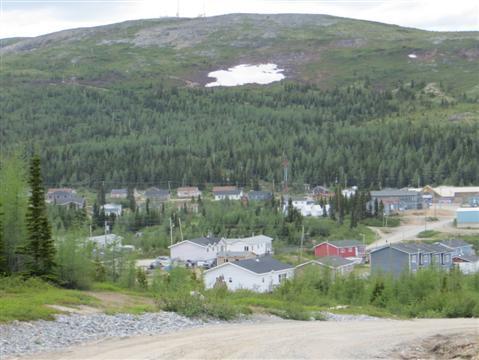 And another
But Madam is not to be trifled with. She is now on a war footing, betaking us off to the local grocery hut for something, anything in some way, any way related to local arts and crafts provided it does not contain anything like skin or bone that has resulted in the death of an animal. Yeah sure, Madam, when you're looking at Inuit crafts!
She's set her heart on some traditional Inuit boots made in plastic for the grandkids. Well, surprisingly enough the local grocery hut has plenty of peanut butter, but no boots. So Madam takes us off to Northern, Nain's Everyday Store. There too, there's plenty of ordinary normal boots that your ordinary everyday Inuit now need, but nothing to be snapped up for the grandkids.
Pedal boat lake
Defeated but still defiant, she retires to the TV in our room at the Atsanik. For those with more time and younger legs there are many fine hours-long, even day-long treks in the neighbourhood. Lacking either, Yours Truly goes for a nice little hike up a low hill.
The views are splendid. On the way kids are playing bumper cars in two pedal boats on a small lake, and a maple leaf-bedecked caravan of hooting cars led by the town's fire van is circling the streets for Canada Day - today is July 3, not 1, but it's been fogged out until now.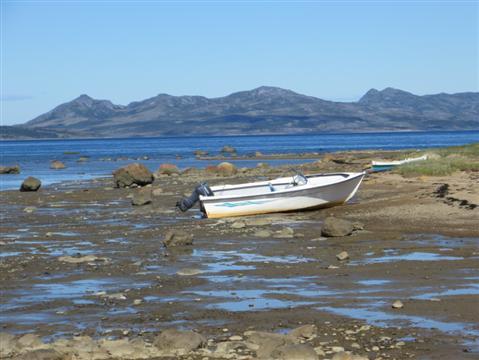 Nain inlet
Meanwhile Nunatsiavut's flag with the Inukshuk, the traditional stone cairn in white, blue, and green, flies by the side of the maple leaf in the little sports ground on a promontory that affords some of the best views in town - hulking mountain peaks, deep blue water, rugged slopes, emerald trees.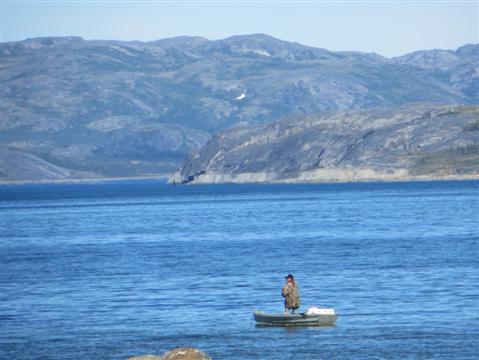 Anybody for fishing?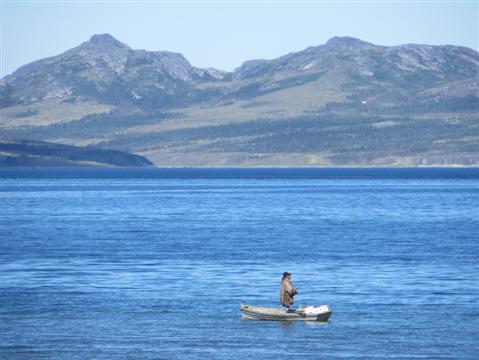 Let's face the opposite end
It's here too, at this very sports ground, that Yours Truly is introduced to a new danger to life, turbo-sex at the top of the world. A billboard blares: Beware of Flying Balls. Wow, we're not talking Viagra here, we're talking mega-steroids.
It's not steroids, however, that keeps us awake. There are things that go bang in the night on July 3, 2014, starting at 2300 - Nain's delayed Canada Day fireworks display.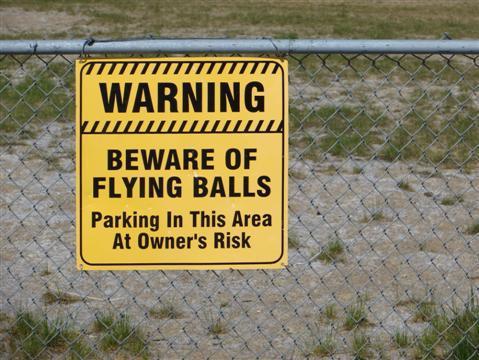 Beware!
______________
By the same author: Bussing The Amazon: On The Road With The Accidental Journalist, available with free excerpts on Kindle and in print version on Amazon.
And Swimming With Fidel: The Toils Of An Accidental Journalist, available on Kindle, with free excerpts here, and in print version on Amazon in the U.S here.