Saratoga Springs in upstate New York may be best known to many as home to a world famous race track for thoroughbred horses, the second oldest in the United States that began its long life in 1863. It may also be best known to James Bond film fans as the setting for a melodramatic scene from Diamonds Are Forever, shot almost 110 years later in 1971.
Entrance to Saratoga Springs Race Track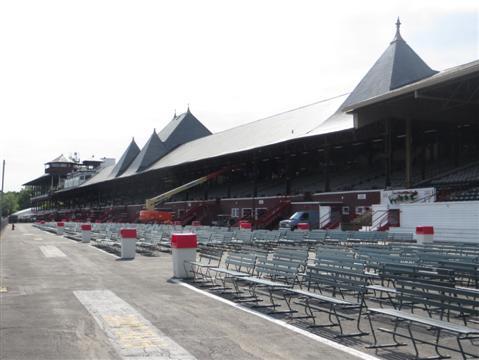 Saratoga Springs Race Track
But if you can tear yourself away from the majestic race track, whose 40-racing-day season began this weekend and continues until Labor Day, and avert your eyes for a brief moment from its live-teller wagering windows or self-service betting booths 'in three easy steps,' there's much to hold your attention in this expansive genteel town of broad leafy avenues and stately mansions that was once mosquito-infested swampland.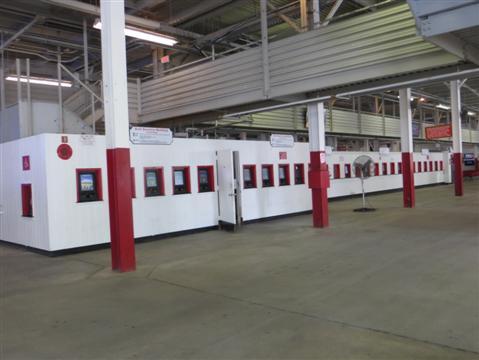 Self-Service Betting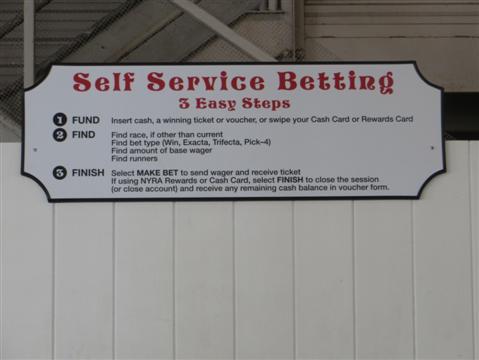 Three Easy Steps
Home to the Mahican people before British and Dutch colonists ousted them, situated about 15 miles northeast of the site of the Battles of Saratoga, which gave the American colonists a decisive victory over King George's loyalists in 1777, Saratoga Springs remained mainly swampland until 1792, when Congressman John Gilman discovered mineral springs.
Live-Wager Windows
Drawn by its curative waters in the following years, the rich and famous began paying visits, building palatial homes. The town became an ever more cherished resort throughout the 19th century, a rival to Newport, Rhode Island, and Bar Harbor, Maine, its access greatly facilitated by the completion in 1832 of the Saratoga and Schenectady Railroad. Along these rails in 1870 the Empire State Express began a direct run from New York City.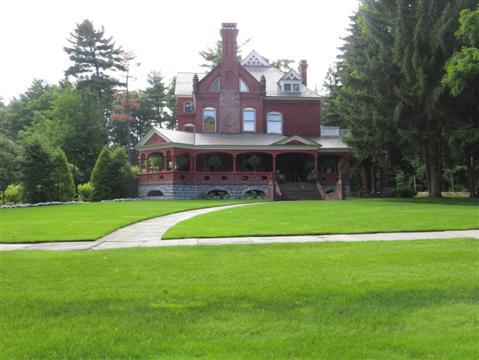 A little cottage on North Broadway
Today, once of course you have torn yourself away from the race course and your equine predilections, leafy North Broadway, 120 feet wide and about a mile away from downtown, awaits you with its Queen Anne, Greek Revival, Tudor Revival, Colonial Revival, French Renaissance, Gothic, Victorian Gothic and Italianate mansions, some confections resembling anachronistically prescient Harry Potter gingerbread.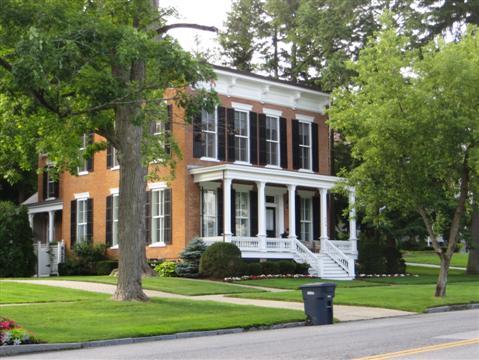 Another little hovel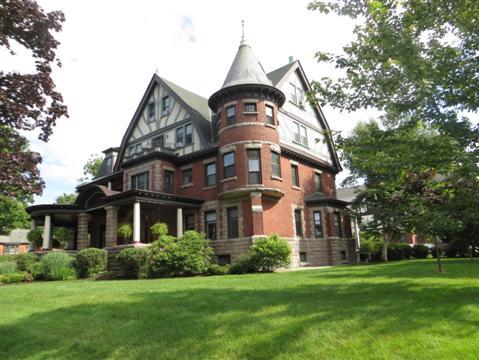 Harry Potter might feel at home on Union Avenue
Many date from the latter half of the 19th century, but some were built only a few years back - homesteads rising out of sudden modern wealth to rival great châteaux. These confections are not confined only to North Broadway and some of its cross streets. There are many others elsewhere, including central Union Avenue that leads to the race track.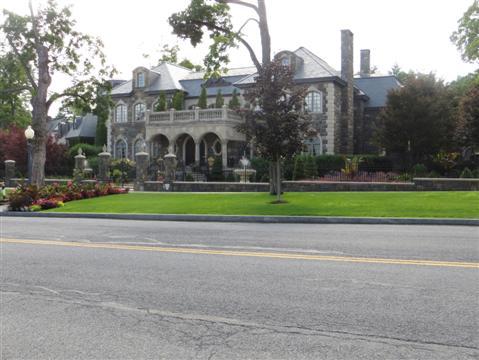 A recently built château
If you're looking for a pied-à-terre
Both here and elsewhere several have miniature statues of horses and jockeys in their front gardens. If you really want to go for broke in the realm of kitschiness, there are life-size statues of steeds, some in glaring colours and patterns, all over town, not to mention those of giant glittering ballet slippers meant to highlight culture in the provinces.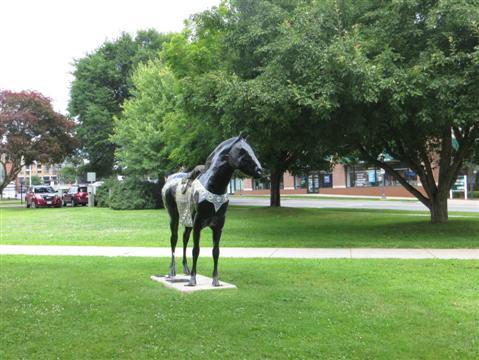 Saratoga horse statue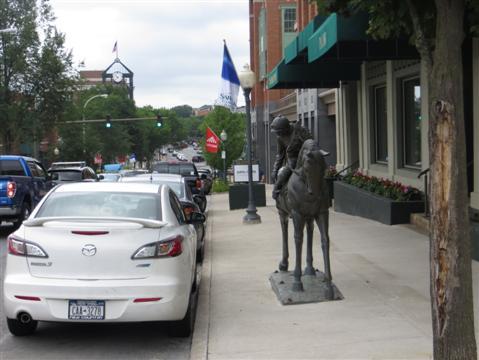 Another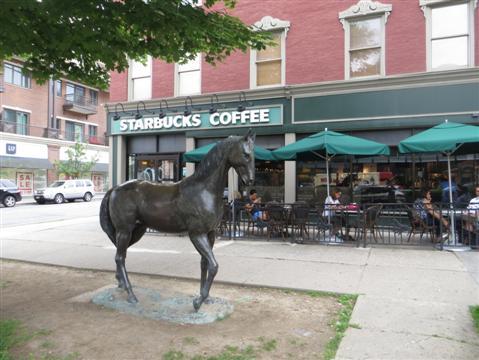 And another
Examples of both adorn the green in front of a handsome winged beaux-arts edifice, built in 1915 as a trolley station by the Hudson Valley Railroad, and now serving as the Visitor Centre.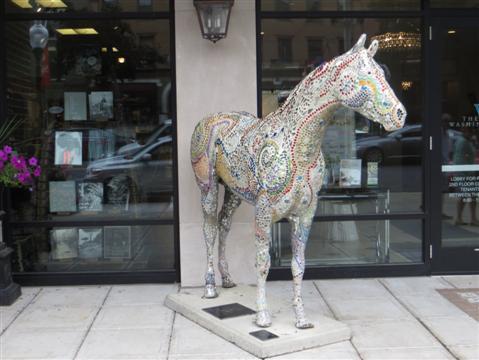 Saratoga's crazy horse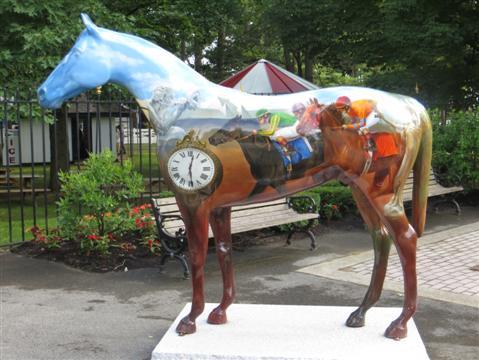 Horse in flying colours at Saratoga race track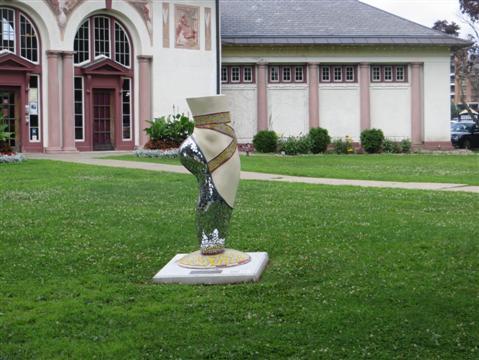 Ballet slipper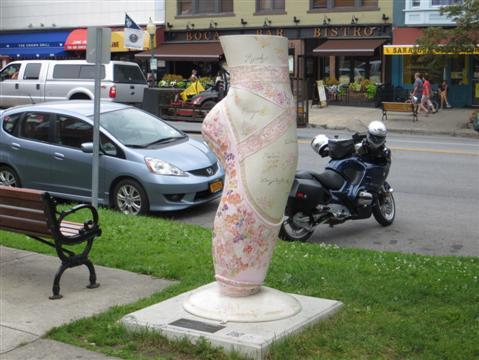 And another
On a more serious note, a gold-on-black marker erected nearby in 1999 reminds the visitor that Saratoga Springs was the home of Solomon Northup, the New York African-American kidnapped into slavery in Louisiana in1841 and not freed again until 1853, whose story is told in the book and film 'Twelve years a slave.'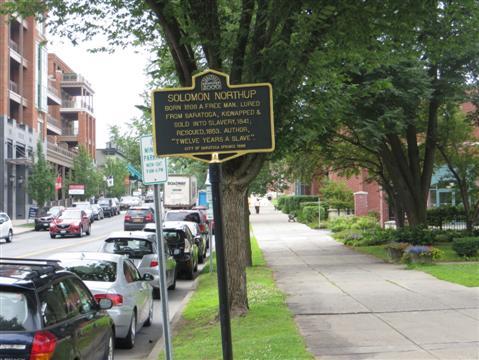 Solomon Northup memorial
Across Broadway from the Visitor Centre, Historic Congress Park spreads out its green mantle, with hillocks, springs, Grecian pavilions and cupolas, war memorials, statues and plenty of ducks. In the centre, is the Clubhouse, the old casino in a town where gambling was never legal and where a red ball is said to have been floated atop the nearby Morissey Fountain to announce that the gaming tables were open.
Old casino
Today it serves as the local history museum, and you can rent the parlour and ballroom for your own special event. But if you want its original purpose, you have to go back to horses, this time to the 'Saratoga Racino,' the Saratoga Casino and Raceway, separate from the famous race track, where over 1,700 state-of-the-art video gaming machines and live harness racing await you.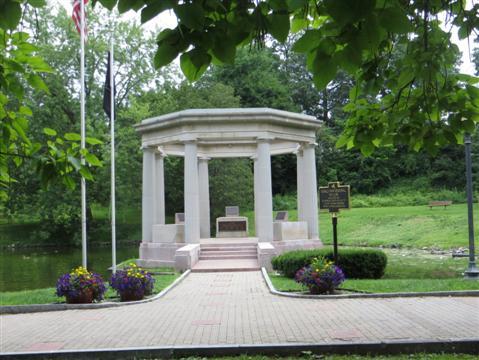 WWI and WWII memorial
The park's Columbian Spring with its little cupola and nearby Congress Spring no longer flow with fresh spring water. A glassed-in carousel caters to small children, and several war memorials pay homage to local citizens who fell in America's foreign wars while a towering Union soldier, dedicated in 1875, soars in tribute to those who volunteered in the Civil War against the South.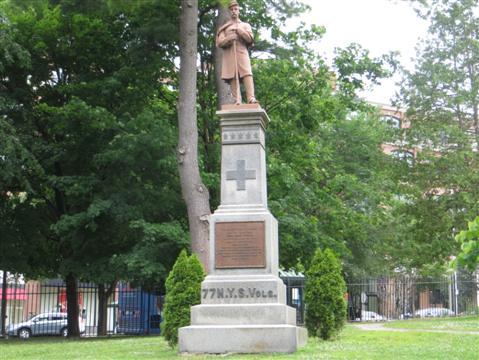 Union soldier
On this particular morning, rehearsals are underway for the banquet scene from Macbeth on a stage on the grass. Actors in shorts and T-shirts stand by the side with a platter of goblets while others wave a purple cloth in the wind, trying to lay the table.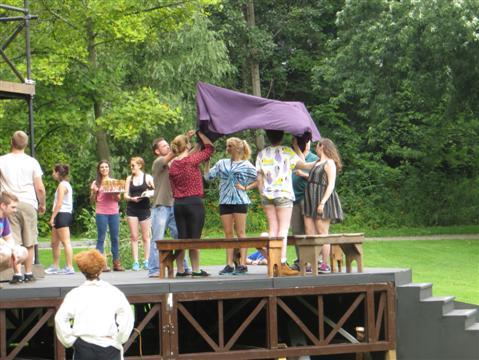 Macbeth in the park rehearsal
Behind, three lissome maidens, likewise dressed, prance around a black cauldron brandishing aloft great stirring poles as they bellow 'Double, double, toil and trouble,' ready for their evening transformation into three mold hags.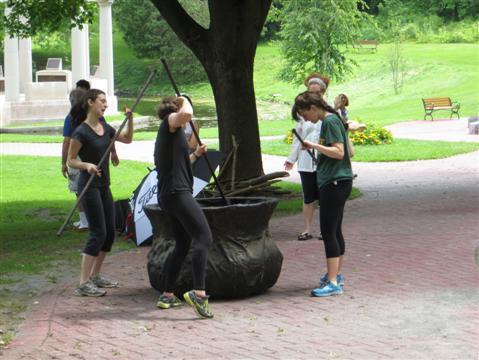 When shall we three meet again
Meanwhile, apart from the ducks in the lake, ornithology seems to have taken a major flight of fancy, with several large and intricate birdhouse-like structures perched atop poles throughout the park, including a representation of the White House. Further investigation, however, reveals that these are anything but birdhouses.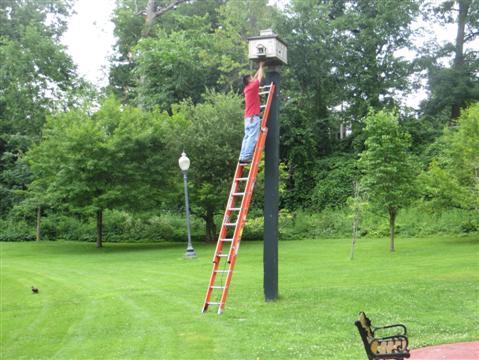 Gardener tending to 'birdhouse'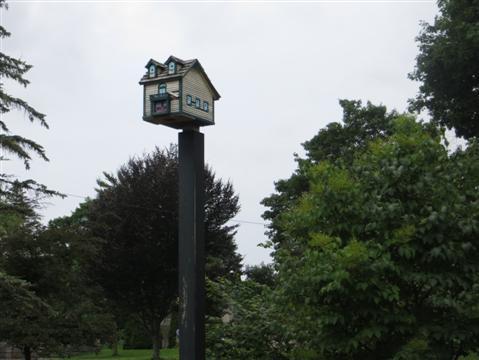 Another 'birdhouse'
Just when you think the NSA can't get at you any further, it turns out that these are aesthetically disguised surveillance cameras. That White House on the pole over there is watching YOU. But worry not! It's not the NSA big brother after all. It's just the local big brother; they were put up by the town fathers for security reasons after a rash of teenage vandalism.
The White House is watching YOU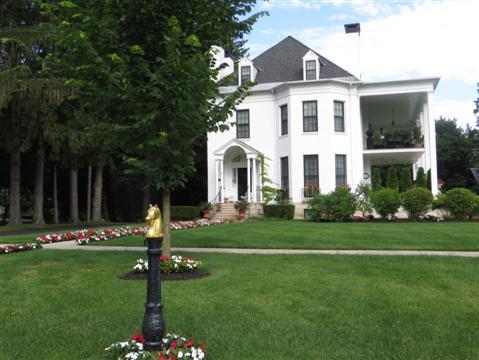 Mansions remember they're in horse town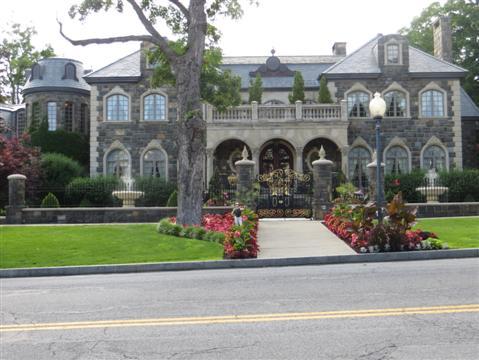 Jockey waves from château flowerbed
______________
By the same author: Bussing The Amazon: On The Road With The Accidental Journalist, available on Kindle, with free excerpts at and in print version on Amazon.
And Swimming With Fidel: The Toils Of An Accidental Journalist, available on Kindle, with free excerpts here, and in print version on Amazon in the U.S here.