I'm in Canada's Willy Wonka wonder world, the chocolate factory that produced the first chocolate nut bar in North America, that introduced the first heart-shaped Valentine's Day box - a land flowing with milk and honey, or rather free samples of delicious confections judiciously located throughout the establishment.
Bars, hard centres, chewy centres, cream centres; you just name it, it's here for the taking in the New Brunswick bourg of St. Stephen, which prides itself as 'Canada's Chocolate Town.' But first a few words of explanation.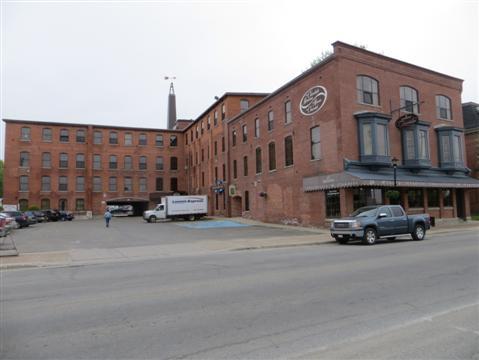 Canada's oldest chocolate factory
This is the start of a multi-blog series. The idea is to spend six weeks travelling overland through Canada's three Maritime Provinces, Newfoundland, Labrador, and eastern Quebec, with a little side trip to the French islands of St. Pierre and Miquelon, by mass public transport, resorting to planes and taxis only when there is no alternative.
As for rental cars, that's truly the last of last resorts. My kids and their spouses have so drummed into me that I'm the world's worst driver, a murderous corner-cutting, bike-swiping, car-grazing, width-blind, depth-blind, height-blind Mr. Magoo on wheels who should be forever ball-and-chained to a lamppost, that my self-confidence behind a wheel, be it car or roulette, has been ever so slightly dented.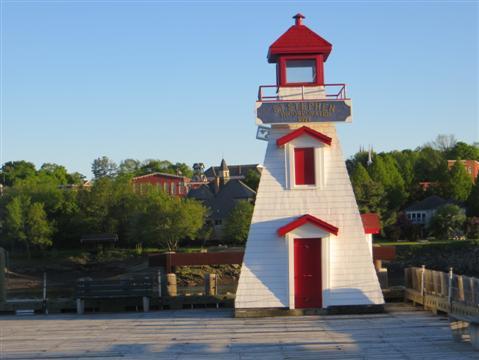 St. Stephen wharf with U.S. state of Maine behind
Now it is true that the yellow paint of a series of bollards mysteriously transferred itself to my rental car in Saipan, and the blue paint of a garage wall inscrutably reappeared along the whole right side of my rental car in the Azores - both at great non-covered expense - not to mention that poor Estonian cyclist in Talinn who had to be pushed back into his skin after he jumped out of it as I blithely grazed past.
But let's not exaggerate now. As for hitch-hiking, I'm way too old for that. I'd probably get picked up by the angel of death.
So I've barely started this odyssey, I'm barely across the U.S. border from Maine in St. Stephen, and you've no idea how much trouble I've already gone through just to get this far.
Sunset on the St. Croix River - Canada on left, U.S. on right
Gone are those halcyon days of 40 or more years ago when Greyhound buses went to every small town in the U.S. or Canada, and then some; when you could get those wonderful limitless 7-day, 15-day, 21-day or 28-day passes and never even had to book a seat; when if you arrived on time at the bus station and the bus was full Greyhound would put on an extra bus just for you.
Now, what remains of that once mighty network never seems to go where you want when you want even where it still operates, and you're reduced to knitting together an ad hoc network of disconnected connections that may or may not get you to where you may or may not want to go.
Just to get here from Bar Harbor involved taking the Bar Harbor-Bangor airport shuttle and getting off half way at Mike's Country Store in a place called Ellsworth, where West's daily bus to the U.S. border town of Calais is due three hours later. Even to find that out involves a myriad blank faces and linguistic contortions.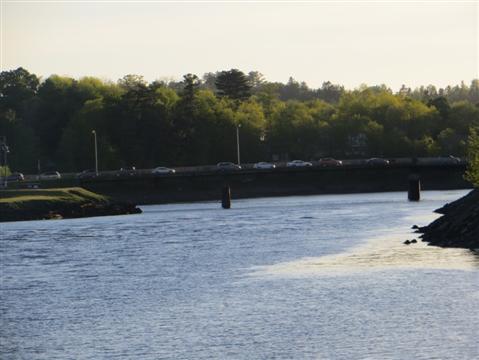 Border bridge over St. Croix River
Well, it's spelled Calais, it's clearly named after the French port of the same name, seeing that Maine was part of the former French colony of Acadia, yet nobody frigging well knows what I'm talking about - until some bright lady's cerebral light bulb flashes on and she says: 'Ah, callous!'
'Madame,' quoths I, 'I most certainly am not callous.'
'No, not you,' quoths she, 'the place. That's how we pronounce it.'
So pardon me my hoity-toity ways. Thus am I obliged to massacre Calais if I want to get anywhere near the border this afternoon. If you ask them here how far it is to Calais, pronounced Ca-lay, they'll say: 'Oh, about 4,500 miles' instead of the 112-mile trip to Callous. OK, Callous, I mumble.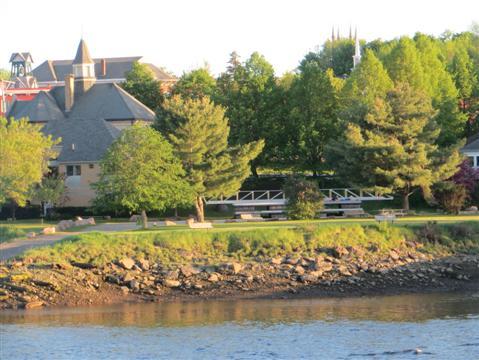 Looking back at Calais - sorry, 'Callous' - from St. Stephen
In the two-street town of Ellsworth, loud music is blasting out of an SUV on Main Street, followed by a pair of bare jiggling shoulders beneath a foxy pouting face, also jiggling this way and that beneath a black cowboy hat perched atop long tresses. Could she be topless? What a panorama of small-town America. A little stretch upwards upon tippy-toes. But no, I'm hapless, she's not topless.
The panorama darkens or rather fattens - boy, is Middle America generally out of shape, huge pears walking, getting out of and into cars, humongous bodies overflowing giant motorcycles, almost sucking them up. The fat driver of West's 12-seater minibus to 'Callous' is also jiggling his head, but this is due to a nervous tic that is fast approaching St. Vitus dance mode.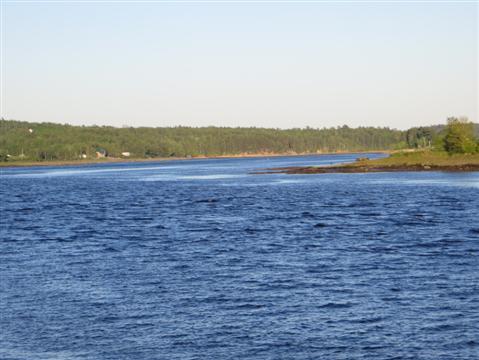 St. Croix River, Canada on left
As we move out of Ellsworth he announces that anybody who misbehaves will be booted off the bus. Apart from a Canadian in his 20s, the next youngest is closer to 60. What does he think we're going to do - dance the Highland Fling in the aisle? But the undulating scenery of woods and sea inlets with forested islands and winding promontories provides entertainment enough.
Not to mention one fat matron who engages the driver in a highly intellectual conversation: 'I'm on my third divorce,' quoths she, 'and I'm not going to get married again. It's not worth it.'
There's no onward connection at 'Callous,' of course, but the Canadian is met by a friend and they drive Yours Truly over the short bridge over the St. Croix River into St. Stephen. I've never had an easier border crossing - no U.S. post at all. A lady on the Canadian side looks at my passport and asks if I have any weapons (yes, ma'am, five kalashnikovs and four grenades), and we're through in two minutes.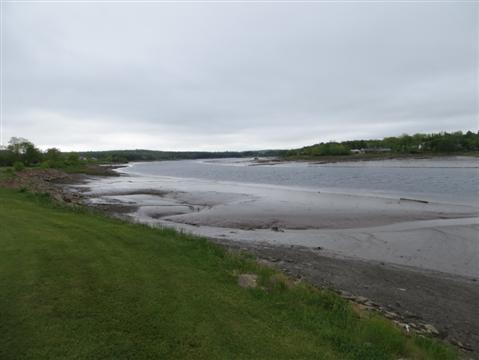 Another St. Croix view
There's a loyalist cemetery in St. Stephen, replete with Canadian maple leaf flag and Union Jack, for those American colonists who remained loyal to King George and fled the coop northwards to New Brunswick when the 13 colonies made that disastrous decision to throw off the royal British yoke. OK, just yoke-ing. Overall, more than 100,000 are estimated to have fled to Canada.
The Union Jack, by the way, may well lose its blue if disloyal Jock to the north of England belatedly follows the 13 and votes for independence on September 18.
There's no public transport at all between St. Stephen and Saint John, 66 miles away, even though the latter is New Brunswick's largest city, and I have to order a taxi for $60. Now there are some pleasant walks along the St. Croix and views across it to the U.S., but I don't feel like spending three hours staring at Maine until the taxi will be free. So this is where Willy Wonka comes to the rescue.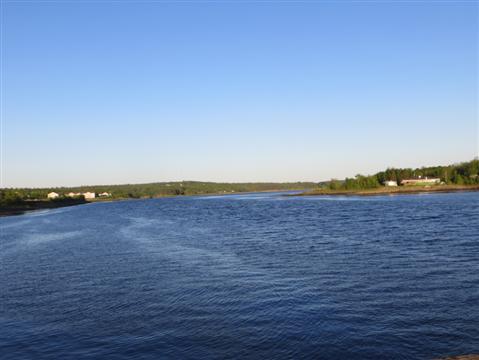 And another
Ganong Bros. Chocolate Factory on Milltown Boulevard is Canada's oldest, founded in 1873. By the 1930s the four-storey red brick factory employed 700 people. It has now moved to new premises, but the old building here on the St. Croix river front now serves as a museum, telling the story of chocolate from its earliest days when it was the bitter drink of choice of Mexico's Mayan kings 3,000 years ago.
It was in this factory that the first chocolate nut bar in North America was produced in 1910, named after Longfellow's heroine Evangeline, the lovelorn lass whose beau Gabriel is sent south of the border when the British deported the French Acadians. She only finds him again in old age in Philadelphia where he dies in her arms during an epidemic. I think I'll forgo the nut bar, thank you very much.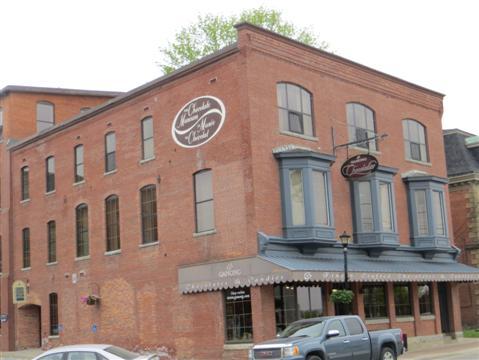 Ganong chocolate factory front
It was here, too, that the first heart-shaped chocolate box in North America was introduced for Christmas 1932, an idea imported from Europe. It did poorly.
But one of the Ganongs had the inspired idea of reintroducing it for Valentine's Day 1933 - not to commemorate the St. Valentine's Day Massacre four years earlier of Bugs Moran's Irish gang by Al Capone's Italian boys, but just to see if it would sell to lovers. The hearts flew off the shelf - and the rest, as they say, is commercial history.
And it is here, too, today that four women still hand-dip chocolate to show visitors how it's done - with their bare hands since you can't do it proper-like with gloves, we're told.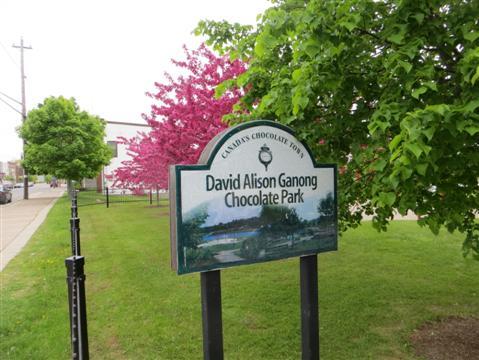 Ganong Chocolate Park
Across the road is a 'chocolate park,' a pretty corner of verdant grass and crimson-pink blooms whose only visible connection to the confectionery is its name. It used to be called St. Stephen Chocolate Park, but in 2010 was renamed David Alison Ganong Chocolate park in honour of the current chairman.
It costs $10 - $8.50 for old farts like me - to go round the museum's various rooms with displays of long-departed confections, wrappers, photos, newspaper reports and machinery, but you have all the free samples you can eat placed at strategic staging points - and now I want to barf some'at awful.
Far from wanting to barf, though, one of the Ganongs, Arthur, used to eat three pounds of chocolates a day - that's 83 pieces, the resulting mound still to be seen in a display case - yet he remained slim and athletic until his death, ironically at age 83, in 1960.
Another view of Chocolate Park
______________
By the same author: Bussing The Amazon: On The Road With The Accidental Journalist, available on Kindle, with free excerpts at and in print version on Amazon.
And Swimming With Fidel: The Toils Of An Accidental Journalist, available on Kindle, with free excerpts here, and in print version on Amazon in the U.S here.