Oslo may be one of the less notable European capitals, but there's plenty to do that is accessible if you have a few-hours lay-over before your flight to Norway's rightly famed Arctic far north. First and foremost the journey into the city from Gardermoen airport, 22 miles (35 kilometres) to the north, is a cinch -- 19 minutes by Flytoget express train leaving every 10 minutes from right outside.
Once in the city an excellent metro system will whisk you in no time to the areas you wish to see, though the central area is sufficiently compact for you to walk around it with little effort.
The Scream: Perhaps first on the list is one of the world's most reproduced paintings, The Scream, Edvard Munch's famous depiction of utter horror-struck desperation, described by some as the 'Mona Lisa for our time.' Munch in fact painted four versions, one of which is in the National Gallery, unless it's been stolen again.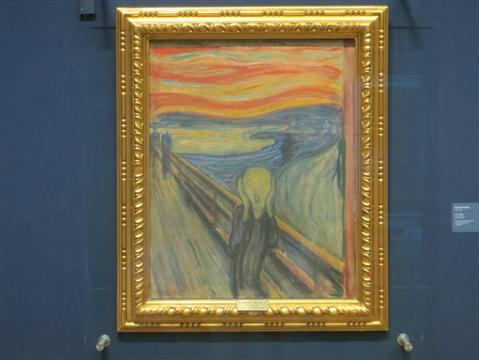 The Scream
It was nicked in 1994 before being recovered several months later, as was another version swiped from the nearby Munch museum a decade later, also recovered. Their value, if you do nick one and manage to sell it to a hermit collector who'll have to keep it secret? Well, a pastel version sold legitimately fetched nearly $120 million at Sotheby's in 2012.
Not surprisingly, the room at the National Gallery, a couple of blocks or so from the Nationaltheateret Station which is also served by every second airport express, is well guarded.
More surprisingly, Yours Truly can't find the frigging 'Mona Lisa for our time.' In fact I reprise a less than glorious episode from more than 60 years earlier when as a teen-age student in Paris I walked past the real 'Mona Lisa for their time' in the Louvre on several successive Sundays, when entry was free, without noticing it.
This time I do two full circuits of the room and am forced, rather embarrassingly, to ask the guard for ground zero. He points to the opposite wall.
Ah! OK, in my defence it is much smaller than most of the Munches surrounding it and its colours seem duller than I'd seen in reproductions.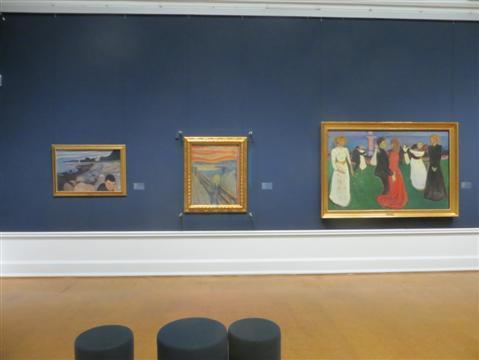 The Scream among the other Munches
Being on a short time budget I confine the Gallery visit to the Munch room. The Scream's next door neighbour is a larger canvas portraying what looks like some country dancing that the artist called the Dance of Life.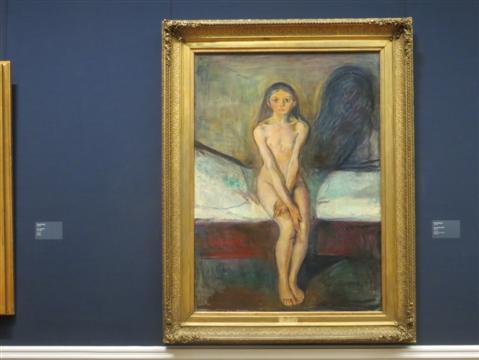 Puberty
Nearby is a large seated nude called 'Puberty,' and a little further on an equally large canvas of a lady laying back on a bed in abandon with empty bottles on the table entitled 'The Day After.'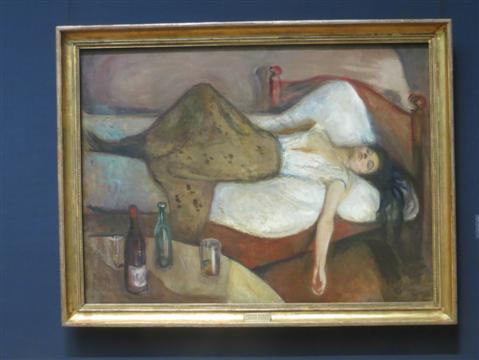 The Day After
Directly opposite is Munch's 1919 'Self-Portrait with Spanish Flu.' He looks pretty down in the dumps but he survived and lived on to a ripe old age of over 80, dying in 1944.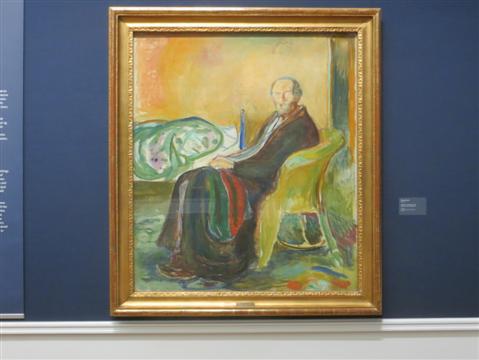 Munch with Spanish Flu
Bring On The Dancing Girls: Actually they're not all girls and they're not all dancing. In fact the scores of dumpy naked Vigeland sculptures in Frogner Park, accessible from Majorstuen metro station, just one stop from Nationaltheateret, are up to all sorts of tricks, sport, wrestling, and many other extracurricular activities.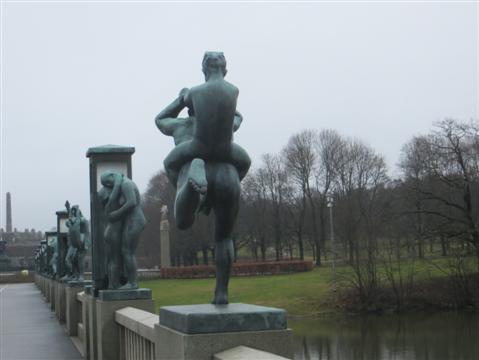 Vigeland sculptures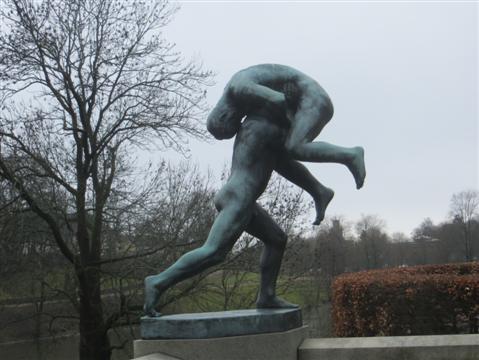 Another Vigeland sculpture
I renew acquaintances with one of Gustav Vigeland's bronze maidens whom I first met 56 years ago on a student visit to Norway. She's still frozen in absolute frenzy - or is that ecstasy? - tearing at her bronze tresses beneath which, in those halcyon days of yore, Yours Truly performed a rather fine re-enactment, even if I do say so myself.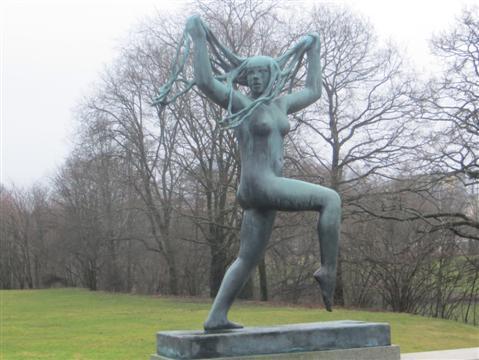 Vigeland maiden
My current-day reprise has passers-by scratching their heads and giving me a wide berth. The whole line of 212 granite and bronze statues stretches for hundreds of yards from atop a hill, but there's a particularly fine selection congregating by a bridge across a river.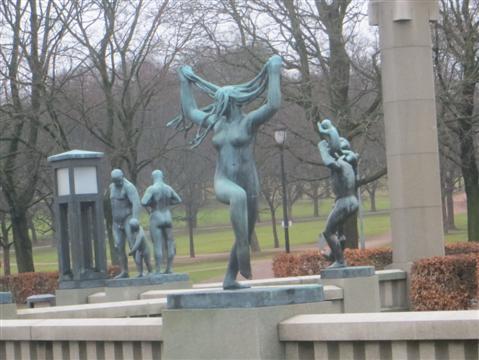 Maiden with neighbours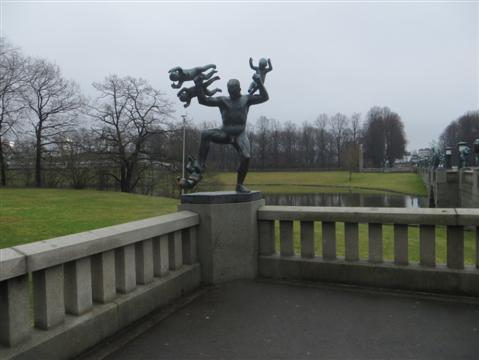 What's his problem?
The Royal Palace: A couple of blocks from the National Gallery the large Royal Palace, home of King Harald V and Queen Sonja, sits upon a green hill at the top of Karl Johans Gate, the city's main thoroughfare, several hundred yards from the Storting, the parliament, in front of which in winter is an open-air skating rink with blaring music.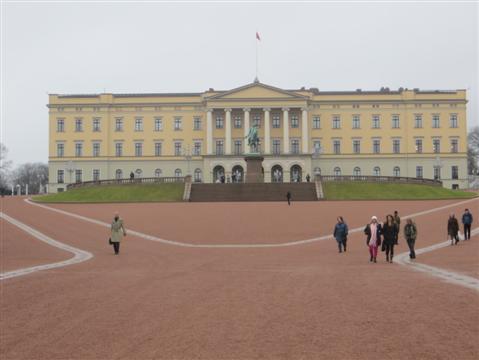 Royal Palace
My attempts to get the ramrod-stiff royal guards to laugh are a dismal failure. I again garner some head scratching, and a wide berth.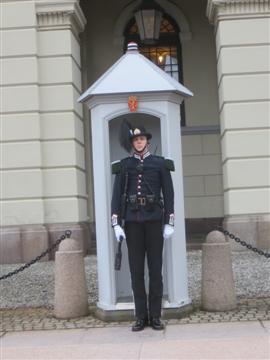 Royal guard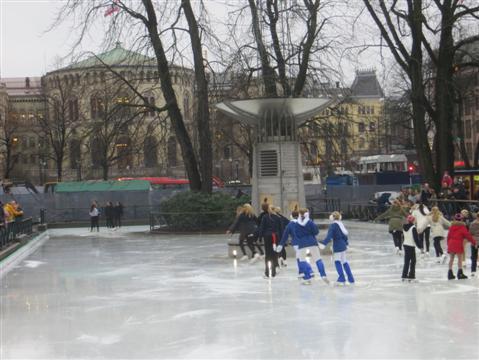 Skating in front of parliament
Akershus Fortress: About a 10 minute walk from the Storting, Akershus Castle and Fortress clamber expansively over a bluff facing Oslo harbour. Even if the palace within and the chapel where Norway's monarchs are buried are closed, a walk beneath the mediaeval walls provides a great historic vibe.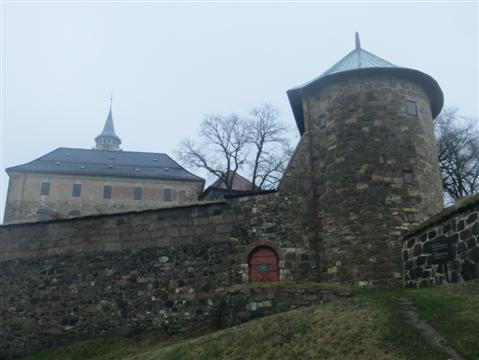 Akershus Castle
To come back to the future, just look down from the waterfront to Oslo's modern new Opera House with a roof looking like a drunkenly sloping ground sheet.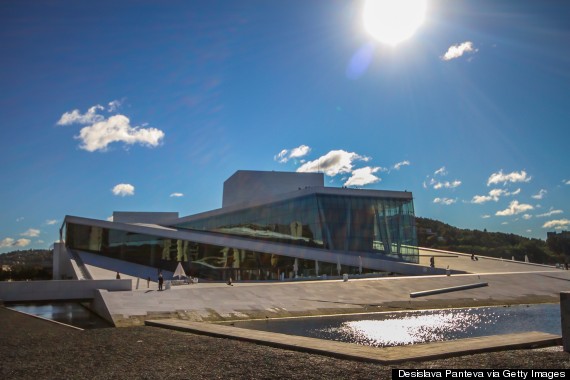 Oslo's new opera house
Old Oslo: If time is getting short, wander back from Akershus towards the Central Station, passing through the quietly evocative lanes of the old city with brick houses dating from the 19th century.
Just before getting on the express back to the airport, climb the low hill a couple of blocks from the station and gaze on the tall greenish domed tower of Oslo's red-brick cathedral.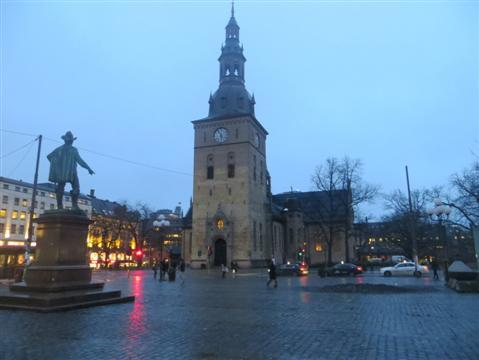 Oslo Cathedral
And there you have it, a self-guided flight lay-over tour of Oslo from the airport and back, all in four and a half hours -- quick, but well worth it.