Even if some restaurants are still closed and bus services are reduced to a minimum, travelling off season in Greece is a pure delight.
There's no problem in getting a seat on the bus from Thessaloniki to the port of Kavala, whence the ferry leaves for the nearby island of Thasos, mountainous, green and considered by some to be one of Greece's most beautiful.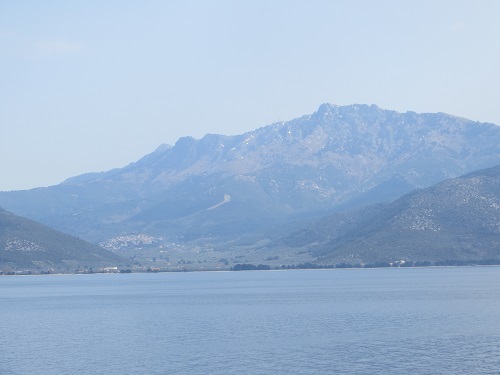 Thasos from the sea
We pass by the plain of Philippi, where in October 42 B.C. Brutus got his comeuppance at the hands of Mark Anthony and Octavius for doing his 'Et tu, Brute' bit in knocking off Julius Caesar, albeit thus allowing Mark to do his Shakespearean pièce de résistance:
'O, pardon me, thou bleeding piece of earth,
That I am meek and gentle with these butchers!
Thou art the ruins of the noblest man'
That ever livèd in the tide of times...'
And that's without his 'Friends, Romans and countrymen' spiel.
OK, that's neither here nor there, well certainly not here in Philippi, even if it's there in Rome. But here on October 23, 42 B.C., in the final battle of the Wars of the Second Triumvirate, Brutus's forces were soundly thrashed and Brutus himself committed suicide in the nearby hills, falling on his own sword.
On this sunny April morning 2,057 years later, the plain glows emerald beneath the snow-capped pinnacles and the fields are cloaked in the brilliant yellow of early spring blooms.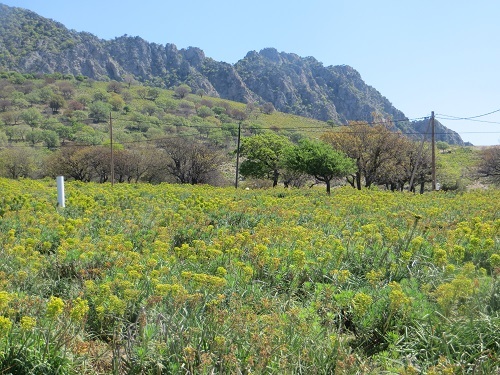 A spring field in northern Greece
Kavala itself is a delightful little port with a winding old town on a hill topped by a Byzantine castle. The town was first founded in the 7th century B.C. by colonists from Thasos who called it Neapolis (Naples), meaning new city.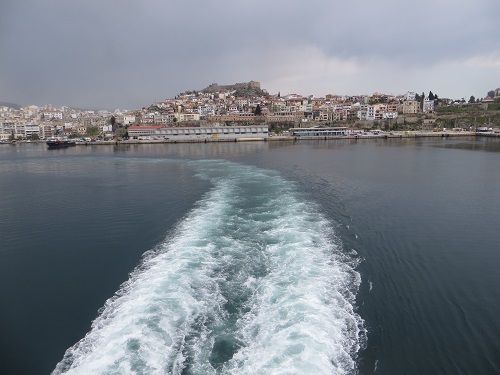 Kavala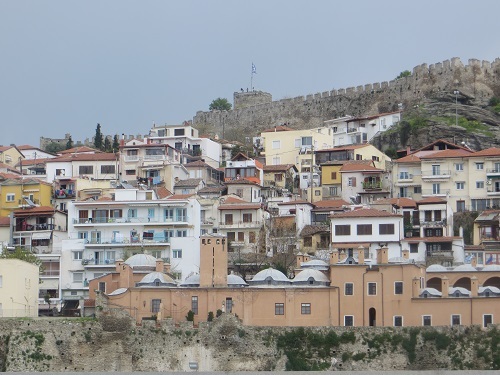 The castle
Ottoman Sultan Suleiman the Magnificent made the city even more magnificent in the 16th century with the addition of a large curving aqueduct. Among its most famous sons is Mohammed Ali, founder of the last Egyptian dynasty, born here in 1769. His house still stands near the castle.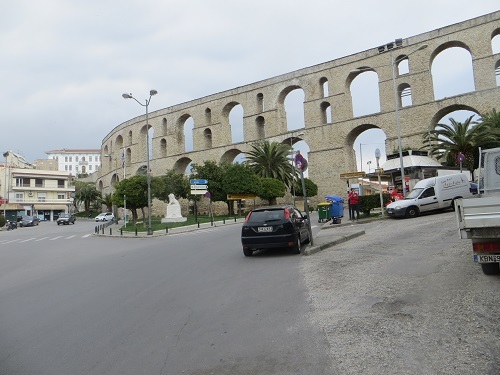 Suleiman's aqueduct
The ferry to Thasos is vast, and has only about a dozen passengers, a relief from the many thousands that must almost send it down to Davey Jones' locker in season.
I park myself at the front of the large saloon, pulling wide the curtains for a better view of the approaching skyline of rugged, forested razor edges, spines, and pinnacles, only to belatedly notice a large sign: Please DO NOT pull the curtains. Oops.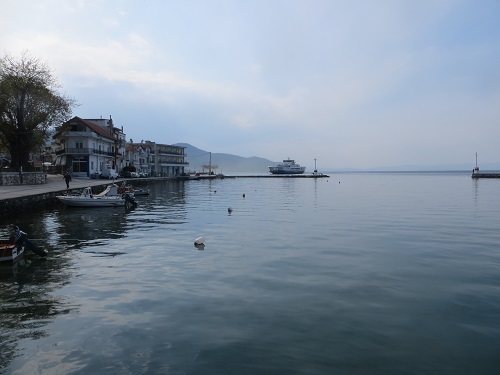 Limenas and a ferry
I'm lodged at the Captain's Quarters, at the far end of the sweeping, magnificently picturesque Old Port of Limenas, Thasos's capital, with superb views from my balcony over the harbour and across to saw-toothed mountain crags with snow still trapped in the folds that miss the sun.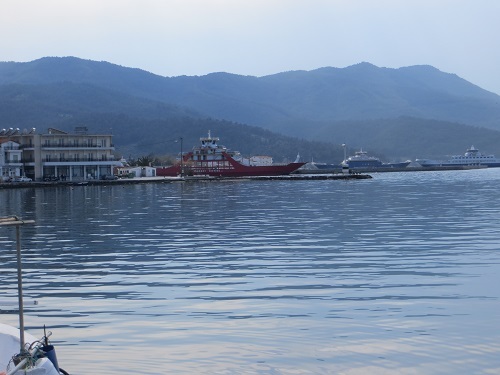 Limenas main harbour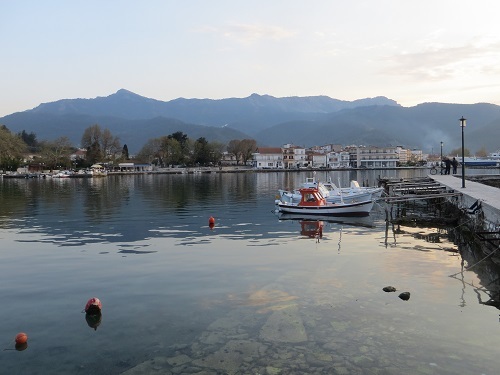 Limenas old harbour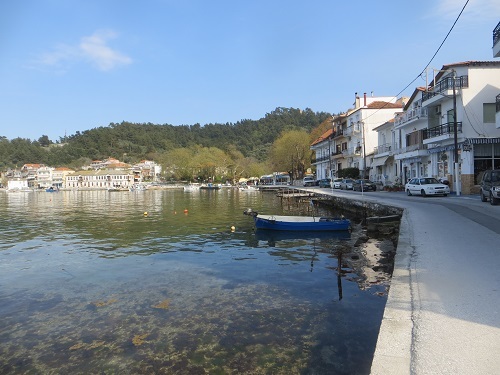 Another old harbour view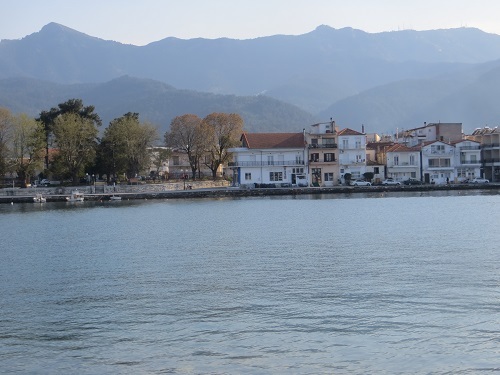 And another
Even the flashing green neon 'New York Pizza-Pasta' of the establishment next door can't rupture the charm by recalling the Big Apple.
The en-suite room is small but spotlessly clean and only costs $28.80 a night off-season, which allows me to splurge out $130 for a car ride round the island and into its highlands, where the villages of Panagia and Potamia are impossibly picture-perfect in their bower of pines, their whitewashed red-roofed houses cascading up and down the mountain folds.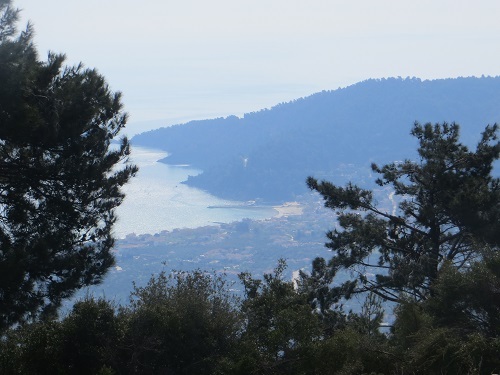 View from inland heights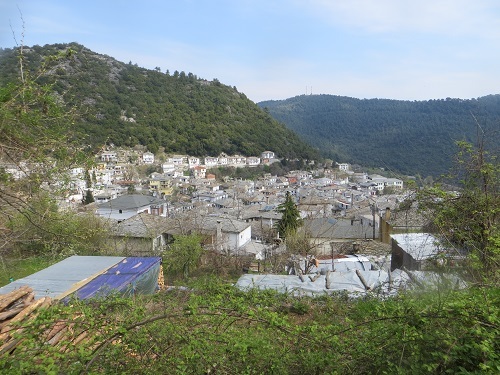 Panagia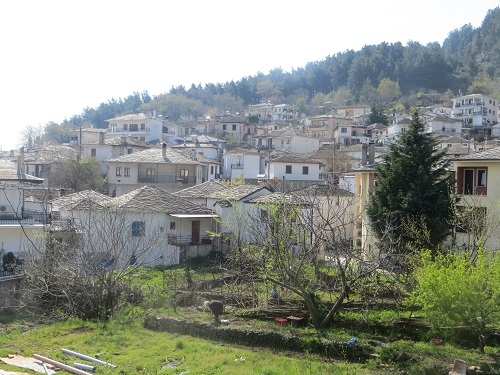 Another view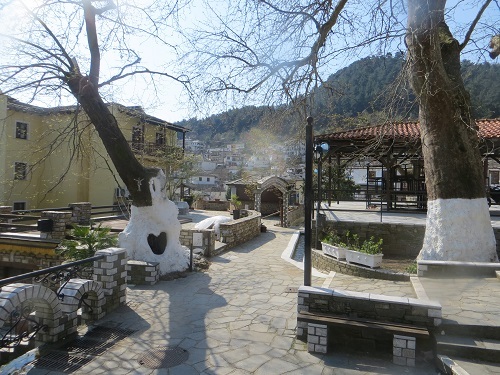 Inside Panagia
The beaches and bays are stunning, and the southern part, although much drier and less wooded, has its own attractions amid green-grey olive groves.
View of Potamia on mountainside from seashore Skala Potamia
The seashore
In Limenaria on the south coast they're celebrating a local festival with dancers clad in red and green velvet finery twirling round in circles to rustic music. Small churches crown the hilltops of inland hamlets.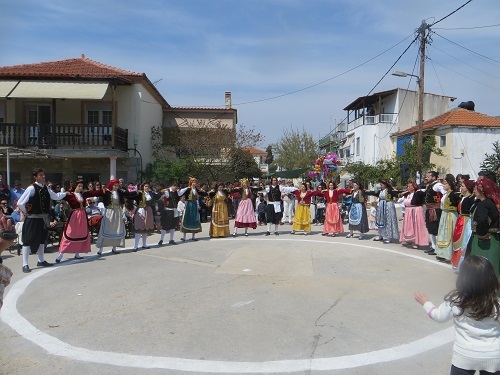 Festive dancing
Theologos, the island capital in Ottaman times, is a little village of 400 clinging to the inland heights with shady lanes.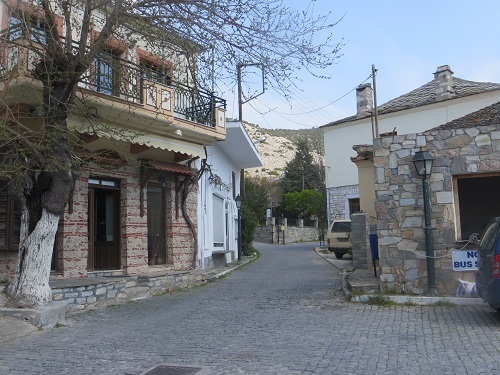 Theologos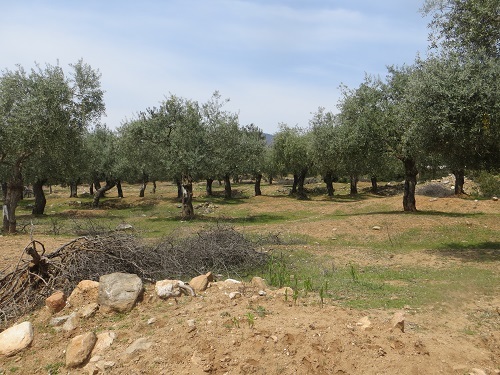 An olive grove
Kastro, once home to a Genoese castle some 1,500 feet above sea level, is virtually a ghost town today after its inhabitants left its stoney plateau for more profitable lives in mining or agriculture on flatter lands near the coast.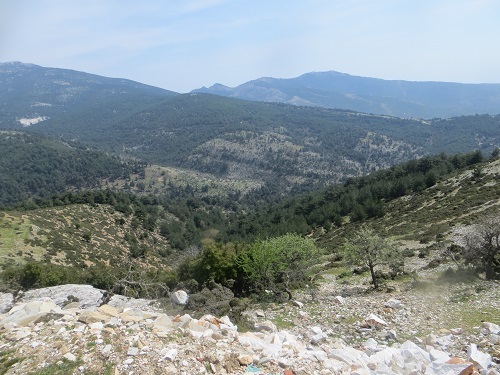 View from Kastro
But its small stone houses are being restored as summer holiday retreats and are fully occupied in the depths of winter for a week of revelry, food, drink and dancing to celebrate the January 18 saint's day of St. Athanasios, its patron saint who, contrary to the fate of many martyred co-saints of those early years, died peacefully in his own bed in 373 A.D. in Alexandria, Egypt.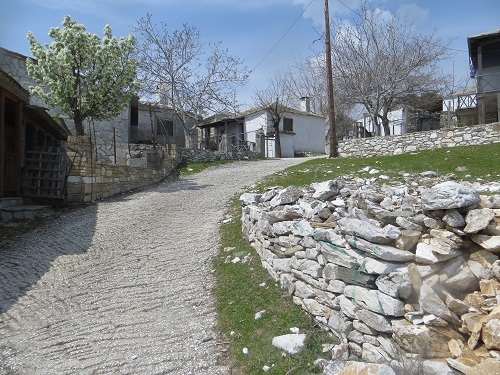 Kastro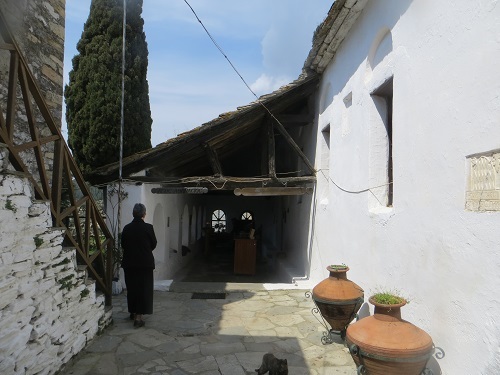 St. Athanasios church
It is believed that Thasos's gold first attracted the Phoenicians three or four millennia ago, while Greeks from Paros first colonised the island round about 650 B.C. It's all laid out in Limenas's excellent museum, a stone's throw from the Graeco-Roman agora, one of many antiquities here.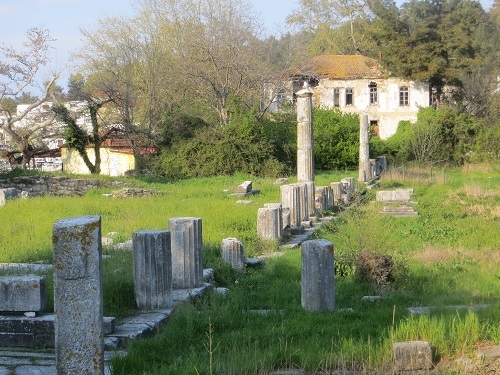 The agora
There's not meant to be much gold left now but there's plenty of golden gorse, and the island's other natural resource, marble, is plentiful enough, as evidenced by the white gashes of quarries amid the pines. More disturbing is the ugly oil rig off shore as prospectors search for a possible third bonanza.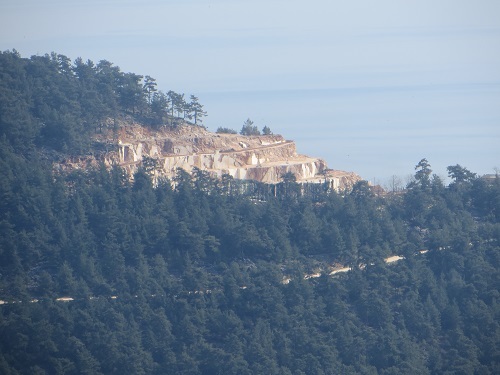 Marble quarry
Oil rig
It's all gloriously tranquil in magnificent spring sunshine today but it must be impossible in season with all the package tourists along the west coast.
My local Deep Throat informs me that Thasos gets more visitors in summer than famed Mykonos, arguably Greece's most popular island resort. But, he laments, they're mainly low-spending Romanians and Bulgarians.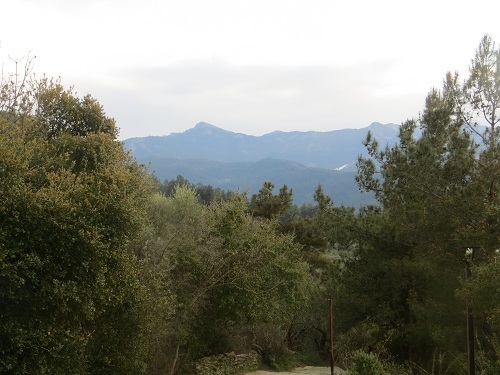 View inland from amphitheatre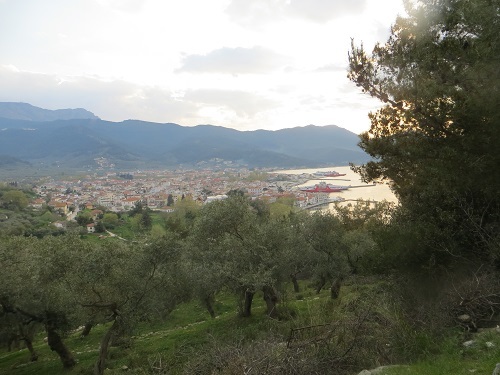 View over Limenas
Just a few hundred yards from Limenas's Old Port, up a steep hill, an ancient Graeco-Roman amphitheatre, dating originally from the 3rd century B.C. and capable of seating 3,000, tumbles down a slope in tall tiers.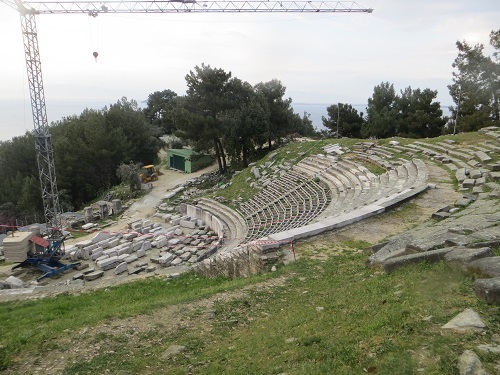 The amphitheatre
The views over town, harbour and sea are spectacular. A giant crane working on restoration is offset by the brilliant purple blossom of trees.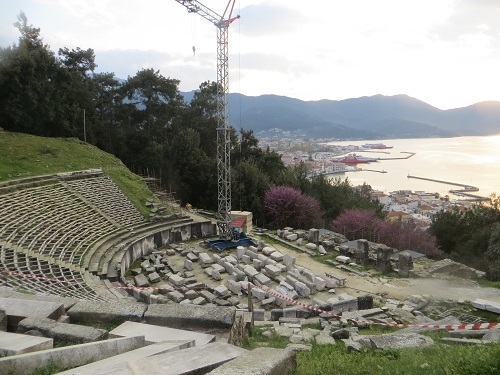 The view
Another view
What better perch to watch the sun go down as it burnishes the waters in a burst of deep orange!
Speaks for itself
______________
By the same author: Bussing The Amazon: On The Road With The Accidental Journalist, available with free excerpts on Kindle and in print version on Amazon.
Swimming With Fidel: The Toils Of An Accidental Journalist, available on Kindle, with free excerpts here, and in print version on Amazon in the U.S here.