Sunday, Bloody Sunday in Wabush in far west Labrador. We decide to sleep in today after all those early morning wake-ups to not catch planes. It's 0900, and Madam is not amused. She's half dozing, sitting up with her back against the pillow, stating very prosecutorially that she's just had the worst night of her life.
She had the trots all night, she couldn't sleep, she's running hot and cold, she's sweating, she wants to puke, and she thinks she's going to die - or at least faint.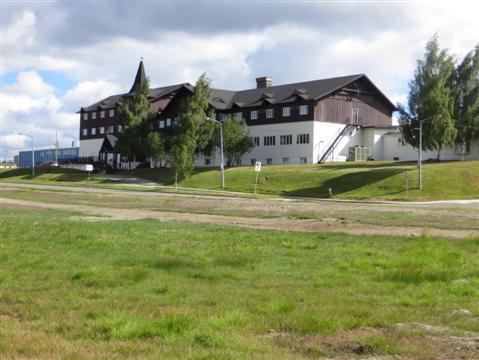 Wabush hotel
Ah, quoths I, it's all that day-old ruddy potato crusted pan fried cod you woofed down yesterday. And she's saying: 'Oh F... off.' Well, she doesn't actually say that, but her expressively large grey-green eyes are certainly very vocal this bright Labrador morning.
We agree to let her 'rest' until noon when we'll get a taxi into Labrador City, the main part of Lab West, 3.2 miles away. It's 1340 by the time we pile into a taxi, arrive at Jungle Jim's, the main restaurant in Labrador City's mall. Madam orders the most abominable taco mutilation of a chicken I've ever seen, picks at it, and surprise, surprise, feels even worse.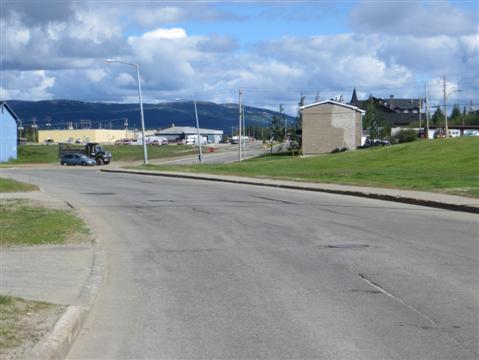 Wabush street
Thus do we arrive back at the Wabush Hotel at 1455 where Madam takes to her bed for the rest of the afternoon, armed with several gallons of Club Soda in numerous cans. It's not as if we were going to do much today, anyway. There are several hikes within walking distance of the hotel and there are always the iron ore mines to visit, but I can do all that tomorrow after Rivka flies back to New York.
Labrador City and Wabush owe their existence to the rich seams of iron which the Iron Ore Company of Canada (IOC) began exploiting in the 1960s in what is arguably claimed to be the largest open-pit iron ore mine in the world, but the global recession hasn't exactly done wonders for it.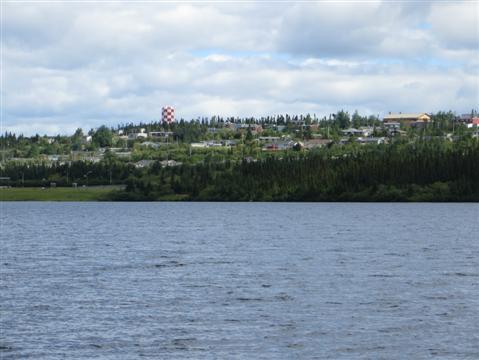 Wabush view from Jean Lake
And I'm saying what a pity you won't be able to see those enormous two-storey-high iron ore trucks with 20-foot-high tyres, and Madam's saying: 'I can go into a Home Depot back in New York if I want to see iron-mongering.'
Monday morning 0630: day of 'le grand départ.' Rivka's flight to New York via Montreal leaves at 0905, and she's up and about, feeling much, much better, though Lord alone knows how it takes her a full hour to have a shower and close her monstrous portmanteau.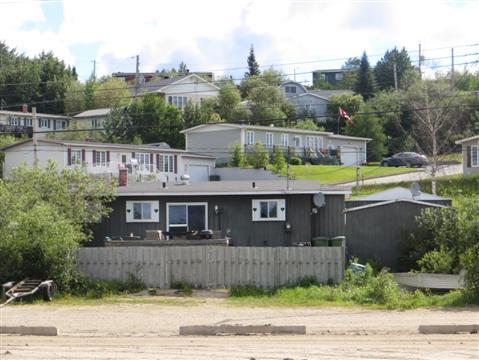 Wabush houses
I'm just about to open the door to lug and heave her overstuffed case to the lift when my peripheral vision catches her darting to starboard. She's bent over my case, surreptitiously performing horrible acts of unnatural abuse on it. She's stuffing something in the back. I retrieve a grey plastic bag of enormous weight. It's those tons of stones and boulders she collected by the lake at Churchill Falls two days ago.
She did exactly the same in the Amazon 38 years ago. She left me to cart a million tons of boulders up Amazon and down Amazon after she flew back to London - via a feeder flight from a Bolivian jungle town - with strict instructions to air-freight them onto her when I returned to Rio.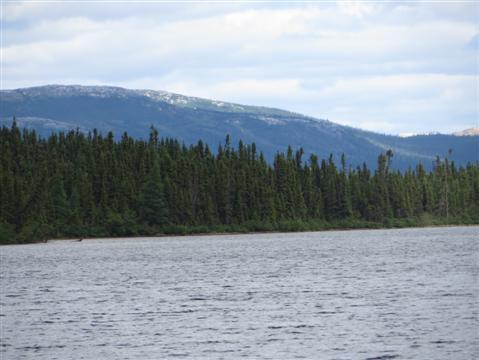 Jean Lake
Now I'm saying oh no, you don't; you done that to me once before and as they say "Fool me once, shame on you. Fool me twice, shame on me;" and Madam's saying: 'Shame on you indeed. I'm taking back your computer (it broke and she's lent me hers), so you can take back my stones as you're not flying any more.'
And I'm saying my computer weighs less than a hummingbird's feather, and she's saying: 'So what?' So we compromise in our usual way - she takes my computer and I remain lumbered with the stones.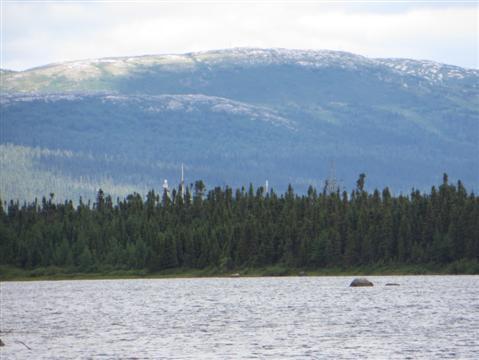 Another Jean Lake view
Contrary to Madam's usual practice, I get her to the airport on time and she's up, up and away, leaving me to amuse myself with the mines.
Well, so much for my two-storey-high iron ore trucks with 20-foot-high tyres. A call to the number given by my 10-year-old Lonely Planet says it's been disconnected; a call to the company ensnares me in a carousel of electronic messages from which there is no exit; and a call to Gateway, a gift shop-cum-museum with tourist information apprises me that the company no longer does tours.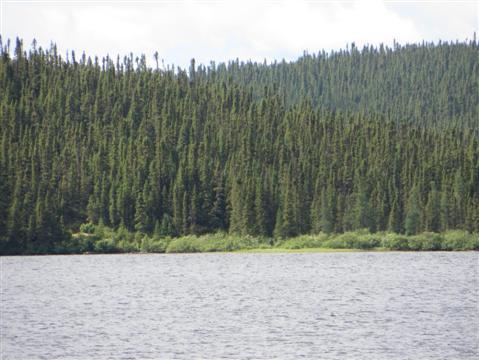 Jean Lake
But the do-it-yourself hikes still exist, including the 3.2-mile circuit of Jean Lake, only a few hundred yards from the Wabush Hotel. It's absolutely splendid. Thick, dark green rows of fir trees climb the surrounding hills in serried ranks, the water ranges from translucent to bright blue, grey crag-topped mountains catch the sun's rays on the horizon.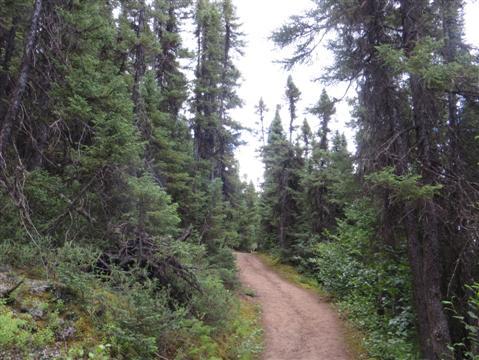 Jean Lake trail
The trail is mainly earth and pebbles, with planks or boardwalks where needed to pass over marshy ground. Birds chirp, the wind whistles through the trees, and the wavelets lap at the shore.
Another Jean Lake view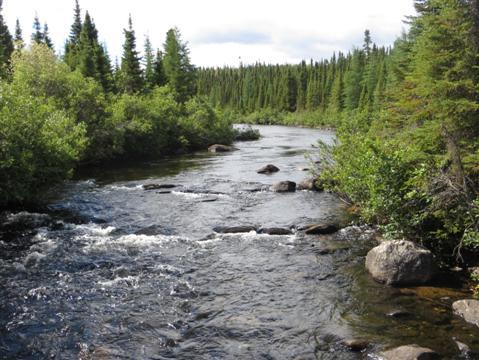 Jean Lake rapids
A bird accompanies Yours Truly, hopping ahead whenever I get too close. A yellow-brown butterfly flutters past. A ginger chipmunk stares from a boulder before scurrying away from my camera. Come on, Alvin, give us a song.
My friendly bird
My friendly butterfly
Yellow-green lichen, moss, dwarf ferns and white flowers cover the rocks beneath the pines. This may be the remote and real wilds, but it's civilized wilds. Panels nailed to trees warn that dogs must be kept on a leash, and admonish: This a Poop & Scoop Trail.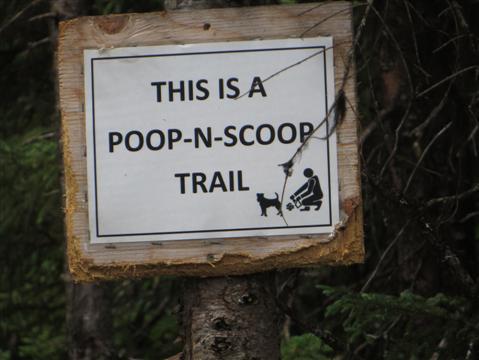 Clean up after your hound
A wooden sign deep into the trail by a track leading into thickest undergrowth proclaims: Pit Stop Women Only. A maple leaf flag flutters proudly from a tree opposite to draw attention to womankind's local ground zero.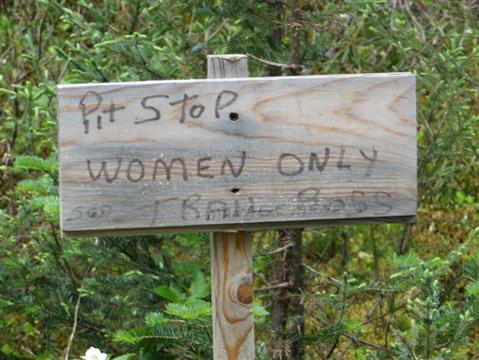 Ladies' loo
A miniature maple leaf flag flutters outside a toy chalet atop a trunk, apparently for bird food - or could they be so civilized that it's a birds' loo?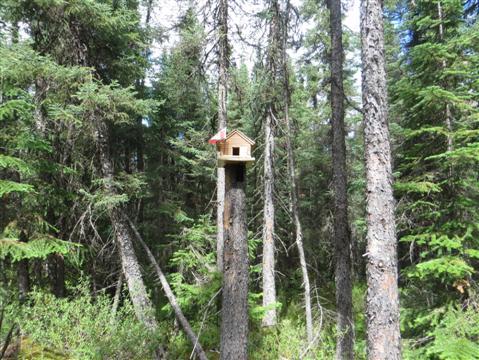 For the birds!
For this afternoon I embark on the Menihek trail, a multi-tracked Nordic skiing circuit in winter, about two miles up a dirt road from Labrador City, with several possibilities - a 2.9, 5, 7, 10 and 15-kilometre hike. In miles, that makes roughly 1.8, 3.2, 4.4, 6.2 and 9.3. I choose the 3.2 mile version.
Menihek trail
Explanatory panels along the way tell you everything you wanted to know, and then some, about the forest, ranging from 'Our Hidden Treasures' - the endemic northern berries that provide locals with the required boost such as bake apple, blueberry, chuckley pear, black currant, creeping snowberry, common wild strawberry, squash berry and partridge berry - to 'Watchable Wildlife.'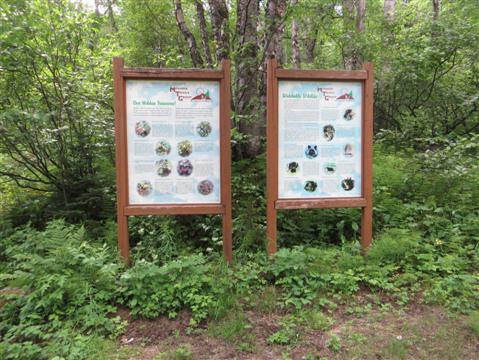 Menihek's instructive panels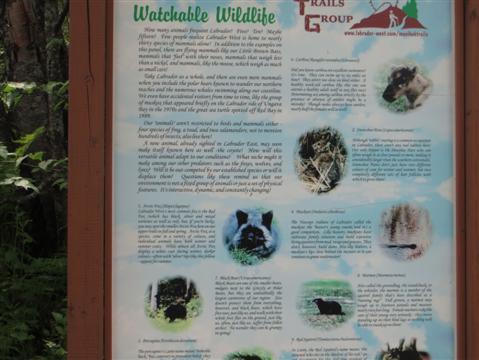 Panel close-up
These are Arctic fox, porcupine, caribou, red squirrel, snowshoe hare, muskrat, marmot, and black bear. I see none of the above, especially not black bears. But when it comes to another form of black wildlife - the nasty, stinging, persistent, insistent black fly - well, that's another matter entirely.
Despite the panels and an occasional bench, you have the sensation of being in the real remote wild as the forest scales a hill above a large pine-girt lake. There's a much larger waterfall than at Jean Lake, much faster streams, much longer rapids, fluorescent violet flowers, and...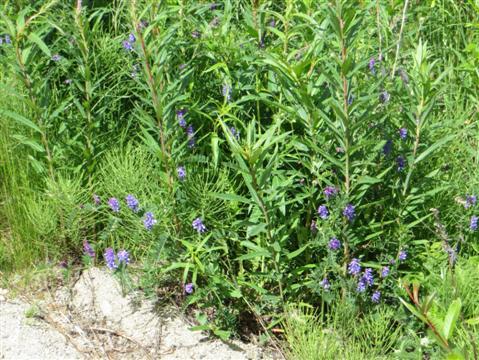 Violet flowers
I've suddenly got the most terrible cramps right in the pit of my stomach. I'm running hot and cold, I'm sweating, I want to puke, I think I'm going to die - or at least faint. I can hardly walk. I hobble on a few feet, then have to stop again, doubled over. I think I'm beginning to understand what going into labour means.
OK, perhaps I could have been a tad more sympathetic with Rivka yesterday - especially that knock about woofing down the stale potato-crusted pan fried cod - but to punish me like this? In the middle of the savage sub-Artic wilderness?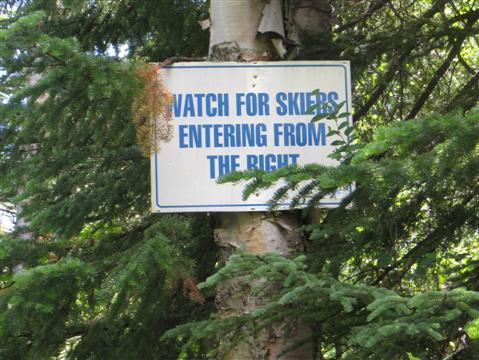 Watch out for skiers
I'm never gonna make it out again. I hobble on, bend double again. An arrow points to the 2.9 circuit. Bang goes any idea of the 5 kilometres. They say shorter is better, less is more, don't they?
The cramps are becoming more frequent. What on earth am I going to give birth to? I stumble on down a slope. There's a red table on a bridge by a waterfall. I can go no further. I'm almost retching. This must be food poisoning. Somewhere along the line Lucrezia Borgia has returned from the dead to work her magic as a cook in Labrador City.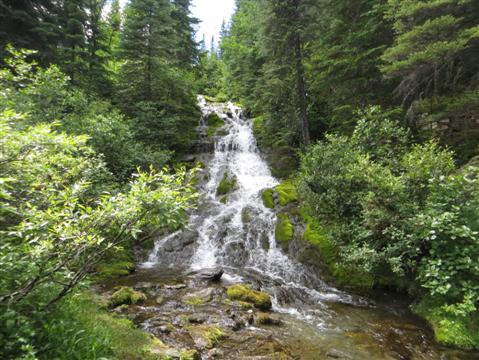 Menihek trail waterfall
I'm groaning, I'm mumbling that I'm dying. I must say, I'm putting on an absolutely stellar performance of thespian expertise, even if I say so myself. A pity there's no audience to applaud.
I lie back on the table. I couldn't have chosen a better place - there's a holy synod of every black fly in the universe in session around me. I'm writhing and slapping my face, head and arms at the same time, adding St. Vitus Dance to my thespian repertoire.
The cramps subside as suddenly as they came. I walk on gingerly, gradually becoming my old (watch it, don't stress that word) self again.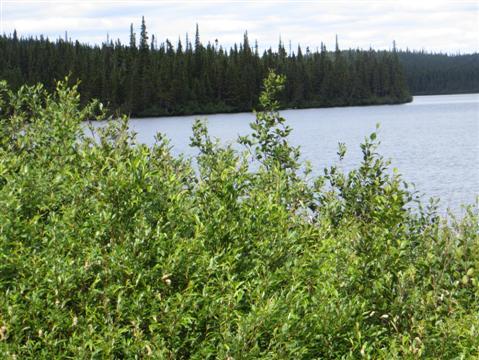 Lake view from Menihek
Banshee screams from behind send me floundering into the undergrowth. Three mountain bikers come bouncing past - wow, their bums must be sore. I emerge from the forest. Now there's the question of walking the two miles back into Labrador City to get a taxi to Wabush.
A car pulls out of a parking lot. I stop it and ask the driver if he has a phone so that I can call a taxi up here. He's one of the bouncing banshees of a few minutes ago, his equipment now taken apart and stowed in the back. He's a French Canadian from nearby Fermont, just across the border in Quebec, working for the iron ore company. He insists on driving me all the way back to the Wabush Hotel.
All's well that ends well.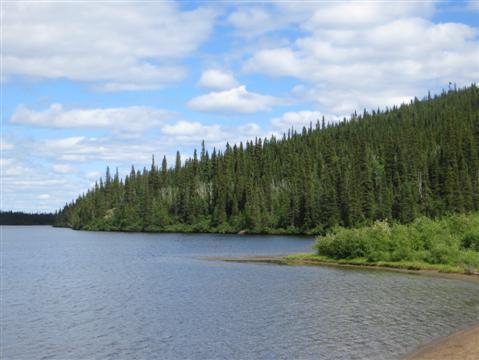 Another lake view
______________
By the same author: Bussing The Amazon: On The Road With The Accidental Journalist, available with free excerpts on Kindle and in print version on Amazon.
And Swimming With Fidel: The Toils Of An Accidental Journalist, available on Kindle, with free excerpts here, and in print version on Amazon in the U.S here.