They may lack the dramatic peaks of St. Lucia's 2,500-foot Pitons, the lush jungles of Dominica, the plunging hollows of Jamaica's Cockpit Country and the magnificent hilltop vistas of the Virgin Islands, but the equally Caribbean though often scrubby Caicos Islands have a laid-back charm that surreptitiously seduces and ensnares.
This is no place for back-packing budget travellers hunting bargains; the chance of finding a room for the night for much below $130 is minimal. The islands are more geared towards the luxury market, but in a quiet, tranquil way -- without the outrageous casino architecture or high-rise hotel intrusions of their sister, or is that brother, islands.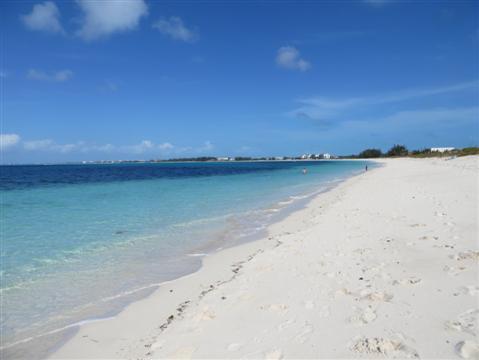 Princess Alexandra National Park beach view
That doesn't mean that you won't find a casino to lose whatever money you have left. You're barely out of the airport on Providenciales, the main island, when you pass Slots of Fun Parlour. Then there's Downtown Gaming Parlor, then there's Royal Flush Gaming Parlor, then there's the Casablanca Casino, then there's...
But it is all pleasantly understated, relatively speaking, by usual Caribbean resort standards.
From the air you can easily see just how much more developed Provo, as the locals call it, is than much smaller Grand Turk, site of Cockburn, capital of the British overseas territory of Turks and Caicos, off the northern coast of Haiti, its villas and resort complexes dotted among the rather arid-looking shrubbery.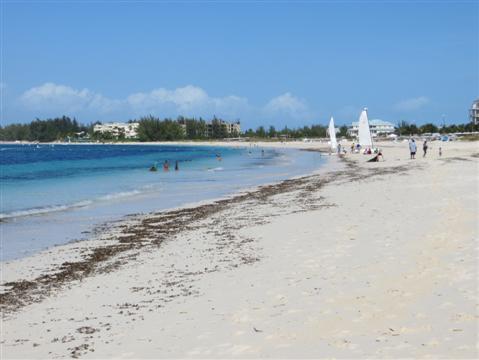 Another beach view
But on the ground it is really quite green even if of the arid variety, with plenty of yellow and purple flowers.
As with their brother, or is that sister, islands, the Caicos are prime territory for scuba diving and yachting, with some very attractive marinas. Sea sports are advertised everywhere. There's 'Bite Me Sport Fishing,' which sounds like a wonderful euphemism for something much more louche.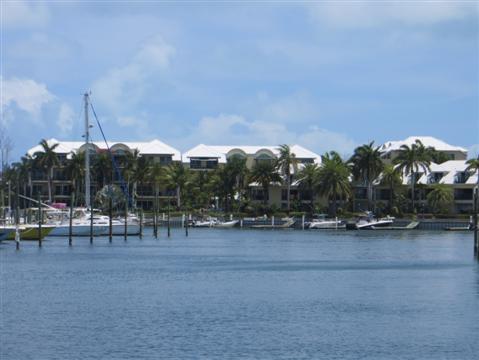 Turtle Cove marina
Then there's Snuba. Instead of donning tanks on your back, you breathe through long hoses attached to tanks floating on a pontoon on the surface. Following two disastrous attempts at scuba in the distant past, I think I'll give that one a pass -- I'd probably get both knickers and hose in a twist.
The vast 12-mile-long crescent beach in Princess Alexandra National Park and Maritime Reserve is rated by Conde Nast Travel magazine as one of the 10 best in the world. The tourist developments at Grace Bay in the middle are not horrendously invasive -- not yet, at least.
Grace Bay
They're only four storeys high -- nothing like the monstrosities on Aruba's Palm Beach. The villas at the other end near Turtle Cove are no higher than two storeys and nestled in vegetation.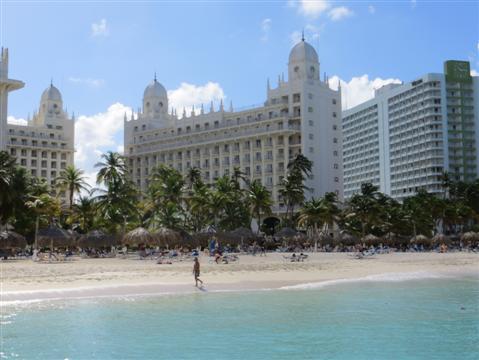 Beach on Aruba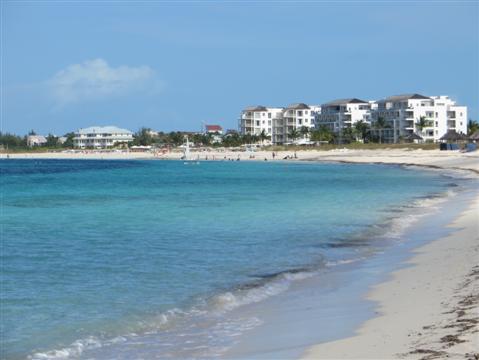 Grace Bay, Provo
The Somewhere Cafe Lounge, a pleasantly rustic wooden two-deck establishment, lies smack on the beach at Grace Bay. The views from the upper deck through a bower of green palms and carmine flowers are stupendous, miles and miles of soft white sand stretch out along the huge crescent, the sun is pure gold, the lapping wavelets sparkle with all the shades of turquoise and teal, BUT...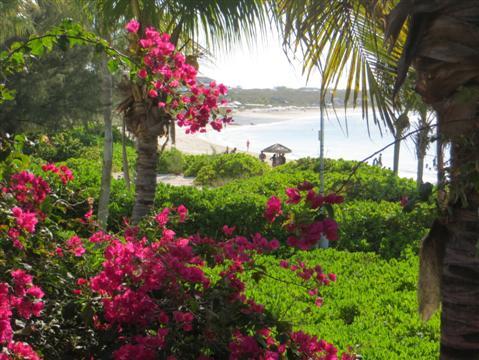 Beach through the flower from Somewhere's top deck
On this particular afternoon an idiot DJ on steroids is bellowing like a wounded bull through a drug-fuelled loudspeaker and the top deck is rocking with groups of other idiots wearing silly hats, caroming about and singing happy birthday for the idiot honoree, while the idiot DJ is 'walking on the wild side.' Even under these trying conditions, one can feel laid back in the seductive seascape.
Sunset at Turtle Cove
A little catamaran glorying in the name Heavenly Daze and accompanied by arcing dolphins, speeds for half an hour along a string of green-topped cays with a few discreet tourist developments to Sandy Point on North Caicos Island, a pretty marina developed by a Florida concern. The planned red-roofed Royal Reef Resort stands only half finished, a victim of the global economic crisis, leaving the low limestone cliffs unscathed.
It's all a question of how much development an island can withstand before nature screams rape.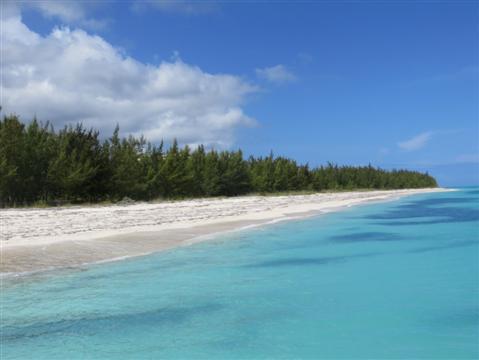 A North Caicos beach
North Caicos is a good bit lusher than Provo or Grand Turk -- miles upon miles of unspoilt white sand beaches sandwiched between green casuarina trees and impossibly turquoise waters. Though larger than Provo at 41 square miles, only 1,500 people live here in four villages, compared with 25,000 or more on 38-square-mile Provo.
At Barracuda Beach a wooden seaside pergola serves drinks, in no way intruding on nature. On the other side, Flamingo Pond stretches out in a vast expanse of water with, yes, flamingos and numerous green humped islets.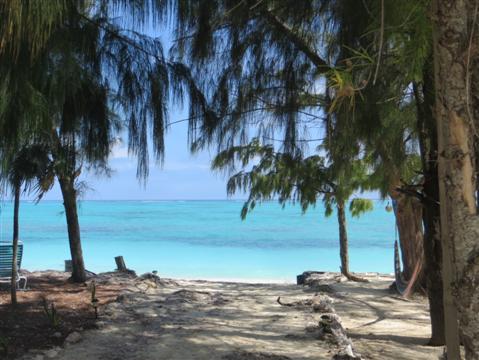 Barracuda Beach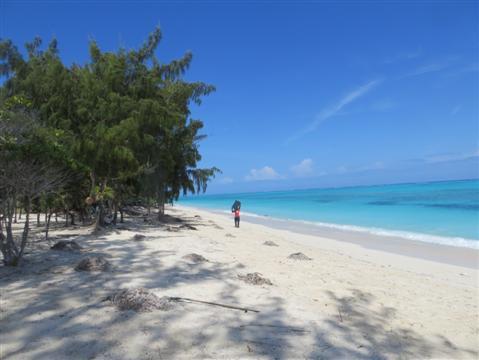 Another Barracuda view
Middle Caicos, the largest of the islands, joined to North Caicos by a causeway, has an even smaller population than its neighbour, just 250 on its 48 square miles.
A major highlight is the intricate cave system that once sheltered the original inhabitants, the Lucayans, a peaceful people living an apparently idyllic existence on the Bahamas and Caicos chains, who welcomed the Spaniards on their arrival. The Spaniards rewarded them, as usual, with genocide through massacres, slavery and European diseases.
Conch Bar caves
The Conch Bar caves, the largest, are now inhabited by bats who flitter around in huge chimney-like cavities in the rock roofs, and deposit on the rock ground below loads of white crap once exploited for guano. Oops, Yours Truly almost gets seven years' good luck.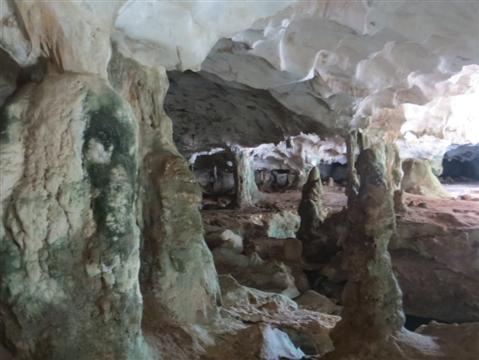 Another cave view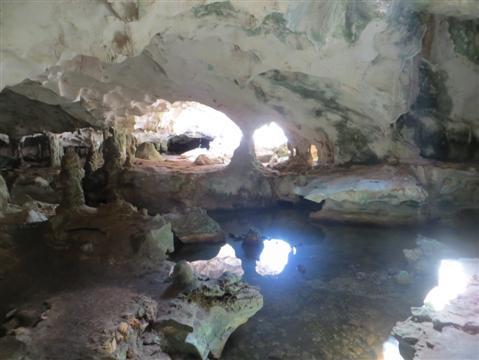 And another
Middle Caicos has magnificent beaches with low limestone cliffs, Mudjin Harbour being a prime one with a gaping cliff mouth. Mudjin is a contraction of its original, name Bermudan Harbour, as the area was thought to resemble Bermuda.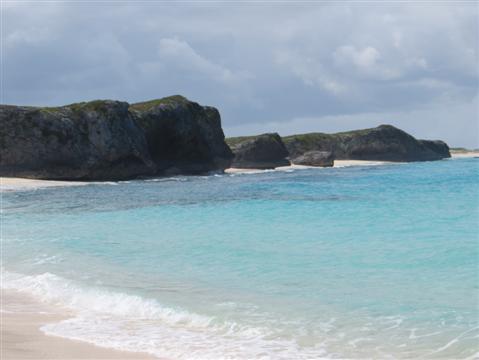 Limestone cliffs
'So what do you think that looks like,' asks Mac, the taxi driver whom I've already seriously disappointed at Bottle Creek on North Caicos.
'Can't you see the bottle,' he asked then. 'There's the bottom, and there's the neck.'
'Nope,' quoths I, Yours Truly at his most obtuse. 'Just looks like a nice long, wide expanse of water to me.'
Now I'm being put to the test again.
'A crocodile,' I hazard, without even looking.
'Very good.' quoths Mac, satisfied. 'Actually it's a dragon.'
Wow, that's the way to do it, not by staring intently as at Bottle Creek, but by just spinning the roulette wheel in your head.
I look at the long sausage-like rock at the mouth of the bay. Wow indeed! Just as well I didn't look first. I would have said 'dog's turd.'
All in all, a delightfully restful few days.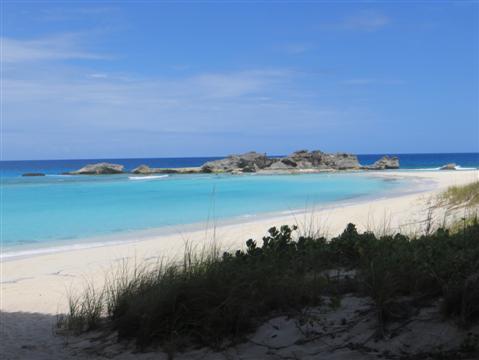 Mudjin 'dog turd'
______________
By the same author: Bussing The Amazon: On The Road With The Accidental Journalist, available on Kindle, with free excerpts at and in print version on Amazon.
And Swimming With Fidel: The Toils Of An Accidental Journalist, available on Kindle, with free excerpts here, and in print version on Amazon in the U.S here.