The remote South Atlantic island of St. Helena is forever linked with the name of Napoleon Bonaparte, the megalomaniacal Corsican-cum-French emperor who was exiled there by the British in 1815.
After the island of Elba, his first exile - within eyesight of his native Corsica, a mere 30 miles away, and barely 12 miles off the Italian mainland - proved an irresistible incentive for him to escape and launch his 100-days resurrection, the British hunted for a slightly more remote speck whither to terminally exile the guy they called Boney.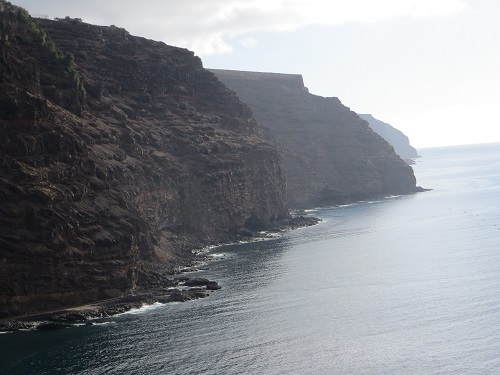 St. Helena's forbidding cliffs
This they found on the volcanic rock of St. Helena, lost in the vastness of the South Atlantic, 1,200 miles from Africa and 1,800 miles from Brazil. They then proceeded to fortify the 47-square-mile island, a strategic staging post to India before the opening of the Suez Canal, with even more cannons, soldiers and forts to prevent the wily rascal or his Bonapartist allies from mounting another escape.
As the old British ballad, Boney on the Isle of Saint Helena, recounts:
Oh, Boney's away from his wars and his fightings,
He is gone to a land where naught can delight him.
And there he may sit down and tell the scenes he's seen, oh,
While alone he does mourn on the Isle of Saint Helena.
Today St. Helena is much more than just Napoleon - and much, much more than his characterisation of it as 'this cursed rock' - as later blogs will show, but first the Napoleoniana.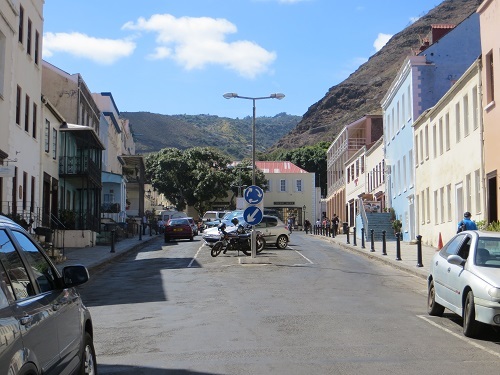 Main Street, Jamestown, where Napoleon spent his first night
Napoleon arrived on October 15, 1815, on HMS Northumberland with an entourage of 28 people - but without the title of emperor which he had been allowed to keep on Elba.
On his way back to Jamestown, the seaside capital, from a visit to Longwood House, the small villa in the cool and damp highlands which was still being refurbished as his permanent residence, he caught site of Briars Pavilion, a single-roomed chalet in a lovely valley surrounded by wooded hillsides.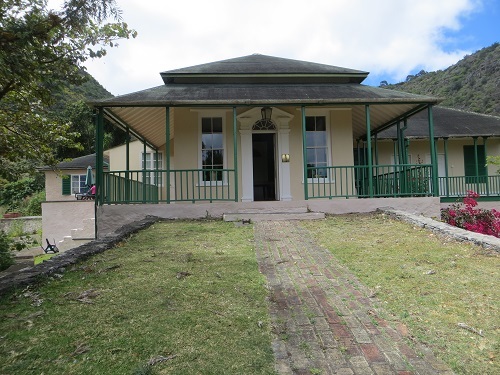 Briars Pavilion

He sent word to its owners, the Balcombe family, asking if he could stay there instead of Jamestown until Longwood was ready. They agreed, and during the seven weeks he stayed, he formed a strong father-daughter relationship with Betsy, the youngest of the Balcombe children.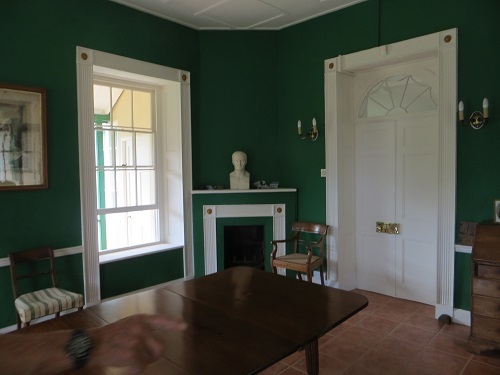 Inside Briars Pavilion
Today the pavilion is surrounded by bougainvillea and other flowering bushes in crimson, yellow, purple and blue. It has two small wings that were added later. Inside, the walls are painted imperial green. There's a table and various Napoleonic memorabilia including a portrait of himself above the title Napoleon the Great.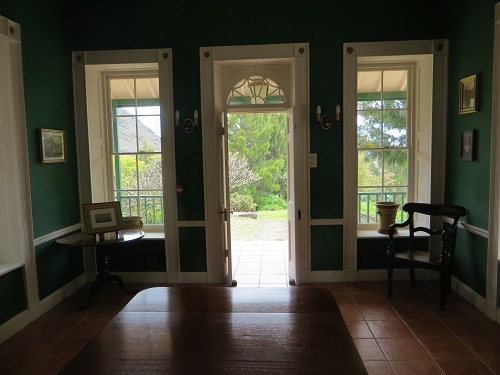 Looking out from inside
Longwood House now ready, Napoleon moved deeper and higher into the centre of the mountainous island. The 11-room villa is in a delightfully scenic position with glorious views out to Flagstaff, a conical green mountain, and The Barn, a massive oblong crag.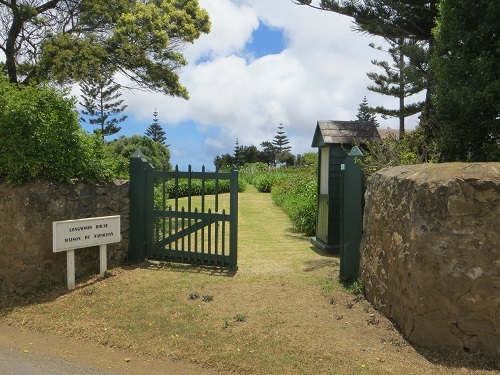 Entryway to Longwood House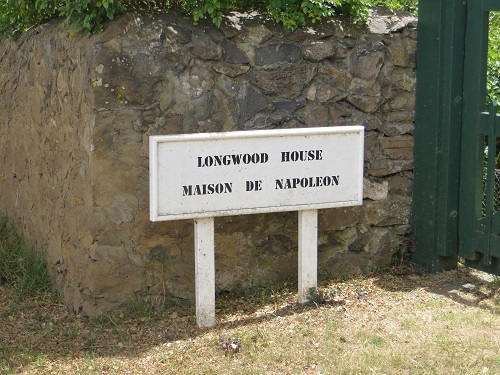 Close-up
But Napoleon was depressed. 'This is not a pretty stay,' he wrote. 'I would have done better to have stayed in Egypt. I would today be emperor of all the Orient.' I told you he was modest.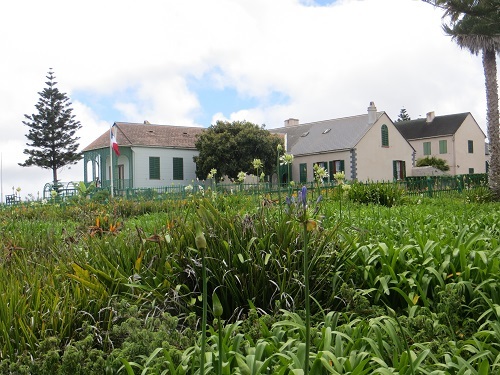 Longwood House
Today the French tricolour flaps outside Longwood House, since the British gave it to the French government in 1858 along with his grave here. Briars Pavilion was also given to France by a great-great-granddaughter of the Balcombes in 1959.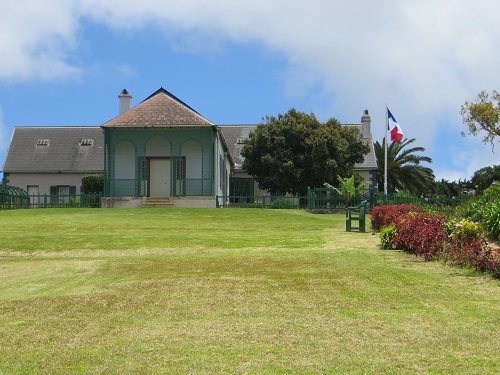 Longwood House from the front
No photos are allowed in the house which contains much of Napoleon's original furniture in rooms painted in imperial green. There are two holes in the green shutters which Napoleon is said to have cut out himself so that he could look through his telescope and spy on his guards instead of them spying on him.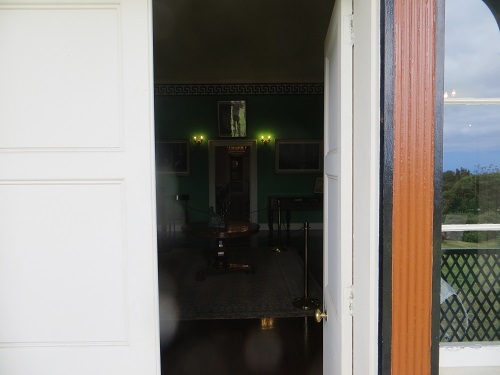 Looking through the front door
Portraits of Napoleon the Great abound. There's an original piano, a sort of oblong affair, a copy of his bed with the imperial green canopy; busts of his two wives, the Empresses Josephine and Marie Louise, in the dining room, where he used to eat with his generals in full uniform; a drawing of the one-time emperor on his deathbed; two copies of his death mask; and the purple cloth on which his body lay in state for four days until his burial at age 51 on May 9, 1821.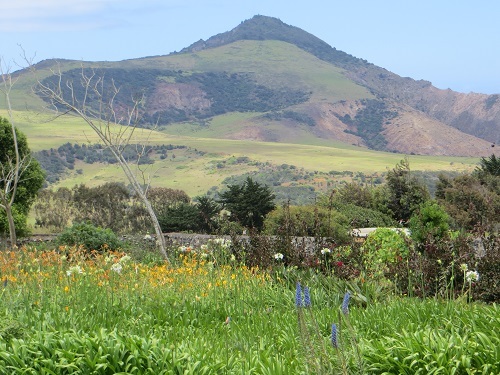 The splendid view of Flagstaff Hill from Longwood House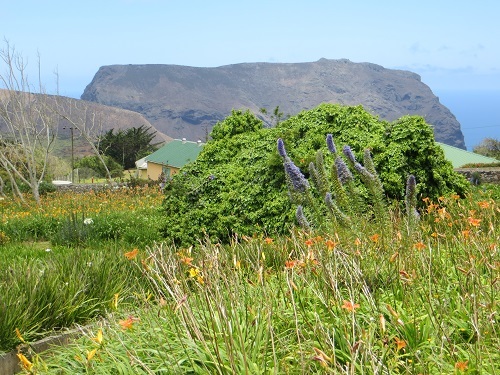 Napoleon could also look out on The Barn
Barely a stone's throw from Longwood is what claims to be the remotest golf course in the world.
A little further away, down a sloping green tunnel of trees, lies a flowery bower in Geranium Valley, a lovely parcel of Eden overlooking a ravine called the Devil's Punch Bowl.
Here Napoleon spent 19 years of his afterlife, surrounded by a railing, in a tomb with no name. As often here, it's difficult to get a unified account of why, but whichever the version the French preferred to leave it unnamed rather than give in to the British governor's demand.
Way to Napoleon's tomb
In his will Napoleon decreed that his headstone should bear the simple message 'Napoleon, born Ajaccio August 16 1769, died St. Helena, May 5 1821.' According to the plaque on a slope above the tomb, the governor insisted that Bonaparte be added, apparently detracting from his imperial self-status.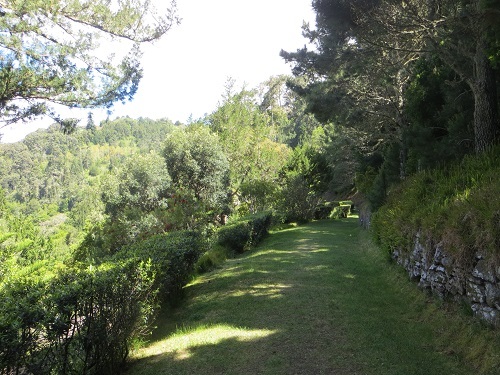 Down the path to the tomb
But according to Ivy, the delightful lady who shows visitors around Longwood, the French wanted to inscribe the tomb with 'Emperor Napoleon' while the Brits would only agree to 'General Napoleon Bonaparte.'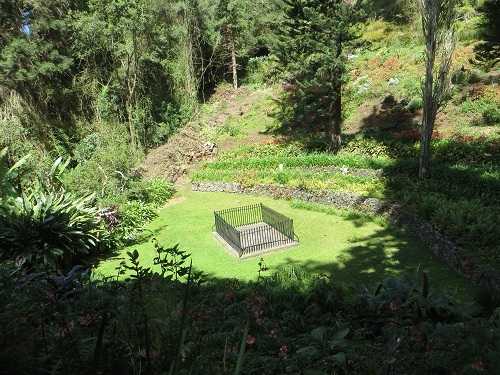 The tomb
It was indeed not Napoleon's last hurrah, however. The no-name tomb was only temporary. In 1840 Britain agreed to a request from French King Louis-Philippe to have Napoleon's body repatriated to Paris.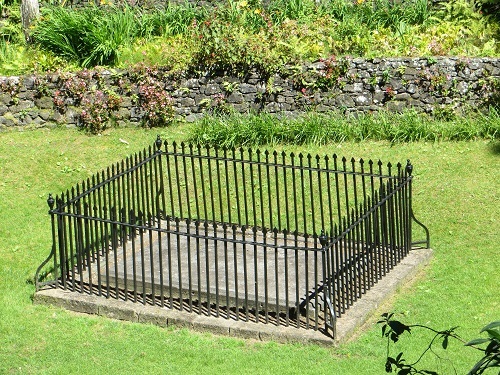 Tomb close-up
On October 15, 1840, 25 years to the day after his arrival in St. Helena, the little man with the complex of grandeur was exhumed and transported by the French ship Belle-Poule - which means 'beautiful hen' in formal French or 'Pretty Whore' in slang - to Paris, where he now lies in a huge much-named urn in Les Invalides, on the banks of the Seine as he himself had decreed.
As to whether Little Man the Great died of stomach cancer or was poisoned by arsenic, as some claim, genetic tests of his hair are said to have found no abnormal amounts of the poison beyond what would occur naturally.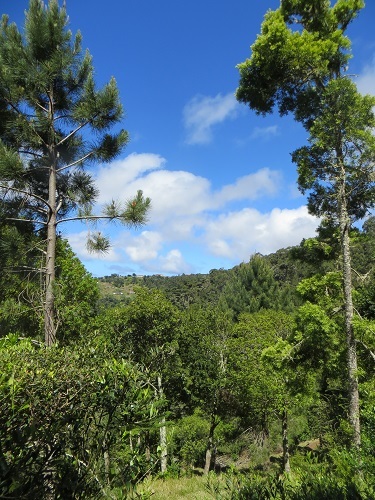 A view from the tomb
But when he was exhumed officials were amazed at how well his body was preserved, as if he was just sleeping, which conspiracy theorists claim proves their point, since only large amounts of arsenic could have produced such a mummifying result.
As to who would have done such a dastardly deed, the buzz points the finger at the Count of Montholon. Rumour has it that the Countess of Montholon would waft away from her quarters at midnight into the ex-emperor's embraces.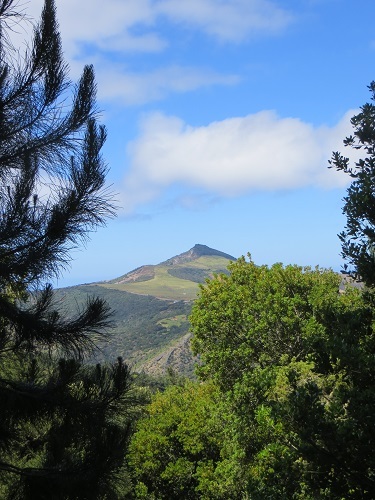 Another view
Napoleon was treated with tremendous courtesy when you think of what happened to the Nazi, Japanese and other war criminals of WWII who were hanged or shot. But then he was a man of honour when compared with them, with enormous achievements as a social and legal reformer.
Two incidents, however, may well be counted as war crimes - the killing of Turkish prisoners at Abu Kabir and of Russians after the Battle of Austerlitz, according to Trevor Magellan, the curator at Briars Pavilion.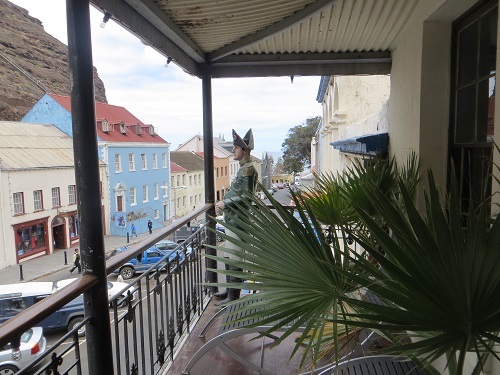 Napoleon on the balcony of the Consulate Hotel in Jamestown - Duke of Wellington stayed in blue house on a separate visit
Meanwhile we pass the French consul entrusted with watching over these three Napoleonic pieces of French government property. He looks very superior under his straw hat. He lives in a green roofed complex that is larger than all three sites heaped together.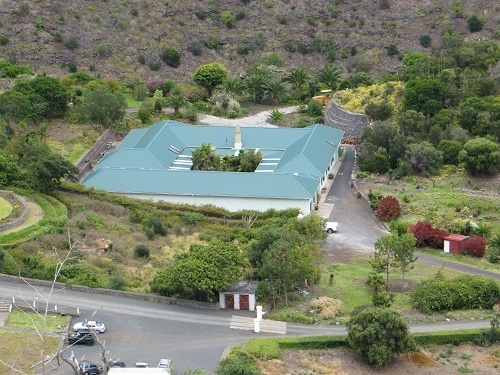 The French consul's house
As for escape, conspiracy theory has it that Saul Solomon, a Jewish merchant who dominated the island's economy at that time, smuggled a silk ladder in a tea chest into Longwood House to help Napoleon clamber down a cliff into a waiting skiff and escape the thousands of soldiers and cannons deployed around the shores to preempt an Elba encore.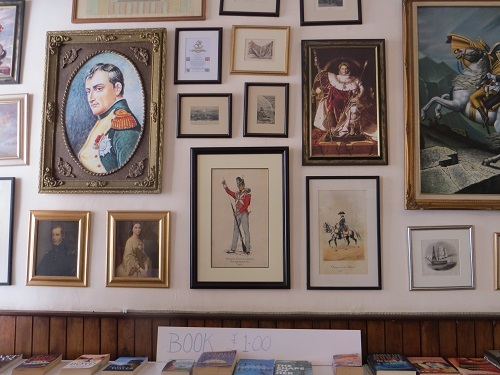 Portraits and cartoons of Napoleon adorn the interior of the Consulate Hotel
Solomon was also accused of overcharging, with one Frenchman bleating that 'the Jew Solomon' presented a bill for 1,400 gold francs for the burial of Napoleon's valet Cipriani 'as soon as the candles were extinguished,' and Napoleon himself blustering about having to pay 12 shillings for a pound of macaroni.
Be that as it may, Solomon became French consul on St. Helena, and in 1840 accompanied the ex-emperor's body back to France for its state funeral.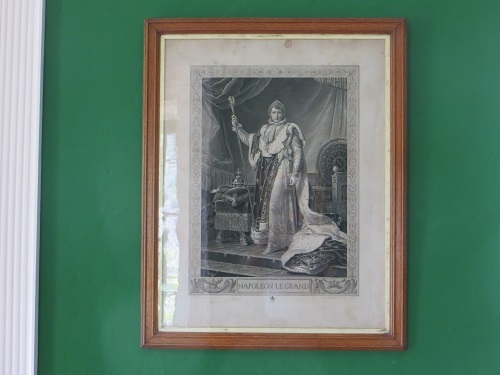 Napoleon in all his glory on the wall of Briars Pavilion
Despite this posthumous apotheosis, all ye who harbour ambitions of grandeur beware! For as the old British Ballad concludes:
All you who have wealth, beware of ambition,
For a small cast of fate could soon change your condition.
Be steadfast in time, for what's to come you know not,
Or your days they may end, like his, on Saint Helena.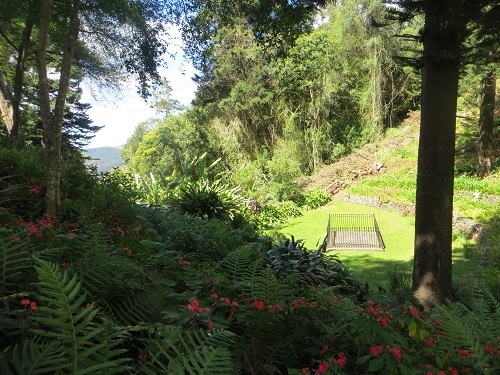 Sic transit gloria mundi
______________
By the same author: Bussing The Amazon: On The Road With The Accidental Journalist, available with free excerpts on Kindle and in print version on Amazon.
Swimming With Fidel: The Toils Of An Accidental Journalist, available on Kindle, with free excerpts here, and in print version on Amazon in the U.S here.