If Sderot is known as the Bomb Shelter Capital of the World (previous blog) Netivot, eight miles further south along the fraught border with Gaza, has been called the Varanasi of Israel, likened to Hinduism's holiest city because of its links to Jewish mysticism and miracles as home of one of the most revered Sephardi rabbinical dynasties.
Netivot has received its own share of Qassam rockets from Gaza, is endowed with its own reinforced concrete bomb shelters and has seen the coastal rail line extended here, currently the southern terminus, again as a mark of solidarity.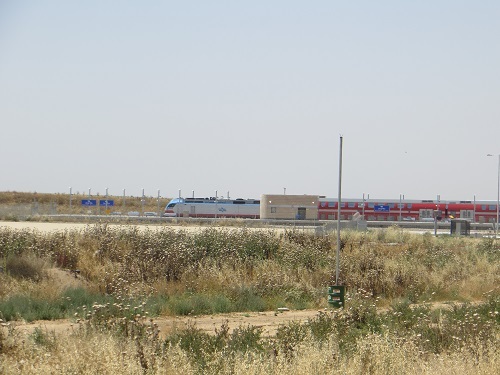 End of the rail line
But it is as the home of Rabbi Israel Abuhatzeira, known as Baba Sali (Father Sali, short for Israel), a leading Moroccan Sephardic rabbi and mystic credited with working miracles, that this pleasant leafy town of some 25,000 people in the semi-desert of the northern Negev, has gained status as a major pilgrimage site.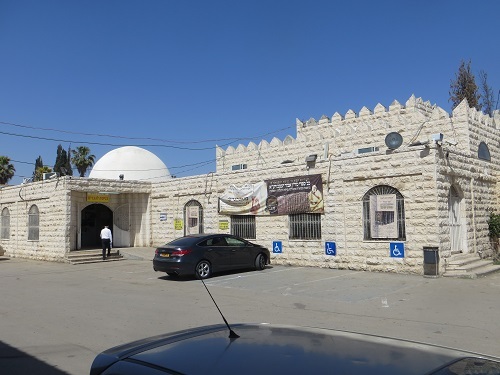 Baba Sali's tomb
It is Baba Sali's stern, lined face that stares down, like that of a wild desert sheik, as pilgrims armed with modern cell phones mill about the domed complex of his tomb on the edge of Netivot's cemetery - 600,000 of them annually. Up to 100,000 alone are estimated to descend on the shrine each year on the anniversary of his death.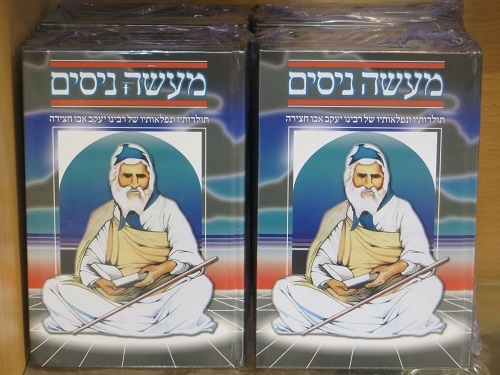 Baba Sali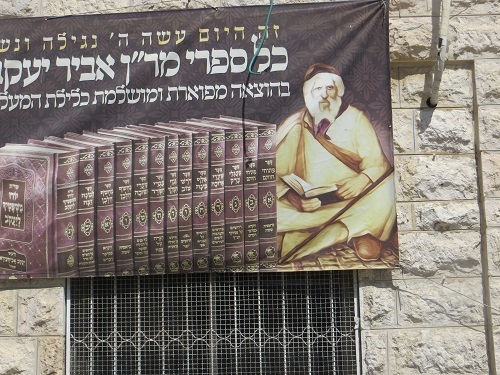 With his books on an outside wall
Advertising a book for 26 shekels
Many families celebrate their sons' bar mitzvah in the small synagogue attached to the tomb, just as others do at Judaism's holiest site, the Western Wall in Jerusalem, the last remnant of the second temple.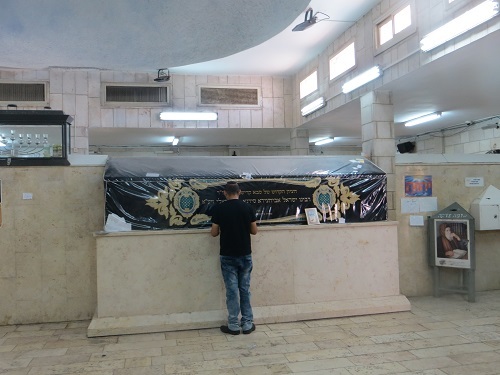 Inside the tomb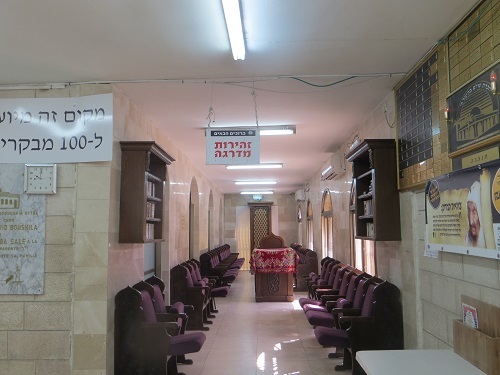 Attached synagogue
The centerpiece of the Baba Sali complex, resembling a little fort with battlements, is the white-domed tomb, divided into a men's and a women's section with their separate entrances.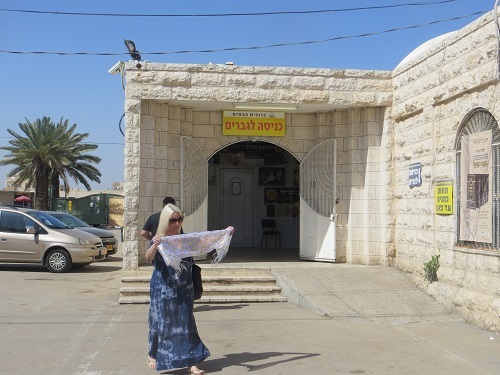 Men's entrance
Women's entrance
Within, each sex prays on its side of the catafalque, covered in a dark blue cloth with gold writing and high enough to stop the genders catching a glimpse of each other, unless they're seven-foot-plus basketball leapers.
Signs on the wall warn against taking lighted candles within to avoid burning the place down. But on the anniversary of Baba Sali's death pilgrims cast armfuls of candles into a large fire away from the tomb near the women's section. They place everyday objects by the tomb to receive blessings, and women dance and sing to the rhythm of a drummer.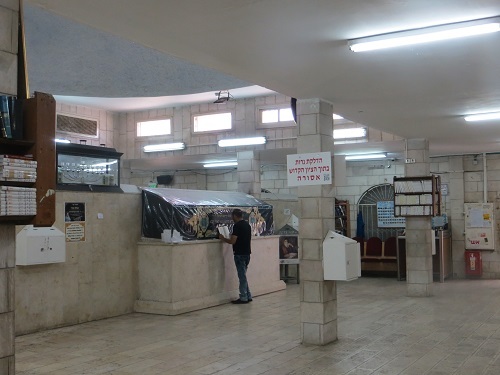 Warning not to light candles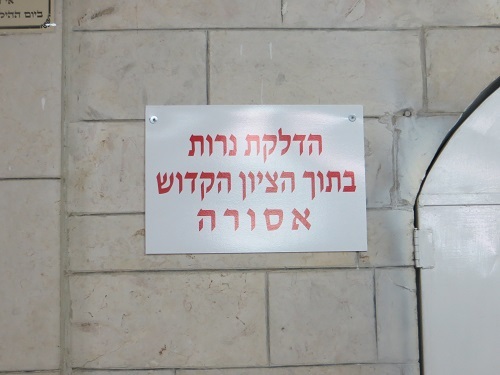 In case you didn't get the message

Baba Sali's dynasty traces its line back to Rabbi Shmuel Abuhatzeira who was born in what is now Israel in the 16th century, moved to Damascus, and then to the Sahara oasis town of Tafilalt in Morocco, a major caravan halt. Here Baba Sali was born in 1889.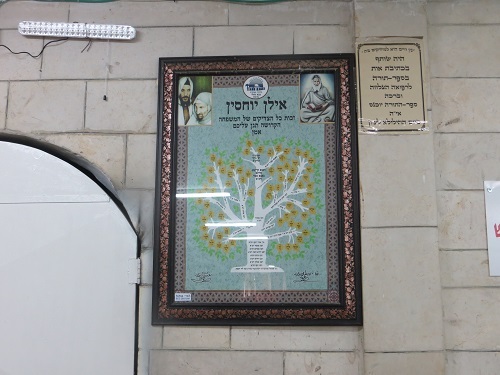 The family tree
He came to Israel when he was 70 and settled in Netivot, where he immersed himself in the study of Jewish mysticism and the Kabbalah and is credited with healing the sick and performing other miracles until his death in 1984. His funeral was attended by an estimated 100,000 people.
Another interior view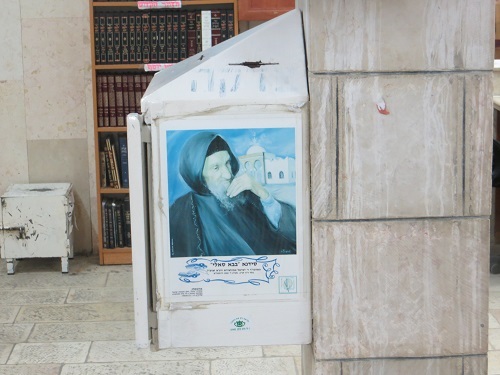 Charity box
In contrast to other, more ancient rabbis' shrines elsewhere in Israel and North Africa, the sacred tradition in Netivot is a living one, continued by the rabbi's son, Baba Baruch.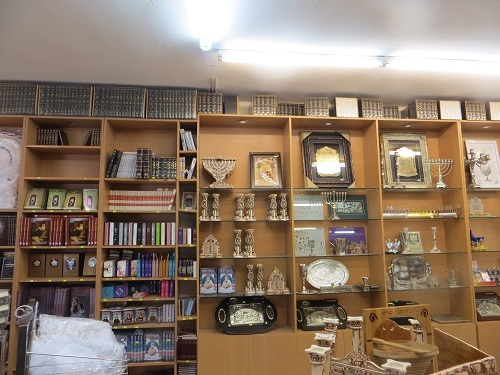 The gift shop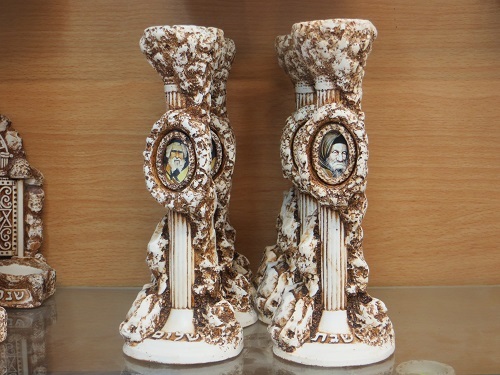 Close up
I've come here from the train station by taxi, there's none now in sight and I have to walk the two or more miles back at noon in the middle of a sharav, a hamsin-type hot desert wind that is pushing the temperature over 92 degrees Fahrenheit. Once more I find myself doing a reprise of 'Mad dogs and Englishmen Go out in the midday sun.'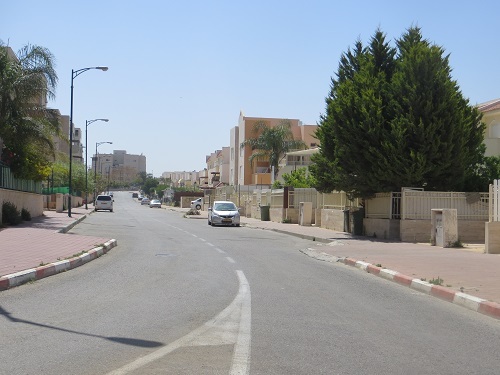 Town view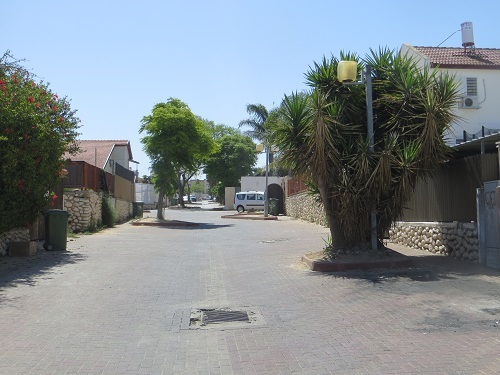 Another view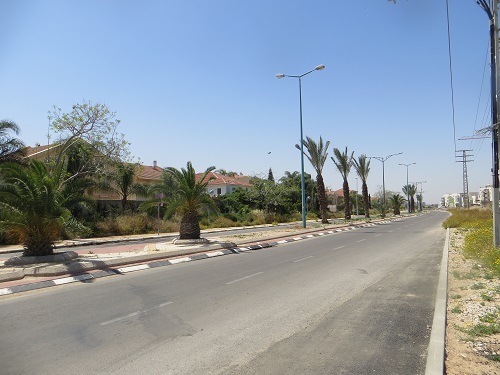 And another
The town spreads over quite a large area, with numbered air-raid shelters everywhere, especially near a little tots' playground. Flowering bushes and orange trees line many lanes of red roofed houses and bricked pavements. There are malls, too, with restaurants.
Tots' playground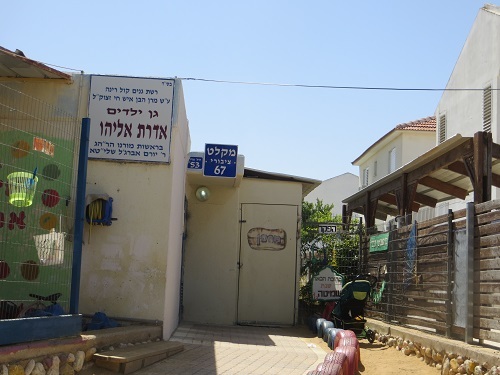 Nearby public bomb shelter 67 and kindergarden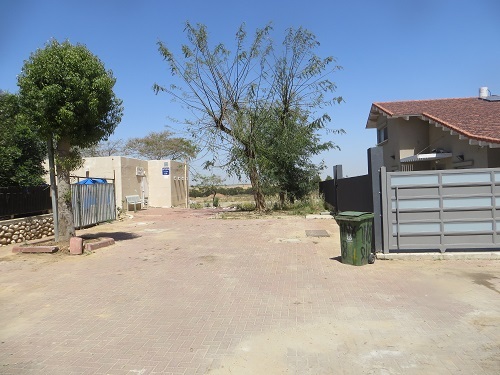 Public bomb shelter 64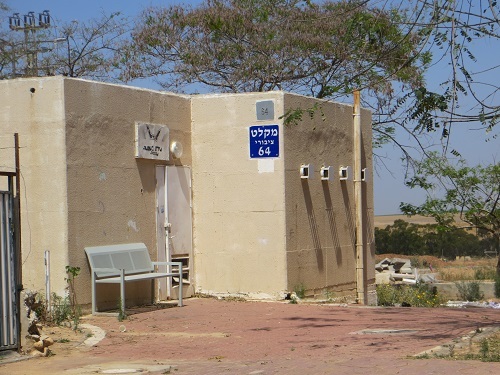 Close up
But it's also a mini-boomtown with construction cranes and large new housing blocks, concrete and unattractive. It's a veritable melting pot, too, with Jews from North Africa, Iraq, Iran, Ethiopia and Russia among others living side by side - but virtually no Arabs.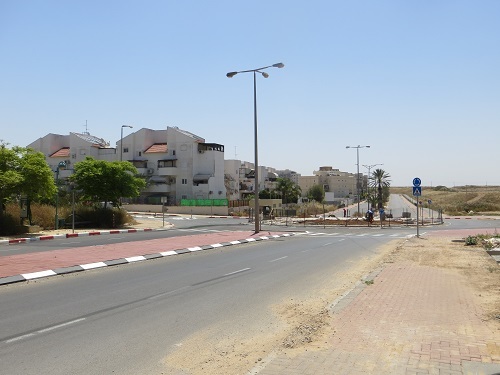 Development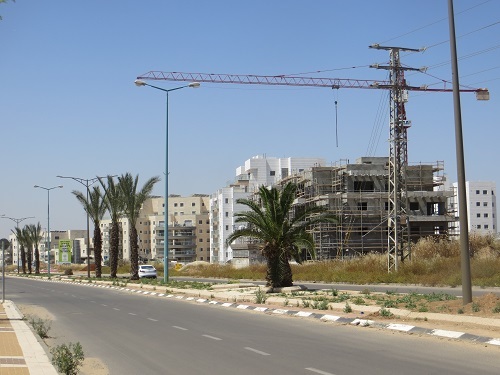 More development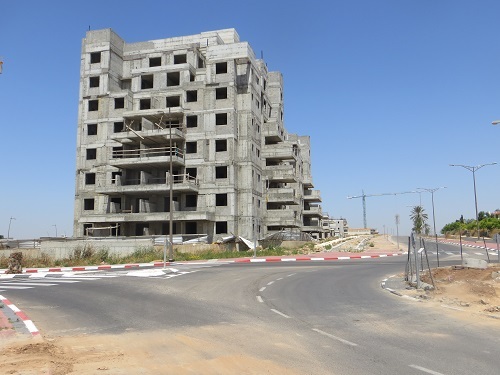 Yet more
Just in case you might think that religion, pilgrimage and mysticism trumps all, there are three nightclubs here, attracting visitors from as far away as Ashkelon and Beersheba.
And while we're talking miracles, a little one befalls me right at the railway station - a free train ride: the lady clerk refuses to take any money for the ticket to Sderot.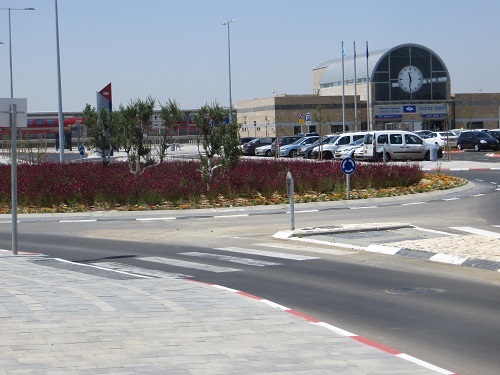 Netivot railway station with its underground passageway reinforced as bomb shelter
______________
By the same author: Bussing The Amazon: On The Road With The Accidental Journalist, available with free excerpts on Kindle and in print version on Amazon.
Swimming With Fidel: The Toils Of An Accidental Journalist, available on Kindle, with free excerpts here, and in print version on Amazon in the U.S here.