Doing in reverse in 40 minutes what it took Mr. Cheltenham and his friend seven days to complete with skis and spiked boots down below, I gain a magnificent bird's eye view of the craggy splendours of Nunavut's Auyuittuq National Park on the flight from Pangnirtung to Qikiqtarjuaq.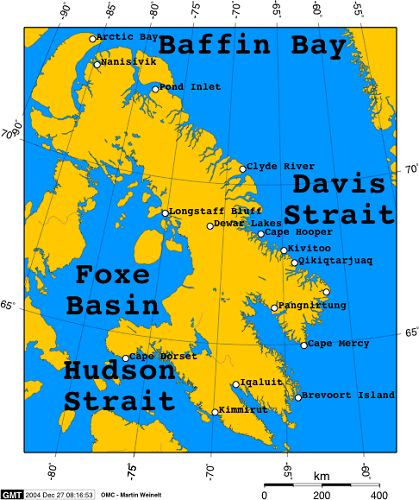 Qikiqtarjuaq, north-north-east of Pangnirtung - Wikipedia map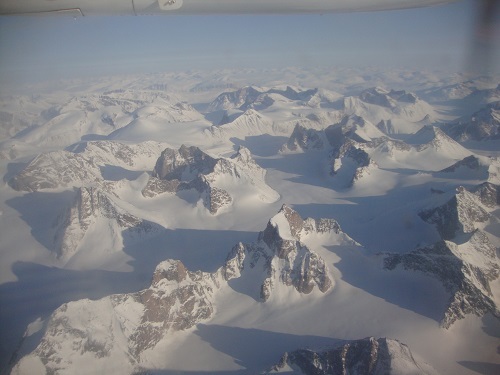 Auyuittuq view from the plane
The vast ice fields atop the mountain crags and the soaring jagged peaks spread out endlessly beneath a cloudless pale blue sky, blindingly white in the golden sun - a river turned into greeny-blue ice, rugged snow-covered valleys, watery patches in the sea where the ice is starting the spring thaw.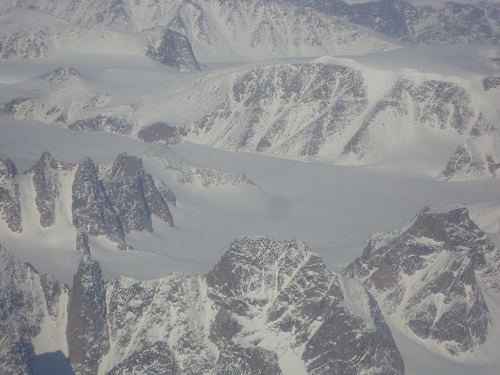 Another view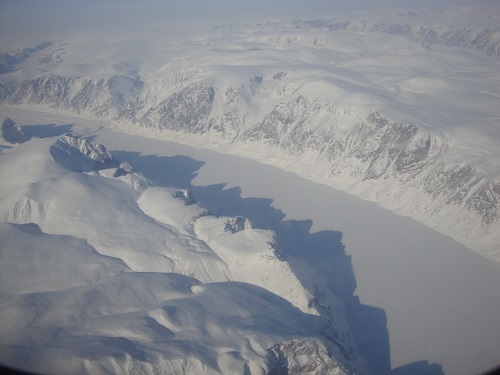 And another
Yet another
Qikiqtarjuaq, a village of some 500 people, lies on Broughton Island north of the Arctic Circle, just off Baffin Island though you'd hardly notice its island status since the sea is frozen over. It claims to be the iceberg capital of the world as all those massive chunks calving off Greenland, Ellesmere Island and elsewhere come sailing through along the Davis Strait.
Town
Another view
One was a little tardy and now sits marooned in the frozen sea a few hundred feet off shore - a soaring blue tinted tower and a large flat block. Snowmobile tracks crisscross towards it, and narrow crevices show the strainings of the frozen water.
Marooned iceberg
A team of dogs squats somnolently nearby, a snowmobile revs down from the town, and Yours Truly suddenly has that sinking feeling - literally; I'm enveloped up to my thighs in a snow drift.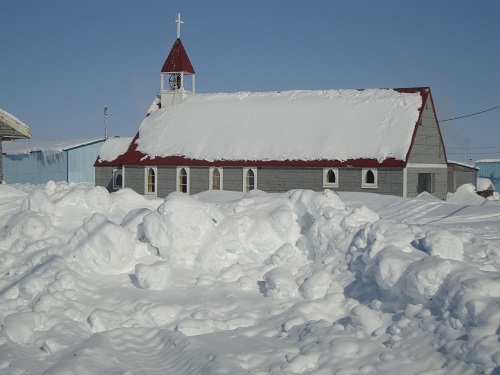 Town church
Time for some snowmobiling again. This time I get myself properly kitted up - padded outer trousers that fit, calf-high boots that fit, and above all goggles. I'm sitting on the back seat, so I don't get exhaust gushing up my nose as in the sled behind the Yamaha in Auyuittuq.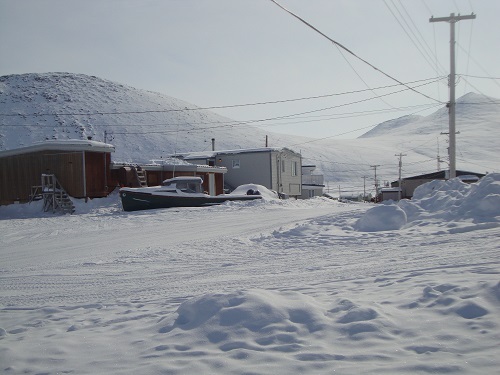 Another town view
Maurice, the Inuit driver, manages to find every damned rut on what to me seems a glassy, smooth, snowy surface. We roar out to the iceberg; what from the shore appears to be a tower is a massive frozen phallus.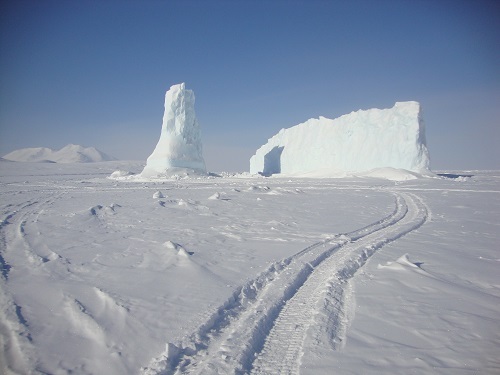 Getting close to marooned iceberg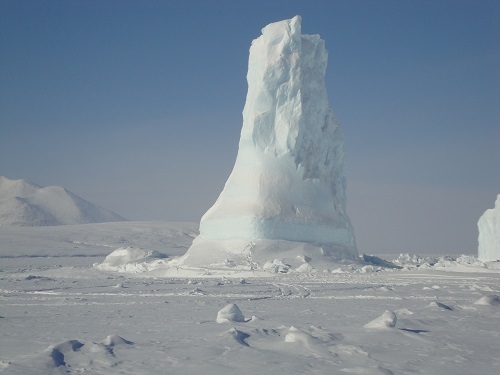 And closer
We corrugate up into the mountains to a collection of gleaming white radar domes, the DEW line, one of the 58 stations of the Distant Early Warning system built in the 1950s as the primary warning of any over-the-pole sneak air attack by the Russian bear. Today the station is automated and run from somewhere in Ontario.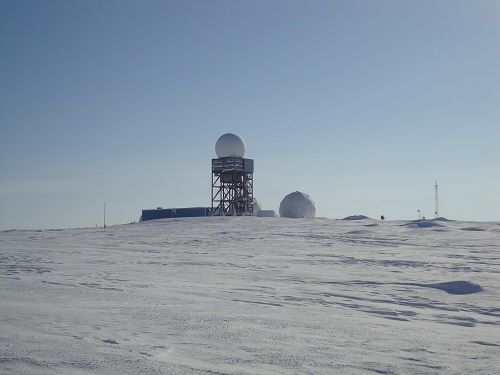 DEW Line early warning station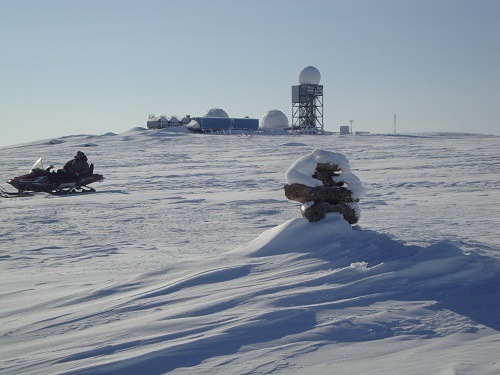 Another view
The frozen sea and jagged mountainous coastline of Baffin Island stretch out below. But don't venture too close for a look-see - the apparently solid ground just ahead might be an unsupported snow drift leaning over the cliff face.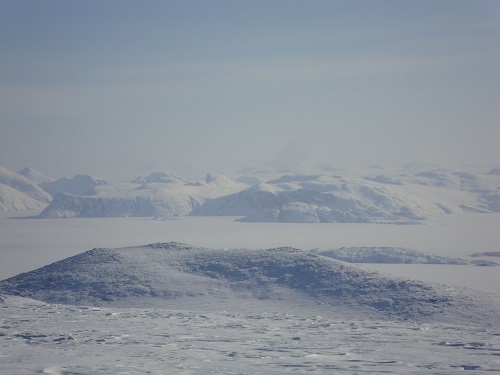 View across to Baffin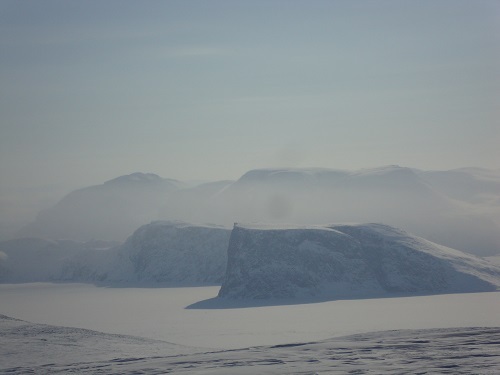 Another view
Back in town there's a wonderful clutch of playful puppies, not yet ready to pull a sled but more than ready to hump a leg, mischievous balls of husky-type fluff jumping all over the place.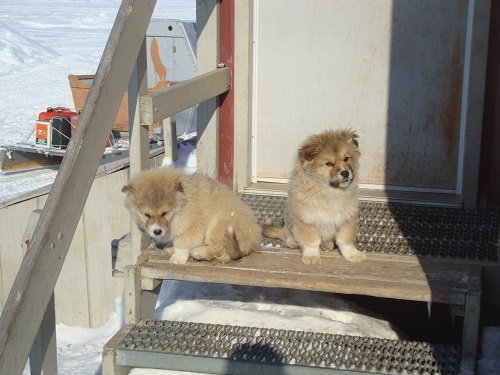 Playful puppies
The sunset is superb, all rose hues reflected on the snowy white, an enchanted dimming of the twilight. The lovely dog team at their chains on the ice let out a helluva ruckus, and two 11-year-old Inuit kids come zooming up on their snowmobile. No driving licence age limit in Qikiqtarjuaq, it seems.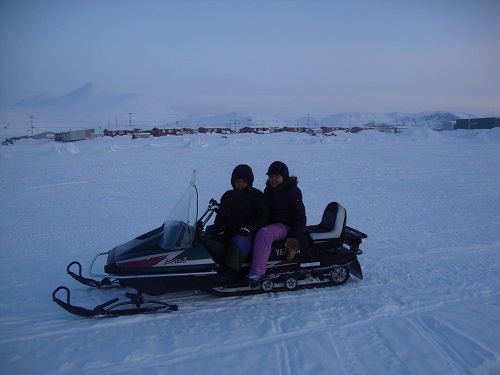 No driving age limit here
Tonight is my fifth night trying to see the Aurora Borealis, the full multi-coloured splendor of the Northern Lights sending its veils of iridescent greens and electric purples billowing across the night heavens.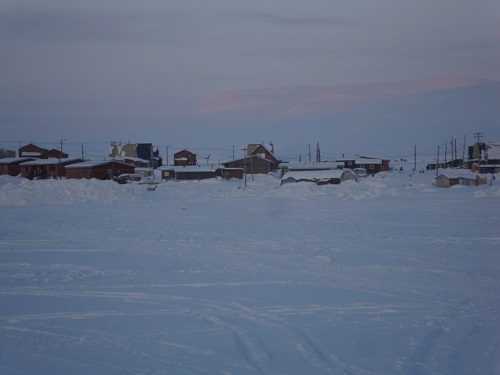 Qikiqtarjuaq at twilight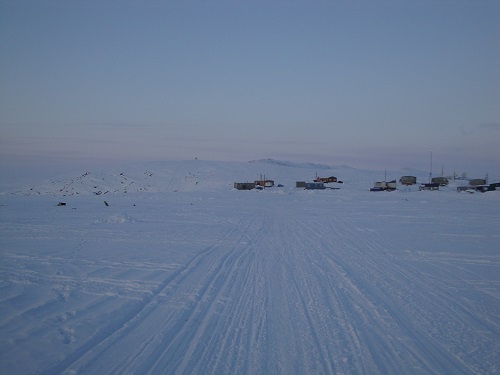 Another view
I tried in Iqaluit. 'Just go outside after 10.30 p.m. and walk out towards the airport away from the town lights,' said the guy at the hotel desk. 'There was a wonderful display two nights ago.'
So out I went, all layered up, hobbling down towards the airport, looking up at the blank screen of a clear sky for nearly an hour. What Aurora Borealis? Zilch! My Aurora Boreanus!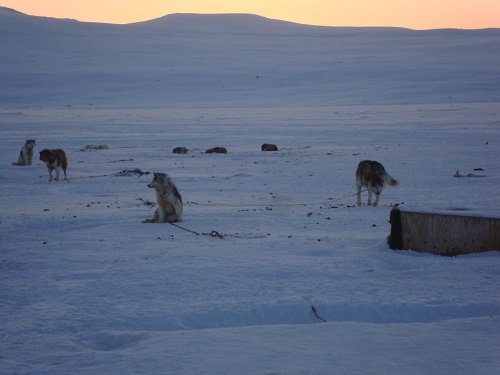 Dogs at twilight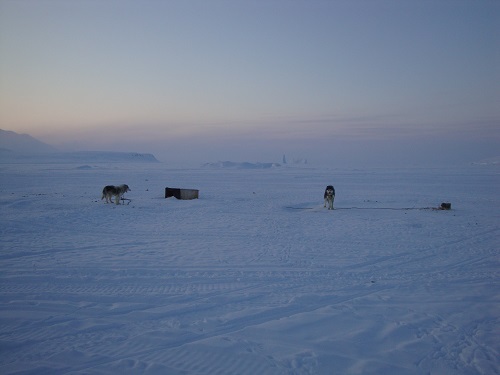 More doggies
The following night I went out again on another wild Aurora Borealis chase. It was no longer clear, I couldn't even see the stars, and there were minuscule snow flurries, so that was curtains on the light show for that night.
In Pangnirtung a nice long night walk produced nothing, so I left the room curtains open. The window looked right up at the big Arctic sky. 'No Aurora Borealis is going to escape me tonight,' I hummed to myself.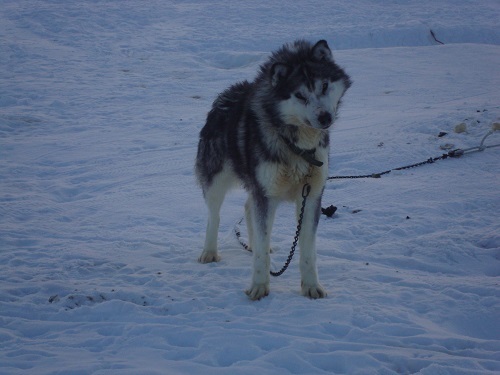 Come on, Rover!
One of Pangnirtung's rare street lights, however, was shining blinding orange right outside my window, so once again Aurora Boreanus beat me.
But here in Qikiqtarjuaq, there are no street light outside my frigging window, nothing but snowy expanses to the snowy mountains, the biggest of big skies. And the Aurora Borealis? Conspicuous by its absence. Aurora Boreanus has struck again.
You, too, Fido and Rex
My frostbitten finger tips, though, the ones I use for the camera, doffing my glove for a mere nano-second, are now tingling like buggery and glowing a very respectable electric purple. Well, at least they haven't turned green - or black - so I suppose that's OK.
More dogs at twilight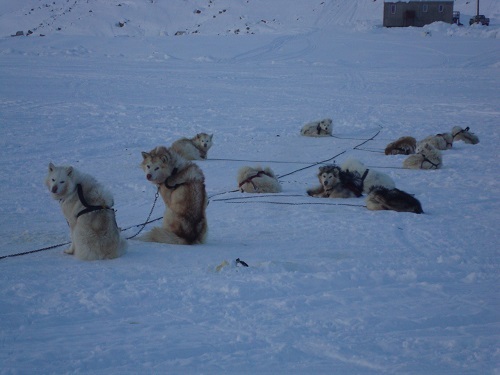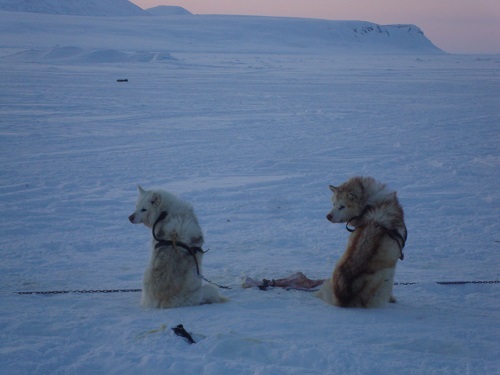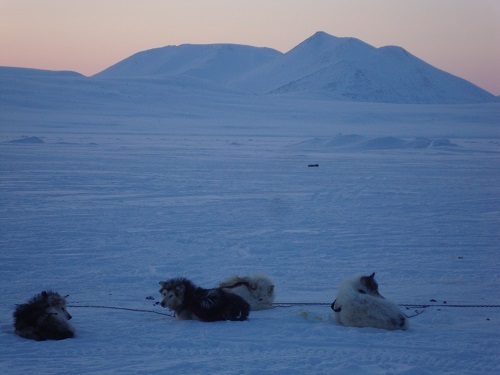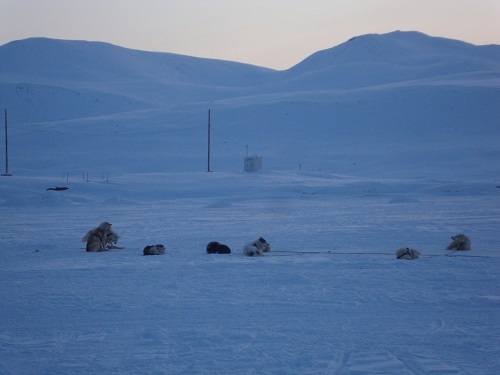 All quiet on the western front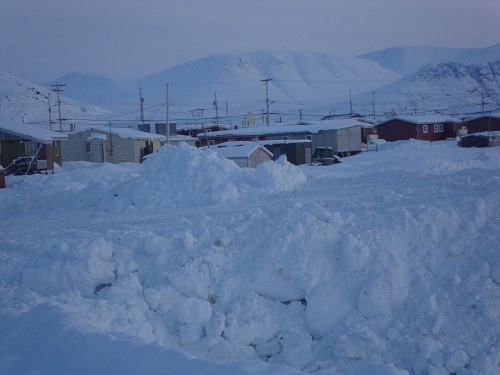 Back to town
______________
By the same author: Bussing The Amazon: On The Road With The Accidental Journalist, available with free excerpts on Kindle and in print version on Amazon.
Swimming With Fidel: The Toils Of An Accidental Journalist, available on Kindle, with free excerpts here, and in print version on Amazon in the U.S here.