When Erik the Red landed in Greenland in 982, arguably the first European to do so, during his three-year exile for killing some people back home, it took him forever to get here just from near neighbour Iceland, not a mere hour or two, and it's highly unlikely he ever made it up to Kangerlussuaq, let alone further north to Ilulissat, 187 miles beyond the Arctic Circle.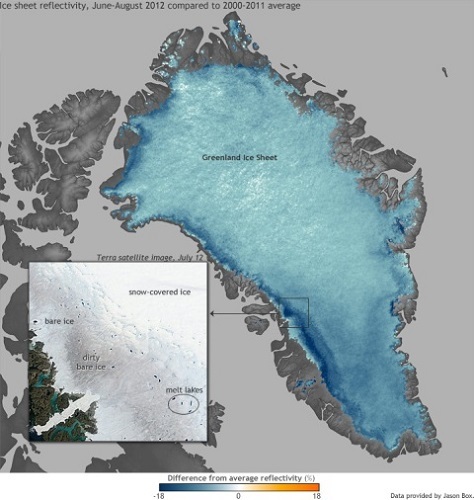 Lower right corner of square approximates to Disko Bay and Ilulissat - NASA map
But the Ilulissat area, now Greenland's premier tourist destination, was already well-settled by Inuit back then, and for several millennia before that, according to archaeological evidence, as opposed to Kangerlussuaq's vacant status.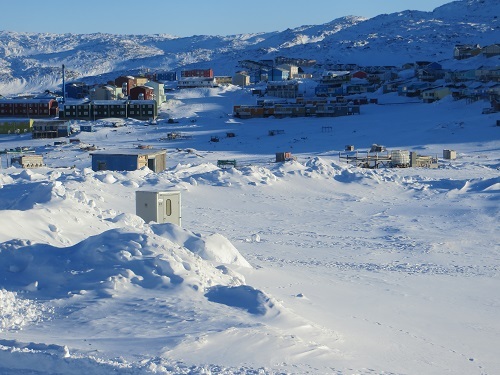 Partial view of Ilulissat
Erik settled In Eystribyggð (Eastern Settlement) near present-day Narsarsuaq on Greenland's far southern tip. He hit upon the name Greenland either because he was so impressed by the summer coating of green on the cliffs during a somewhat warmer time, or else he was engaging in a fine piece of vocabulary scam to con gullible fellow Norsemen to follow suit.
Be that as it may, about 5,000 Norsemen survived and flourished there until about the time Christopher Columbus 'discovered' the New World in 1492, when battles with Inuit, pirate raids and more importantly a sharp drop in temperatures known as the Little Ice Age made conditions untenable.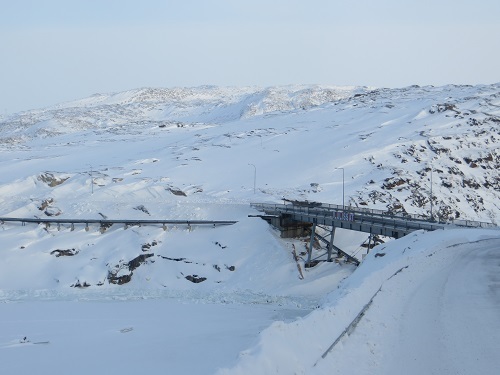 Ilulissat surroundings
During that time the Norsemen traded with the Inuit, though whether they ever sailed as far north as Ilulissat remains problematic. Today Ilulissat is Greenland's third largest town with some 4,500 inhabitants, mainly Inuit, who together with mixed blood form nearly 90 percent of the country's total population of about 56,000.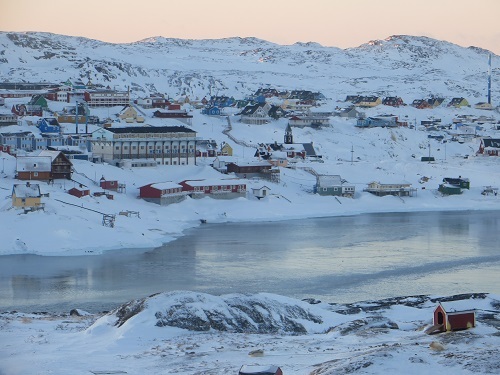 Ilulissat partial view with church in centre
What brings the relatively few tourist who make for Greenland to Ilulissat is its positon cheek by jowl with Sermeq Kujalleq, one of the fastest and most active glaciers in the world, moving over 130 feet a day and calving 11 cubic miles of icebergs a year, sufficient momentum to have gained it a place high on the UN's list of World Heritage sites.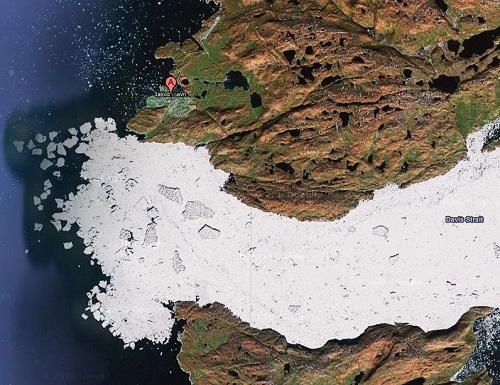 Sermeq Kujalleq glacier - Google Maps
The craggy little town, a 45-minute flight north of Kangerlussuaq by Dash-8 turboprop, also sits on the southern shore of Disko Bay with its added attractions of islands and skerries, inlets, channels, and of course more icebergs.
Ilulissat view from Arctic Hotel
The vast majority of visitors come here on summer boat trips when the sun never sets and the crags are covered in sage green lichen and multitudes of tiny multicoloured flowers and dwarf bushes - as well as multitudes of nasty mosquitoes and stinging black insects.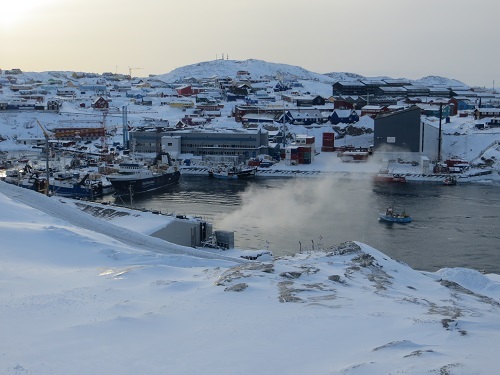 Ilulissat and harbour in winter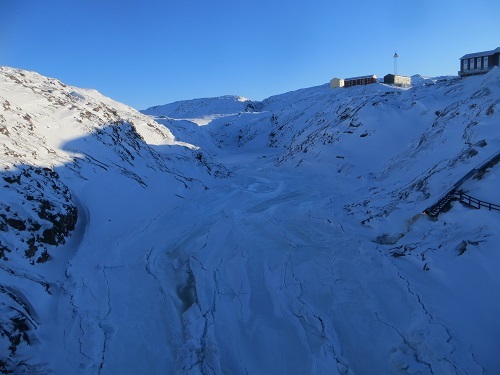 Frozen river leading into harbour
But then they will miss what must surely be one of the most enchanting sights it has to offer - the wondrous aura of an Arctic twilight when the sun starts rising again in January after the daily 24-hour-long polar night. In February the day's length reaches about eight hours.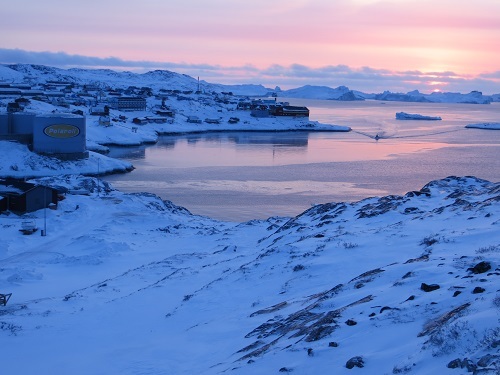 Ilulissat sunset in February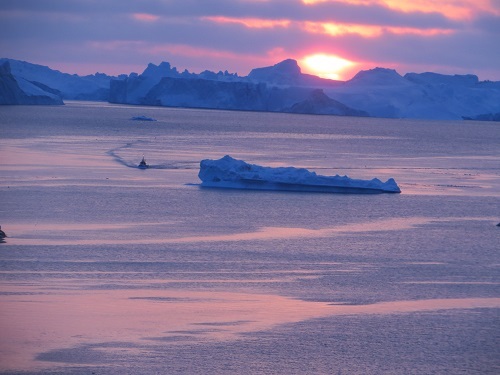 Another sunset view from Arctic Hotel
It is then, after the sun has dropped behind the icebergs in the western seas, that Ilulissat itself is bathed in the mystic deep blue of the long northern dusk, its lights sparkling against the equally blue-reflecting snow.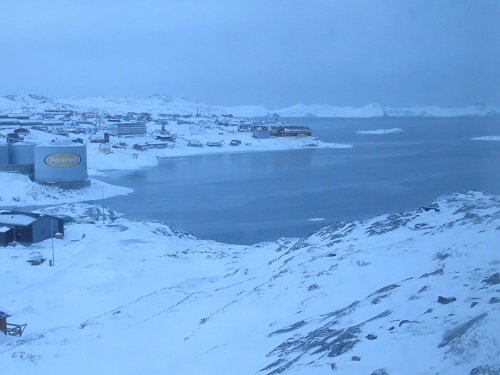 Ilulissat winter twilight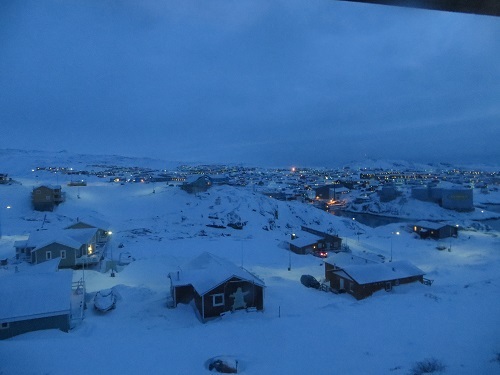 A later view
And another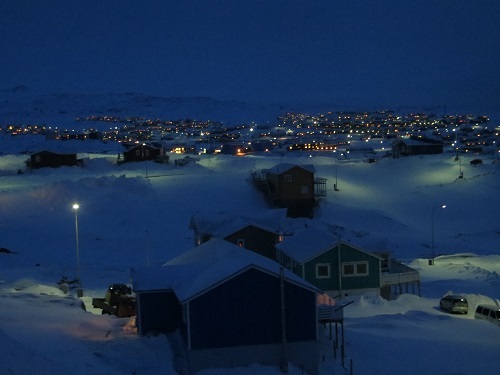 Even later
The town was born in 1741 when Danish trader Jacob Sørensen Severin set up a trading post, appropriately called Jakobshavn. Inuit came here to trade, missionaries came here to convert them, and the town thus grew and gained its Inuit name of Ilulissat, meaning iceberg, with the granting of autonomy.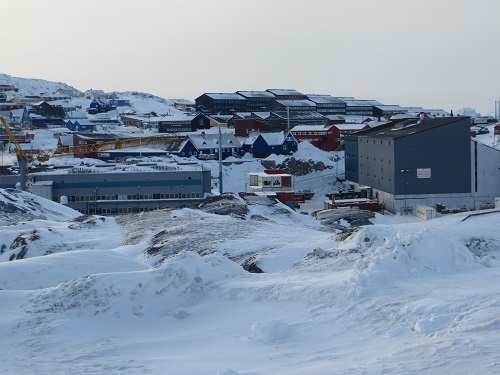 Ilulissat in winter
The Arctic Ocean Conference was held here in 2008, when Canada, Denmark, Norway, Russia, and the United States discussed territorial claims in the Arctic and ice shrinkage due to climate change. The last time the sea here was completely frozen over in winter was in 1989.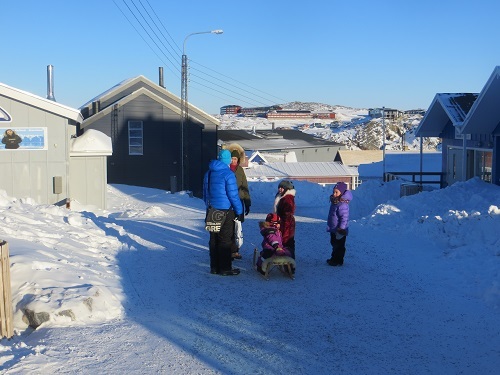 Citizens of Ilulissat
It's another balmy morning today at -20 Celsius, that's -4 Fahrenheit, a good bit warmer than Kangerlussuaq but still knacker-freezing cold as we wander round town with a guide who's making us stand out in the open for hours while she goes through details of no interest to anyone at inordinate length.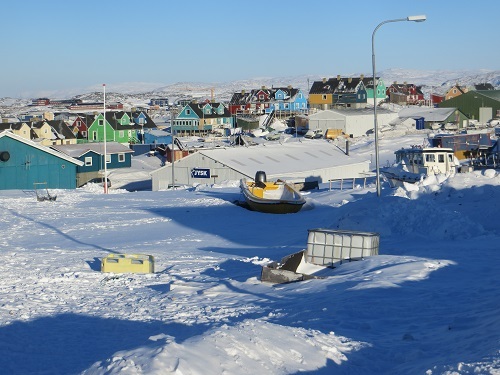 Another town view
On the other hand, points of interest include the Discotheque Murphy's - but nobody can tell me what Murphy has to do with it all - and the house of and memorial to Danish Polar explorer Knud Rasmussen, who was born here and became the first European to cross the Northwest Passage on a dog sled. Bully for him!
Murphy's is to the right behind yellow sign
Huge black birds and their equally white seagull cousins are flocking round boats in the half-frozen harbor and tearing at the bloody carcass of a fish frozen in the ice. Wooden buildings painted in garish reds, blues, greens and yellows spill up the snow-covered crags against a glorious backdrop of rugged snow-carpeted hills.
An armada of little boats is frozen in the ice where the open water ends, and a group of Singaporean tourists kitted out in the most outrageous Arctic outfits are taking selfies all over the place, looking as if they're about to land on the moon.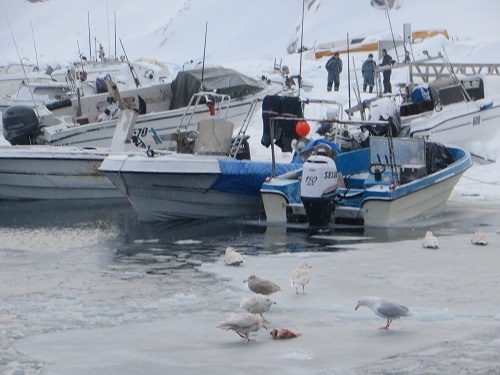 Gulls pick at frozen fish carcass
Back at the tourist office I make another attempt to find out why Discotheque Murphy's is called Murphy's. They don't know. But it was set up by a British firm, they say, so I can only assume that there was a scion of Erin lurking amidst their number.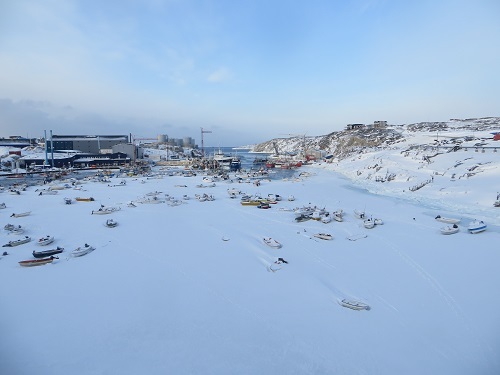 Partially frozen harbour with boats waiting for summer defrost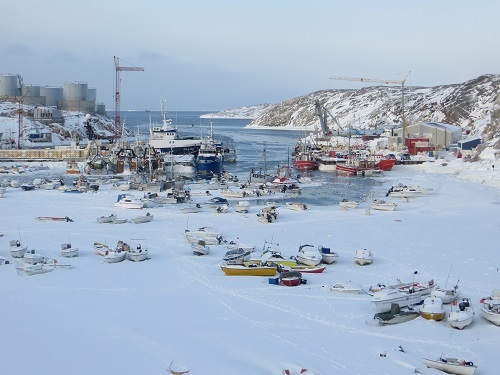 Close-up view
That settled, it's off to the nice cozily warm café Iluliaq next door for some nice hot food.
More Ilulissat winter views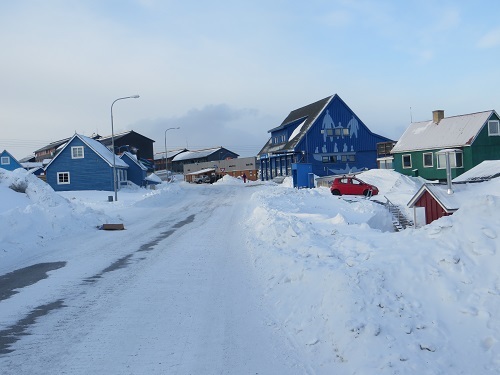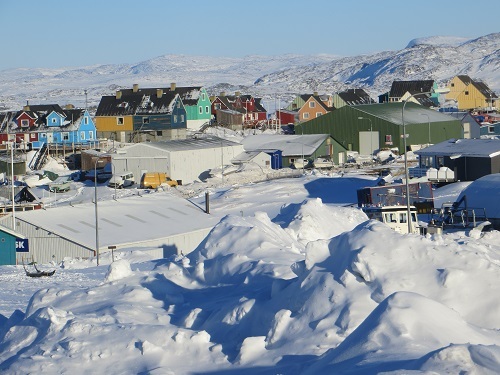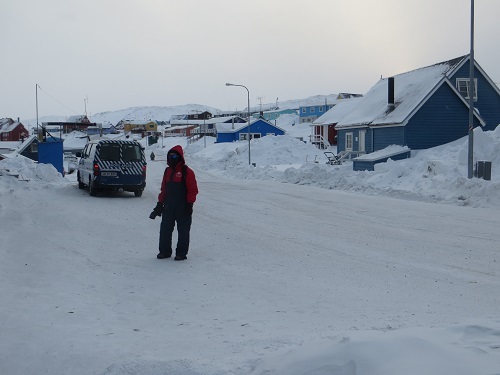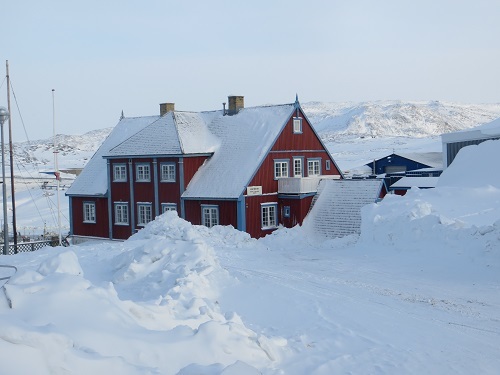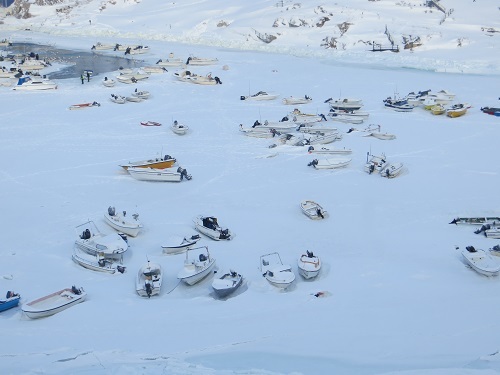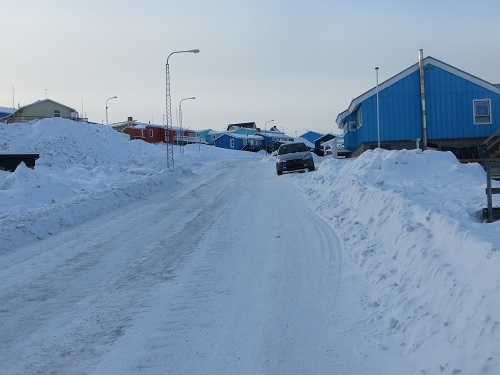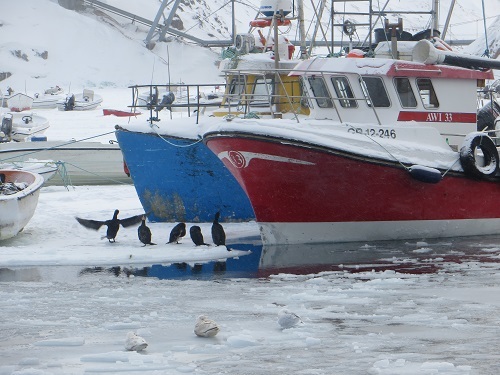 ______________
By the same author: Bussing The Amazon: On The Road With The Accidental Journalist, available with free excerpts on Kindle and in print version on Amazon.
Swimming With Fidel: The Toils Of An Accidental Journalist, available on Kindle, with free excerpts here, and in print version on Amazon in the U.S here.