Once they proudly sailed the seven seas, mighty traveling hotels, carrying both passengers and cargo to the furthest outposts of the British Empire, earning their prestigious title of RMS (Royal Mail Ship) by dint of carrying His or Her Britannic Majesty's mail to his or her farthest-flung subjects.
Entitled to carry the pennant of the Royal Mail, it was a storied line that began in 1840 and included among its famous bearers such majestic liners as RMS Queen Mary and RMS Queen Elizabeth as well as such ill-starred giants as RMS Titanic and RMS Lusitania, sunk in action in the First World War.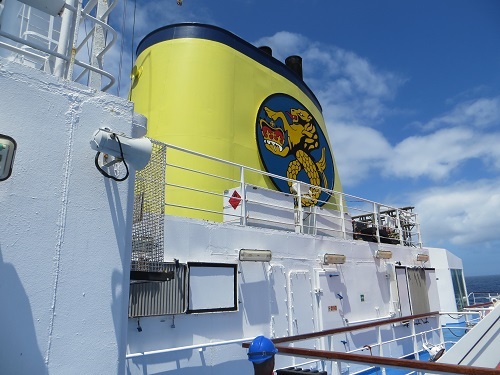 RMS St. Helena's logo with royal mail crown
Today, thanks to air transport and advances in communications, only four remain with bragging rights to the royal title. But only one is truly entitled to it by dint of performing similar functions to her illustrious predecessors, providing a lifeline to one of the world's remotest islands - St. Helena, lost in the vastness of the South Atlantic.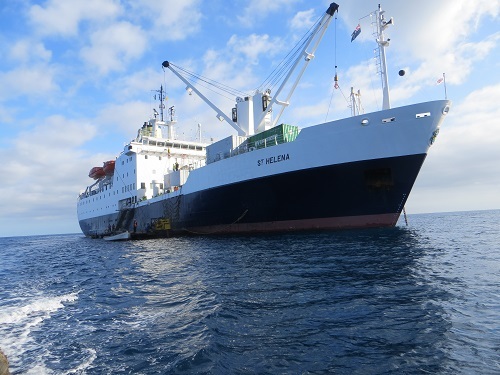 RMS St. Helena
The massive 150,000-ton Cunard Flagship, Queen Mary 2, had the RMS title bestowed on her at her launching in 2004 in light of the company's storied history, and she does do some scheduled Southampton-New York crossings, but she also serves as a cruise ship part of the year.
The 1,255-ton RMV (Royal Mail Vessel) Scillonian III, a ferry based in Penzance, Cornwall, sails regularly to the Scilly Isles, a whopping 28 miles off the coast of south-west England, while the 125-foot-long RMS Segwun, built in 1887 and oldest operating steam ship in North America, cruises the Muskoka Lakes in Ontario, Canada, so they hardly count.
Only the neat, nifty 6,767-ton passenger-cargo RMS St. Helena still truly deserves the title as she plies her lonely route from Cape Town, five days out to St. Helena and a further two to three days on to Ascension Island.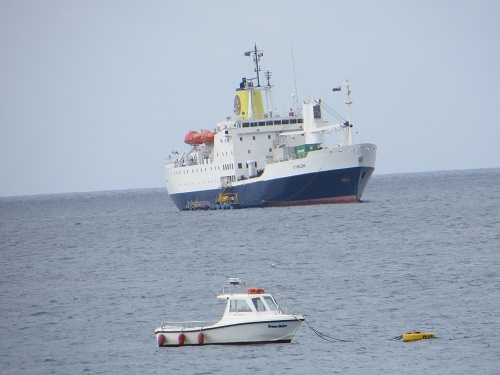 RMS St. Helena in Clarence Bay, Ascension Island
And even her days are sorely numbered. By April 2016, when St. Helena's long-delayed airport finally opens, the island's surface umbilical cord - at present its only link to the outside world, with the nearest point in Africa 1,200 miles away - will finally be cut, and the ship will be retired and sent to the knackers' yard - unless somebody buys her.
So if you want the cred of having sailed on a real RMS, you had better hurry.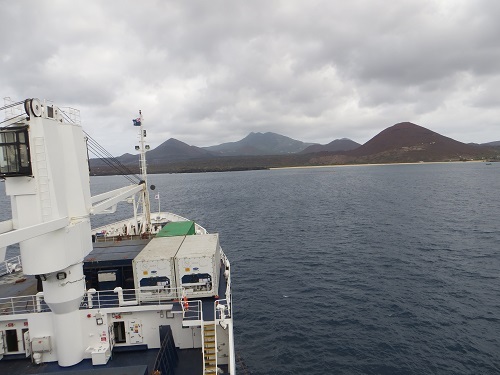 View over the cargo section back to Ascension
Launched in 1989 to succeed a smaller ship of the same name RMS, as she is affectionately called by the Saints (as the Saint Helenians are known), used to sail further afield than her present course. Twice a year she plied on to Portland, Dorset, U.K., and she also made the occasional six-day trip from Cape Town to an even more remote island - Tristan da Cunha, half way from the Equator to the Antarctic Circle.
Carrying 156 passengers and 55 crew, RMS has a variety of cabins ranging from tiny windowless cubicles on C Deck to more luxurious porthole accommodation on B, and spacious rooms with windows on A. There's a pleasant main lounge fore on A, a sun lounge, bar and sun deck aft above A, and a tiny pool and gym.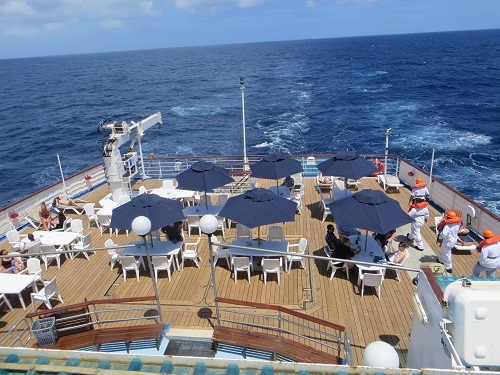 Sun deck
She does not come cheap but the food is superb - five course dinners with plenty of choices, and eight different varieties of premium cheeses to close off the meal. Smoked ostrich, anyone?
In between the three main meals there's beef tea at 11 A.M. and a host of sandwiches and cakes at 4 P.M.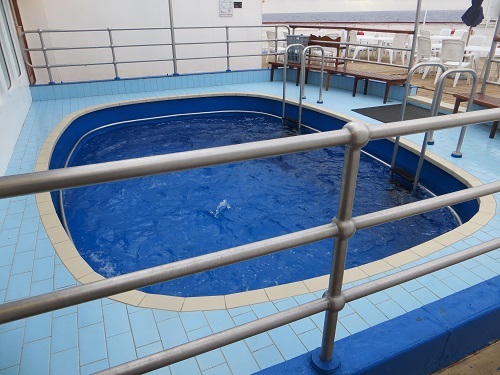 Ship's pool
Her draught is too deep to tie up on either Ascension or St. Helena. On this particular journey a little lighter, the Queen Atlantis, takes us out from Georgetown's tiny pier on Ascension to RMS as she rides in stately mode in Clarence Bay. The trouble is Queen Atlantis is having a bad hair day, rocking and rolling and boogeying all over the place as she nears the pier under growling motor power, then drifts away again.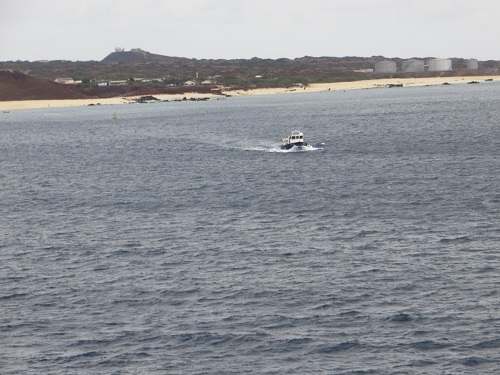 Queen Atlantis on the way from Georgetown to RMS. St. Helena
The idea is to jump aboard when she is nearest, a golden opportunity for Yours Truly to make an absolute arsehole of himself. But despite a lifetime of practice at global prat-falling I manage to board, ably abetted by two crew members who grab me by the upper arms as though arresting me for flashing.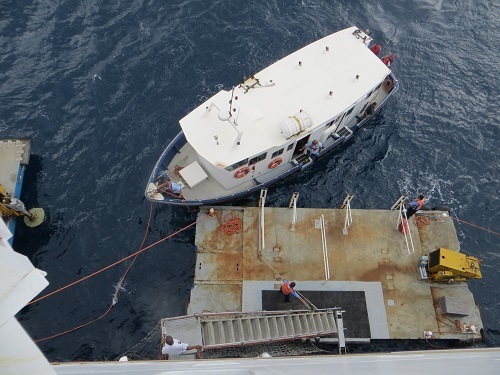 Queen Atlantis tries to approach ship's boarding platform
The next game is how to board RMS herself. The floating platform is into some quite serious boogeying as well, and the ramshackle ladder up the side of the ship is rising three to four feet above it before crashing back down again. Naturally I get it rising, managing to execute a masterly pas de deux followed by a semi splits worthy of a prima ballerina.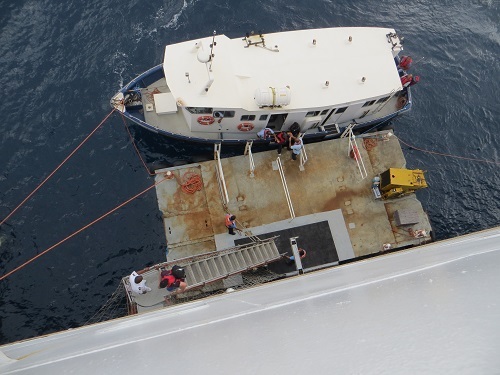 Success
We're only about 60 on this leg to St. Helena. There are 'Saints' returning home, contract workers including UK police on loan, and a half dozen or so seasoned travelers, including a valiant 88-year-old English oncologist. Naturally old skinflint me is in steerage on Deck C in a two-bunk cubicle, but I'm lucky as I'm the lone occupant.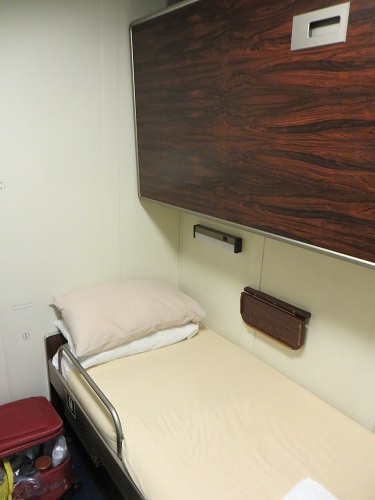 C Deck cubicle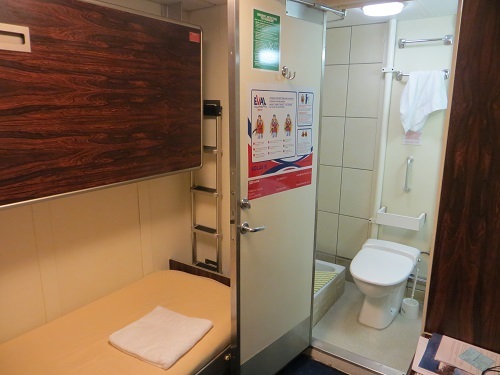 This one en suite
Emergency Stations! I'm clearly going down with the Titanic! They've just sounded the emergency drill, six short blasts and a seventh long one. We're gathered at the emergency assembly point in the Sun Lounge, and I've got myself into a terrible fight with my life vest. A crewmember has to channel Houdini to untangle me. Ah, I should have unclasped it first and passed the strap through the harnessing loop. Now you tell me!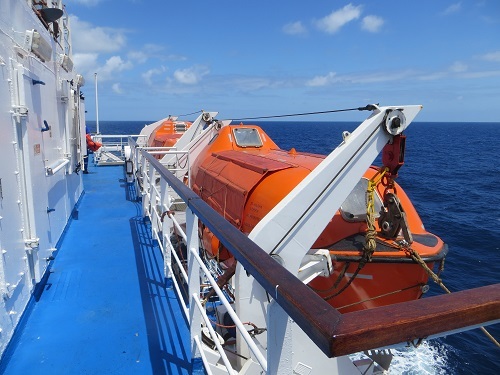 At least there are enough lifeboat spaces aboard - unlike the Titanic
If you see somebody go overboard, throw them a life buoy at once so that we know more or less where they fell, quoths the lady deputy purser. She swears nobody's ever fallen over in the 12 ½ years she's been pursing here. But then she did mix up her starboards and ports earlier - and there's always a first.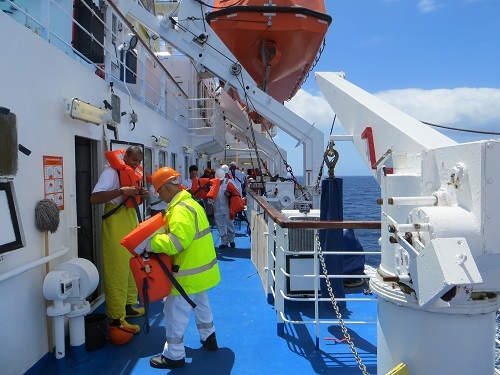 Crew life boat drill
We've barely even started yet, and I can tell you now I do not in fact fall overboard but, as the next blog will reveal...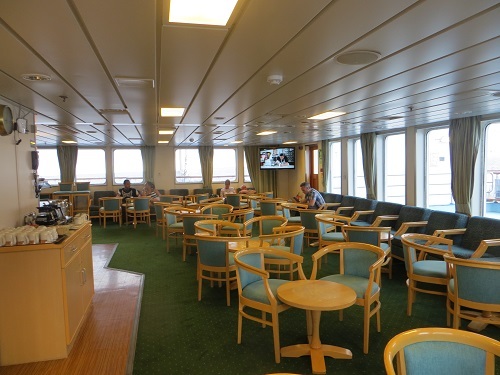 Sun lounge
______________
By the same author: Bussing The Amazon: On The Road With The Accidental Journalist, available with free excerpts on Kindle and in print version on Amazon.
And Swimming With Fidel: The Toils Of An Accidental Journalist, available on Kindle, with free excerpts here, and in print version on Amazon in the U.S here.