If I should die, think only this of me:
That there's some corner of a foreign field
That is for ever England...
Thus wrote Rupert Brooke, the famed English war poet, in 1914 in his iconic sonnet, "The Soldier," envisaging his own death on the field of battle in World War I.
As the world this year commemorates the centenary of the start of WWI, the Great War to end all wars, these 'corners of a foreign field' still shine brightly green, recalling Brooke's small green island hundreds or thousands of miles away.
Some are vast, commensurate with the enormity of the battles they commemorate, such as the Battle of the Somme in France in 1916 when some 1,200,000 British, French and German soldiers are estimated to have been killed in just 141 days for the gain of a few miles of land.
The British suffered 60,000 casualties on the first day alone, at least a third of them killed. The Somme region now hosts over 410 Commonwealth cemeteries, including the Thiepval Memorial to the 72,191 missing British and South African troops.
At the other end of the scale is the small Greek island of Skyros in the Aegean Sea with its single grave, where Brooke found that foreign field he immortalized in his poem.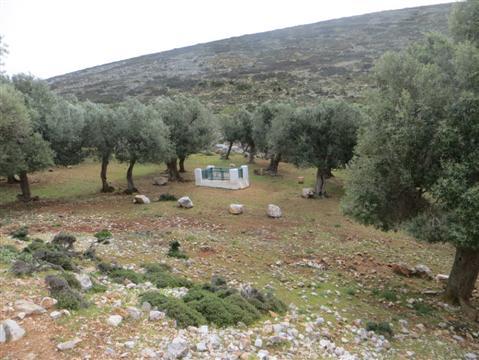 Brooke's solitary grave in an olive grove
There shall be
In that rich earth a richer dust concealed;
A dust whom England bore, shaped, made aware...
Here, in a grey-green grove of olive trees, in a desolate valley of stones and boulders, in the arid southern half of the island, anything but 'England's green and pleasant land,' a solitary arched sarcophagus surrounded by four low stone pillars and green railings contains the poet's remains, the famous poem engraved on his gravestone.
About 80 miles to the northeast lies the Greek island of Limnos, operational base for the ill-starred nine-month Gallipoli campaign of 1915, when Commonwealth forces lost more than 36,000 men, many of them Australians.
Just a mile or so inland from wide Moudros Bay, on a field as green as the playing fields of Eton, East Moudros Cemetery holds the remains of 886 Commonwealth dead in neat rows on mowed lawns beneath a cenotaph and a large cross.
A silver plaque carries their nationalities: 672 United Kingdom, 98 Australia, 47 New Zealand, 4 Newfoundland (then a separate British colony), 63 India, two others. Although India lost more than New Zealand and Newfoundland combined, apparent racism puts it lower in the list.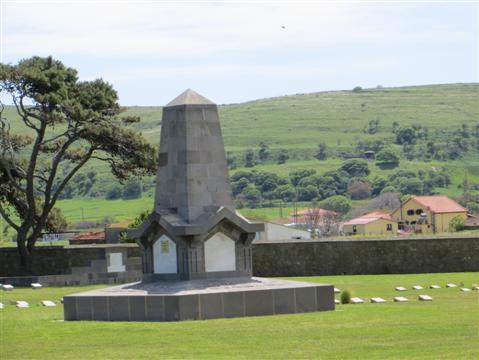 Moudros cenotaph
In all, Greece holds 35 cemeteries and memorials for both world wars, ranging from one with nearly 3,000 graves to this single isolated tomb on Skyros.
And think, this heart, all evil shed away,
A pulse in the eternal mind, no less
Gives somewhere back the thoughts by England given...
Ironically Brooke did not die in battle as he envisaged in his poem. He was on his way by boat to the Gallipoli campaign, and no doubt Limnos, with the British Mediterranean Expeditionary Force when he was bitten by a mosquito. The bite became infected, sepsis set in, and he died on a French hospital ship in a bay off Skyros.
"The Soldier" -- ironically felled not by an enemy's barrage willingly accepted on the field of battle, but by a tiny insect's sting, an olive grove now holding that corner of a foreign field that is for ever England.
Today, a few tourists make their way to Skyros' southern end to visit the grave, but many more meet Brooke on a bluff in the buff in Skyros town, in the island's greener North, where he presides, totally naked, over a square named in his memory.
The statue was erected in 1931, much to the consternation of the more conservative and appropriately attired among the island burghers. Its only accoutrement is a scroll in its right hand, doubtless of poems.
Inscribed in Greek and French 'To Rupert Brook, 1887-1915, to Immortal Poetry,' it is apparently meant to represent the ideal of a poet rather than a physical likeness of Brooke, evidently based on a Greek model chosen by sculptor Michael Tombros.
On this particular day, a horde of ancient Greek tourists, many more hens than cocks among them, are anything but scandalized. They're gathered in front, clucking away busily as they pose for group and individual photos under the poetic genitals.
On a wall opposite somebody has sprayed a Star of David and a skull with a scribbled Greek inscription. A young Greek lady translates: 'Underwear to buy; I will imagine you without clothes.' So, it's not an anti-Semitic rant, just some overheated latter-day Paris wishing his Helen would reprise the pose of yon nude Rupert.