Now do you want to know how Nome - without road connections, on the Bering Sea, in far west Alaska, 102 miles south of the Arctic Circle, only 161 miles from Siberia - got its name? You don't? Well, here it is anyway.
Way back in the 19th century a map maker marked the unnamed location '? Name,' and a succeeding copier mistook the '?' for C for cape, and misread the 'a' as 'o.' So there you go, Nome.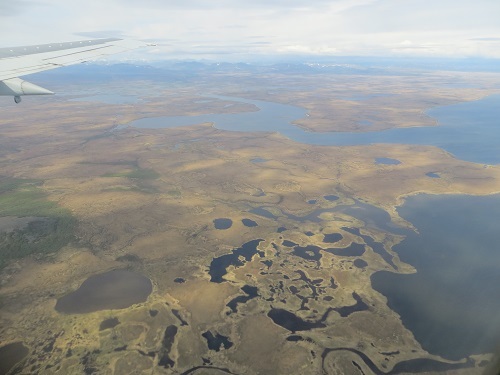 Approaching Nome on the Bering Sea
With barely 4,000 people, more than half of them Yup'ik and other Inuit, Nome was once the territory's largest town, entering the headlines of the popular press in 1898, as well as the annals of Jack London's harrowing tales of the Northland, as the epicentre of a new gold bonanza.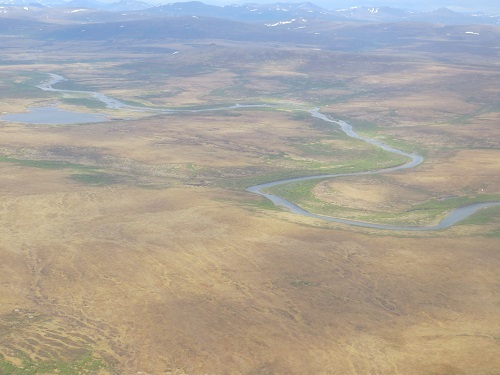 Another view
Such was its reputed wealth that it temporarily killed the Klondike gold rush that had exploded a year earlier, as 10,000 or more prospectors stampeded westwards from Dawson City to the golden-er grass of Nome. By 1900, a third of Alaska's white population of 60,000 was tootling around the place.
Nome from the air
So there's no place like Nome - OK, excuse the pun. You can say that the town lives on the glory days of its gold rush past, but there's still gold to be found in 'them thar hills' and 'them thar sea.' Miners are still digging away inland, and offshore dredges are scouring the ocean bed for the precious metal for De Beers and Pacific Marine Company.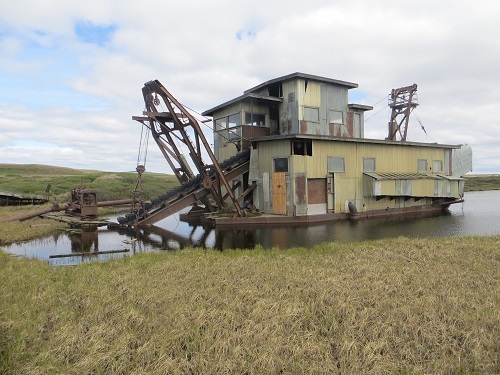 Old land dredge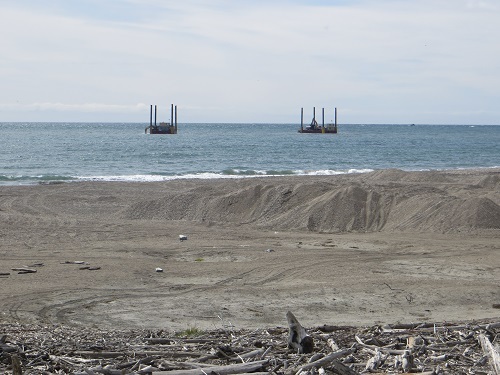 Current sea dredges
Along Front Street - the main drag along, well, the front - shop signs announce they're open for purchasing the metal. 'Serving Nome miners since 1980, we buy gold,' the Oxford Assaying and Refining Corporation blares from its shack on a side street. 'Buyer Bob is just a phone call away at 304-1699 and he will be right over to buy your gold.'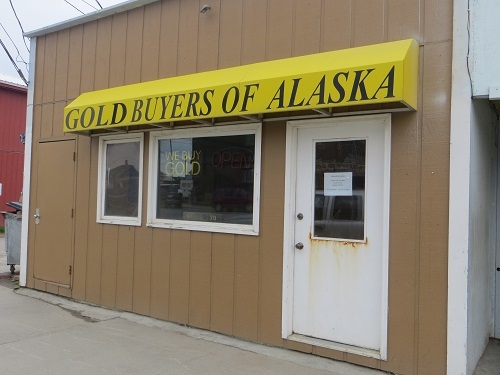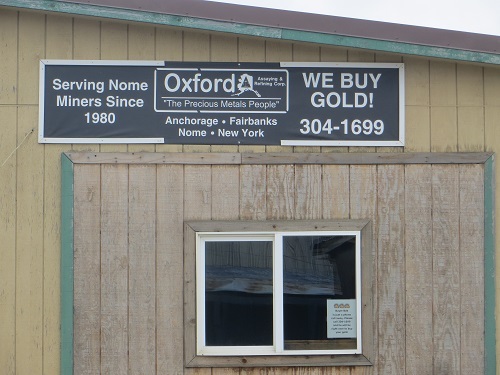 Like Barrow, Nome is shabby, with lots of rubbish piled up among the boats and ATVs in the yards of its houses, but it does have that gold rush history that its Arctic Ocean cousin lacks. Thanks to several major fires and violent storms off the Bering Sea, little of the original wooden architecture is left.
Front Street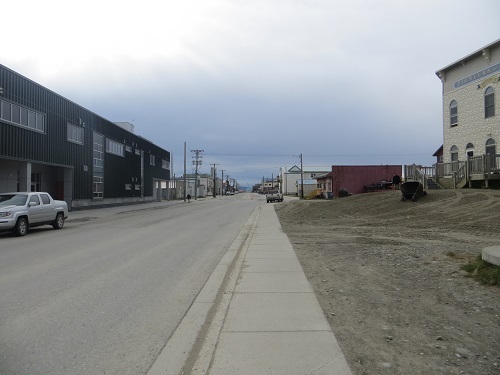 Another view
So it makes the most out of the flimsy original buildings that remain. There's the Discovery Saloon, built in 1899 by Jafet Lindeberg, who with his two compatriots Erik Lindblom and John Bruynteson figure as the 'three lucky Swedes' for first discovering the fabulous deposits in Anvil Creek, when the population was all of 30.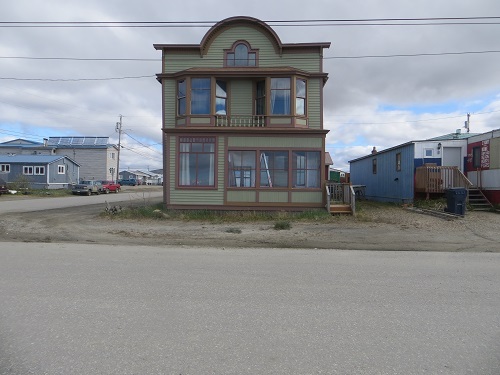 Restored Discovery Inn
Statues of the three Swedes
There's Seppala's cabin, a little blue hovel that is flimsy in the extreme, which was the 'Nome, Sweet Nome' (OK, enough of the puns already) of Leonhard Seppala from Norway, dog musher and superintendent of the ditches needed to bring the water down from the hills to the land-based dredges.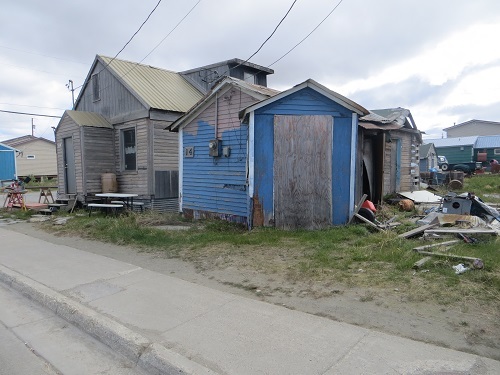 Seppala's cabin
There's Anvil City Square which now plays Nome, I mean home (sorry, I promise not to do it again), to wooden St. Joseph's Catholic Church, built elsewhere in 1901 and brought to its new location in 1996. Statues of the three lucky Swedes look on. Huge industrial-size gold pans are littered everywhere, apparently as municipal flowerpots.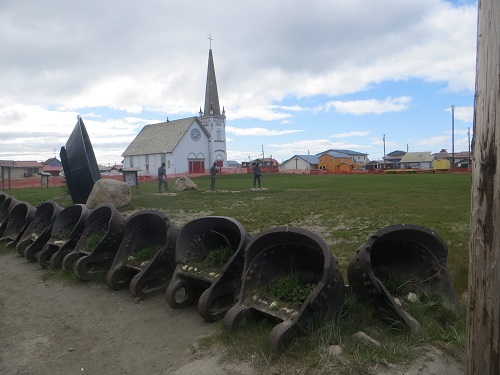 St. Joseph's
Then there's the Dexter - a mere historical marker now just a few feet from where the Dexter once stood. This was the bar that Wyatt Earp, the famed Tombstone lawman, built in 1899 during his Alaska escapade with his Jewish wife Josephine.
The marker
It prospered, attracting what local newspapers called a 'liberal patronage,' meaning whores and their johns. His in-laws must have been kvetching 'now why couldn't she have married a nice Jewish boy?'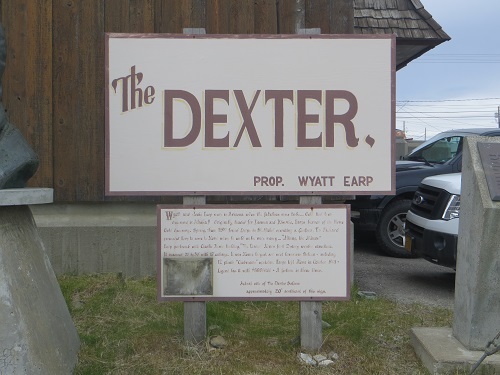 Marker close-up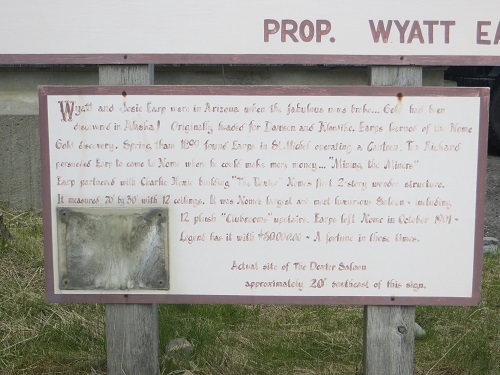 Closer
A couple of miles or so inland there's a shack, old and derelict now, that locals insist is the erstwhile Earp home. They were having marital troubles and Josephine later told her biographer that Wyatt was having affairs. Locals, however, insist that one dark and stormy night a man was seen exiting a window of the shack - and it wasn't Wyatt. Be that as it may they left in 1901.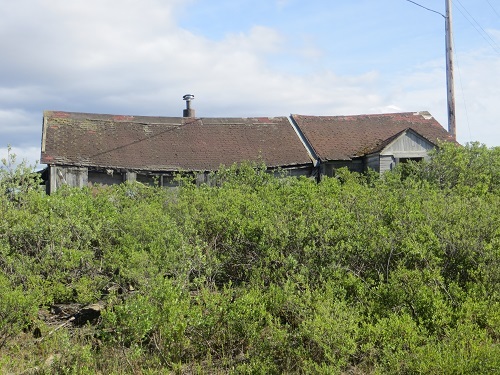 Wyatt Earp's pied-à-terre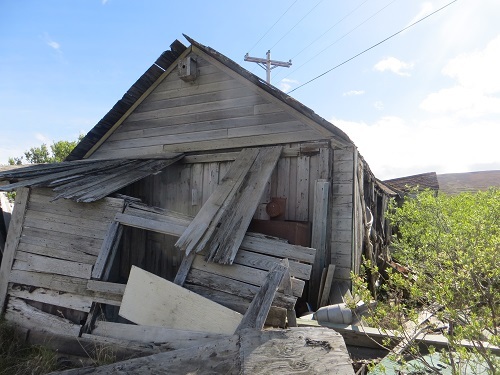 Front view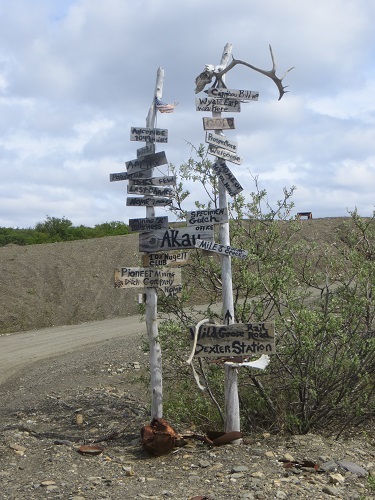 Nearby signpost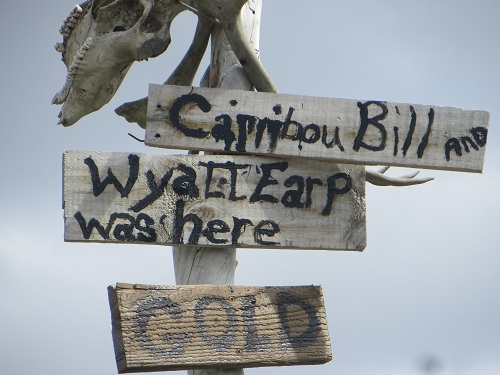 Close-up
Next to the Dexter marker is another, this one in burnished bronze, informing you that right here was the town's red light district. In its heyday, Nome had 75 'bars' and two churches. Today it has nine bars and 13 churches.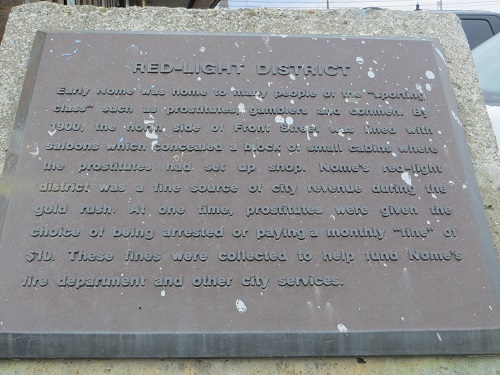 Red lights
Front Street is somewhat kitschy, but the locals are very friendly, waving, asking me to take photos of them, and offering to snap me with my camera in front of the various sites, unawares of my sworn loathing of selfies.
Front street views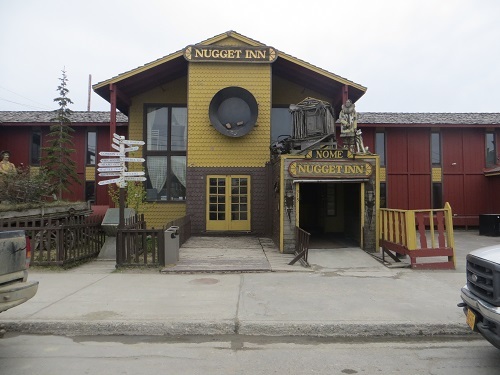 In case you get lost at happy hour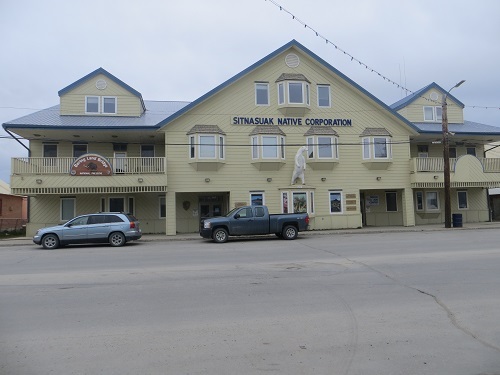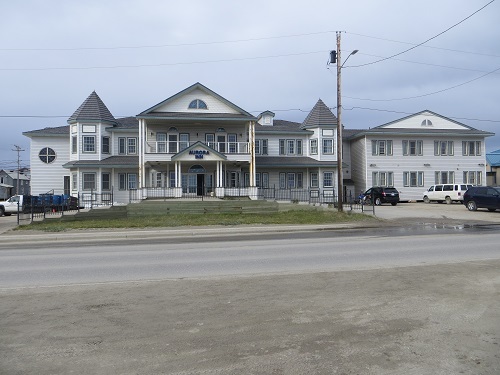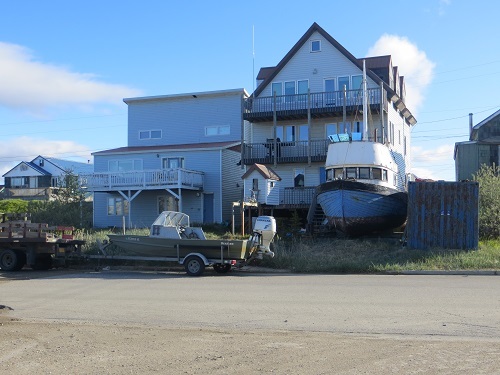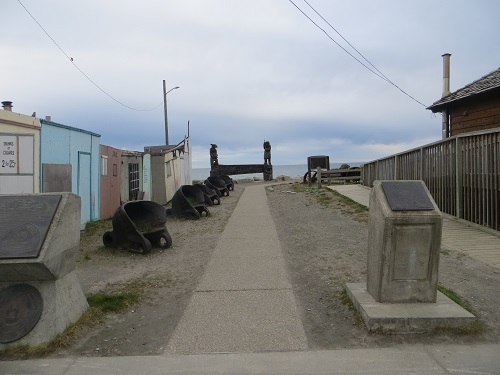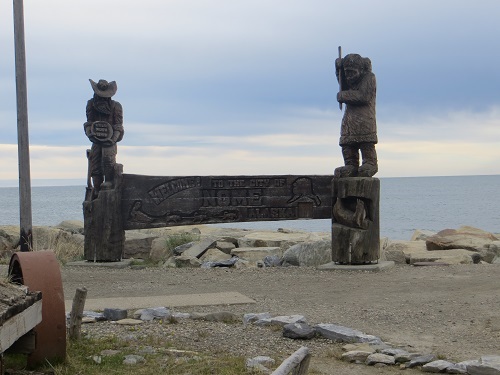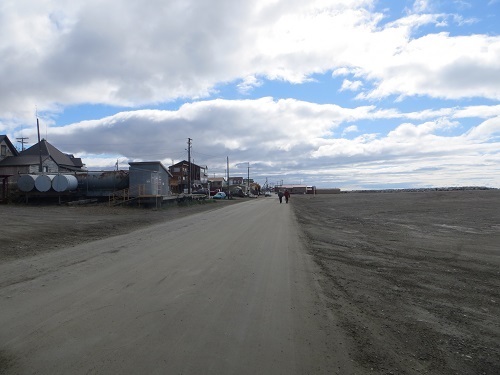 There are also, unfortunately, drunks reeling down Front Street, testimony to the terrible impact European-based alcohol has had on the original peoples of the New World. A lady in blue has just careened into the wooden front of a bar.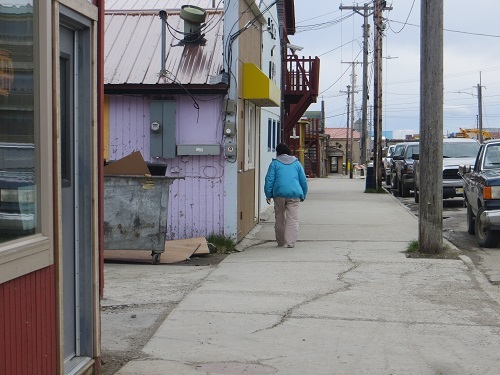 Happy hour for the lady in blue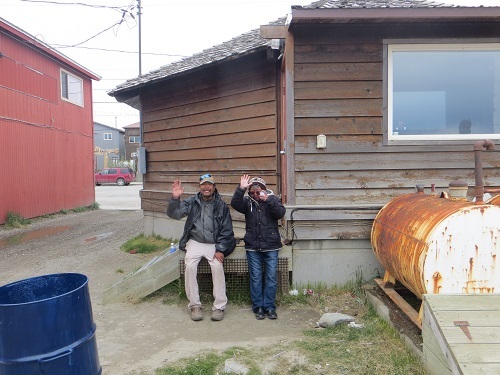 Many more happy hours
George and Dorothy, two charmingly happy Inuit, have plumped themselves down on an outside doorstep to smoke, cigarettes in one hand, booze in the other, laughter all over their faces and in the air as they chat about this and that - what's my name, here's theirs etc.
A few blocks down is the Board of Trade saloon, once reportedly listed by Playboy as one of the 20 roughest bars in the world. It bills itself under its marquee as Headquarters for the Sin City of Nome. Originally opened in 1900, it is a cavernous establishment in a newish wooden building, and is said to get pretty rowdy in the wee hours.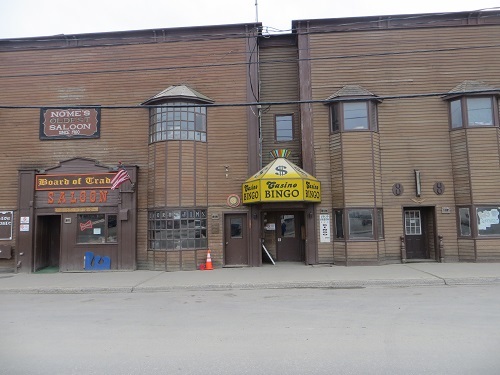 Board of Trade
A few years back the Alaska Dispatch News reported: 'Is this a sign of growing civic-mindedness in the rowdy Gold Rush city of Nome? The infamous Board of Trade saloon has been prohibited from selling alcohol two days a week for about four months for allegedly allowing a drunk to enter and remain at the bar.'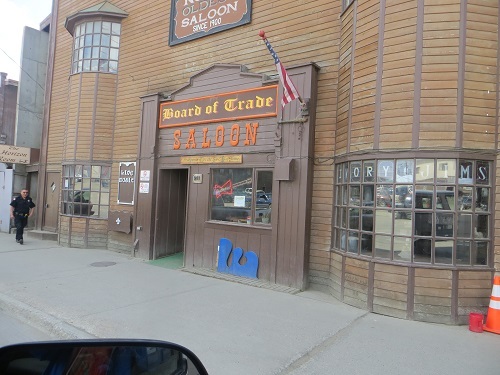 Close-up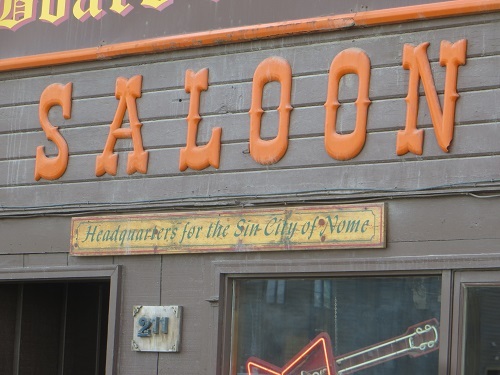 Closer
But that's nothing compared to the Great Brawl, one of the longest and most elaborate film punch-ups ever, in the 1942 John Wayne-Marlene Dietrich movie The Spoilers, set in Nome during the gold rush.
The six-minute sequence required over 30 experienced stuntmen and acrobats, took over 10 days to film, broke every type of furniture imaginable and sent stuntmen crashing into mirrors, sailing over balconies, slamming against walls, and breaking down doors. There was no bar left in the end, and Wayne was particularly proud of the fact that he performed some of the stunts himself.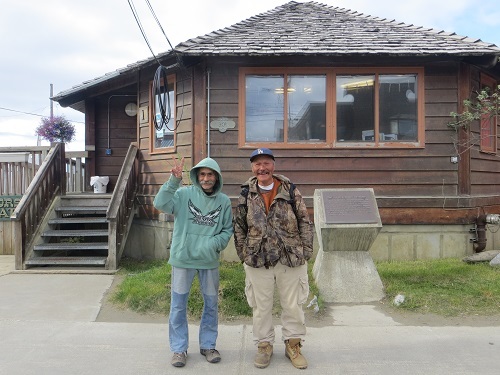 Friendly locals
Instead - life, alas, being what life is - today you have a reality TV series set in Nome on the Discovery Channel: Bering Sea Gold - Under The Ice, with the ocean-going dredges breaking through the ice and doing other supposedly spontaneous acts of derring-do.
[Upcoming blog on Thursday: Nome - the Iditarod dog race and the Bering land bridge, where man and beast crossed over from Siberia]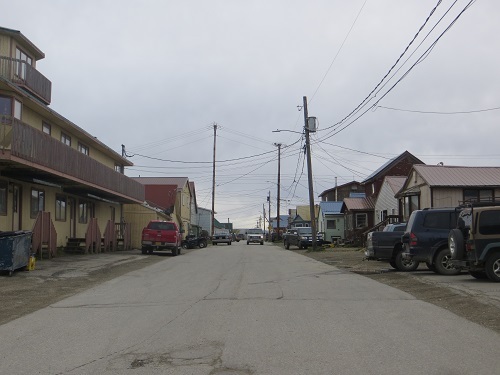 Bering Street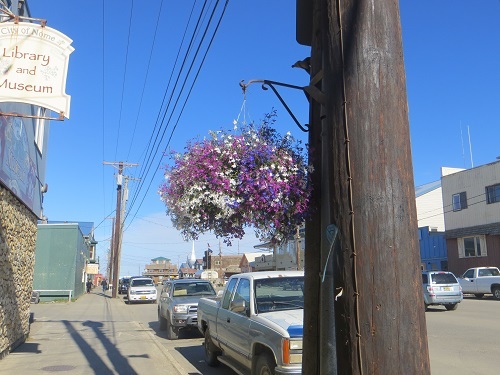 Flowers brighten up Front Street
______________
By the same author: Bussing The Amazon: On The Road With The Accidental Journalist, available with free excerpts on Kindle and in print version on Amazon.
Swimming With Fidel: The Toils Of An Accidental Journalist, available on Kindle, with free excerpts here, and in print version on Amazon in the U.S here.