Maritime Bus runs twice a day from Halifax to Sydney at the northern end of Nova Scotia, passing through Baddeck, gateway to the world famous Cabot Trail in Cape Breton National Park, so I should be laughing at this stage of my overland-by-public-transport Canadian odyssey.
Except that today is Friday the 13th, we're about an hour out of Halifax, some sensor or other has started ringing like a telephone, the driver has pulled over and is in urgent phone powwow with bus HQ -- and he's blaming Friday the 13th for our miscarriage.
Baddeck
They send a mechanic from Halifax who, after a second of tinkering, silences the bell, and we're off again pêle-mêle, an hour and a half late, through beautiful pine-forested hill country with such evocative English names as Marshy Hope and Beaver Meadow or indigenous Mi'kmaq tongue-twisters like Antigonish or Whycocomough.
The vast majority of settlers here came from Scotland and Ireland, Gaelic is still spoken in villages, and town name signs are given in Gaelic as well, so Antigonish, whose meaning in Mi'kmaq has been lost, comes out in Gaelic as Am Baile Mór, The Big Town. It's home to a 5,000-student-strong university, and celebrates the oldest continuous Highland Games outside Scotland.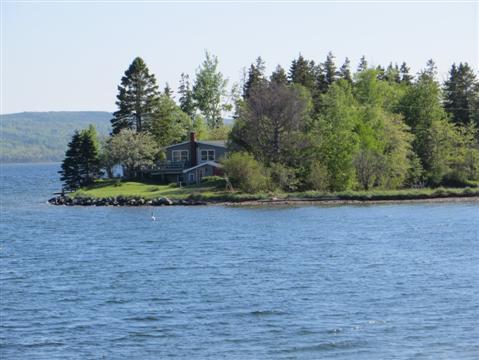 View over Bras d'Or Lake from Baddeck
Even the little town of Aberdeen appears as Obar Dheadhain as well. As for Whycocomough, it means Head of the Waters in Mi'kmaq. Most of Nova Scotia's surviving 12,500 Mi'kmaq live on Cape Breton Island. At almost 4,000 square miles the island accounts for nearly a fifth of Nova Scotia's area and is joined to the mainland by a rock-filled causeway more than three quarters of mile long.
Alexander Graham Bell, the Scot best known for inventing the telephone, did not invent it in Baddeck. But he did find the area supremely beautiful and built himself a 42-room house just across a narrow strait in the Bras d'Or (Golden Arm) Lake at Beinn Bhreagh. There he contributed his technological expertise to developing what became the hydrofoil as well as to building the Silver Dart, the first plane to fly in Canada. And there he now lays buried.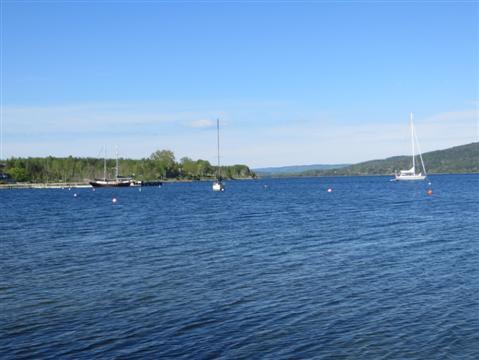 Another Bras d'Or view
The Silver Dart took off from frozen Bras d'Or in February, 1909, thus giving the hamlet cause to dub itself the Birthplace of Canadian Aviation, and to seize on any and everything thing Bell to ring out Baddeck's fame.
You can't visit Beinn Bhreagh because Bell descendents still live there, but there's a 25-acre Alexander Graham Bell National Historic Site in Baddeck, with a museum of phone, boat and plane memorabilia donated by the Bell family.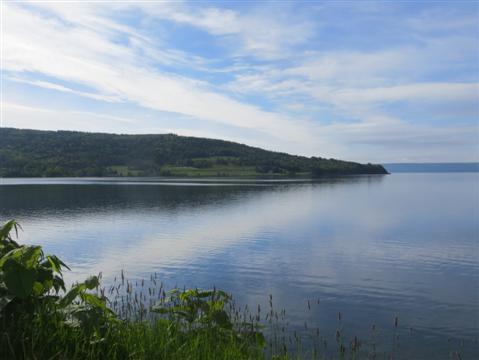 View across to Beinn Bhreagh
But you can see Alexander Graham in Baddeck, sitting contentedly with wife Mabel in frozen bronze pose on a waterfront bench across from Beinn Bhreagh. What's more, Yours Truly's hostelry where he stayed before his own house was built in the late 1880s is called Telegraph House.
Alexander Graham Bell and wife Mabel in bronze
Bell, like many other Scots, was attracted by the beauty of Nova Scotia in general and Cape Breton Island in particular as it so reminded them of their homeland, which raises the intriguing question: if you so hanker after Scottish beauty, why not stay with the original genuine article? But the Scots, and the Irish didn't leave of their own volition.
For the Scots there were the 'Clearances' of the 18th and 19th centuries when tens of thousands of tenant farmers were driven from their lands by the hereditary aristocratic landowners, the land robbers who wanted to switch to large-scale sheep production, either because of their sexual preference - just kidding -- or because it promised greater profits. For the Irish there was that little thing called Potato Famine.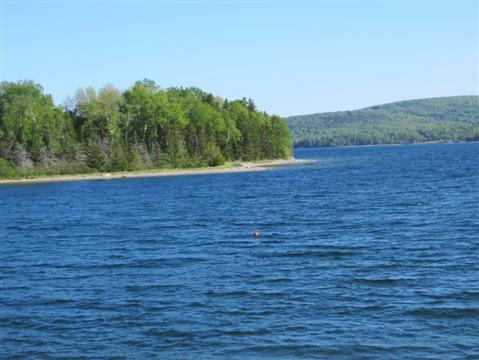 Bras d'Or view
Nor did the newcomers give up the traditions, language and culture of their homeland. A 1975 survey found that more Gaelic was spoken on Cape Breton Island than in Scotland itself, and it is an optional course in schools here.
A Baddeck street
Every October they celebrate the Celtic Colors International Festival. For nine days, all over the island, musicians from throughout the Celtic world perform for tens of thousands of visitors amid workshops and exhibitions highlighting their heritage. There's also the Gaelic College of Celtic Arts & Crafts at St. Ann's, the only one of its kind in North America, where you can study Gaelic, bagpipe playing, highland dancing, kilt making and all other Scottish essentials.

Baddeck, which in Mi'kmaq means Place with Island Near, is indeed a lovely quaint village on the lake shores with hilly islands and forested promontories across its placid waters in the midst of wild nature, an Eden gilded by the sun when it's not mist-shrouded or raining. It must be terrible, though, in high season with hordes of swarming tourists, but today there are few people in town, and the sun is out.
A lady is corralling two small children along the shore. They are Mi'kmaq with broad faces and olive skin. They are her grandchildren and she has been raising them since they were tiny. Her daughter lost her parental rights due to serious drug addiction. It's the same tragic curse of First Nations everywhere uprooted from their traditional culture -- alcoholism, drug addiction, suicide way above average rates.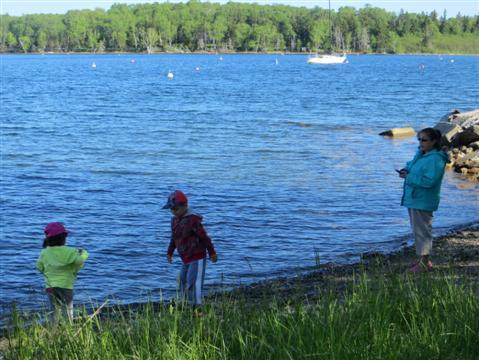 Mi'kmaq lady with two grandkids on Baddeck shore
Meanwhile Yours Truly pops into the Baddeck Yacht Club to see how the Second Nations live. It's all very jolly, everybody's very friendly, the brogue has Scottish-Irish traces, an old gaffer with an enormous red nose has just smashed a glass on the bar, everybody's watching the World Cup where Holland is trouncing Spain 5-1 - and the barman refuses to take money for my ginger ale.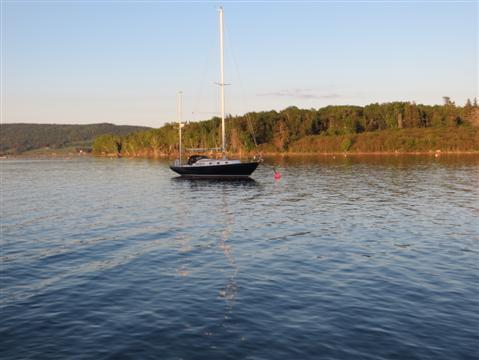 Sunset over Bras d'Or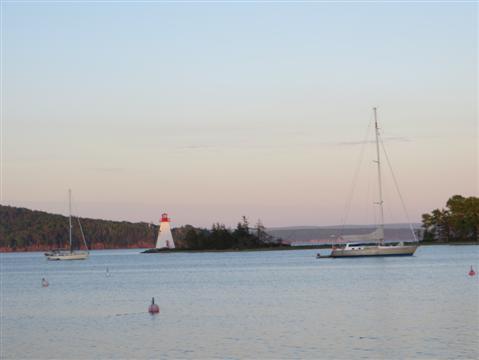 Dusk
It is from Baddeck that I can follow in the footsteps of John Cabot -- well, not exactly the footsteps as I'm on wheels with a driver, and, for all I know, possibly not even on the trail of the ruddy Italian navigator commissioned by King Henry VII of England. For centuries he's been credited as the first European to make it to North America -- in 1497.
That is until some nasty party-pooping killjoy archaeologists found hard evidence in 1960 to prove he'd been pipped at the post five centuries earlier by Norseman Leif Erikson. And when he did at last make his belated trip, five years after fellow Italian Christopher Columbus was equally wrongly credited as the first European to reach the New World, it's not even clear he landed on Cape Breton Island at all. It might have been Newfoundland, the historians say, or Labrador, or Maine, or...
Be that as it may, Yours Truly is now on the 185-mile-long 'World Famous' Cabot Trail, thus decreed by Nova Scotia's Premier Angus L. MacDonald in the 1930s. And a very splendid trail, actually two-lane road, it is. The scenery is magnificent, with the Atlantic beating against pine-topped red granite cliffs on the eastern side, and the Gulf of St. Lawrence bathing the cliffs and gentler slopes on the west.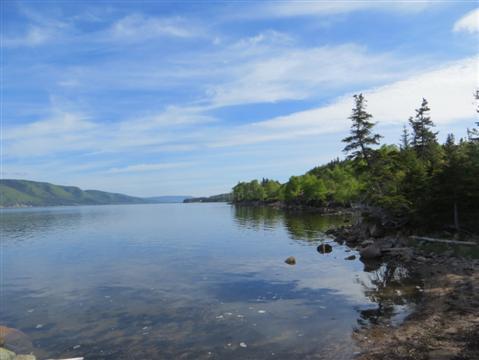 Towards the Cabot Trail
The many arms of the Bras d'Or -- which depending on your preference is either an interconnecting collection of sea channels or the largest salt water lake in the world - course between tree-clad fjords of every shade of green. There are 800 miles of rugged coastline on Cape Breton Island in all.
The Cabot Trail
The trail's highlight is Cape Breton Highlands National Park in the north with superb panoramas of all these wild jewels. The highlands are not all that high, the loftiest peak is only 1,550 feet, but it's wild enough for the wildest of wild spirits.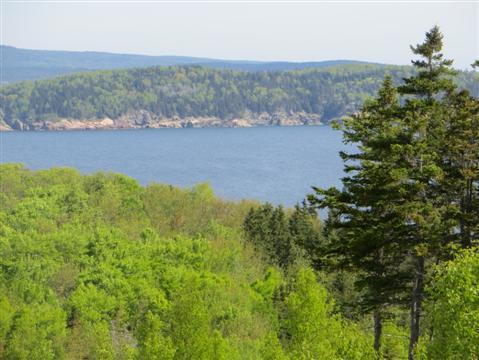 Cabot trail view
Another trail view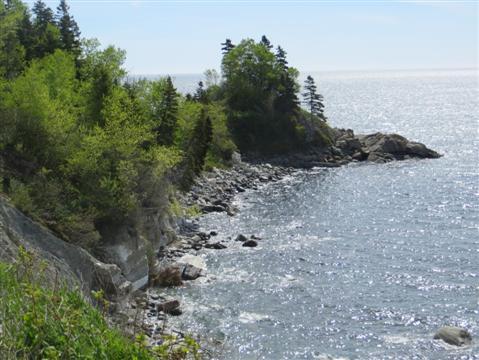 And another
Among the highland fauna are the Clucking Hen, the Dancing Moose, and the Dancing Goat. No, these are not circus animals in the wild, but the names of Gossip Shops, the terms locals use for their various cafes and watering holes where they get all the latest 'news' - where no secret is safe.
The Cabot Trail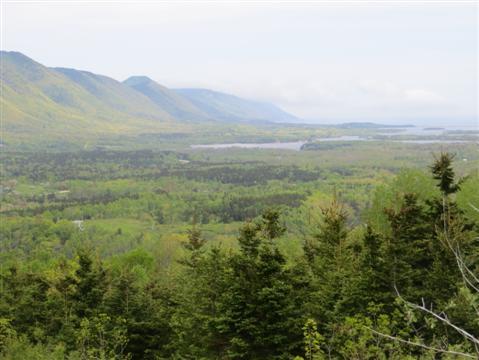 Another view
There are real animals, too. At the Mountain View Restaurant at Pleasant Bay tiny hummingbirds, scarcely bigger than a butterfly, flit at the drinking tubes placed on the window panes -- ruby-throated males and green-backed females. Their wings can beat between 50 and 200 times per second, enabling them to fly backwards or upside down at the equivalent of 35 miles per hour.
It's hard to imagine how these little creatures migrate so far north, all the way from Mexico and Central America in spring and then back again in autumn. Some locals joke that they hitch-hike on the backs of Canada geese.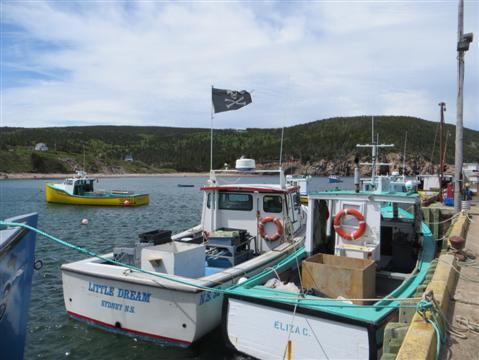 Your friendly local pirate
Yours Truly has just spotted a dirty great moose, and I'm not using the Scottish pronunciation of mouse. Actually purblind Yours Truly doesn't truly spot it. The driver points it out and I manage to direct my gaze thereto before it disappears.
The moose is the largest of the deer species and can weigh up to 800 pounds. This one, a female, looks like a horse with a seriously challenged face. I'm told I'm very lucky as you don't often catch sight of them here.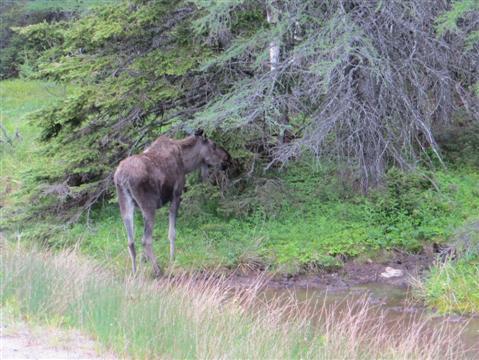 Your friendly local moose
Elsewhere an eagle perches on the rocks.
As for human animals, apart from the First Nation Mi'kmaq and the Second Nation Scots and Irish, there's another Second Nation people that claims Cape Breton Island as home - the French Acadians. They live mainly on the west side around the town of Chéticamp, still speak French, and like other Acadians fly their own flag, the French tricolour with a golden star at the top of the blue segment.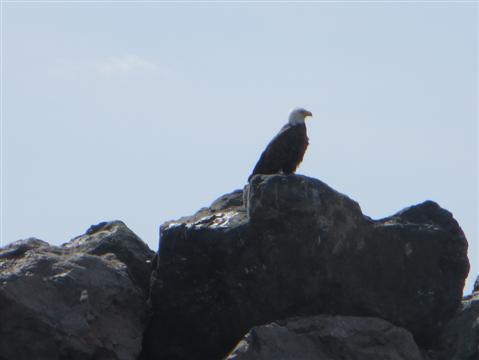 Your friendly local eagle
We pass an enormous pig. The driver says they're called British pigs, the only pigs that can withstand the cold here. They can weight up to 900 pounds. We pass the Dancing Goat again. Come on now, everybody, let's do the Highland Fling.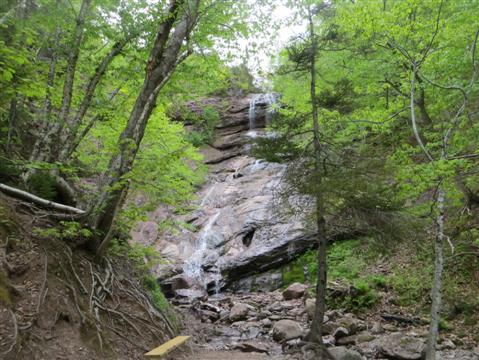 Your friendly local waterfall
Fling or not, I'm back in Baddeck, I'm at a petrol station that serves as a bus stop, it's pissing down, I'm wet and cold, the bus is due in at 8.35 p.m., it's now gone 9 p.m., and today is Saturday the 14th, so there's not even the frigging ghoulish Friday-the-13th reason for its miscarriage. It's now 9.30, now 10. I prevail upon the convenience store to phone Maritime to see if there is indeed a bus.
They swear there is. At 10.36 it draws up in a driving rain storm to take me to North Sydney for the ferry to Newfoundland.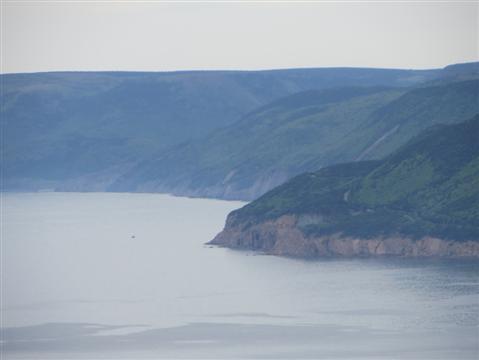 Cabot Trail coastline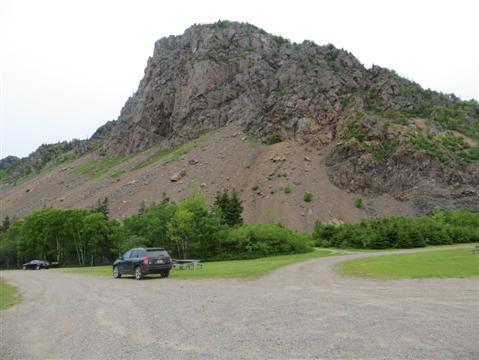 Your friendly local rock to climb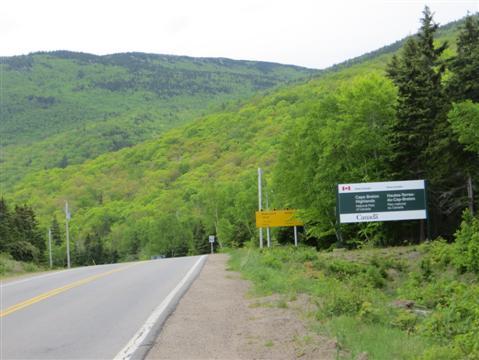 Cabot Trail road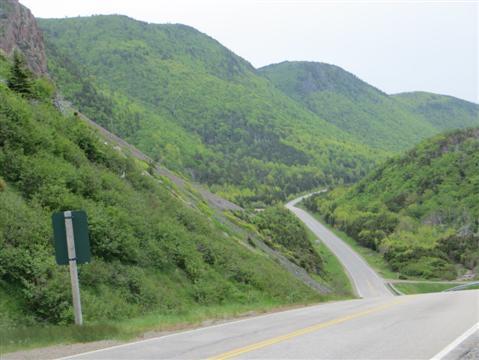 Another road view
______________
By the same author: Bussing The Amazon: On The Road With The Accidental Journalist, available with free excerpts on Kindle and in print version on Amazon.
And Swimming With Fidel: The Toils Of An Accidental Journalist, available on Kindle, with free excerpts here, and in print version on Amazon in the U.S here.