My mind and body weren't cooperating.
A project I worked diligently on for nine months languished for the past three as I created dozens of delay excuses. I spent two hours longer in bed than usual yet failed daily to generate more than a couple of hours of productive energy. Coherent thoughts and sentences seemed to evade my capture and retention long enough to reach my fingertips.
Physically and mentally, I was slipping. A downward spiral began whirling. For 35 years, since the depths of my depression as a teenager, I've known that I simply can't afford to let that spiral continue. It takes me to a bad place.
I also know what I need to do to heal myself. I've done it before, and know it works for me.
So I stepped on the scale when I returned home from a family spring break/food feast in New Orleans. Ouch. My heaviest weight since at least 2003: 219. This might not seem awful to some. But my sleep apnea mask isn't pushing through enough air to compensate for the added neck rolls and chins pressuring my airways in recent months.
When I don't sleep well, I don't perform well. When I don't accomplish anything, I beat myself up. When I beat myself up, particularly when I know I can do better, let's just say that I have to battle for thought control.
What's sad is how quickly it turns bad. After a day climb to the summit of Arizona's Humphrey's Peak last November, I felt literally and figuratively at the top of the world.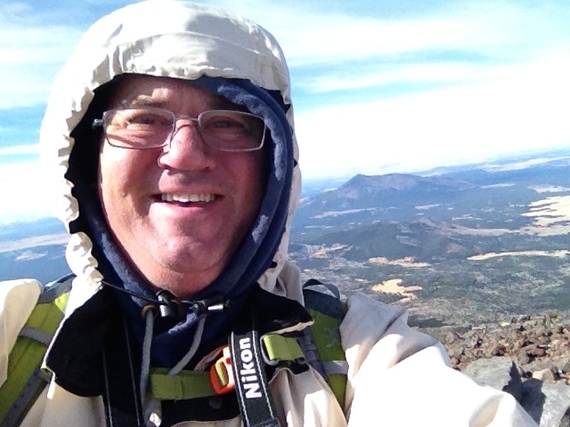 I rewarded myself later that night with a large pizza and two pints at Station 66 Italian Bistro in Williams, Arizona and haven't exercised consistent diet control since. I let myself go through Christmas, thinking I'd get back on track after the holidays. Didn't happen.
Then no way was I going to diet while in New Orleans -- not with gumbo, jambalaya, crawfish étouffée and shrimp and grits calling my name. So I kept downing Snickers ice cream, hefeweizen beer and even long-forsaken french fries and white bread. At home, unhealthy food was frequently invading my stomach before I even realized I had taken a bite.
A week ago, I went back to following the guidelines of the South Beach Diet that helped me shed weight in 2004. A week later, I'm at 208, having lost the easy weight, but already feeling better. Part of my improvement is the result of better sleep, but I'm also benefitting from being rewarded with brain chemistry releases that we receive in making progress toward our goals. The Upward Spiral: Using Neuroscience to Reverse the Course of Depression One Change at a Time by Alex Korb does a great job of explaining how our brain reacts to and rewards physical behavior changes, validating beliefs I'd acquired through personal trial and error.
Certainly, my progress is aided by more sunlight, exercise that includes several sets of being soundly beaten at tennis by my youngest brother and the energy-lifting impact of simply eating right.
If it wasn't clear to me before, eating right and controlling my weight is not simply important to my physical health. It's critical to how I feel about who I am, and what I have left to offer this world.
So thank you daikon radish for adding crunch to my Egg Beaters in the morning and salad at noon. My appreciation, almonds, for curbing my hunger when chips are screaming for attention. Gratitude, broccoli for taking the space of bread pudding at a fraction of the calories. And a special shout-out to part-skim ricotta with mint extract, Splenda and several dark chocolate chips for keeping me out of the pantry through the night.
Research has shown that we're all more likely to stick to commitments we write down and share. I hope that research proves true. My physical health, and so much more, depends on it.
Earlier on Huff/Post50:
PHOTO GALLERY
Dr. Colvin's Advice For Staying Active After 50