Returning home after 10 years abroad, Mike Dunphy now gets his travel fix in 800-word portions.
If there's any connection between myself and those lovable mop-haired lads from Liverpool, it's pasty white skin resulting from an upbringing in cold, rainy northlands.
Unfortunately, it's a biological influence that often turns tropical sun, surf and sand into a torturous experience, at least with an SPF less than 400.
Yet once the last strips of burnt skin have peeled away, the allure of these places inevitably regains enough strength to pull me back again, as it did a few weeks ago to the Bahamas.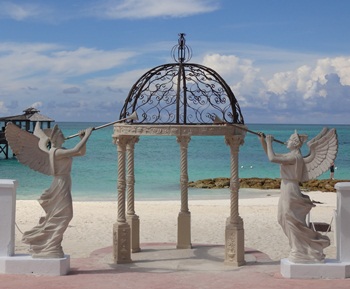 The Beatles felt the same way when preparing for Help!, their follow-up film to A Hard Day's Night. As Paul admitted in the Beatles Anthology, "We started saying, 'Well, we've never been to the Bahamas, could you write that in?'" They did, as a hiding place for Ringo, who was being pursued by an exotic eastern cult determined to sacrifice him to the goddess Kaili.
Undoubtedly, Nassau looks much different than when the Beatles landed in February 1965. On the way to Sandals Resort, my driver pointed out the new highways, ports for cruise ships and a Chinese-backed, 1,000-acre resort currently under construction called Baha Mar.
Sandals has also much changed since the Beatles stayed there. Fifty years ago, the resort (then called the Balmoral Club) consisted of just 10 villas around a large manor house, built in the early '40s by Sir Oliver Simmonds. Its high pedigree was confirmed a few years later when it gained two of its most famous residents, the Duke and Duchess of Windsor, better known to the world as King Edward VIII and Wallis Simpson. Appointed island governor during the World War II (as far away from the war effort as Churchill could get him), he located his offices at the club, a fact remembered today with a full wall of clippings, pictures and mementos in the piano bar.
While I stayed in the glitzy, state-of-the-art, main building, Balmoral Tower; John, Paul, George, and Ringo set up shop in a villa, now called Villa Oleander.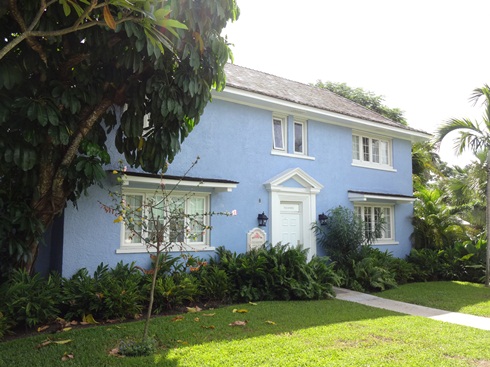 Stepping into the cottage at the time, journalist Phyllis Batelle recorded the scene for the Pittsburgh Post-Gazette. "The floor was strewn with guitars," she wrote. "Half empty wine and highball glasses, at least a dozen of them, gave the place the air of nightclub after closing." Perhaps more striking was the female friend "slumped languorously" on the couch. "Hello, I'm Cin," she introduced herself, "short for Cindy."
The villa is also where the group composed the song "Wait," which appeared later on Rubber Soul, a fact that may shed light on a song about being far from a loved one.
It's been a long time, now I'm coming back home / I've been away now, oh, how I've been alone.
Or perhaps a confession of the married Lennon's struggle to resist girls like Cin?
I feel as though you ought to know/ that I've been good, as good as I can be.
Some of the filming also took place just off shore, on Sandals' private island (now called Sandals Cay). Hopping off the boat, I was glad to see it still retains some of remoteness of former times, despite a number of curtained cabanas for spa treatments and decks with beach chairs.
Somewhere along the jagged rocks populated with soft-shell crabs, Help! Director Richard Lester filmed much of the "Another Girl" segment of the movie, where the boys cavort with yet more models, one even being strummed as a guitar by Paul.
Also seen in the segment is the island's most beautiful manmade structure -- a 12th-century Augustinian cloister flown in from France and reassembled in the Versailles Gardens of One & Only Ocean Club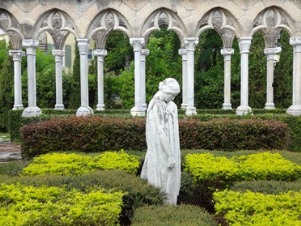 (where several scenes of Casino Royale were also filmed). Today, it contains a lovely white marble statue of a contemplative woman called Silence, by Scottish sculptor William Reid Dick, and serves as one of the island's most popular wedding spots.
Perhaps the biggest contrast between the Beatles' Bahamas and mine can be seen in the final scene of Help! on Paradise Beach, where Ringo finally escapes the cult and frees himself of the sacrificial ring. Look at the same background today, and you'll see the mother of all tourist resorts, which takes up almost the whole of Paradise Island, Atlantis -- perhaps fittingly named for a lost island.
I have no way of knowing if the Beatles were happy to get back on the plane and jet back to rainy London after three weeks in the tropic sun, but no doubt, looking down at the waters surrounding Nassau on take off, they at least brought home a new definition of the color blue.