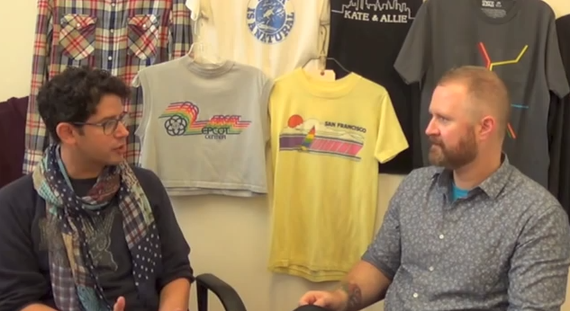 There are many ingredients blended together in making a successful hit television show. The costume designer, being one of the most visible components. HBO's much-anticipated new gay series "Looking" will premier on January 19th, and the buzz around this show is off the charts.
I had the pleasure of joining the cast and crew on set, to absorb the energy and passion, of the last week of the filming of Season 1. The care and thoughtfulness of all members involved with "Looking" was as gentle and proud as one caring for a new born.
Helping to shape the vibe and authenticity of "Looking," to accurately portray the living, breathing streets of San Francisco's fashion, the prestigious costume designer Danny Glicker was added to the team. Glicker was nominated for an Oscar for his work on the award-winning MILK that was directed by Gus Van Sant, which was also filmed on the street of San Francisco. Glicker was also honored by the Costume Designer Guild with their Excellence in Costume Design for Contemporary Film Award for his work on Transamerica, which starred Golden Globe winner Felicity Huffman.
Entering the HBO production offices the day after filming had wrapped, and sets were being taking down, I found crew and talent in a very "lovey-dovey" place. I sat down with Danny Glicker for an in-depth chat about how the clothes for "Looking" were used as a character building tools and to record character's growth throughout the season. Glicker went to great lengths to ensure that San Francisco was represented as authentically as possible, and not portrayed as a glossy-Hollywood version of San Francisco.
Being a local San Francisco resident myself, I had the weight of the city on my shoulders to ask pertinent questions. I needed to know what Glicker's process was in putting together looks for each actor.
Glicker tells me, " Every character on this show deserves a full realized living and breathing back story."
San Francisco is very proud of it's diversity and culture and I needed to to know what steps were taking to ensure that these attributes were represented.
Glicker states, "The creators of the show Michael Lannan and Andrew Haigh, were so careful about bringing people on, who were committed to realizing the characters in this world, as living breathing inhabitants of San Francisco, right now.... to me the number one mission statement of the entire piece, was to really listen to what the streets of San Francisco were saying, what the people and the clothes were saying, and how the pulse on the street and how the life on the streets communicate clothing.... the thought of doing a cleaned up, glossy Hollywood version of San Francisco was the furthest thing from my mind."
As it turns out, Glicker, not only did his homework well, but took the actors on field trips into San Francisco neighborhoods, in which their characters live, work or hang out, to soak up the fashion and energy on the street. Glicker would stop pedestrians on the street in the Mission district and say, "... You look amazing, I'm a costume designer, I'm not a crazy person, please let me take your picture." Which it turns out is a common catch phrase for him while on location and is looking into getting card printed that read, " I'm a costume designer, I'm not a crazy person, please let me take your picture." Love it!
Gilcker created a large research file of people and how they wear clothing, and he really began to understand certain trends, but not trends in the fashion sense, but trends in a functional way, like the layered trend, and the hoodie trend..." Anyone who lives in and/or familiar with San Francisco's weather conditions know, that he is on the money spot with this point.
Covering the walls of the costume designer's office were vintage t-shirts with subtle, "hidden" rainbows on them. As it turns out, Glicker charmingly snuck them into the clothes, to lighthearted acknowledge the importance of the rainbow flag as an emblem, and to remind folks that the rainbow flag was created as a deep respect and love for the movement, and is not just some frivolous, commercial thing. It was just these little touches that left me confident that "Looking" is in the right hands!
I wanted to find out where Glicker was shopping for the clothes, with my fingers crossed behind my back hoping it was locally. I was thrilled to hear that Glicker spent time making sure to use San Francisco venues and designers.... and tells me that, "We want the DNA of this show to be living and breathing San Francisco." Glicker goes on the say, "Not only am I shopping in San Francisco, but I am shopping in small San Francisco stores, and trying to use very local vendors..." He almost spilled the beans will a spoiler of a fancy outfit to be featured by a local designer. I guess we'll have to wait and see.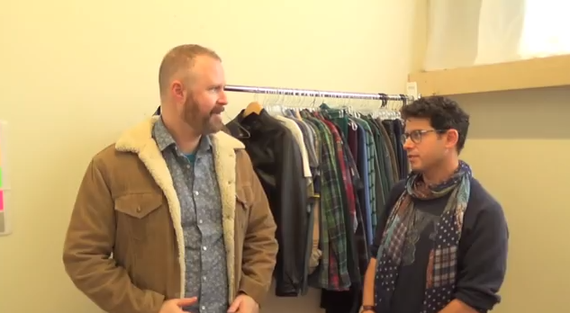 Before I left the building, I managed to slip into the clothes of Murray Bartlett's character Dom, and gets a good sniff (a possible future stalker!). Glicker goes through a fast rundown and expresses the importance of outer wear with a coat by coat check of a few lead characters, Jonathan Groff, Frankie J. Alvarez and Murray Bartlett.
Looking Premiers January 19th on HBO!
Watch full interview with much more detail at link below: