This is a petition to the publishers, producers and editors in all the network news organizations and 24-hour cable news channels. Across the spectrum of media -- from daily print to weekly magazines, from radio (yes, this also means you, Rush Limbaugh and Sean Hannity) and television to cable news and documentaries -- a great tragedy has occurred on your watch.
I'm asking all who read this blog to sign your name to this plea for media to work together to right a monumental wrong and educate every corner of this country on the significance of Dorothy Height's contribution to American history.
When President Barack Obama gave the eulogy at the funeral of Dorothy Height on April 29, 2010 in the National Cathedral, the venue was packed with dignitaries. America lost a national treasure on April 20, when Height died at age 98. Yet, no one I know in my circle of family, friends and professional colleagues knew who Dorothy Height was; nor were any apprised of her extraordinary achievements as a top-level leader in the Civil Rights Movement.
I count myself among the ignorant.
Discovering Dorothy Height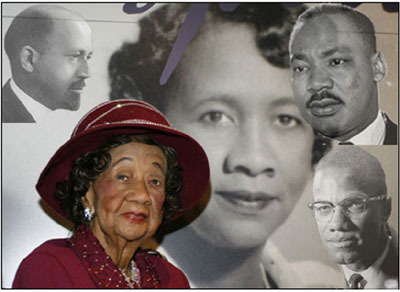 When I turned my attention toward discovering who Dr. Height was, and why she was deserving of a sendoff reserved for national dignitaries, I was astounded to discover an American heroine whose name I had never read in a textbook, never heard in a lecture and never saw in a news segment or documentary film.
Yet, every American president, from Barack Obama dating back to FDR, had the privilege of meeting Dorothy Height. First Lady Eleanor Roosevelt was personally escorted to meetings with Mary McLeod Bethune (yet another Black American heroine) by Height. In 1937 Height was recruited by Bethune (founder of Bethune-Cookman University) to join the National Council of Negro Women.
Dynamic Duo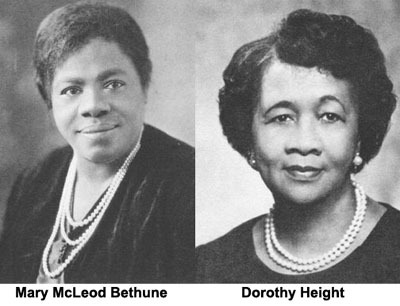 Together, Bethune and Height saw America grow up from an era of slavery (Bethune's parents were slaves) to the election of a Black president.
Throughout all of those years, these two women worked at the pinnacle of progress toward racial and gender equality, with Bethune (Advisor to President Roosevelt) eventually handing the battle baton to Height. In 2003, the C-Span program "Booknotes" interviewed Dorothy Height. Excerpts from that interview are included below.
No Time for Tears
Height ran the race extraordinarily well, with grace, poise and a determination she summed up in these words:
"You can't get bitter about what happens to you; you have to keep working."
When Height was 15 years old and qualified to represent her high school in Rankin, Pennsylvania in a state championship speech competition held in Harrisburg, her principal and Latin teacher (yes Latin) were told little Dorothy was not allowed on the premises until the debate started because she was a Negro. Dorothy had to eat elsewhere and dress in a women's restroom just before the contest. When Dorothy gave her speech, she and the janitor were the only Blacks in the room. Dorothy received first prize by unanimous vote of the judges.
She didn't get bitter, she just kept on working.
Upon graduation, one of the top students in her class, Dorothy was accepted to the prestigious Barnard College. When she arrived, the president told her she could not be admitted because she was a Negro. She was informed the college already had two Negro students and she was welcome to apply once one of them graduated.
She didn't get bitter; she just kept working.
At the urging of her sister, Dorothy tried New York University, where she was not only accepted, but excelled. In the end, Dorothy graduated with her bachelor degree in three years and received her masters a year later. NYU awarded her its highest honor, which prompted Barnard College to follow suit, despite the fact Dorothy was not admitted there.
W.E.B. DuBois
Dorothy recalled attending the W.E.B. DuBois Lectures, held periodically on the NYU campus during her years of attendance:
"Dr. DuBois helped one go beyond the narrow thinking about him, about Africa and the African people. He was a great intellectual, but had a real sense of humor. I loved being there to be challenged by him."
Eleanor Roosevelt and Mary McLeod Bethune
In 1938, Dorothy Height was one of 10 people appointed by Mrs. Roosevelt to the World Youth Conference on Peace. Her connection to the First Lady was due to escorting Mrs. Roosevelt to meetings with Mary McLeod Bethune, who had recruited Height the year prior to join the National Council on Negro Women. Height fondly remembered Bethune:
"Mary McLeod Bethune was a woman born of slave parents; and yet she became an adviser to presidents of the United States. She's the only African American woman to have founded a four-year accredited college, which is Bethune-Cookman College. She was teaching coalition building, collaboration and networking long before those words became popular.

"For me, in 1937, to come under her tutelage, to have the opportunity to see how she worked with both the powerful people and the powerless, was really a critical element to my whole growth and development."
Young King
As the YWCA Director of Training in 1945, Height was in Atlanta for a national conference. While her White colleagues stayed in hotels, Height was not allowed. Instead, she was invited to stay at the home of Dr. Benjamin Mays, the president of Morehouse College. During her stay she met 15-year-old Martin Luther King Jr., who was invited to dinner. She vividly recalled the event:
"I remember what an experience it was to sit after dinner and hear him think like any 15-year-old ... about what he wanted to be, whether he wanted to go into ministry or medicine or law. And you know, one of the things that struck me so mightily was I knew that I was in the presence of an unusual person. Not only because he was gifted, but because of the nature of the conversation. And 10 years later, when Rosa Parks refused to give up her seat, he was my leader, in 1955. That was a tremendous experience."
MLK
When Dr. Martin Luther King Jr. stood before a jam-packed crowd on August 28, 1963 and delivered an iconic speech to the nation, standing an arm's length behind him was Dorothy Height. Her membership in the United Civil Rights Leadership Group is shadowed by others like King, A. Philip Randolph, Roy Wilkins, Whitney Young and James Farmer. But when the group was called by such leaders as Senator Bobby Kennedy, Height was in their midst. She recalled the famous March on Washington:
"There was a spirit. There was a sense of righteous indignation. There was a coming together as I have never seen. And I think that any young person at that time had to have a feeling they were witnessing a moment in America that was America at its best. It was a kind of experience that brought together people of all races, all ages, male, female, all denominations. But there was a sense of unity. And I think it was the heart of that day.

"As years have gone by, we've lost that drive. The climate has changed."
Malcolm X
Height also remembered the day she met Malcolm X, just before he was killed on Feb. 21, 1965:
"I had the experience, shortly before he was assassinated, of answering the call of Ossie Davis and Ruby Dee to come to Sidney Portier's house in Pleasantville where Malcolm X had just come back from Mecca and wanted to share with the leadership and the Civil Rights group his thinking.

"I'll never forget he said to us, 'We have to be working in unity.'

"And we long since learned that unity didn't mean uniformity, but he made it very clear and he said, 'We should not be in the press talking against each other. We need to learn to work together.' He said, 'I have put so much attention on the White man and the evil that the White man has done. I've come back from Mecca and I want to put the attention instead on Black people and how we can build our people and what we can do and how we can all work together.'"
Memoir: 'Open Wide the Freedom Gates'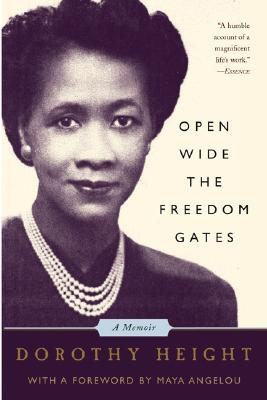 When interviewed by C-Span's BookTV about her book, "Open Wide the Freedom Gates: A Memoir" a passage about political affiliations was read from her book:
"In our society, every step African Americans take is seen in political terms. Look at the political parties. The Democrats seem to take us for granted and the Republicans seem to count us out -- except for temporary flirtations when they really need us.
"We've learned that we have no permanent friends. We just have permanent issues and we have to keep working on them."
Height was not in favor of being blindly led by either political party. She responded to a question about her political leanings by quoting the British political scientist, Harold Laski:
"We owe no church or state a blind and unreasoning obedience. We owe it only the highest judgment of which we are capable."
Extraordinary Achievements
Dorothy Height lived a remarkable life with extraordinary achievements, too numerous to list. She was honored by every president from FDR to Obama. She was awarded the Congressional Gold Medal, the highest honor Congress awards to any civilian. Past recipients include Mother Teresa of Calcutta, General Colin Powell, Roy Wilkins, Robert F. Kennedy, Winston Churchill, Jonas Salk, Thomas Edison, Charles Lindbergh and George Washington.
For 33 years, Height served on the national board of the YWCA. She was elected president of Delta Sigma Theta Sorority in 1947 and served until 1956. She became the president of the National Council of Negro Women in 1957 and served until 1998, when she became chair and President Emerita.
633 Pennsylvania Avenue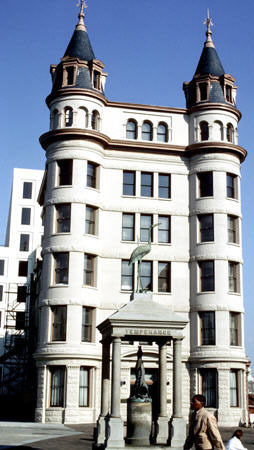 Today, standing tall at 633 Pennsylvania Avenue in Washington D.C., between the Capitol building and the White House, is the Dorothy Height building, which serves as the headquarters of the NCNW. It is a monument to the historic work started by Mary McLeod Bethune, elevated by Dorothy Height and continued by her predecessors.
Sign the Petition
Before the memory of Dorothy Height is lost to American amnesia, I petition the national media to work together to ensure, through a concerted effort, that the people of this nation are informed of the enormous gift Dr. Height was to America. And I ask each person who has read this blog to reach out and share it with others. Then add your comment below as a signature to the call for media to preserve the legacy of Dorothy Height through broad dissemination of her extraordinary service toward the betterment of our country.