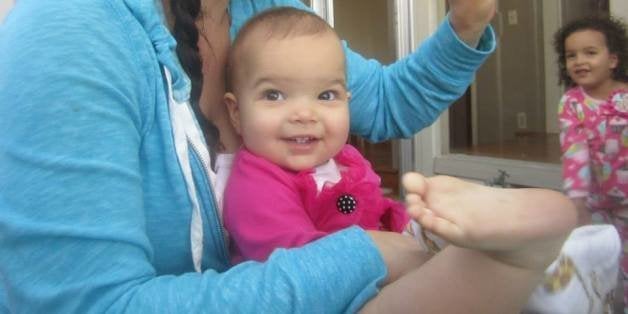 You wake each day, pre-dawn, for those
Six seconds to yourself
A hurried cup of bergamot
Then to the pantry shelf
With master-crafted alchemy
You, quickly, stealthily
Make magic (out of sh*t I'd miss)
And always healthily!
But sometimes one's door creaks too soon
The toddler's up at dawn!
The baby starts to stir as well
But you? Unphased. Its on!
With oats a-boil and stone fruits cut
Your tea time now f*cked up
Diaper in right hand, the left,
The toddler's sippy cup
You sprint the hall length, nimble, swift
Feet hardly hit the ground
tk-tk-wuh-wuh-wuh-wuh (think
Bionic Woman sound)
One sh*t-kit tossed, a bottle gave
Cheek kisses placed just right
You, next, high-five the toddler
For an accidentless night.
Two kids in tow, the scent of joe
Wafts as our room you pass
To whisper "Coffee's on" to me
To wake my sorry a**.
Then back to those preheated pans
Strapped babe in her grub throne
The toddler screams, "I WANT ICE CREAM"
The baby starts to moan
"Kaka" she poops a second time
The fecal-factory
We touch our nose like NOT IT
And the victor here is me
For a second pass you clean her a**
Without an eyebrow raised, like
magicians pulling tablecloths
(Did you even unsnap her PJs?!)
Your iron chef resourcefulness
(Avo-nanna and cocoa parfait!)
Deserves reward beyond my means
Most important meal -- they say
Which oft gets snarfed into our gobs
Without a second look
Till tummies fill and eyeballs glaze
(Uncommon when I cook!)
You primp and groom in the bathroom
Before you're even missed
(Which stands at four good seconds
As you've heard me long insist)
A minute's chance to sing and dance
The girls twirl to and fro
Well one twirls, one just baby-drunken-stumbles
Let it gooooo.
(You check your watch and gasp. Alas
Your work no leeway lends)
They wail each Disney note and you
Stay Frozen til the end.
Then cherubs turn to walking dead
As you scoot to the door
Like World War Z they grab your knees
And drag along the floor
And then that scream, that well-known plea
As six arms tug and jerk
How sad you must get. Wait for it...
"MOM DON'T GO TO WORK!!!"
But off you go through rain or snow
To bring home family bacon
To make the ends meet seamlessly
Unwavering. Unshaken.
A boardroom-queen corporate machine
Ten hours with no break
Your peers insist you're tireless
There, too, you take the cake
At EOD you finally
Drag a** back to our place
For round three of insanity
You put on your game face
While I "dad-clean" with gusto, sure
I sweep sh*t under rugs
And indiscriminately toss things
Into random plastic tubs
"They've eaten but THIS HOUSE!"
You'd never ever EVER chide.
Your tolerance precedes you
As you make your way inside
And though the place is wrecked
(We loved we laughed we learned all day)
You greet us with your steadfast glow
That At-Work Mama way
But thinking you can settle in
Is nothing but a pipe dream
They're on you like face-Aliens
MAMA WE WANT ICE CREAM!!!!
The night refrain is much the same
As morning with more books
But the same whirlwind Mama work
To seldom grateful looks
You'll bathe one, change the other
Then that longed-for dual QT.
A toddler on your shoulders
With a baby on your knee.
Then Goodnight, Moon and lights out room
You're free -- or so you'd think.
The schedule of an At-Work mom
Could drive a gal to drink.
But not you, no, there's more to go
You finally do sit
To finish off that crochet coat
Or something else you've knit
So thank you for this chance I get
To see my daughters grow
First hand, through the good times
Front row tix to the sh*t show.
And thank you for your ageless grace
And other traits I lack
Your energy and life skills serve
To keep we three on track
And thank you for your sacrifices
Too many to list
That let me live in moments
That I otherwise would miss
And thank you for the intimacy
Time through all of it
(No need for bringing sexy back
Your sexy never split!)
So goodnight, moon and goodnight kids
And goodnight tribute poem
Goodnight winner of the bread
Who makes our house a home
Though Friday, true, no rest for you
It's universal fact
The At-Work Mama's mantra is
Weekend? The f*ck is THAT?