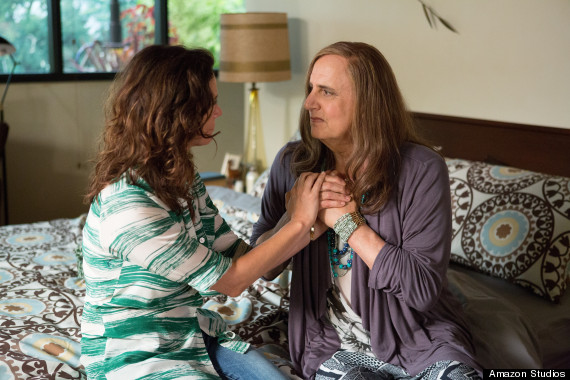 Amazon Prime made a splash this year with their bold original series Transparent, in which Jeffrey Tambor (of Arrested Development fame) plays a trans woman embarking on a late-in-life coming out to her quirky but supportive community of family and friends. There's a lot to praise in the depiction of LGBTQ people in the show including the first post-transition trans man in a scripted series played by an actual trans male actor, Ian Harvie). The show does not shy away from the complexities and conflicts of gender and sexuality in all their many forms, or in how coming out is not a cakewalk, even in the most optimal conditions. And the Pfeffermans, Transparent's affluent left coast secular Jewish family, certainly embody those optimal conditions.
Despite huge strides in the media's depiction of trans folk, in real life many still struggle against less than optimal social and financial odds. Trans parents face additional challenges, from educating their children's school and social circle, to finding the emotional and financial resources to complete their transition. By and large our culture still sees operations like top surgery for trans men as merely cosmetic procedures, and therefore not covered by even trans-positive insurance policies that cover hormones. Whether or not Transparent will delve into issues like Gender Reassignment Surgery (GRS) in the second season, in the real world completion of their transition is an often insurmountable struggle for trans people.
Is Gender Reassignment Surgery really necessary? The American Medical Association thinks so. They've stated in no uncertain terms that GRS is a legitimate treatment for Gender Identity Disorder (GID), which "if left untreated, can result in clinically significant psychological distress, dysfunction, debilitating depression and, for some people without access to appropriate medical care and treatment, suicidality and death." The 2014 National Transgender Discrimination Survey conducted by the Williams Institute at UCLA and the American Foundation for Suicide Prevention found a staggering 46 percent of trans men and 42 percent of trans women had attempted suicide.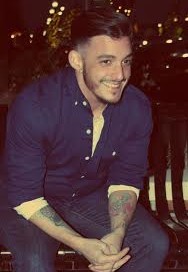 Without insurance, the cost of GRS can be prohibitive for working trans parents like Fletcher Levi (left), a 29 year-old trans man in Tulsa, whose journey began when an ex-girlfriend came out to him as trans in his early twenties. "I started doing research and it made some of the feelings I had make sense." At 22 he began to bind his chest, and came out to the woman he was then seeing. "Her reaction was not great," he recalls. She told him: "If I wanted to be with a man, I'd be with a man." Fletcher put off his transition, and the two decided to have a child. Fletcher gave birth to their daughter at 26 weeks. She weighed just 1 lb, 11 ounces. His girlfriend bailed, and Fletcher hasn't heard from her since. He didn't decide to transition until his daughter was out of the woods, about three years later. "I came to the point in my life," he says, "where I was just constantly unhappy." His gender identity had to be dealt with. He was in a supportive relationship, and while there were concerns about how transitioning would impact his family, it was clearly time.
In 2012, he announced to his wife that he would be starting hormone therapy. It was a rocky road at first. "She said she felt she had to mourn the loss of her partner because I wasn't going to be the same person anymore. And she didn't know what type of effects the testosterone would have on me, emotionally, psychologically. So it was really hard on her." Her daughter, by then in preschool, not so much. "There was never a transition period for her. I've always just been her father." After much soul-searching and difficult conversations about gender and sexuality with those he loved, Fletcher started on hormone therapy, a month later he married his partner and soon after he came out at work.
He has had a largely positive experience so far. "I don't know if it's the way that hormones have changed my looks, but before I didn't really exist, and since my transition, it's like 'oh, there's Fletcher!'" Tulsa has a large and active trans community. At one point, Fletcher had four trans coworkers and the company he works for as a store manager has been fully supportive. In fact, he sometimes worries it's a fad, especially with young people who identify as trans. "A 16-year-old is told, 'well, you look cute in boys' clothes,' and all the sudden they want to start hormones." Fletcher does his part to counsel trans youth about "being responsible for your own transition." And yet, with the pressures of supporting a young family, transitioning can take a back seat. While top-surgery coverage may be coming, it's moving state-by-state, like marriage equality, and who knows when Oklahoma will jump on that bandwagon? Like many trans people in his position, Fletcher has started a gofundme campaign, but hasn't had the time or energy, given a full-time job and a daughter in grade school, to network and promote it.
The inability of most trans people to fund GRS and associated medical costs has prompted the creation of a crowdfunding platform, Verity, still in alpha, designed specifically with trans and gender-variant folks in mind. Its creator, Lex Garey, a web designer and genderqueer trans guy from Eugene, Oregon, could not afford the costs associated with his transition, and wondered if crowdfunding could be the answer. Existing platforms weren't performing well for trans people, and Garey sought to create a safe trans-aware space on the web where they could, according to his blog, get "free, one-on-one campaign consulting" and "help creating a badass campaign that would have a much higher chance of successfully reaching its goal."
Crowdfunding may help some with cost, but GRS will remain impossible for most while the culture judges it as merely cosmetic. It's especially hard for parents already struggling with the costs of raising kids, where GRS may be perceived as unnecessary or even self-indulgent. The medical establishment appears to have come around, but the issue of coverage is still controversial in a political culture struggling with any concept of universal mental and preventative health care. But as with Marriage Equality, social and political change here begins with trans people telling their stories. Shows like Transparent and Orange is the New Black, which feature complex depictions of trans people, are a start, but the more visible real trans lives become, the better the odds of real change, and the closer to getting the medical coverage and care the AMA is advocating for.