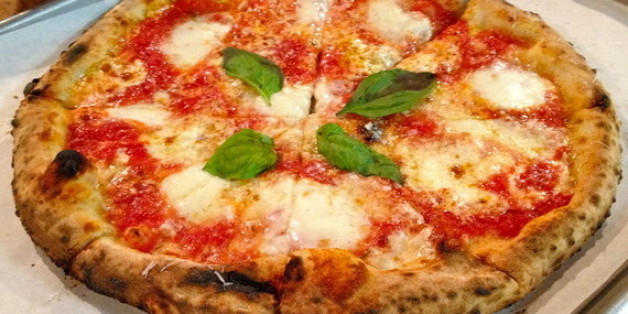 (This post originally appeared at The Unemployed Eater!)
This time every year I am left to reflect on all the delectable dishes and toothsome treats I shoved down my gullet. For such things, 2014 was surely a banner year - full of fetching food from Pasadena to Atwater to Downtown to WeHo to Santa Monica to Calabasas and everywhere in between. While it's never an easy task inventorying the true annual best frugal bites, with the following I've given it the old college try. In my mind, these are LA's 14 primo foodstuffs under $14 in 2014. (Say that three times fast! Or don't.)
(As in past years, to qualify, a dish must cost $14 or less before tax and doesn't have to be brand new this year, rather be the first time I consumed it.)
[2013's Top 13 LA Foodstuffs Under $13]
[2012's Top 12 LA Foodstuffs Under $12]
[2011's Top 11 LA Foodstuffs Under $11]
[2010's Top 10 LA Foodstuffs Under $10]
---------------------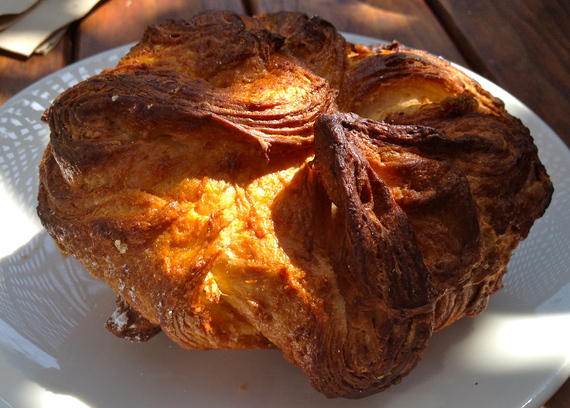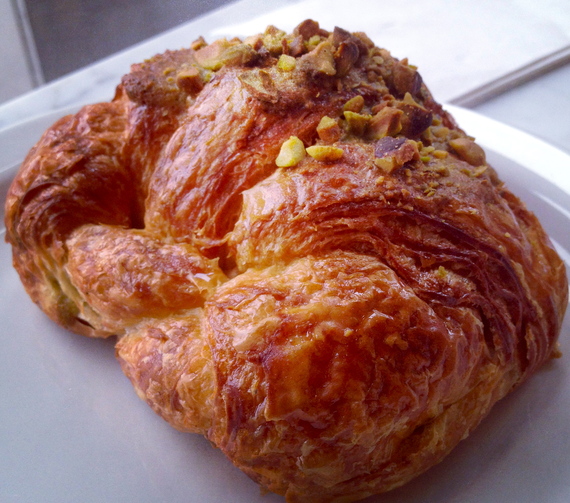 14. (TIE) Kouign Amann at Bread Lounge and Pistachio Croissant at L'amande - When you discover all the blood, sweat and tears, and above all, time, put in by both Downtown's Bread Lounge and Beverly Hills' L'amande it is no surprise their pastries transcend the local competition. They both partake in painstakingly arduous classical pastry-making techniques that produce top-notch results. For example, ONE decadently delightful Pistachio Croissant from L'amande takes 72 hours to make! That's like the length of "Interstellar." This includes up to four resting periods for the dough, pre-baking, alone. Bread Lounge doesn't slouch with their signature Kouign Amann either. Just taste the buttery-sugary-flaky nirvana and you'll know what I'm talking about.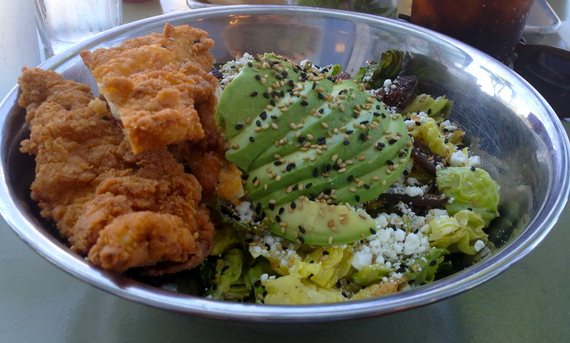 13. The Salad at Bru's Counter - Problem with most salads? Well, they taste like... well, salads. Which is a bummer and a half. Oddly enough, that is not the case whatsoever for the precociously titled, "The Salad" from Bru's Counter, the new Century City fast casual cousin of the ever-popular Bru's Wiffle. Flavorful, ferly and filling, this is certainly no layman's bowl of greens. With a base of Scarborough Farms butter lettuce, the salad is topped with crispy brussels sprouts, dates, a growing young man's portion of avocado, sesame seeds, goat cheese and either their wood-fire grilled chicken or crispy fried chicken (hint: get the fried chicken, you fool!) with a healthy-ish fresh lemon juice-olive oil dressing. This is a dude's salad - for dudes and dudettes.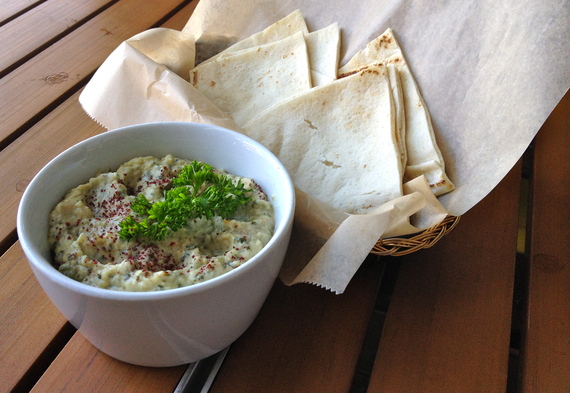 12. Babaganoush at Creation Grill - There are more family-run babaganoush joints in this town than hookers on a good night at the Beverly Hills Four Seasons bar. Which means... there's a lot. However, very few said joints actually serve a quality version of the eggplant dip. Santa Monica's Creation Grill certainly does. Their secret? They grill fresh eggplant every morning before whipping up the dip with the other usuals (onions, olive oil, seasonings). The result is a vibrant, yet not overwhelming, eggplant-ness that perfectly serves as wingman to some pita or chicken kabob. And, while not the sole reason, the 'noush constantly packs the Ocean Park location and should continue to do so at the future planned locations dotted around the Southland (under the name, Crimson Mediterranean Cookhouse).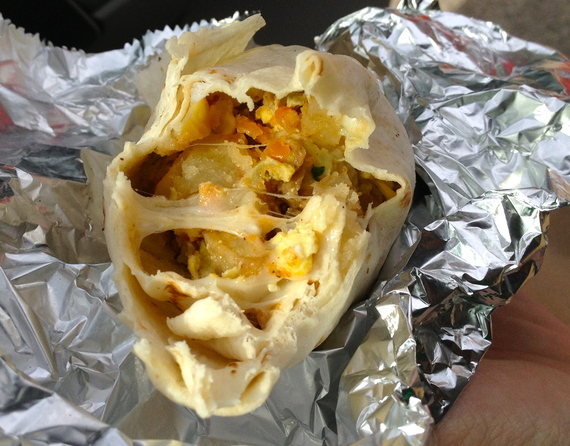 11. Papa's Breakfast Burrito at Tacos Villa Corona - I'm not going to pretend this Atwater hole in the wall (almost literally) breakfast burrito haven is some hidden gem. Hell, Bourdain went there on national TV a few years back. But I had never indulged personally until recently and I think I can confidently say two things: one, it's really hard to take pictures of piping hot breakfast burritos sitting in your car, especially when you're super hungry and two, this is the best breakfast deal in Los Angeles. The mammoth burrito -- packed to the gills with flavor-bomb potatoes, neatly scrambled eggs, cheese, onion, cilantro and salsa -- costs... THREE GREENBACKS. $3. In 2014.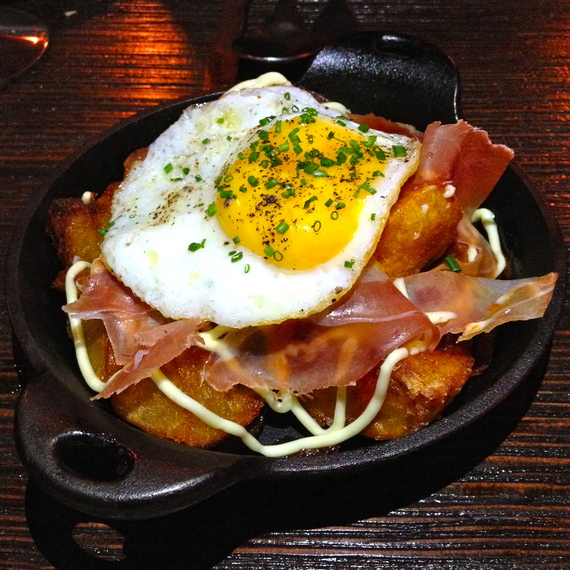 10. Bravas Trancades at smoke.oil.salt. - In a melding of two Spanish classics - patatas bravas and huevos rotos - Chef Perfecto Rocher serves the best of both in his Bravas Trancades. But as his first name would suggest, no pedestrian potato would do. In fact, the Chef searched for four months before he located the starchy varietal to his choosing. The preparation is no walk in the park either. The kitchen peels the potatoes, then soaks in water and salt for a day. The potatoes are then cut and blanched, placed back in the walk-in fridge, and after some cooling, fried for four minutes. Then put back in the fridge. And finally fried a final time to order. They are topped with two sauces: housemade aioli and a complimentary potato emulsion. Oh yeah, lastly the dish gets slices of Serrano ham, chorizo and a fried egg! No biggie.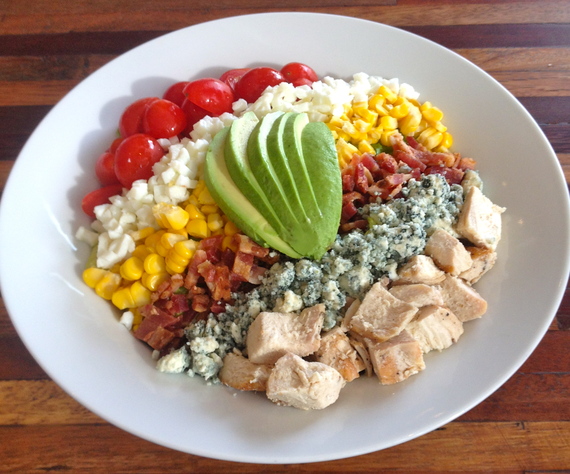 9. LBB Cobb Salad at La Brea Bakery - Upon my initial tasting of the LBB Cobb Salad at the new flagship La Brea Bakery location on La Brea, all I could hear in my head was my Weird Cousin's Passover seder voice: What makes this Cobb Salad different than any other Cobb Salad? The answer: the opposite of the ten plagues... freshness. Due to a close relationship with a local farm, the restaurant places their produce order the night before, the producer picks it at 4:30 a.m. and it is washed and delivered by 8 freaking a.m.! Pretty much can't get fresher than that. For the LBB Cobb, that includes the romaine hearts base, avocado, grape tomatoes and corn. Add some diced egg whites, chicken and applewood-smoked bacon and toss with their housemade lemon and oregano vinaigrette and you've got a holy Cobb.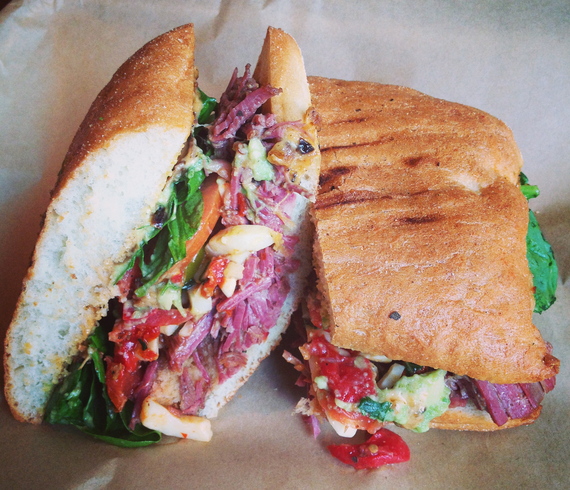 8. Puebla BBQ Brisket at Carvery Kitchen - Like a good '90s rom-com, this was certainly love at first bite. I mean, look at that picture of the Puebla above. That's the most beautiful, photogenic, adorable brisket sandwich I've ever seen in my life. It's the Meg Ryan of brisket sandwiches. It's construction is almost mad scientist-like as well. Wanting to create a sandwich "that showcased flavors from Los Angeles, but also Mexico and Europe," Carvery Kitchen owner Roman Shishalovsky went through many trials and errors before he landed on the oddball, yet ideal, Puebla's contents: roasted in-house brisket, Oaxacan cheese, pickled jalapenos, sundried tomatoes, tomato, basil, spinach, cilantro, balsamic onion jam and a BBQ-chili sauce. It's the LA-Mexican-Euro sandwich of your dreams that you couldn't even dream up if you tried.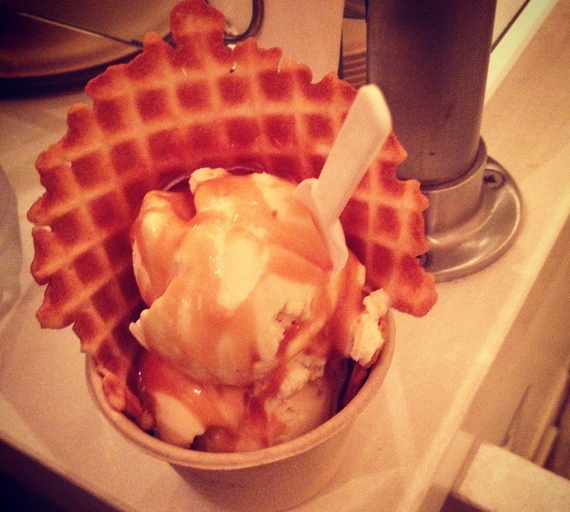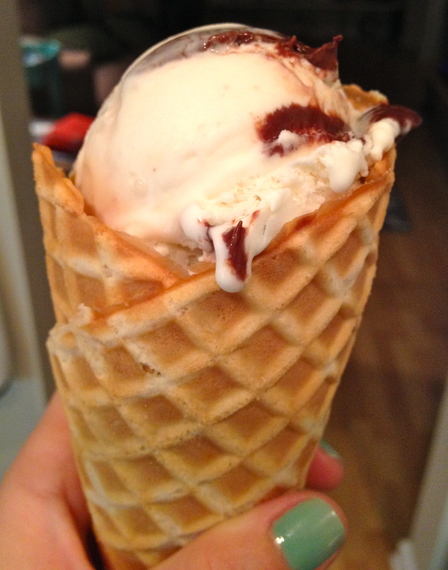 7. (TIE) Brown Sugar Vanilla at Carmela and Salted, Malted, Chocolate Chip Cookie Dough at Salt & Straw - It's hard not to root for Carmela and Salt & Straw. They're the Annies of the local, organic, artisanal ice cream scene, rising from the streets (literally) to city-wide acclaim. And although they both feature a rotating menu chock-full of creatively awesome and delicious flavors, two stalwarts shine. For Pasadena and 3rd Street's Carmela, which humble roots trace back to local farmers' markets, I'm talking about their Brown Sugar Vanilla. What originated as a Valentine's Day dessert by owner Jessica Mortarotti to her life and business partner, Zachary Cox, is a very simple, yet delectable marriage of whole Madagascar bourbon vanilla beans and brown sugar. It's incredible. Former bitsy Portland push cart, now multiple brick and mortar, Salt & Straw's (Larchmont) signature flavor is also a new rendition of an old tune. Salted, Malted Chocolate Chip Cookie Dough makes you want to regurgitate all the Cookie Dough ice creams you ate before. Thanks mostly to superior ingredients, like beer malt in the thick chocolately fudge, single-source Ugandan vanilla beans and salt from the revered Jacobsen's Salt Company. Head ice cream maker, Tyler Malek, says the goal was to create an "indulgently yummy" flavor. (Will Ferrell as George W. Bush voice) Mission accomplished, Tyler.
6. Margherita D.O.P. at DeSano Pizza Bakery - (picture atop the post) When I first checked out East Hollywood's DeSano Pizza Bakery back in February, on the spot I declared it a top 5 LA pizzeria. Some time has passed since then, allowing me to step back and think a tad more rationally... yet I still stand by that proclamation. And the cheeseburger/litmus test for all Neapolitan pizza pie slingers is their Margherita. DeSano's doesn't disappoint. Allowing it to rise at its own pace daily in small batches, the dough (00 flour, water, salt, yeast) comes out of the Acunto oven chewy and well-freckled. The toppings -- crushed tomatoes and Mozzarella di Bufala from the Campania region of Italy and fresh, locally-grown basil -- burst with flavor. It's exactly what you want out of a Margherita pizza. Add FREE, AMPLE parking and DeSano's is exactly what you want out of an LA pizza joint.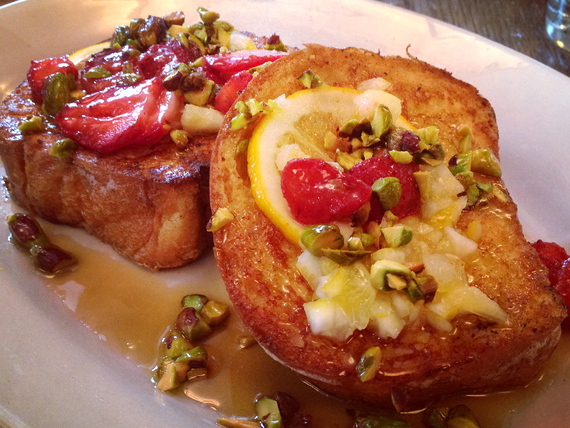 5. Vanilla Bean French Toast at AOC - Full disclaimer: AOC's Vanilla Bean French Toast costs $15. But this is no ordinary French Toast. It's two thick Brioche mountains that will fill your belly well past lunch. So, it actually should be considered two meals for that price. Furthermore, it's a French Toast for French Toast lovers (which should be everybody!). Treated almost more like a dessert in that it's based on Chef/Owner's Suzanne Goin's sister restaurant, Lucques' splendiferous bread pudding recipe, AOC first dips their Larder Baking Company brioche in a vanilla and lemon zest custard. After a minute or two, it's sauteed in butter. Toppings vary by season (right now it's a late autumnal mix of caramelized apples, bourbon and hazelnuts). The result is a dense, flavor-packed brunch dish, in one of the most idyllic restaurant settings anywhere. Certainly worth the extra clam.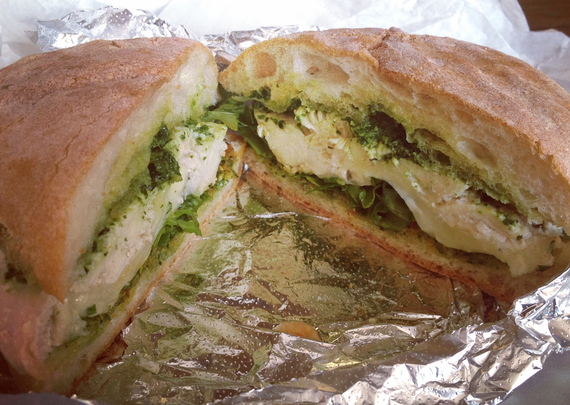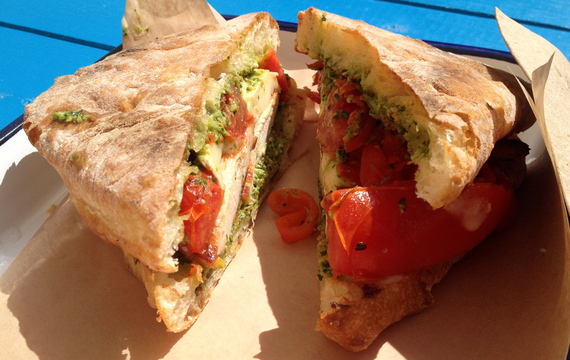 4. (TIE) The Roasted Pesto Chicken at Del Rey Deli Co. and Chicken & Brie at King Beach/Playa Provisions - Pesto chicken sandwiches are my spirit animal. Akin to NBC's The Voice, I'm always in search of The Next Great Pesto Chicken Sandwich. Funny enough this year I found two. Right by each other. Who knew Playa was such a Chicken Pesto hotbed? Del Rey Deli Co's Roasted Pesto Chicken starts with a freshly baked, cushion-y Ca d'Oro ciabatta, which is then slathered with a house garlic rosemary oil before toasting. Stuffed between the slices: a very un-deli like moist and tender sous-vide chicken breast, melted provolone, DRD's pesto, a tangy pepper spread and some arugula. It's a lot of work for a simple sandwich, but you can taste it. Same for Playa Provisions' Chicken & Brie. Freshly roasted chicken, a vivacious kale pesto, melty brie, and the sweet-spice of peppadews, all inside the Tempurpedic of ciabatta rolls. Pesto chicken sandwiches so good every time I go to Playa I am tempted to eat both. I then do so - and am a winner.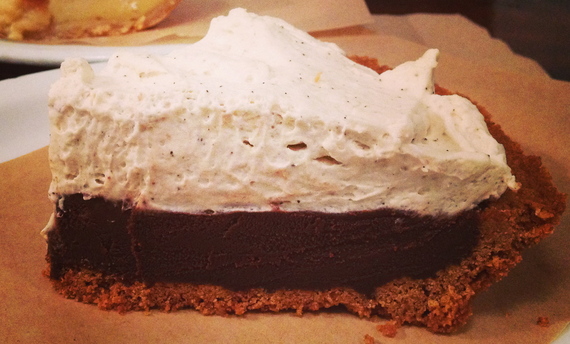 3. Mexican Chocolate Pie at The Pie Hole - Anyone who follows Unemployed Eater knows I eat a lot of desserts. My mom would say too many. So for a dessert to be my absolute, without a doubt, favorite of the year, it must be (Larry David voice) pret-ty, pret-ty special. Pie Hole's Mexican Chocolate fits the bill. Available at both their Downtown Arts District and Pasadena locations, I first came across the pie at a friend's Super Bowl party. After one bite I was imploring fellow guests, "Who the eff made this marvel?!" When I was informed of its true origins, The Pie Hole immediately shot to the top of my venerable Late Night I Drank Too Much And Want Dessert List. I've been to both locations multiple times since for this pie take of the classic Abuelita hot cocoa drink. It's thick, gooey, almost fudge-like with very subtle hints of cinnamon and pasilla peppers and accompanied on the bottom by the best graham cracker crust in town and above by a homespun whipped espresso cream. It's better than your abuela's.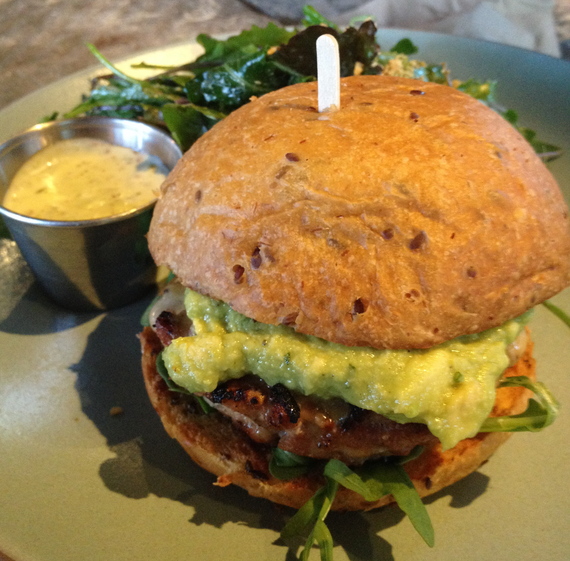 2. Turkey Burger at Pedalers Fork - Pedalers Fork is one of the most unique restaurant concepts in the Southland. It's a health-conscious restaurant, a coffee shop and a bike shop. In Calabasas. It works though because their definition of 'health-conscious' fare doesn't make you want to punch a cement wall really, really hard. It's flavorful and demonstrates a kitchen that takes high quality, delicious food, minus some of the usual guilt, very seriously. The best example? The Turkey Burger. PF grinds and patties the organic, free range Mary's Turkey in house, then grills it simply with salt and pepper. They then add some fresh guac and pepper jack cheese. The piece de resistance though is a soft, comforting, airbag-like quinoa bun that makes you wonder why you've been sillily fooling around with gluten-heavy brioche buns all these years.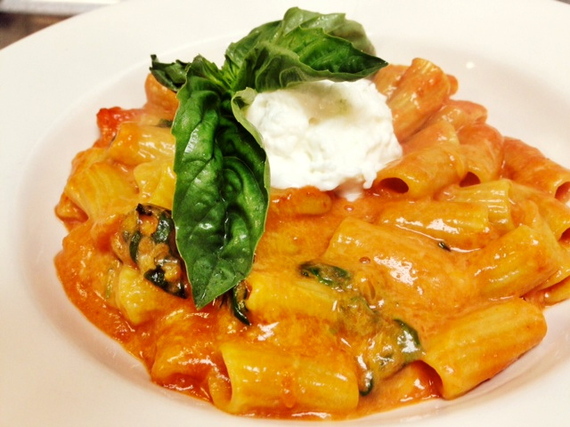 1. Rigatoni Pom'Amore at Maccheroni Republic - Simply put, there's not a better homemade pasta dish in Los Angeles, for the price ($12.95), than Maccheroni Republic's Rigatoni Pom'Amore. It simply doesn't exist. No, not that one! No, not even that one! The brainchild of owners Antonio Tommasi and Jean-Louis de Mori, it's not a complex dish -- MR's ace tomato sauce mixed with some creamy mozzarella, zippy basil, fresh burrata and handmade rigatoni -- yet, after wiping the bowl clean, you want another order almost immediately. I am literally licking my lips as I type this. It's that good. Also, unlike most of LA's top trattorias, you won't leave Maccheroni Republic feeling like someone just robbed you at gunpoint of both your wallet and your dignity. Although it is Downtown, so, uhh, be careful out there. (Addendum: MR plans to open an undisclosed second location in the near future!)
(For daily local food musings, follow U.E. on the Twitter machine.)