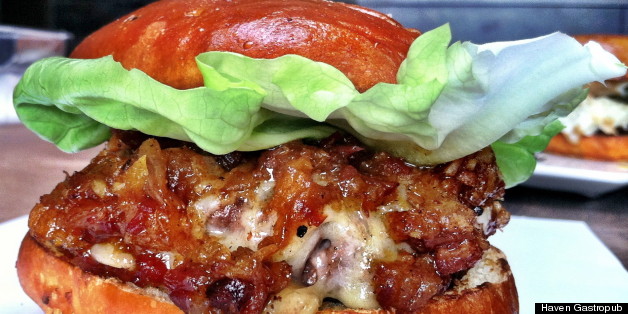 This post originally appeared on The Unemployed Eater.
Aside from "Why are you staring at me, creep?" the question I am asked most frequently is, "What is your favorite burger in LA right now?" It's probably because I look like a guy who's digested a good amount of burgers (a.k.a. emerging waistline), but everyone wants to know. At least a few times a week. Sometimes multiple times a day. Local denizens want to know the best burger -- but not simply the best burger in Los Angeles. No, no. They want the intel on the best burger in the Southland this very second. That's sort of how the city works though. Everyone wants to have their finger on the pulse to the latest and greatest. And apparently that extends to the burger arena.
For a long time, I had a very quick and confident answer to this query: LUCKY DEVIL'S on Hollywood Blvd in Hollywood. No doubt about it. LD's Kobe Bacon Bleu was the city's finest combination of burger, meat and cheese (as I noted two years back). Then sadly (and without notification), they removed the burger from the menu. While their current burger offerings sound mighty attractive, I just don't see them living up to the Kobe Bacon Bleu. Similarly, running a close second for a while was the burger at Culver City's Beacon, a 1/2 lb meat behemoth with Nueske bacon, gruyere and a sweet soy glaze. I loved that burger so much that when the restaurant suddenly closed I wrote a haiku about it. Ah, memories...
So with two of my favorite L.A. burgers right then now six feet under, I think it's time to update my answer to the oft-asked query. But, also in typical LA fashion, I'm not really going to answer your question. Best burger in LA? Way too subjective. What I am willing to discuss and share are the burgers I crave most right now. Burgers that I enjoy, but due to distance and logistics I simply don't get to enjoy as much as I wish. The burgers that I think, if you try, you will crave as well. These hearty burgers stuck with me. But they didn't just stick to my gut -- they stuck to my brain.
(Presented in alphabetical order because Los Angelenos are passive and I don't want to hurt anyone's feelings by picking a "winner." These are all winners...)
Honorable Mention: Pier Burger, the burger and fries pictured at the top of the post. Due to its proximity to my house, I eat there a lot. Thus, I don't really crave it persay. But it's a high quality burger under $5.
PHOTO GALLERY
Worth The Drive