My favorite posts on Facebook are ones that share something honest and meaningful -- an opinion, a thought, a perspective, an experience. Of all my friends, the one who does this most consistently is Milan Chakraborty, an old college buddy who is now a film producer.
While Milan was in Louisville, Ky., this week to promote his film Produce, a heartwarming story about the unique friendship formed between a washed up pro baseball player and a young grocery clerk with Down syndrome, he had an experience at Indian Summer Camp he couldn't help but share. This is what he wrote on Facebook:
Yesterday was an amazing day. I was asked to go visit a summer camp. The weeklong camp is for kids battling cancer. It was a battle to not cry hearing stories of kids that have come to the camp and passed away. Their names are commemorated on a totem pole so they are never forgotten at the camp. Hearing stories of kids telling counselors that they wanted to be "Robbie" not Robert on the pole when they die and calling out exactly where they want to be put on the pole. Really? I was surprised they so openly talked about death but as a counselor pointed out, they acknowledge it. They do not dwell on it. What an inspirational viewpoint. But while there were moments of sadness, I was filled with the sights of kids (6-18) running, playing, screaming and having the time of their lives because this one week they get to be like every other kid. They deserve that. Met a lot of warriors fighting battles kids should not have to deal with but they are doing it with grace and dignity. I look forward to figuring out a way to help Kids Cancer Alliance. I pray these kids get a chance to live a long healthy life. Great people doing great things for over 32 years.
When I asked Milan if I could share this Facebook post on The Mighty, he said yes but wanted to add one more insight he picked up while at the camp:
"It was disheartening to learn that while so much money is raised for cancer research, only a small percentage is allocated to pediatric cancer. When I asked why, I was told, 'They don't believe it's cost beneficial. There's not enough customers.' That made my heart drop."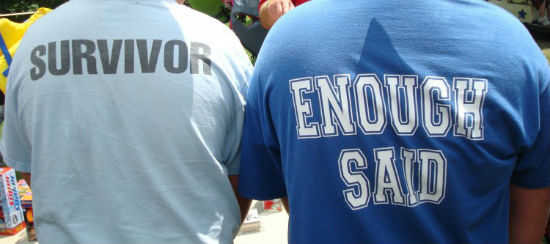 Sharing an experience like this on social media is not always easy, but it resonates like few other things can. Milan's Facebook post had nearly 200 likes and a wonderful stream of comments that showed that his little story made an impact on a lot of people, including me.
Thanks, Milan. I couldn't help but share it with others too.
This post originally appeared on TheMighty.com, a website devoted to sharing and telling stories about people facing challenges, whether that be a disability, disease or disorder.
You can like The Mighty on Facebook, here.