Video Exclusive/Premiere: Global Noize featuring Jason Miles, DJ Logic and Falu - "A Prayer For The Planet"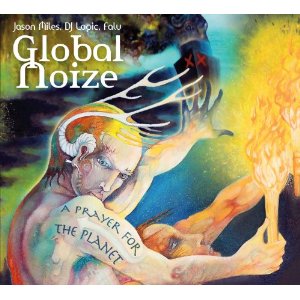 A Conversation with DJ Logic
Mike Ragogna: Hey, Logic Guy. Whatcha doing?
DJ Logic: Hello, I'm just sitting here at home, listening to some music and packing. I'm getting ready to head on out to Europe to do a tour.
MR: Where in Europe is the tour taking you?
DJL: It's taking me to Paris, Spain, Sweden, London--all over. I'll be promoting the new record, but I'm actually heading out on tour with a different project. The record is actually out in Europe right now and it'll be out in the States as well next month or so.
MR: Let's talk about your new album, A Prayer For The Planet. It's your collaboration with Jason Miles, right?
DJL: Yes, a collaboration with Jason Miles, my partner, and also Falguni Shah.
MR: The collective name for your group is Global Noize--I always want to call it Beautiful Noise, sorry. It's a Neil Diamond memory asserting itself, I guess.

DJL: It is beautiful, it's a beautiful name. Yes, it's called Global Noize and that's also the title of the album.
MR: Seems like the planet is in need of a prayer or two, huh?
DJL: Yes, it is. The planet is in need of a prayer, as we all are in need of some type of love and healing and reassuring, you know?
MR: I know. It feel like everything is coming to a head, like we need to deal with so many these issues all at once.
DJL: Yes, totally--totally. It's global, you know? This record is the perfect record for the perfect time. There have been a lot of different records that have come out at certain times in the past, in history--you know, Miles Davis with Bitches Brew and the civil rights thing going on, as well as issues with the economy and things like that. Then you've got things going on here globally, you've got the world going through a different crisis...the ups and downs of the stock market, the different global warming issues happening with the ocean as well as on land. And everyone is seeing what's going on around us. We all need to embrace our planet.
MR: And you're spreading the word around through your music. Is this the type of thing where you almost wish you could sit a person down with your album and by the time they're done listening, you'd have made them more conscious about these issues?
DJL: Yeah, this album is almost like a soundtrack too--like a soundtrack with a vignette. I also look at it like Michael Jackson's "We Are The World" or "Black Or White." Each song has a different meaning and approach to different issues--"Charismalove," "21st Century Preacher Man," "Viva La Femme," "Walking On Air," "Riot In Outer Space"--they all have different meanings and you can hear it in each track. When you close your eyes and listen to it on your iPod, you're experiencing those different travels of different things.
MR: Do you feel like public awareness is starting to focus on those issues? Like, is the consciousness of the world realizing we do have to take care of things finally?
DJL: Well, yeah. I mean, it's not moving at a fast pace, but you're starting to see people recycling and you have the green solar thing happening with conserving energy. We need more people to follow in those footsteps. Just looking at the issues with the environment, every year certain things, natural things, happen and they happen for a reason. It's what we're putting out there and how we're treating the planet, you know? And the issues with the ocean, all of the garbage and all of that stuff just floating around in our sea life and our coral life. Going to the beach ain't gonna be fun as it used to be. Going diving and stuff like that isn't going to be as fun as it used to be. Being able to see fish...we're not gonna see fish. These are things that we need to open our eyes and ears to look at. We need to take the initiative and put more effort into helping this planet out.
MR: When did you personally start becoming aware of the need to do some enlightening?
DJL: You know, just by traveling around the world. Me and Jason Miles, we traveled abroad to Morocco and Europe and Brazil. Our travels and seeing how people react to the music as well as seeing what was going on naturally in other countries and our country and stuff like that, from those travels, the idea came up for Global Noize as well as the title track,"A Prayer For The Planet." Looking at the earthquakes--the tsunami and earthquakes in Japan--and there's New Orleans--seeing all those different things happening, like uprisings and things like that--we felt that it was the right time for a special song to be presented. It was something that just happened at the right time.
MR: How would you describe the music, since it's such an amalgam of different styles?
DJL: To me, at first I would say it's music and it has elements of jazz, hip-hop, and electronic. It's a fusion--a tasteful fusion done well--with great guest artists on different tracks. On "A Prayer For The Planet," we have Falu singing on the lead track; on "21st Century Preacher Man," we have a vocalist by the name of Karl Denson, who is also a great saxophone player; on "Tokyo Sunrise," we have myself and Jason Miles--it's a very instrumental groove track; then we also have Lee Oskar on "Viva La Femme" with Malika Zarra on vocals. Bringing Lee Oskar on, that was special to have him as a guest. Jeff Coffin, who plays with Dave Matthews--he is an awesome saxophonist, awesome player. Romero Lubambo is a great guitarist who plays on "Nature and Peace"--that's kind of a Brazilian vibe. Like I said, it's got vignettes just flowing, different vibes with different ethnic things going on. You think of Brazil, you think about the rainforest. You think about "Tokyo Sunrise," you think about the tsunami. With "21st Century Preacher Man," you're thinking about the future. So, every track has a meaning, you know?
MR: Of course, you've gathered this cast of characters from all the projects you've worked on over the years?
DJL: Yeah, me and Jason Miles--we've worked with each musician individually on the album. The friendship was also there, they dedicated their time to be a part of this because they believed in it. So, once we told them about the project, they were all into. We were just happy to have everybody be a part of it--they all came together.
MR: Personally, this is my favorite project that you're associated with since The John Popper Project Featuring DJ Logic.
DJL: John actually was on the first Global Noize record. He's a great friend, a great brother. That was a special record to put together as well. Me and John talked about doing the record, and it was all improv at the beginning. Then it just turned into something special...who would've thought? We had turntables, harmonica, drums and bass.
MR: The vibe of that record was wild.
DJL: Yeah, yeah. Well, you know, we believed in it and we knew it was something special. I look forward to doing another one with John.
MR: Speaking of "John," you also worked with another of my favorite artists, John Mayer.
DJL: John Mayer's a wonderful artist and a good friend. It's always a pleasure working with him. He's just a great guitarist...unbelievable.
MR: He always keeps an equal balance between his own talents as the guest artist while respecting the talents of his collaborator.
DJL: That's right. It's a balance--he stays in his zone, which is great. That's what's so unique about him, his playing and his voice.
MR: And his respect for whomever he's performing with.
DJL: Right, totally. You're right.
MR: A perfect example would be what he did with B.B. King. He's really had an interesting career.
DJL: Yeah, all those guys--B.B. and Buddy Guy--yeah.
MR: Since we're talking about these artists, are there a couple of folks that you just love playing with over and over again?
DJL: (laughs) Yeah, there's a lot. My list is kind of long...there are a lot of people I love playing with over and over. I'm always still learning something new every time I'm playing with these wonderful musicians that I play with, and having them want me to play with them too. From John Mayer to John Popper to Blues Traveler to Widespread Panic to the guys from Dave Matthews to Robert Randolph to Medeski, Martin, and Wood to Vernon Reid and Living Colour and The Roots guys and Carly Simon--the list goes on and on.
MR: Carly Simon? She's one of my favorite interviewees--really lovely, articulate and interesting.
DJL: That was for her latest record that came out.
MR: Never Been Gone.
DJL: I actually did a little tour, a promotional tour with her. Carly's always been an innovator and a wonderful vocalist and she's always wanting to try stuff that's new and different. I met her through her son, Ben Taylor, and she just asked me to come out and do a little tour with her, you know, with turntables, vocals, percussion, and guitar. It was also with John Forte, which was great.
MR: I love those revisits of her hits, you guys did a great job.
DJL: Yeah, that's it--we revisited all of her earlier stuff. "You're So Vain" and "You Belong To Me"--those are some of the tracks I was working my magic on with her a lot. (laughs) It was great to be up there backing her up. I loved that. She's a wonderful artist.
MR: She is, and she's always pushing boundaries--I remember in the old days, there were never two albums of hers that sounded alike.
DJL: That's right, she's always kind of reinvented herself with every record and changed it up. It's amazing--her approach to music and everything is awesome.
MR: And I've interviewed Ben, I know he is so proud of her.
DJL: Yeah, yeah. It was wonderful.
MR: As we're having this little lovefest about all these artists, it seems to be that a lot of the world's problems could be solved if people remembered this simple feeling, the natural, easy rapport that people can have between each other--and apply that to the bigger picture.
DJL: Yeah, that's right. Just looking at what's going on, it's good to take that as a thought, and it's one step at a time. I know we can't change things quickly but if we start now, these things will make a difference.
MR: What is your advice for new artists?
DJL: Believe in what you're doing and keep the faith. Love what you do--that's most important. Just keep making the music, man. Keep making the music.
MR: Beautiful. All the best of luck with Global Noize as opposed to Beautiful Noise. (laughs) But seriously, it is beautiful.
DJL: (laughs) It is beautiful--a beautiful name with a beautiful meaning and a beautiful topic.
MR: It is. Any other wisdom for us?
DJL: Let's just all come together and love each other. And let's do it all globally--with a noise and with a voice.
MR: Thank you very much for the visit.
DJL: Thank you. I appreciate you having me and all the best. Enjoy A Prayer For The Planet.
Tracks:
1) A Prayer For The Planet
2) 21st Century Preacherman
3) Tokyo Sunrise
4) Charismalove
5) Viva La Femme
6) Walking On Air
7) RIOS (A Riot in Outer Space)
8) Wanna B With U
9) Natuereza E Paz (Nature and Peace)
10) Cosmic Hug
Transcribed by Claire Wellin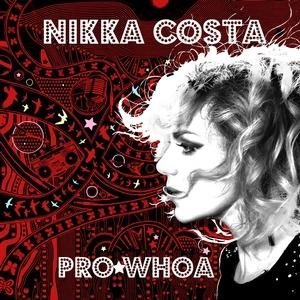 A Conversation with Nikka Costa
Mike Ragogna: Nikka!
Nikka Costa: How're you doing?
MR: I'm okay, you?
NC: Good, thanks.
MR: So you have a new project, the Pro*Whoa! EP. Can you tell us about it?
NC: Well, it's an EP of six songs, and we finished it in the middle of last year. It had another home at one point--over in Europe--and then I ended up getting it back. Now, it has finally been released here through my own label, Go Funk Yourself Records. It's really exciting, because it's completely independent. I've finally taken the plunge into the independent world, taking full control of my music and how it gets out there. It's really exciting. Sonically, it's a bit different, it's not so vintage-y, like my last record, Pebble To A Pearl, which was kind of on purpose. That one was recorded all in one room and over five days, whereas this one is a bit more like Everybody Got Their Something, where there's MPCs and beats and samples. It's a bit more back to those days for me, so I'm excited about it.
MR: The last album came out on the Stax/Conord group of labels, so I imagine that would explain some of that vintage feel.
NC: Well, as a matter of fact, we finished that record before we found a home for it. It was just coincidental that the label Stax and the kind of record that it was married. They fit together really well. But we had totally finished it before they heard it and they were like, "Oh my god, this is perfect for our label."
MR: You know, I covered your show at the Palladium in 2008 for HuffPost. It was the debut concert for that album--you were great. I wrote something like, "You blew the roof off the place." Your energy and what you did to that room was amazing.
NC: Oh, thank you. Thank you, that's cool. That's what we strive to do when we're playing live.
MR: Speaking of playing live, you just opened for Prince when he did his residency in LA.
NC: I did. We were lucky enough to open on a Friday or Saturday night--yeah, it was great. The crowd was great to us and responded really well and was singing and clapping and dancing. It was a party--it was great fun. It's always a pleasure to share a stage with him and do your thing, and then go and watch his show for two hours, which is so exciting. It was really fun.
MR: And I imagine Pro*Whoa! was the perfect album to showcase in that residence environment. Let's get into some of the songs--starting with the title track.
NC: Well, lyrically, it's very tongue-in-cheek, because I don't usually go around "blowing myself up," as they say. But in "Pro*Whoa!" I'm rapping--lord knows why, but I'm rapping. I was like, "Oh, yeah, I'm doing a rap song, hahaha. I'm just going to blow myself up and tell everybody what a badass I am, because that's what rappers do." So, I wrote it, and I didn't really think I was going to keep it--I thought I was going to then turn around and re-write it about something not about me or whatever. But I kind of stuck with it because it just suited the song really well and it was kind of fun. So, it's kind of autobiographical, but if anyone really took it totally seriously, then they would probably think I was a real a-hole.
MR: It's definitely a fun track, and I think that point comes across. But it's good to hear it from your lips. Are there any songs on this record that are particularly personal to you?
NC: Well, look. I take a long time to write songs. I take a long time to marinate over what I'm going to say, and I think all of my songs are personal in some way. Some are more narrative, like "Chase The Thrill." It's probably not so much about me or my own personal life, but an observation about somebody that I know or things that I see--a culture or whatever. "Nylons In A Rip" is kind of my own statement about being frustrated politically. I wrote it more when Bush was president and Katrina had just happened. I debated on changing it to be more current lyrically, but then I thought, "You know, there are still frustrations that might not be exactly the same, but they're still frustrations." I think a lot of people can relate, just trying to make sense of all the rigmarole that we get dealt on television and with politics. So, that was my little attempt at being political.
"Stuff" is my comment on our obsession with consuming. I'd just seen Wall-E--which I think is such an amazing movie--and I'd also just seen The Story Of Stuff, which is a twenty minute online short. It is really, really informative and amazing about all the things we acquire, and it asks the question, "But where do they go?" They weigh down our planet. So, I wanted to sing about that, but I thought, "I'm going to be so boring and preach-y." Besides just having a song about how much we consume, I wanted to kind of turn it around and make it about heartbreak and how we always go shopping when we have a hole to fill. I thought more people could relate and would be open to hearing what I wanted to say. But it gave me a way to talk about that particular short that I saw, The Story Of Stuff. I'm trying to be conscious, you know? (laughs)
MR: Nikka, it definitely comes across, and I can certainly relate. As far as the Bush years go, oh my God, what a debacle. It's amazing that our country even survived that. With the whole issue of consumerism? Remember how after 9/11, we were told to go out and be patriotic and shop.
NC: Right. You should check out that short online, The Story of Stuff. It's really really cool how Annie Leonard--the writer and host--explains the cycle of it. It's really amazing and only twenty minutes. It's being shown in schools and stuff now as well, which is cool.
MR: Thanks. Okay, let's get more into "Chase The Thrill."
NC: "Chase The Thrill" is more narrative--I always write lyrics after the track is done, and it kind of tells me what kind of vibe or whatever I need. I felt like that track was a good match for creating a story about someone who is thrilling, and maybe you're kind of after that thrill. But you can't necessarily hold onto the thrill for very long of anything, whether it's a person or an experience or whatever. When I was writing this record, even songs that didn't make the record have to do with that. There's a song "Ching Ching Ching," which has been licensed, although it's not on the EP. It's a real commentary on our obsession with fame and becoming famous, but not necessarily nurturing any kind of skill that would get you famous. Fame is the goal...not being the best singer or being the best actor, especially with reality TV. anyway, I was seeing this overview of pop culture, really. I was looking at where we are, and just started writing about all those aspects of it, and "Chase The Thrill" falls into that as well, even though I made it a love story. It's about chasing that thrill that gets you high, but then you fall really fast.
MR: "Ching Ching Ching" was a big record last year in Europe.
NC: Yeah, it was on the Top 40. It may have even been my biggest song over there.
MR: In Italy, you had a #1 record with "(Out Here) On My Own" way back when.
NC: Yeah, that was the biggest one, but that feels like a lifetime ago.
MR: Let's talk about your amazing partnerships in writing. You co-wrote "Diamonds Made From Rain," which was on Eric Clapton's Clapton album. What was that experience like?
NC: Well, Justin Stanley and Doyle Bramhall were part of that record, producing and engineering. They had this really beautiful, beautiful song that they wanted to play to Eric and they asked if I would try writing the words. Doyle had some ideas, lyrically, and so I just kind of took it and went with it. The song was so pretty...the chords are so pretty, and it really felt like the kind of song that made me feel like I was looking back on a life. I also had to kind of insert myself into, "What the hell does this 70-year-old iconic rock star family man want to say?" because by the time you're that age--especially someone like him--you've seen it all, been there, done it all. I was trying to imagine what that must feel like to be him, and what he would sing about. I was kind of putting myself in his shoes and reflecting back. So, that's how I wrote the song, and I'm super, super proud of it. It's one of my favorite songs I've ever written. I feel really proud of that one, besides the fact that, obviously, Eric Clapton is singing it. It's crazy.
MR: You also collaborated with INXS--you did "Kick" and "Devil Inside," which also featured Ben Harper. This is obviously from the Justin connection, but still, can you tell me how that came together?
NC: Well, my husband Justin is Australian, and he had--years ago--toured with INXS back in the day. So, they're longtime friends and I've known them over years as well, having lived there and been with him. They were doing this project where they were re-vamping their songs, and they served as the band and were taking their songs and redoing them in different ways. "Kick," for instance, was a real upbeat, almost soul song, and we flipped it and made it this really mellow, almost kind of '80s ballad. "Devil Inside" with Ben Harper--who I love--they turned that into a reggae jam and it's super cool. It's probably one of my favorites. They just got different singers to sing these different songs, and they asked me if I'd do it. I love doing side projects that are totally different from what I'd do on my own records because it gives me a chance as a vocalist and as an artist to stretch my wings without totally committing to having to continue with that path. It's a way to kind of dip my toe in the water. So, that was really fun, and obviously, the bonus was getting to collaborate with Ben. And now there's a song out there that we're both on, and it's super cool.
MR: Another way that American audiences got to know you was through "Like A Feather," which was featured in the Tommy Hilfiger commercials in 2000.
NC: Yeah, that was the first kind of earful of that record over here.
MR: And then "Push And Pull" was featured in Blow with Johnny Depp, and then you did the soundtrack for All About Steve.
NC: It's "All About Nikka!" (laughs) Yeah, "Everybody Got Their Something" truly has been licensed to be in so many movies. It's really been a gift. It's amazing that it still gets licensed and people still really connect with it. I couldn't have dreamed that that would happen when I was writing it. But thank God, because it's really helped us survive and continue on.
MR: You've also had songs on television. "Stuck To You" has been featured on many shows, including "Grey's Anatomy." You also wrote the theme to Courting Alex.
NC: Yeah, Justin actually did "Courting Alex." You know, people ring and they ask and usually we say, "Yes."
MR: I'm pals with Rupert Holmes who composes musicals and who wrote "The Piña Colada Song," and one day when we were at lunch I asked him what advice he had. He said "When I was young, I learned very quickly that if someone asked me if I could do something, before they finished the sentence I would say yes."
NC: (laughs) That's like Michael Caine, who has the same philosophy with work. He never says no to a job.
MR: Work is work is work. Nikka, do you have any advice for new artists?
NC: Well, it's definitely like The Wild West again out there. The internet is this amazing way to reach people and obviously allows for you to have control of what kind of artist you want to be, how you want to be out there, and how you want to be perceived. So, there's a real opportunity to be in control of who you are as an artist. But having said that, it's a lot more work. You're scrambling for funds for little things, where as when you're with a major label, obviously, there's budgets for you. Even small budgets are kind of helpful. (laughs) So, it's definitely a different way to do it. But I would say as far as new artists go, just make sure that you love what you're doing and stay true to who you are, and if you're any good, I think people will eventually find you and stick with you.
MR: What about surrounding yourself with people that you trust, your team?
NC: Oh, for sure. I think, no matter what, you're going to run into people that maybe don't have your best interests at heart. You just have to learn from those experiences and keep it moving and get better and better at trusting your gut and trusting your instincts. And then yeah, you'll be fine.
MR: I would be remiss if I didn't mention a sweet thing I read about you. When you were nine years old, you sang with Frank Sinatra on the White House lawn. I'm imagining this was through your dad, Don Costa. Can you talk about that?
NC: Yeah. Well, obviously my dad worked with Frank (Sinatra) for many years, and Frank was friends with the Reagans. So, when Ronald Reagan was president, Nancy was doing an adoption program for grandparents to adopt children. Frank and my dad recorded a song and I was the guest vocalist on this song, and then Nancy had a big dinner or lunch or something at the White House and had Frank play. I got up and sang a couple songs and sang that one with him, and I also snuck around and slid down the banister at the White House. (laughs) It was cool.
MR: And Dan Costa, man, what an incredible arranger.
NC: Yeah, thank you. It's funny--if I'm ever on an airplane or in a studio where there's some old school cats--musicians or players or arrangers or artists--they all have such amazing things to say about my dad. They all come over to me and they're like, "Oh my god, we love Don. He was amazing," and they'll tell me stories. It's really, really nice because he passed away when I was ten, so I didn't really get to know him fully or so well. So, it's really, really nice to know that he had that reputation and that people feel so compelled to come up to me and tell me stories about him. I love it.
MR: Not only am I fan of his work with Frank Sinatra, but I also was a big Kenny Rankin fan and loved Don's work with him. His voice was phenomenal, such a shame he died as early as he did. What a voice.
NC: Yeah, he was amazing. And Kenny was such a nice man, he was so lovely.
MR: I interviewed him for his liner notes when I put together a collection for Rhino. I had asked him about Phoenix House, which had a friendly environment where addicts would live and recover. The stories that would come out of there were just beautiful, a huge success rate. So, I wanted to mention that in the liner notes, and he pulled them even though I had phrased it in a way that was very complimentary. I said, "Kenny, don't you want people to know that you were associated with such an amazing thing?" and he basically said that he didn't want to look back at that element of his past. Regardless, he was a real humanitarian.
NC: I guess that's the true humanitarian in him that doesn't need validation or public acknowledgment for doing good.
MR: I really never thought of it from that perspective, wow. Thank you, Nikka.
NC: (laughs) You're welcome.
MR: Hey, since we're talking about the old days, do you have another interesting story from your childhood?
NC: Well, I love to tell this story. When I was little, we always had musicians over, jamming in the living room, and I would always be trying to sleep, because I had school the next day or whatever. There was one guy that I remember in particular because he had red spandex pants on and a white sweatshirt with Mickey Mouse on it and a huge afro. He was playing the piano in the living room and I came out--and this image has been printed in my brain, because I was little and he had a Mickey Mouse sweatshirt on--and I yelled, "Shutup! I'm trying to sleep!" I definitely didn't ever hold my tongue as a kid. (laughs) Anyway, he packed up and went home or whatever. It was Sly Stone. (laughs) I kicked Sly Stone out of my house. (laughs) But I was, like, five.
MR: Well, Nikka, did you make up with him over the years?
NC: I don't know, hopefully. I don't remember making amends, but I'm a huge lover of funk and Sly Stone now. He can reach out at anytime.
MR: (laughs) Sly, if you're reading this now...
NC: ...I'll buy you a coffee, I'm sorry!
MR: So, what's on your touring agenda?
NC: I've got dates on my official Facebook page--we're going to the East Coast next week, playing New York and I'm going to be sitting in with The Roots on Jimmy Fallon--we'll be doing some stuff. Philly and D.C. will finish out the East Coast run, and then in August, we're going to do a couple of weeks as well on the East and Mid-East Coast. Then, we'll probably go to Europe in the fall. We're just, you know, trying to keep it moving. I have a YouTube channel as well called Nikka's Box, and we upload something every Tuesday on the box, so we'll be keeping that going from the road and beyond, which is fun. It's like skits or just me playing a song, or whatever--it's this other crazy outlet of mine. That's my Summer.
MR: (laughs) Love that video of you flexing a microphone.
NC: You've visited my box!
MR: (laughs) Um, we'll leave it at that. (laughs) Nikka, it's so been a blast talking to you. I wish you lots of luck with the new EP, and I love the fact that you're doing this on your own. The DIY approach can be so much more fulfilling.
NC: It's definitely less oppressive. You don't have to please the suits.
MR: Yeah, and your success is truly your success now.
NC: It's true. It's very liberating, creatively, which I think is amazing. And if it does catch on and you can really survive it, I think it's potentially a very fulfilling way of getting your art out there. So, you know, fingers crossed!
MR: And is Pro*Whoa the first of many EPs in a series?
NC: Yes, we're planning on releasing another one in the fall. The point is to always keep something new and fresh in the market so that we can keep touring and keep up with our culture's ADD! (laughs)
MR: Can "Ching Ching Ching" appear on something in the future? Please?
NC: Yeah, we've got some really great remixes of it that we're probably going to package in a little thing. It's been licensed a bunch too, so it's definitely not "down in the water." It's kind of doing it's own little thing. It didn't fit with these six songs on this EP, so I didn't include it. But it's definitely not been canned or anything.
MR: It has a life of it's own.
NC: It's flying solo. (laughs)
MR: Nikka, again, I had a great time with you. Please come back real soon.
NC: Thank you so much for all your support. I really appreciate it.
Tracks:
1. Head First
2. Never Wanna C U Again
3. Nylons in a Rip
4. Pro*Whoa!
5. Stuff
6. Chase the Thrill
Transcribed by Claire Wellin