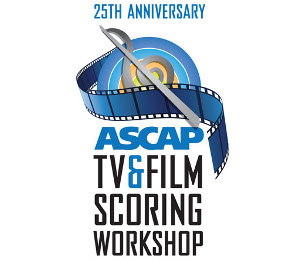 ASCAP CELEBRATES 25 YEARS OF FILM SCORING
"Our participants come to the Workshop at a critical point in their careers. We identify them just before they launch and provide a training ground for them to hone the skills they will need to succeed. Think of it as a finishing school." - ASCAP's Jennifer Harmon
First, here's an introduction from ASCAP's official press release:
"The American Society of Composers, Authors and Publishers (ASCAP) hosted its annual Film & Television Scoring Workshop from July 8th - August 1st, 2013, celebrating 25 years since the program first launched in 1988. Founded by composer Fred Karlin, and co-produced with ASCAP's longtime veteran Nancy Knutsen, the Workshop has become one of the most well-respected programs in the world. In 1998, Emmy Award-winning composer Richard Bellis joined the workshop as a mentor and has served in that position for the last 16 years."
And discussing the workshop and music in general are Richard Bellis and three of the workshop's graduates.
A Conversation with ASCAP's Richard Bellis
Mike Ragogna: Richard, what is your role in the film composing workshops?
Richard Bellis: For the past 16 years I have been the Host/Mentor for the workshop. I lecture, instruct, answer questions and help the participants when necessary. In addition, Mike Todd, Jennifer Harmon and I have collaborated over the years in designing and refining the program. The three of us also serve as the final judges who determine which composer-applicants are chosen to participate.
MR: What is the history of this program?
RB: The program was the brainchild of ASCAP's Nancy Knutsen and Oscar and Emmy award winning composer, Fred Karlin. Fred acted as Host/Mentor for eight years (1988-1995). He then relocated out of the area and the workshop went tacit for one year. Nancy and Bill McRae asked me to mentor the workshop the following year, 1997, and I have done so ever since. For the last fourteen years, ASCAP's Mike Todd has produced the workshop and Jennifer Harmon joined the team ten years ago and currently co-produces with Mike.
MR: Please would you take us through the process the new students will be undertaking?
RB: The participating composers are assigned a scene from a major motion picture on the second day of the four week workshop. We have twelve composers and we use four different scenes so each scene is scored by three composers. Within that first week they meet with composer Bruce Broughton for an orchestration class. They are required to orchestrate and conduct their own cue. Additionally, we introduce them to the principal players in the orchestra who give them advanced insight into the various instrument families. The participants meet their music editor, Michael Ryan who will prepare their click tracks for the recording session.
Composers must deal with deadlines and we give our group hard and fast deadlines which they must meet. One such deadline is to turn in their scores to JoAnn Kane's Music Service. These are the folks who copy, orchestrate and provide librarian services for all the majors composers, including John Williams. At that office our composers will meet with professional orchestrators who examine their scores and give pointers on preparing them for the recording session. We provide an evening where our participants, many of whom have never conducted before, can, in a casual setting, give it a try before stepping on to the podium in front of a 61 piece orchestra on the Newman stage on the Fox lot to record there cue in a blazing sixteen minutes. Along the way they visit Hans Zimmer's Remote Control Studios and meet with several leading composers. They are introduced to and hear from studio executives, composer agents, music attorneys and experts on copyright issues. Finally, there is a screening at the Director's Guild Theater (DGA) where each work is critiqued by their fellows and leading professional composers.
MR: Recently, you received a note from Mike Lang thanking ASCAP for its role in furthering the abilities of its young composers. What would you say are areas the organization has helped and can you offer some examples or success stories?
RB: People sometimes think of PROs (Performing Rights Organization) such as ASCAP as acting solely for the purpose of negotiating, collecting and distributing money. I have been a member of ASCAP for over 34 years and currently serve on the board of directors. In that time I have seen too many programs to count which serve the community of music creators in myriad ways. Songwriter and composer members benefit from seminars, networking opportunities, the wonderful I Create Music Expo as well as many other programs often sponsored by the ASCAP Foundation. However, Mike was specifically referring to ASCAP encouraging and fostering the orchestral and acoustic scoring in Los Angeles. Helping the community beyond just the ASCAP membership. LA is the only place in the world where there are second and third generation "studio" musicians. Musicians who deserve more work than they currently have. Orchestral scores are every bit as relevant today as they ever have been and this workshop introduces talented, young composers to a world in which their music will sound better than they could have imagined thanks to the creativity and talent of the musicians.
MR: What are some of your favorite movie or TV scores/pieces and what is it about them--melody, mood, effective scene punctuation--that makes them your favorites?
RB: If you asked that question of 50 composers, you would get very few duplicate answers. I loved Bruce Broughton's score for Young Sherlock Holmes. Bruce is able to serve the film while creating artistic, substantive music. I am always inspired by Alf Clausen's ability to "nail" so many different kinds of music on The Simpsons and write clever songs to boot. I loved Star Wars and E.T. as much as everyone but the score that impresses me every time I hear it is Jerry Goldsmith's Basic Instinct. It's not huge, it doesn't call attention to itself but it is so perfect for the film and not at all emulative of any specific genre.
MR: Who are some of your favorite composers?
RB: Those listed above and all who are both musical and graceful. Henry Mancini was a "graceful" composer. Nothing ever distracted you or made you cringe. You could absolutely relax and enjoy the score knowing that Mancini was at the helm.
MR: What are the most unique offerings ASCAP provides the program's participants that no one else can?
RB: ASCAP gives 12 emerging composers four weeks in which they are introduced to the world of an "A-List" composer. They have a great scene to score, a support team of the best professionals in the business and they walk away with a demo worth thousands of dollars. ASCAP provides all of this at no cost to the participants.
MR: What are some of the most surprising or boundary pushing films assigned to the students to re-score, and did some of those  compositions, in your opinion, compete with or outperform the original?
RB: That's a loaded question. Which part would you like me to answer?
MR: Both? [laughs] I would just love to know how the students are tackling the assignment, this being the lab for that.
RB: I can tell you that on many occasions, the work of our composers is every bit as good as the original in my opinion. However, and it's a big however, our composers aren't fulfilling the vision of a director. We don't bring in a director to establish requirements which the composer must service in order to create a successful cue. This is the equivalent of the composer being his or her own director and consequently, whatever they write is "perfect". That said, we do have a review process where each cue is screened and then critiqued by the fellow participants and several, high-level professional composers.
MR: What do you think about the current state of music in schools?
RB: I think it follows the variation in all subjects in all schools. The one thing researchers and scientists have agreed upon for decades is the overall scholastic benefit of a music education. My dad was a junior high school music teacher. A magical one. I know first hand that growing up playing in an orchestra or band requires discipline to practice which then results in the knowledge that persistence yields positive results and gratification. It also demands social skills both interpersonal and inter-musical. Often young people without the arts as part of their early education won't start to develop this kind of knowledge until much later in life. It is a disservice to our society that the arts are always the first thing to be cut in times of budgetary constraint.
MR: In your opinion, can the fields of film/TV scoring and pop music ever get their marriage stable? Must video games always be the link?
RB: I think the marriage has existed since the Busby Berkeley days. Like every marriage, it has had its ups and downs. Of course, what really happens is that when a picture is highly successful, the "business" requires emulation. If the successful film has a dozen songs, (a.k.a a song score)that becomes part of the perceived template-of-success. Then, after a time,the audiences and creative filmmakers become sated with that template and for the next few years there are fewer song scores and more instrumental scores for films dealing with serious, dramatic topics. Then, we take the D.C.--da Capo meaning go back to the beginning of a piece of music--and history repeats itself. Video games, at least for the moment, have the benefit of freedom to experiment. Because they are a hybrid, they tend to break new ground rather than searching for a template to emulate.
MR: What advice do you have for new artists?
RB: Give yourself a goal, a specific time frame in which you want to achieve a certain financial plateau, lifestyle or body of work. You can always renegotiate that time frame with yourself but, if you just take things as they come, day by day, you will find it very hard to stay motivated. Staying motivated in a world of unprecedented competition is essential.
MR: What do you see is the future for scoring?
RB: For film scoring itself, I see a continuing lineage of success. If music was an unnecessary or unimportant part of filmmaking, it would have been dropped from Hollywood budgets years ago. Exactly what music does that strikes a chord with audiences is difficult to identify but, highly sophisticated effects, 3D, loud sound effects and computer animation don't seem to offer a replacement. Before the first film was ever made, music had been creating images and emotions in the minds of audiences for hundreds of years. Maybe that has something to do with it.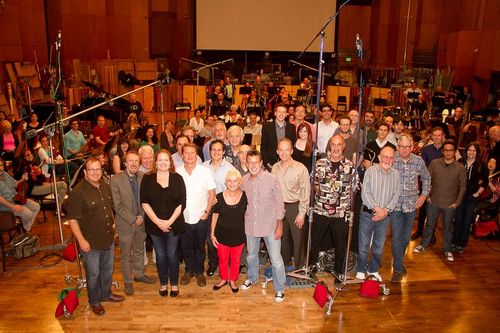 photo courtesy ASCAP
Conversations with Matthew Margeson, Michael Bearden, & Joe Trapanese
Mike Ragogna: What inspired you to move into the world of film scoring?
Matthew Margeson: When I was 8 years old or so, my parents took me to see my first broadway musical. While the show was really good, I was really more interested in watching the live orchestra. I guess that was the moment when I knew music would be a part of my life forever.
Michael Bearden: I've always been a fan of film scoring. Music is my life so scoring is just an extension of my musical expression. I'm a big James Bond fan and I'd have to say the earlier films with Sean Connery were my favorites. John Barry was the composer on most of those and his sound influenced and inspired me greatly. Another inspiration was Quincy Jones. He's from Chicago as I am. I was blessed to meet him very early on in my career and he gave me a lot of great advice. His words and impact on my life as a musician and human being are still evident and relevant to this day.
Joe Trapanese: When I was young I became captivated by the power of music and picture. Together, we can evoke strong emotions that calls upon the audience to question themselves. I love the thought of people being changed and inspired after experiencing something I've worked on.
MR: What is your own musical history?
MM: I started piano lessons when I was about 5 years old or so. I was always involved in community theatre in my youth, specifically leading pit orchestras. I ended up at Berklee College of Music, and studied film scoring and composition. I had a lot of fun playing in a 10-piece funk band in my early twenties, but the more I started writing, the less I was playing, and I eventually moved to Los Angeles to pursue film music as a profession.
MB: We don't really have enough space to write my entire musical history. Maybe in a book someday. The cliff notes version goes something like this. I was born and raised on the south side of Chicago. I began playing piano when I was just 5 years old. I was exposed to all types of music, classical, rock, soul, R&B, jazz, blues, country, etc... and would practice all day long until my mom made me stop. Two of my early mentors were Ramsey Lewis and Herbie Hancock. I learned a lot about being a musician and human being from them. I left Chicago at 17 to attend Howard University. There, my musical education really blossomed. While in D.C., I met and performed with Stevie Wonder briefly. I finished school and moved to NYC. Moving to NYC was a big move. I pounded the pavement for months before landing a position with the late great flautist Herbie Mann. That gig took me all over the world and exposed me to other artists. I worked with countless jazz artists, bands, various pop and well known R&B singers after my Herbie tenure.

Then I landed the Whitney Houston gig. I worked with her from the super bowl days through the 'I Will Always Love You' days. I miss her. She was like a big sister to me. It was during that time I scored my first feature film. A Gramercy/Universal and Spike Lee produced film called, 'Drop Squad. Starring Ving Rhames, Vondie Curtis Hall and Eriq Lasalle. I learned a lot from Spike. He's a great film maker and knows a lot about film music and music in general. From there I moved on to Madonna where I was her musical director for 8 of the 9 years I was there. I became musical director for the biggest names in the industry after my time with M. Including one of the biggest names of all, Michael Jackson. I also musically directed and conducted countless TV award shows like the 64th prime time emmys, various PBS specials, and many live events. Including president Barack Obama's official inauguration concerts. Those presidential events have been proud full circle moments for me as the first lady Michelle Obama and I are childhood friends. Whenever we get the chance to see each other, we often speak on how proud we are of one another. There is never any hubris involved. We're both just acknowledging the sacrifices and dedication it took to come from the south side of Chicago and make it as far as we have! Success is hard work indeed. Somehow, I managed to score a bunch more films and documentaries in between all the flights, stage and television appearances. And, that's a very quick, wide angle view of my musical history.
JT: Film music was the first kind of music that inspired me to write and create. Because the orchestra is so present in film music, I began studying classical theory, harmony, orchestration. After a friend gave me some music software, my love for electronic music was born. I worked a whole summer so I could buy my very first synthesizer. I've always had this duality between the classical world and the digital world. I used to think it was odd but in retrospect it has made me who I am today.
MR: Who were your mentors or industry professionals who helped you improve your art or gave you breaks you needed?
MM: I had a great professor while at Berklee named Eric Reasoner. He was probably the first person who made me even consider moving to Los Angeles and diving into this world. Once I arrived in Los Angeles, I think it was being able to collaborate with professionals like Jim Dooley, Henry Jackman and especially Hans Zimmer that really helped me focus my skills and realize my style of writing.
MB: As I just mentioned, Ramsey Lewis, Herbie Hancock and Quincy Jones were some of my early mentors. Another big influence is Harold Wheeler. He's best known for his long stint as the musical director for Dancing With The Stars. But, he's so much more then just that show. Bill Cosby was a big contributor to my growth in this industry. I spent a lot of time working with and for him and Phylicia Rashad during his popular "Cosby Show" days. They're all still huge influences in my life today.
JT: I can trace every job I've had back to my time as an intern. Many people have been generous with their time and wisdom, and I'm forever grateful. These include Christophe Beck, Bruce Broughton, John Swihart, Daniel Licht, Mark Kilian, Paul Hepker, Robert Folk, Brad Segal, Frank Fitzpatrick, and Paul Chihara.
MR: Who are some of your favorite film arrangers/composer heroes and who do you feel inspired you the most?
MM: No matter what, I am always inspired by Ennio Morricone. His ideas are so committed, bold and simple. I feel that there are scores from so many composers where I say to myself, "how the hell did he/she come up with that idea?" I'm always a big fan of John Powell's sound, Elfman's orchestration and color, and so on. I guess a lot of scores have something from which to learn. However, other mentors include names not widely known to the general public. People like my early band, piano teachers and musical directors. Mr. Leslie, Mr. Brock, Ms. Weiland, Mr. Irby, Shelton Becton, Joey Melotti, and on and on. To be a great leader, you have to be a great follower. I learned so much from these great leaders!
MB: At the risk of taking up too much space in this interview, I'll limit my favorites to maybe just 9 or 10. As I've said earlier, John Barry is definitely one of my favorites! Quincy Jones without a doubt is a huge reason why I even pursued the arranger/composer discipline. I met Jerry Goldsmith once. I asked him for advice on his secret to film composing. He told me and I quote, "All you have to do is write good shit and throw a bunch of good musicians on it! The more musicians you have, the better it sounds!" Harold Wheeler is a master at what he does. I've played countless Emmy telecasts for him and every time a Harold chart is put in front of you, it's always right. Henry Mancini just wrote really beautiful music. I think his gift was his simplicity and elegance. Bernard Herman just amazes me! I've studied his North By Northwest score ad nauseam. James Newton Howard comes from my similar background as a musician so he's been a great inspiration to me. Trent Reznor is inventive and pushes the film score vocabulary and language to a new place. Chris Lennertz is a dear friend and a hell of a composer. I've played on about 4 or 5 of David Arnold's scores. I've never been disappointed in one. And last for now because I've probably gone over my limit, in my opinion,Terrance Blanchard is one of the most underrated composers in the game. His scores are always eloquent and encompass high musicianship!
JT: Ennio Morricone, John Carpenter, John Williams, Jerry Goldsmith, Bernard Herrmann, and John Powell. I'm always inspired by my collaborators, whether it is my director, the performing musicians, or partners like Daft Punk, M83, or 3Oh!3. Ultimately, the story and the audience is the most inspiring aspect of my work--to help tell a story and to create a powerful emotion with the audience is priceless.
MR: What movie do you feel affected you the most on a deep level and which movie do you feel made the best use of a score?
MM: I remember having a really strong connection to Zimmer's Prince of Egypt score. This probably has to do with my background in musical theatre. Prince of Egypt isn't necessarily a musical, but it's use of song and score integration is really spectacular. I remember watching the opening sequence for the first time and being completely blown away, by both the melodic content and the production, both visually and sonically.
MB: First question. The Godfather is probably still my favorite film of all time. I own it and still watch it if it plays on television. It's just master storytelling at it's best. Second question. There are so many films that use score in brilliant ways, The Girl With The Dragon Tattoo, Jaws, Round Midnight, etc... But, surprisingly two of my favorites are Beverly Hills Cop and Napolean Dynamite. Some may think they're silly films. However, those 2 scores, though non orchestral, really make use of the music in a creative way. It's used as another character but doesn't take away from the main characters of the story. Brilliant!
JT: I thought the use and tone of the music in There Will Be Blood was incredibly refreshing. Stanley Kubrick also finds some very direct and personal ways to affect audiences with the music of his films. I'm not a horror movie fan, but when I first saw "The Shining" I was completely blown away by the film, especially the musical choices and atmosphere.
MR: What kind of role did ASCAP play in helping you achieve your level of success?
MM: Being able to be a part of the ASCAP workshop was definitely crucial in helping me climb to the next step in my career. I guess one of the most important parts of the workshop series for me was meeting all of the people who did the master classes. Music editors, mix engineers, agents, etc. Some of these people are still people that I work with now on a daily basis. Also, becoming acquaintances with the ASCAP staff was very important. Even working as a film composer for the past 7 years, questions still come up regarding the business end of things, and ASCAP is always right there to help me through any concerns I might have.
MB: I was lucky to be one of the composers chosen to attend the ASCAP film scoring workshop. It's an amazing program! I learned so much from the experience. Not just from Richard Bellis (the leader) and all of the mentors, but from the other students as well. One of the greatest lessons I learned from that experience was to go out and meet people. Networking is a challenge for most composers as we tend to be hermits and stay to ourselves. But, ASCAP film scoring workshop taught us to socialize and break out of our shells. it was an invaluable lesson. Many in my class are working and dare I say thriving in the film and concert world today. It was just an invaluable experience and it's something i'll never forget.
JT: Ever since I was in college in New York City they've been tremendously supportive, whether it was through the Young Composer Awards, grants to attend educational workshops, introductions to colleagues, and mentorships. It would not be a stretch to say that I owe much of my musical soul to ASCAP--they've helped me nurture it from the beginning!
MR: When you first attended the master sessions, how challenging was the process? Which film or films did you have to score?
MM: The challenges you face at the session, looking back on it, are the same challenges you face in real life situations. There is A LOT of money on the line and A LOT of pressure when you have 50-60 orchestral players in front of you. Every second counts; every take counts. Knowing exactly what you want out of the orchestra, and how to CLEARLY AND QUICKLY relay that information to the players is an extremely important skill-set that will save you time and money when the clock is ticking. When I attended the workshop, I scored a clip from the film Dreamer. It was a really awesome and inspiring clip. It definitely gave me license to write some really propelling string ostinati, big brass fanfares and lush use of orchestration. I had a really fun time writing it.
MB: The first master sessions were challenging because at the time, I had never been in front of an orchestra that large. Also, I was living exclusively in New York so coming out to LA was an adjustment. And, I didn't have all of my usual film scoring tools with me at my disposal. I had to rely heavily on just my pencil and staff paper skills. I couldn't really mock it up to see what it could sound like before the session. I actually liked that I had to go out of my comfort zone for a while. It helped me grow as a composer and a musician. My assignment was a scene from Will Smith's Wild, Wild West. Overall, the score came out well. After hearing it, I wanted to make changes immediately. I wished I had a little brighter tempo and made more use of the percussion. Richard Bellis and the other judges agreed. They all gave me high marks on my conducting skills and so did the orchestra. As a young composer, any time you can get podium time, grab it! I loved my ASCAP experience!
MR: If there were any film, TV series or video game that you could go back and re-score with your music, which would it be?
MM: Eek, loaded question...there is so much "sacred territory" out there. Hmmm, if I were forced to, it would probably be a lot of fun taking a stab at any of the Bond films. I think that series has a little bit of everything--exciting action, romantic melodies, swanky harmonies...and being at an orchestral session with those brass players wouldn't necessarily be a bad thing!
MB: I don't really know how to answer this question. All of the film, tv series and video game scores I've heard are married to the them. I can't really imagine my music on any of them. However, if I ever had the opportunity to be linked to any film, tv series or video game, it would be as follows... FIlm, This Is It. I'm the composer, music supervisor, and associate producer of that film and honored to be so. TV series, 24. I loved that show and Sean Callery did an amazing job. Video game, I'm gonna go old school here. Super Mario Brothers. Enough said!
MR: What advice do you have for new composers?
MM: Write, write, write. A common mistake is that even if a person knows everything there is to know about music, theory, orchestration, etc... It doesn't necessarily make them a good story-teller. Storytelling is an art in itself and takes a lot of practice. Write to as much picture as you can. Try different ways to score different scenes when you have time, because there are always little discoveries to be made.
MB: I have three pieces of invaluable advice I got when I was young. One, always, always, always be yourself! There is already one John Williams and he's pretty good at being him, so why do we need another one? Two, Michael Giacchino told me once, and I'm paraphrasing, "When they ask you to write a peanut butter and jelly sandwich, don't write a thanksgiving dinner, write a peanut butter and jelly sandwich!" Three, and my favorite from Dave Grusin. When I asked him advice on writing for my very first feature film he could tell I was nervous. He sat me down and told me, "The secret to scoring film is that there is no secret. Look at the film. Let the visuals influence you, and then write some ƒ&@*# music!" I never forgot that.
JT: Never underestimate hard work on your technical skills as a musician. Everyone always talks about 'getting the gig' and how competitive the whole industry. I've noticed that when all is said and done, the people who have long and healthy careers continually strive to become better composers and musicians.
MR: What does your future hold?
MM: Making lots of noise--hopefully somebody will like it!
MB: I live in the Now. So today is my future! Music is a marathon not a sprint. I'm still leraning and growing and doing what I've always done. I'm one of the lucky few on the planet who get to do what they've always dreamed of doing. There is nothing better then that! And, hopefully my body of work will inspire others to pursue their dreams. At the end of the day, uplifting humanity is my ultimate goal and purpose. Where words fail, music speaks!
JT: I am currently scoring my first video game. I will also be conducting The Hollywood Bowl Orchestra this September 22nd in a performance with M83. There are a few more things in very early stages but I can't talk about those just yet...!
A LETTER FROM MIKE LANG
Closing this ASCAP piece is a reprint of the letter Mike Lang sent Richard Bellis, basically expressing his passion and appreciation to ASCAP and its program.
"It is truly humbling to record with so many young composers, all of whom would lead you to believe they had 50 films apiece under their belt. The depth of imagination, film sense, composition, orchestration and conducting ability that all of them have is extraordinary--to say the very least... and... It is a double miracle that ASCAP does this. giving our beleaguered biz a powerful injection of musical health.
Some of the most talented and comprehensively equipped composers get to work with the most flexible and quick musicians on the planet, musicians who can play any style of music immediately in a way you would be hard pressed to better anywhere! It's a dream that's real,
and for me, personally, an inspiration to give our futures some real hope.
Thanks, ASCAP!
Special Thanks to ASCAP, Bobbi Marcus and all the interviewees
SWEET RELIEF'S VICTORIA WILLIAMS' "CHANGE IS GONNA COME" EXCLUSIVE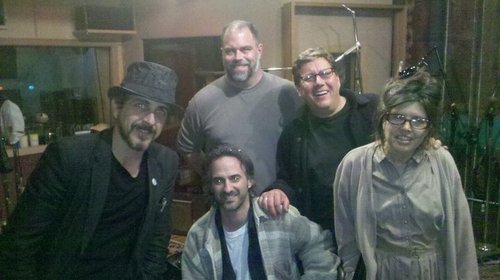 left to right: Michael Penn, Bill Bennett, Rob Max, Victoria Williams
seated: Sheldon Gomberg
photo courtesy of Sheldon Gomberg
"What a great song. got the truth in it..yes it does," says artist Victoria Williams about the new Sweet Relief video. The clip is a performance video in support of Sweet Relief III, Sheldon Gomberg's latest baby. (SG interview at http://www.huffingtonpost.com/mike-ragogna/conversations-with-duff-m_b_3693276.html)
THE GRAHAMS' "REVIVAL TIME" EXCLUSIVE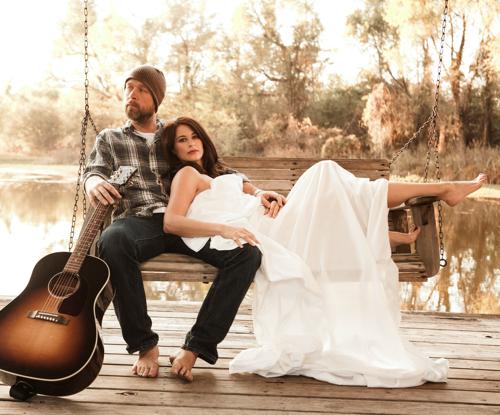 photo credit: David Johnson
According to The Grahams...
"Back when Dorothea Lange was taking that famous photo of the migrant mother, she took some pictures at revivals in the south. You can see the shouting women vibrating with the spirit, lifted for a moment beyond the depression. Our experience in the Atchafalaya swamp of Louisiana, where 'Revival Time,' and much of the new album--Riverman's Daughter--was conceptualized and written, was a sort of personal revival. We had long dreamed of living in a houseboat, 'off the grid' and just writing songs inspired by the harsh and beautiful environment. When the landscape calls out to you and echoes in the music, you know you are onto something. The director, Jenner Furst, was able to capture that oddity, depression and jubilation that we explored in the swamp, in his visual interpretation of the song. The making of the video was so full of inspiration and fun for everyone involved, I think we all felt the meaning of 'Revival Time' and perhaps we all were 'saved.'"
For more info and a free download of "Revival Time": http://www.thegrahamsmusic.net
TOUR DATES
AUG 8th: Washington, DC - Hill Country
AUG 10th: Hudson, NY - Hudson Music Festival
AUG 18th: Philadelphia, PA - Tin Angel
AUG 20th: Arlington, VA - Iota Cafe
AUG 21st: Charlotte, NC - Evening Muse
AUG 26th: Houston, TX - Dan Electro's Guitar Bar
AUG 27th: Austin, TX - Darwin's Pub
AUG 28th: San Antonio, TX - Jack's Bar
AUG 29th: Dallas, TX - Three Links
AUG 30th: Oklahoma City, OK - Conservatory
SEP 1st: El Pasa, TX - Bowie Feathers
SEP 4th: Tucson, AZ - Plush
SEP 5th: Scottsdale, AZ - Martini Ranch
SEP 9th: Santa Barbara, CA - Muddy Waters Cafe
SEP 10th: Los Angeles, CA - Hotel Cafe
SEP 11th: San Francisco, CA - Hotel Utah
SEP 16th: Seattle, WA - El Corazon Lounge
SEP 17th: Boise, ID - Neurolux
SEP 18th: Salt Lake City, UT - Kilby Court
SEP 19th: Denver, CO - The Walnut Room
SEP 21st: Kansas City, MO - Czar
SEP 22nd: Des Moines, IA - Vaudeville Mews
SEP 23rd: Minneapolis, MN - The Nether Bar
SEP 24th: Chicago, IL - Township
SEP 27th: Cleveland, OH - Rockstar @ Peabody's
SEP 30th: Lexington - Fayette, KY - Willie's Locally Known
OCT 1st: Columbus, OH - Natalie's