ASCAP'S "I CREATE MUSIC" EXPO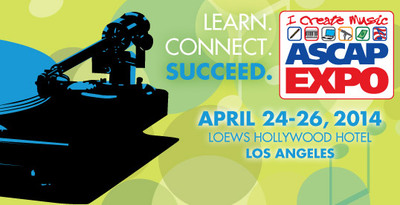 At the end of the month, ASCAP once again is sponsoring their annual "I Create Music" EXPO, this being the event's 9th time at bat. Listed here is the lineup that's taking shape for The American Society of Composers, Authors and Publishers' panelists, events, etc. that will commence April 24th and last through the 26th. The festivities will be at the Loews Hollywood Hotel in LA.
Keynotes and Conversations
*Dr. Luke and Prescription Songs
*"We Create Music:" Gustavo Santaolalla & Paul Williams in Conversation
Master Sessions
*Still So So Def: Master Session with Jermaine Dupri, Powered by Revolt
*Parrots and Dragons and Bourne - Oh My! Master Session with John Powell
*Heart in Motion: Master Session with Amy Grant
*Diversify or Die: Master Session with John Beasley
*You Got the Job...Now What? Master Session with Bear McCreary
*Radiant Voices: Master Session with Morten Lauridsen
Creative Panels
*Rocking the Screen: Artists Composing for Film & TV (Presented by Variety)
*The Alchemists: How Hit Producers Turn Music Into Gold with Michael Knox, Rob Knox, Steve *Lillywhite and Rick Nowels
*From Billboard to Broadway: Hit Songwriters in Musical Theatre
*Soundtracking Hell: The Music of Diablo
*Murphy's Laws of Songwriting
Interactive Panels
*Desmond Child: Brought In for Questioning
*Live Multi-Genre Song Feedback Panel with Darrell Brown - Two Parts (Presented by The Recording Academy)
Diverse Topics
*Women Behind the Music
*Where No Music Supervisor Has Gone Before (Presented by the Guild of Music Supervisors)
*The Gospel Truth
*A View from the Top: Today's Music Business, Tomorrow's Opportunities
*How to Prepare for Your Big Break
*Making the Most of Your ASCAP Membership
*Road Dogs: Touring in the New Media Age
*Break Through and Build Your Career Online (Presented by the Creative Industries Division, *State of Hawaii DBEDT and the Creative Lab at the Hawaii International Film Festival)
*Europe: Is The Phoenix Rising?
Business, Legal and Legislative Discussions
*Congressional Review of the Copyright Act: An Opportunity to Secure Equitable Treatment for *Songwriters and Composers
*Nuts & Bolts of the Music Business with Don Passman, Esq.
*The Social Economy of Music: Distribution and Monetization (Presented by AdRev and CD Baby)
*Getting Creative: How Publishers and Writers Work Together
*Selling Your Musical Babies: What to Know Before You Sign a Publishing Deal (Presented by Lommen Abdo)
*Website Demolition Derby (Presented by Bandzoogle)
*Building Your Team
Performances
*The Writers Jam with Julie Frost. Shane McAnally and Crystal Nicole
*"I Create Music" Center Stage with Amy Grant and Richie Sambora
*ASCAP EXPO iStandard Producer and Rapper Showcase
*ASCAP EXPO Attendee Showcase
Plus
*West Coast Premiere of Supermensch: The Legend of Shep Gordon, Mike Myer's directorial debut
*Music Feedback sessions for pop/rock, country, film/TV scoring and R&B/hip-hop
*Dozens of sponsor sessions consisting of workshops and product demos
*One-on-One and Lunch Roundtable mentor Sessions
*Music equipment, resources and technology exhibits
*Networking opportunities
*And much more!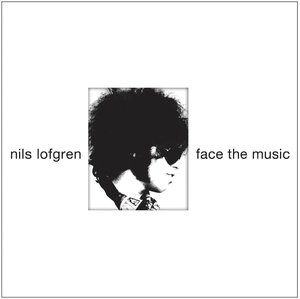 A Conversation with Nils Lofgren
Mike Ragogna: Nils, you have this awesome ten-disc collection Face The Music. How did this monster collection come about?
Nils Lofgren: Well quietly, or not so quietly for forty-five years, I've recorded and never quite had that hit record, so a lot of the music went out of print, which is not a unique story for artists without big hit records. But I've been at it pretty steady for forty-five years--my band Grin, my solo bands, and twenty years ago when I got off my last record deal, I took advantage of technology. I have a great website www.nilslofgren.com, run by some good friends in Maryland and I continue to make CDs and release them and go sing and play and even though it's all off the grid, it's amounted to quite a bit of recordings that I'm proud of. Fantasy/Concord Records approached me about sixteen months ago to discuss a box set and they seemed serious about. Long story short, it led to us agreeing that although it would be very complex because there's a lot of old companies and ancient music loss, if we could get every single track we needed to make it completely comprehensive and only in that case, would it make sense to do a really classy forty-five year retrospective. God bless them, it was messy, but they found every track that I wanted. They let me hand pick a hundred and sixty-nine of the hundred and eighty-nine tracks and as the artist, they gave me complete control to re-evaluate keys, feels, put them in a running order, marry different records and decades together and so on and so forth and put together a very classy package. I'm very excited about it.
MR: There is a massive amount of music here, and I think it's bigger than any box set that doesn't just collect albums that I've ever seen. It's a really original approach.
NL: Yeah, I think it's pretty unique and classy. I saw the writing on the wall in the nineties and got my freedom, which I was grateful for--it was a year and a half of hell, but I did it. Nobody gets a second or third album deal unless they have hit records, so for me to have a colorful forty-five year recording history kind of speaks to the initial record business where if you were good and you worked well with their record producers that you'd jointly picked they've throw you a rope and as long as you went out and played good shows and represented the company well they'd work with you and try to develop you and I benefited from that. Of course, I make music to share and it's very disappointing that over the years it's gone out of print. So hats off to Fantasy Concord for going back and getting rights to these things and letting me put it all together. Dave Marsh, who's my buddy and was going to write the forward was convinced that it would be a much better story if I wrote it in my own hand and he would edit it. So I had a whole other job of writing a short book, which I didn't plan on, but again thanks to Dave pushing me to do it. Now that I look at it... All these old photographers came and helped us out to make it all happen and we've got a hundred and thirty five or so page book with some great stories and my personal takes on the songs and memories. Some song might be a couple lines, another song may open up a three-page story that's kind of hilarious and intimate, from my perspective that no one's heard before. So all in all, my wife Amy and Omar our assistant turned our home upside down for the last sixteen months basically, it was kind of a workstation on this project. It was very complex and fun between the music, the pictures, the stories, the rights issues, finding all the rights to songs and basement tapes that no one had ever heard, even going back to 1967 we found one of my first cohesive songs, we found some classic outtakes. I was looking for an old cassette that I'd hoped we could bake to get a mix of Neil Young playing piano and singing "Please Don't Go" with my band Grin between deals in the early seventies with David Briggs, Neil's producer and mine. We couldn't find the cassette, but me and Bob Dawson, the engineer on that session, who still has the same studio in Virginia stumbled on a master sixteen-track, so we were able to bake it, save it, and remix that thing just like David Briggs and Bob and I would have done. You don't often see Neil Young doing piano work as a session player. That classic voice of his singing with us in the studio, it was just a very charming thing and a great project because we grew up in the late sixties where there was no video, there was no choreography, so to speak, and if you worked with a producer well, a record company would give you some rope to develop, if they thought you were improving, which I felt Grin was for four albums. There was tour support, so if you wanted to play, which was my bread and butter and what I still love the most about my job, I love to perform, so we went everywhere and with the help of a bunch of companies got into a lot of places where we couldn't even break even, and yeah they charged royalties against me, but we didn't care, we were just grateful to have some support and go play for anyone and everyone and it paid off.
MR: That Neil Young connection was pretty strong. One of the earlier credits you have is for playing guitar and piano on After The Gold Rush and then years later, you're doing the song "The Loner." And I think this box set really emphasizes that you've been consistent as an artist over the years. Have you been conscious of that or is it natural kind of thing?
NL: It's kind of a natural thing. A couple of things happened. I fell in love with performing and making records and writing is something I like to do and every time I finish a tour I think, "Okay, what's my next batch of songs? What's my next direction?" and I'm excited about it. Simultaneously, I was eighteen, a very young age, when I did the After The Gold Rush record and I realized that if I loved the people and the music it's quite exciting to not be the boss for a minute and be in a great band. For instance, I love to play my own shows for people, but of course I play all the solos basically and I sing all the leads. When I play in bands with Neil Young, Ringo Starr, Bruce Springsteen or a couple great bands with Patti Scialfa, I'm a harmony singer, I love singing harmony with great singers and it's something I don't do a lot professionally. I love playing rhythm on peddle steel, bottleneck, dobro, lap steel, all of these instruments I challenged myself to learn in 1999 when Stevie Van Zandt came back in the band, and now I have all these different instruments to write on for my own music, so I found it goes hand in hand. For instance, now we'll wrap up a six-week run in the states, I'll go back home and be excited about my next chapter of my own music and see where that leads me, but I won't be musically rusty because I've been really engaged as a musician in the E-Street Band so I have that sharpness to bring to my next project. It's just part of the same job and I find it really exciting and thrilling to be in a great band and kind of freeing not to be the leader every day, because there's a whole lot of non-musical issues that come with that that I'm familiar with and quite happy to do when I do my own tours, but I love stepping back and letting somebody else be the heavy but still being completely engaged, getting to play all these different parts and getting to look at music differently as a support musician instead of being the lead guy all the time.
MR: It seems like there's been continuous growth in your creative output, especially while you've been with Springsteen.
NL: Yeah, it's almost like magic. I started challenging myself with the bottle neck dobro on The Rising tour and a few years later, I wrote my first bottle neck dobro composition, a song called "In Your Hands," which was a Christmas gift for my Jersey Girl/wife, Amy. Then I recorded it on the Sacred Weapon album and Mark Rothbaum, Willie Nelson's manager who's a buddy and supportive of my grassroots efforts said, "Hey, pick a song from a record you're working on, I'm going to try to get Willie to do a duet." So I had this great ballad right up Willie's alley and he sang a beautiful duet with me and I got my Lofgren Brotehrs on it as backup singers. Things like that just don't happen in the mainstream music industry. One of the upsides of having my freedom and going that way for twenty years without record companies is just to be able to pursue any creative ideas without any bureaucracy or need of approval for executives. It's been a good journey for me, but I will admit I really was disheartened for all of these decades, I'd call and offer to pay five bucks a CD just to get my old music out because I owed them money and they'd always say, "No." It was very disheartening, so to have Concord Fantasy champion this effort to make a complete forty five year retrospective and make it available and have it be mastered by my friend Billy Wolf who's a genius and it all runs smoothly together and share this life's work which has been almost impossible--you can't get it in this form--it's very exciting for me. A lot of the basement tracks, too. I always wanted to see the light of day and now I have an official platform to do that and share them.
MR: Were there any moments along the way when you heard a song and said, "I can't believe I did that," good or bad or nostalgicly? I imagine you had some moments like that during the assembly.
NL: Exactly. I tend to be very forward thinking, and when you throw in the mix the great gift of being in the E-Street Band I'm very engaged and busy, so my time for reminiscence is very limited, and I usually don't go back and listen to my old stuff much. So to actually analyze forty-five years of it, that happened quite a bit. Things, for instance, on the Night Fades Away album, I got to do sessions with Nicky Hopkins, one of my great piano player friends who we sadly lost, but I was a fan of his with The Stones and The Jeff Beck Group. I was a sixteen year-old groupie following around the East Coast to hear their shows, so to have Nicky come in and play piano all over that record, tracks that weren't meant to be singles but album cuts like "Sailor Boy" or "Ancient History"; to hear Nicky playing live in the studio and just reliving those adventures with great session players and Jeffrey Baxter producing in LA, there were a lot of moments like that where I said, "Wow, this is good, I think we should share it." It was exciting for me because I tend to look forward and not back as much. I never would've looked this closely at my body of work, either, had it not been for the box set.
MR: What do you think about advice for new artists? Or, you know, something that they can take away as advice?
NL: I was very blessed early on, I hit the road when I was seventeen and shortly after that I met Neil Young and by eighteen I was living in David Briggs' house, Grin was finding their way with David as a producer but I started working Neil on After The Gold Rush, Tonight's The Night, the first Crazy Horse album without Neil, Danny Whitten and Jack Nitzsche joined the band to produce Danny Whitten who was the heart and soul of crazy horse. Basically, the message from Briggs and Neil was be authentic, always be honest and stay down in it and the business and what comes from it financially or otherwise has to be secondary. If you hang onto that honesty and you're authentic about what you're creating and stay engaged by it, the rest will work out. You'll have highs, you'll have lows, there might be some rough stuff but if you're true to yourself and you weather the other stuff and you don't get desperate and try to just change who you are or what you are to get a record deal or to please and executive then you might have a shot at the kind of career I wound up having, which is music I'm proud of, a lot of it, and to put it together and share it has really been exciting.
MR: Nice. Nils, what's it like to be part of the E-Street Band?
NL: It's extraordinary. We just played last night a well-over three hour improv crazy show and I just feel so blessed because I played ten years of classical accordion--God bless my parents for paying for those lessons, it was a great musical backdrop to picking up the blues guitar. My brother Tom was my first teacher and it was just a hobby for a couple of years and then one night I saw The Who and Jimmy Hendrix live the same night in two different venues in DC and I was possessed with the idea to be professional, but the gift of music itself is certainly not my creation. I got it from my parents and the higher power, whatever you want to believe--I don't believe in organized religion at all, but I believe in some kind of higher power, God's fine with me. But I got this gift and I just worked at it, so even today I look around and go, "Man, how lucky am I to be in a band like this?" It's almost like you win the musical lottery, but then you recognize that if I just keep preparing like I do and do my homework and stay down in it, emotionally, it always works out because of this gift I was given. I didn't create that gift, I'm just trying to nurture it and work at it. Yeah, there are people who work at it harder than I, but I do chip away at it, I like to go the shows a couple hours before Bruce and the band because I've got my own list of things to address, I've got a lot of freedom to play with foot pedals, sounds, guitar strings, size of strings, gauges, pickups, I've got a great tech and it's like a kid in a candy store, man, because I love bands and now more than ever I've got this beautiful home with Amy and my four dogs. And I miss home. When I pull out the suitcase the dogs give me a dirty look. It's hard to leave home now, but Amy calls it a champagne problem, because you've got this great home to go back to, and admittedly it is.
But I realize now at sixty-two with forty-five years on the road, I've got a show tomorrow night, I'm traveling to another city today and I'm already thinking about tomorrow night. You go to the gym, you nurse your injuries, you watch what you eat and you try to get your head in the game because I'm homesick and I know that tomorrow night's why I'm here and when I walk out there I just want to be more prepared than ever to just really embrace the three, three and a half hours and look my band mates in the eyes and realize just how blessed I am to be in the E-Street band for thirty years as the new guy and take advantage of every moment because a lot of great musicians don't get those opportunities. I'm a big jock. I played football and basketball growing up and I still love sports and play when I can, but it feels like I'm playing the super bowl when I play with Bruce and the E-Street Band every night, and you've got a home town crowd and you're guaranteed to win, you're just working on the point spread. That's what it feels like. I don't just want to win twenty-one to fifteen, I want to slaughter the team. All that means is that you want to kill the audience with kindness, inspiration and music and send them home with some hope and inspiration musically that may linger in their lives. It's really a win-win thing and I go early and prepare for it because I want to make the most of it.
MR: And you've got this ginormous box set now. I'm not sure many others will ever have their careers treated with as much respect.
NL: I think right now I've got this great company--it's words I'm not used to hearing, but every step of the sixteen months, we'd all put our ideas on the table and I'd be looking at them going, "Well they've got some good ideas, too" and then they'd say, "Nils, you've got to make the final choice," and I'd say, "Really?" and they'd say, "Yep. It's your box set. You've got to make every final decision" and it was shocking and beautiful to hear that from a record company. I'm going to promote this and go on the road myself this summer, play some shows, do a lot of promotion and try to share this music, but look: I'm sixty two, I never had any big hit records, no companies are breaking down the door to do my next solo album, so I imagine I'll get back the independent artist I've been with my website and get excited about the next record I make this summer or the rest of the year, at least start the process and keep the door open with the freedom I've always enjoyed for any great projects with some of the wonderful people I've gotten to play with and others. It's funny, after the Working On A Dream tour, a buddy of mine, Steve Bing called and he said, "Hey, I want you to play lap steel for a Jerry Lee Lewis country record." I'm still a beginner at these oddball instruments, so my first thought was, "Well, Steve, let me tell you the top ten guys in LA," but I bit my tongue, told myself, "Shut up, just say yes," I went to play peddle steel with Jim Keltner, another old buddy of mine producing the Jerry Lee Lewis record. I remember playing there going, "Man, this is so cool, I seem to be cutting it," and then Jerry Lee--we were doing a live session where he's playing guitar for the first time in the studio, Jerry Lee Lewis, singing and playing guitar, I'm just so deep in the pocket and really focusing on Jim Keltner who I worked with in the Ringo bands and is a dear friend and stellar drummer and all of a sudden I hear Jerry Lee go, "All right, play that steel, killer," and I'm looking around the room to see who's going to solo because I'm so used to being with great players and I went, "Oh, damn, that's me!" So off I go into a lap steel solo going, "Man, how lucky am I!"
MR: Life is good for Nils Lofgren.
NL: Life's good, man. I'm excited to rush home Easter Sunday for a night, hang out with my beautiful Jersey girl wife of eighteen years Amy, see my dogs, say goodbye, get the dirty looks, get back out to another great E-Street Show. I grew up to be someone who loves performing. Look, even if you're Elvis Presley or Bruce, you can't play a hundred nights in one town. You might get away with a few in Jersey, but still, you've got to leave. Again, the music and the show we do make each night a new home for me when I'm out there with the instrument in my hands and my band mates interacting with me. It's a beautiful thing and I don't take it for granted, I've been blessed to have these opportunities.
MR: And now you have a lot of music to listen to on the tour bus.
NL: [laughs] Yeah, man. I've got to admit, it was a lot more work than I thought and I was very blessed and grateful to plow through forty five years. Psychologically, to know that the company wanted me to make the decisions--we had some good debates about some songs that were left on and off and they had a lot of great ideas and I took some of them, but it was very healthy, positive things that reminded me of the early days working with David Briggs and Grin where it was a team but by the end of the day the creativity went out and they deferred to the actual musicians that created this stuff. It's been a blessing and a great journey for me.
Transcribed By Galen Hawthorne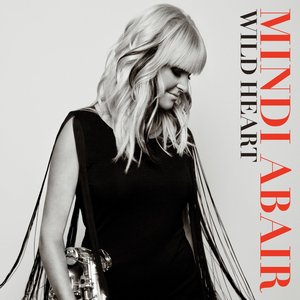 A Conversation with Mindi Abair
Mike Ragogna: So Mindi, it seems that you have a new album, Wild Heart, with guest performances by folks like Gregg Allman, Booker T. Jones, Keb' Mo, Trombone Shorty, ai yi yi, I have to stop there.
Mindi Abair: [laughs] Joe Perry, Max Weinberg... [laughs]
MR: Okay, how the heck did you get this cast of millions on the album?
MA: It's really been an interesting journey for me. When I started out, my dream was only to be a solo artist. That's all I wanted. But along the way a different journey crept in. I started as a sideman for people, playing on 3rd Street Promenade in Santa Monica. I got picked up off the streets by Bobby Lyle and he hired me for his tour and record and it snowballed from there and I started playing with all kinds of artists, R&B with Teena Marie, jazz with Bobby Lyle and Jonathan Butler to becoming Adam Sandler's sax player and then the Backstreet Boys for their Millennium tour and Mondy Moore and Duran Duran. In all of this time, I became a solo artist and started putting out records. Wild Heart is my second. I don't moonlight as much with different artists now, it's been my band for twelve or thirteen years, but now I pick and choose things carefully. Over the last couple of years, I've started playing on American Idol and it really inspired me, being a part of the careers of all of these contestants. Phillip Phillips was the one that I ended up playing with the most. Then right out of there, I played for Aerosmith, I joined them for their Summer tour and that was just insane. Then a really crazy thing happened. I guess if you're out there enough you put yourself up for really cool things happening, when Clarence Clemons died... I was such a huge fan, and people around me knew it, I put out a couple of Facebook posts and I got a call about possibly playing with Max Weinberg some of Clarence's parts on the road with him and I just jumped at that chance. All these things put together, that led to playing with Bruce Springsteen for a night, these things put together, it's just these kinds of things that come across for me that might not if I was not out there as much, but it's been a real gift to meet different people along the way and gain all these friendships and musical partnerships. But I always thought that it would just be me participating in their careers, I never thought that Joe Perry from Aerosmith would be on my CD. I never thought maybe Max Weinberg would play on my CD. Some things happened along the way and I got very lucky and made some really incredibly friends who gave me some of their mojo on this CD.
MR: Wow. You've already had the type of career that most musicians would be so envious of. You know, you could've retired after about a quarter of the way through all this and had an amazing career.
MA: [laughs] I can't stop! I'm having so much fun. Some of these things I'd never dream about. We all make goals and dreams and, "I want to do this," and "I have my goal to do this by this year," I always wanted to be a solo artist and I'm that, but what a great chance, to be able to write and record with Gregg Allman. That wasn't one of my goals, but it happened and it's such a gift. The same with Max Weinberg and Joe Perry and Booker T. Sometimes you can't dream it up, you just have to live it out and the journey takes you into some amazing places if you let it.
MR: And there's Dave Koz. You were part of his Summer Horns extravaganza.
MA: That was an amazing adventure. Dave Koz and I were at dinner, we've known each other forever and have been friends forever and played festivals together but never toured together or recorded together, so his thought was to make a record with four saxophonists--I don't know if this has ever been done, I don't think it has--a tribute record to the great horn bands and choose songs from Tower Of Power and Chicago and Sly & The Family Stone and Stevie Wonder and all these bands that just made the horn section incredibly famous. So we put together four people...what an incredible lineup. I couldn't be more honored to be a part of it--Dave Koz, Richard Elliot, Gerald Albright and myself. We called it Summer Horns, we made the record and put it out there and toured all last year, we're actually touring with it again this year because it was just so fun. It was really amazing to stand shoulder to shoulder with these guys in the studio and then live in each of the performances and just play off of them and become a part of each other's fabric of how we play music and how we perceive melody and improvisation and all of this. I have to say I'm such a better sax player today than a year ago when we started out on the road together. It's just really inspiring and a beautiful thing to be pushed every night by these great players. It's been great.
MR: Do you think having been part of Koz's Summer Horns affected how you approached Wild Heart creatively?
MA: You know, Wild Heart was really inspired by these last couple of years of dipping my toe into different worlds. I think sometimes you can get so immersed into your own career as a solo artist, you spend over a decade just being you and writing your songs and playing the way you do and reading your own band, it's such an amazing gift to be able to find yourself in that way and spend so much time being you, but at a certain point it is fun to walk into someone else's world and be inspired or pushed in a different direction and see where it takes you. I couldn't say no to Aerosmith. Steven Tyler called me up. Are you kidding me? There are very few bands I would take off from my band and say, "I'm going to be gone for a couple of months, but it's going to be okay." Aerosmith is one of those.
MR: Were you thinking about how to best use your guests as they came onto this project?
MA: Actually, this whole record was not based on guests. I didn't have anyone in mind starting out. But like I said, the last couple of years since I made my last record were really powerful for me. I stood on stage with Springsteen, I stood on stage with Aerosmith, I stood on stage with Summer Horns and these were all instances that you really had to bring everything you had. Standing on stage with Aerosmith in front of fifty thousand plus people a night, you really have to bring your A-game and you have to play with this ridiculous abandon every night. You have to just give a thousand percent because that's what everyone else gives. They're out there sweating and bleeding for their audience every night and I thought to myself after a while, "I want to bring this to my music," and I do that live. We rock live, we're definitely the rockers of the jazz world in my eyes, live, but I'd never brought it to a recording. That was what inspire dme ot write these songs and to play the way I did. Even when we were recording the songs that I was writing, I was thinking... Like with the song "Kick Ass," I wrote it with my friend Matthew Hager who has written with me for every CD that I've made, but when we started recording it just didn't have that power, it didn't have the muscle that I wanted from it, and I'm sitting there trying to figure out, "What's going to make this work? Why is it not killing me the way it should be?" In my mind I pictured Joe Perry with his shirt ripped open and the wind blowing in his hair, walking down that front runway in front of sixty thousand people screaming and just rocking it, and I was like, "That's it." And then I thought to myself, "Wait! I know Joe Perry! I'm going to make a call!" So I did, and he was nice enough to say yes and kill it just the way I had it in my head.
MR: You mentioned seeing yourself as a rocker. So how would you define this album outside of being just jazz?
MA: I don't think of this record as a jazz album or a rock record or a soul record. What I defined it as in my mind, making it, I looked back to the beginnings of rock 'n' roll when saxophone was as integral of an instrument as the guitar, and it was a really cool instrument, and it wasn't jazz, it was mainstream music and saxophone was just the coolest instrument on the planet in the early days of rock 'n' roll. You had people like Junior Walker and King Curtis who were solo artists that were mainstream. I thought, "I want to see this again. I want to be that. I want to be the person that makes a record that Joe Schmo who's not a jazz aficionado will buy off the street, but he's going to dig the saxophone and saxophone's going to be cool to him in this era of recent history where only jazz aficionados like saxophone and saxophone's a jazz instrument. I would like that to open up a little bit." I wanted to make the record that would just be a mainstream record that wouldn't be defined by a certain genre but would follow in the footsteps of King Curtis or Junior Walker or even someone like Clarence Clemons.
MR: If there was one track that you wanted to tell everyone to go to, what would it be?
MA: Yeah, the one song that I've been playing for people before this record has come out was the song that Gregg Allman and I wrote. It's just really beautiful and organic, what an amazing thing to sit with Gregg Allman and write for a couple days at his house. We just had a great time and what an amazing magic he has as a musician and a writer. It was incredible to go into the studio with him because he's such a master. He just has that "it" factor that he brings to a track. Usually when I record a CD, I slave over it and spend hours and months and don't sleep for months and work on it and then I never listen to it again, but this record, there are a couple of tracks that I keep pushing play on and the song, "Just Say When," that Gregg and I worked on I couldn't be prouder of. It's a ballad but it just has heart and it makes me feel. Maya Angelou said, "They'll forget what you said, they'll forget what you did," I'll add something, they'll forget what you played, "but," she said, "they'll remember how you made them feel." I always want that from a song, whether it's a total rocker or whether it's a ballad, but "Just Say When," it makes me feel, and it brings me to a different place. I think that's a winner.
MR: What advice do you have for new artists?
MA: What advice? Hmm, that's a really good question. I learned a lesson pretty early on that was great for me to learn: When I was in high school I wanted to be in the jazz band, the Florida All-State Jazz Band--I'm from Saint Petersburg, Florida--I thought, "All the cool kids are in the rock band or the jazz band," so I wanted to try out for it. I started practicing, but I kind of psyched myself out and I figured, "Wow, all these kids are going to audition for this, and there's so many people that are better than me in Florida, I just know these guys are going to eat me alive, so why am I even trying for this?" I just totally psyched myself out. You know, you're seventeen years old, you're going to psych yourself out. So I quit. I was just like, "I'm not even going to do this, I'll just stay where I'm at, I'm cool." My father came in and he was like, "All right, you're going to quit? All right, sure, just quit." I didn't like it said that way, so I went back to it. I was like, "All right, I'll just do it. I'll go in and I'll audition." I went in and I did the audition and I got first chair alto saxophone in the Florida All-State Jazz Band. I came back and I'm like, "Dad, I got it! Oh my God! I got it!" and he goes, "This is a good lesson for you. Sometimes it's not the most talented people that get what they want, it's the people that go out there and put themselves on the line and go for it again and again and again that get what they want." I thought that was the best lesson in the world. I've always lived by that. I wanted Gregg Allman on my record, so I asked him, and he said yes. I wanted Booker T. Jones on my record and I could've just said, "Oh my gosh, he'd never be on my record." But I asked and he said yes. Sometimes you just have to go out there and put yourself on the line and believe in yourself and magical things will happen.
MR: Really nicely said. Where do you go from here? How much wilder does your heart get from here?
MA: [laughs] I love that. Boy, who knows? Even a couple of years ago I don't think I could've pictured a record with all of these incredible artists on it helping me out. I don't know where it goes from here, but I know that I've been open to the journey from the beginning of my career until now and some things I never could have even dreamed of have happened. So I'm completely open to the future journey and I'm just going to go for it, make music and have fun and hopefully make more friends like the ones I have now who are making me sound so good on this record, adding so much mojo to it.
MR: Sounds like a plan.
MA: Sometimes not planning is better.
MR: By the way, can you go a little bit into your work with NARAS?
MA: NARAS, if you don't know, is the company that puts on the Grammys. There are twelve different chapters around the country, I'm the president of the Los Angeles chapter. We're the largest chapter. It's been a very inspiring position to be in, to lead the incredible people that are on my board of governers here in Los Angeles and try and use our powers for good, to better our standings. Last week we actually descended on Capitol Hill, about two hundred of us from around the country, all NARAS members. We were briefed and we went into sixty five different meetings with senators and congressmen and lobbied for our rights as creators of music and as artists. We talked about performance issues and lobbied for the songwriters' equity act and things that will make our lives easier and more equitable as musicians and writers. I think that I love being a part of NARAS because it's not just about the Grammys, that's one day a year, but I can give back and I can help the future generation of musicians along with those of us that have been in the business a while. We have outreaches like the Grammy Foundation that reaches out to kids and music educators, I'm sure you've seen the music educator award on the Grammys. We go out to kids and talk to them and help inspire them and help them gain resources that maybe they wouldn't otherwise have. That's really important to me. I grew up with that, I grew up with school band. We also have MusiCares which reaches out to help musicians. We raise millions of dollars a year to help musicians that may have lost their insurance, may have gone down a bad path with substance abuse and need help or if they need a kidney and they don't have insurance, what do you do? We really reach out and help. I love being a part of that, and a really active part. It's something important to me.
MR: I didn't expect to go into this, but let's do it. With the sheer amount of people trying to be musicians on a local level or online has so exponentially exploded from the days when the music business started. I don't think anyone could have predicted it. Boys and girls are introduced to playing instruments now as a natural part of growing up. And that leads to a very visible percentage of the population who have dreams of becoming famous professional musicians. It seems like there's nothing going on to really help your standard-issue musician who hasn't broken out yet. What do you do with that huge amount of people out there?
MA: You bring up a great point. Technology has come to the point where we can all make records in our bedroom. We all have the apps, we all have the technology to multi track and to mix records and burn CDs and digitally upload them, so everyone can be a musician, whereas even thirty years ago that technology didn't exist, people couldn't make records in their bedroom, they had to get the chance to be signed by a record label, go into a studio, it was a much different path that you had to take. This has opened music and music creation up to the masses, which I think is a beautiful thing. It can only help creativity. It's a revolution of possibility. But with that revolution of possibility in my estimation comes, "Oh, well how do we get our music heard? How do we get it seen?" That's what we're going through right now that people are trying to figure out. "Do I just put it on YouTube? How will someone find me? How will people make it to my music?" There are lots of different philosophies on this. For me, I think that if you make great music, people will find you. I think it's less about the marketing and the self-promotion and the social media. If you're great, people will find you and you will rise to the top. Cream always rises to the top. But it is an interesting time in history. Everyone has the same possibility, it's a level playing field of, "Go make your record, put it on the internet, go play live, go do this or this or this and see what happens," because those huge machines are only in place for a couple really huge pop stars. Really, it's mostly indie apart from that total top of the heap Top Forty market. I know my chapter of NARAS does mentoring sessions all the time, we do events that have professional development angles every week and make them available to our members, because that's something all these members coming in and new artists, people who want to be in this business, didn't have access to some of the stuff that we did with school band programs or how I went to college for music at Berkeley College Of Music, so we really try and offer that and up their game. It's only good for all of us that everyone has the tools to succeed.
MR: What about those with the amazing creativity but aren't great at marketing themselves? It seems like the culture has turned away from allowing artists to be artists and is now asking them to be marketers and producers as well.
MA: It's very dangerous, because we should be artists and we shouldn't have to worry about that, but I almost feel like, "Find a best friend who's a techie. Don't try and be all things to all people, you're just going to stifle yourself, I think."
Transcribed By Galen Hawthorne