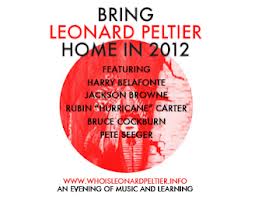 The Bring Leonard Peltier Home 2012 Concert takes place Friday, December 14, at 7:30 p.m. at The Beacon Theatre in New York City, organized to raise awareness about imprisoned Native American activist and humanitarian Leonard Peltier. Harry Belafonte with Pete Seeger will present performances by Jackson Browne, Common, Pete Seeger, Bruce Cockburn and numerous Native American artists. Speakers include Rubin 'Hurricane' Carter, Peter Coyote, Danny Glover, Michael Moore, former Amnesty International President Jack Healey and more.

Peltier, a six-time Nobel Peace Prize nominee, was convicted in the deaths of two FBI agents during a 1975 shoot-out on the Pine Ridge Indian Reservation in South Dakota and has been imprisoned for 37 years. Robert Redford's 1992 documentary Incident at Oglala tells Peltier's story and the apparently fabricated and suppressed evidence. Amnesty International, Nelson Mandela, Desmond Tutu, the late Mother Theresa, the Dalai Lama, 55 Members of Congress and others have all called for his release.

Peltier is now 68-years-old and he has many health problems. He has exhausted all appeals and his only chance for release is through clemency.
Steven Van Zandt, aka Little Steven, cannot be at the concert on Friday, but his song, "Leonard Peltier," is still relevant and is included below.
Steven Van Zandt "Leonard Peltier"