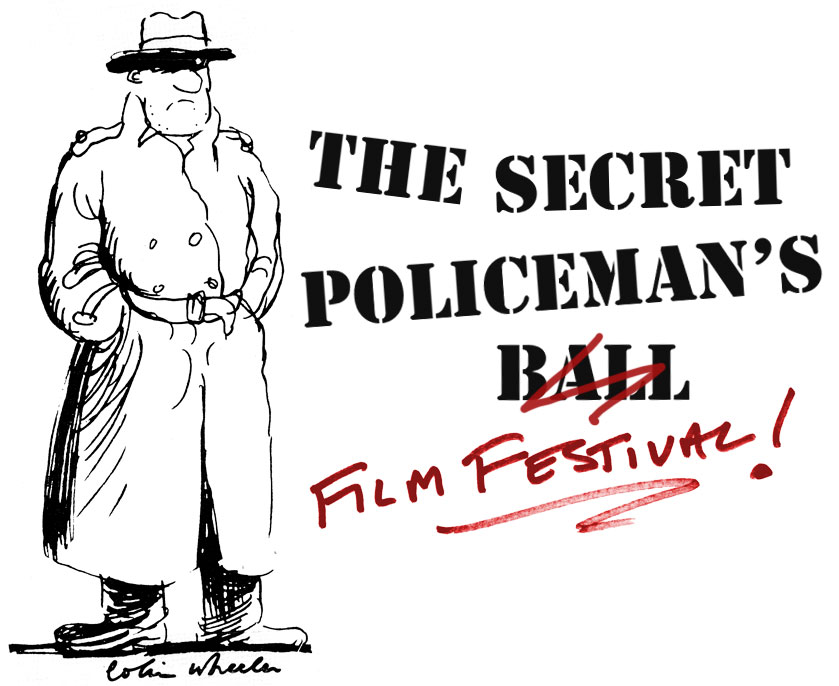 June 2009 marks the 30th anniversary of the pioneering Secret Policeman's Ball series of benefit shows for Amnesty International. The anniversary is being saluted with a major film festival in Los Angeles and New York: June 11 - July 31. Huffington Post bloggers are providing extensive coverage of the festival.
Last night, Los Angeles' famed Egyptian Theatre was the venue for the start of the five-week Secret Policeman's Film Festival (in L.A.: June 11 - 19 at the Egyptian - and June 20 - July 19 at the Paley Center for Media in Beverly Hills). The gala was attended by celebrities such as Monty Python associate, Neil Innes, Secret Policeman's Ball co-creator and champion Martin Lewis, Amnesty International members and reps, and many anxious to recap the thirty years that have passed since that first altruistic event premiered.
The retrospective will screen 25 "ultra-rare" films and TV specials associated with the Secret Policeman's Ball, the original show conceived as a funding tool for the human rights organization Amnesty International by Monty Python's John Cleese. "The seeds for the whole Secret Policeman's Ball phenomenon and artists performing for Amnesty were actually planted in 1976, and John Cleese deserves most of the credit," remembers Lewis. "He was very keen to support Amnesty at a time that human rights wasn't a topic that most people talked about... it usually got buried on page 17 of the serious, quality newspapers, and very few people had even heard of Amnesty. John Cleese was aware of the organization, and he sent them a donation. Amnesty responded by saying "We greatly appreciate your gift. Is there any way that you could perhaps do a little something more to help us?' And John said 'If you want to raise money, why don't we do a show, that's what I know how to do.' So John offers to call up "a few pals"... well of course John Cleese's few pals are Monty Python and Peter Cook and the other guys in Beyond The Fringe, all the greats of British comedy. That was the birth of the first show - and of the series that followed."
Behind the scenes, Lewis helped with the show's birthing process, adding his own energy and experience in entertainment to help fuel the engine. "I was involved initially, just in a very minor way," Lewis says modestly. "I was working at an indie record company at the time (Transatlantic Records), and I volunteered my services to record an album of Amnesty's upcoming benefit show. The people from Amnesty were wonderful folks but of course they were accustomed to working in the human rights field, running campaigns to help free prisoners of conscience - which is not the same as working in the entertainment world. So I found myself helping on the production of that first show with them in 1976, and I also did a lot of the publicity and marketing because I felt this was an important organization and it was a way that I could lend a hand. A second, smaller benefit show was staged in 1977. In early 1979, Peter Luff - the Amnesty staff member who was the primary organizer of the first two shows - moved on from Amnesty and an equally good chap called Peter Walker took over that role for Amnesty. Having helped with the production of those first two shows I had a little knowledge of how to do it. John Cleese's great strength was rounding up talent and helping direct the show but he wasn't a producer, so I found myself co-producing the show - which I really enjoyed doing."
The rock music component followed, with Lewis responsible for adding that element to the mix. "John Cleese had invited John Williams the classical guitarist to do a couple of baroque instrumentals between skits. Being very young and a little in awe of Cleese in those days, I asked him rather timidly, 'Could we also have something a little more contemporary?' and he said, 'I'm not into that kind of music. But if you want to do that, go ahead.' Well I was like a kid in a candy store! I'd got to know Pete Townshend a little over the years, so I called him up. He was aware of Amnesty and the first shows we'd done, but he was initially a bit reluctant to commit - seeming nervous about performing in a solo capacity - which puzzled me. I said, 'But you've played in front of half-a-million people at Woodstock, how could you be nervous about a couple of thousand in a West End theatre? And he explained, 'Well, it's a little different when you're on stage with all the power of The Who!' He eventually said yes to performing as a soloist without The Who. I think he rather liked the idea of appearing in the same show as John Cleese!" Close to the date of the shows, Townshend's soundman called and asked Lewis what time the other musicians should arrive. Which totally freaked out Lewis.
Townshend had misunderstood Lewis' invitation and had construed "solo" as meaning him performing with musicians other than the Who - and had lined up a few sidemen. Lewis explained that as this was primarily a comedy show - with no time or space for amplified musicians - this needed to be just solo acoustic performances played between comedy sketches. Townshend had done a handful of very small intimate performances as a soloist - but nothing remotely on this scale. Eventually Lewis persuaded Townshend to perform.
"Those acoustic performances apparently inspired Unplugged," says Lewis. "Pete did 'Pinball Wizard,' 'Drowned' (from Quadrophenia) and a duet with John Williams on 'Won't Get Fooled Again.' Pete told me recently that John Sykes and Bill Flanagan (executives at MTV and VH1) had been very clear to him that MTV's Unplugged had been inspired by what Pete had been done at The Secret Policeman's Ball."
The album of the music from that first show was then released in Britain and America by Island Records, and it received a lot of attention. The project was one of the first to demonstrate how contemporary music could be influential for a good cause. For the 1981 show, Lewis was again given Cleese's go-ahead to assemble some musical talent, but this time, instead of securing just one or two acts, Lewis gathered six musicians including Sting. "I only got as far as saying, 'Secret Pol...' and Sting said, 'I'm in!' because he was very aware of what Townshend had done. And then I got Phil Collins, Eric Clapton, Jeff Beck, and a personal sentimental choice, Donovan.
"I had hired Julien Temple to direct the film of the 1981 show. Julien had recently made ...Rock 'n' Roll Swindle with the Sex Pistols, and Julien - being a rather trend-conscious chap constantly concerned about perceptions of 'street-credibility' - kept needling me on the first two nights (of the four-night run) saying that the music of Sting and Phil Collins was all very polite and middle class, and that we therefore also needed something a bit edgier."
Reacting to Temple's needling, Lewis reached out to one more musician for the final night. "I approached Bob Geldof. It wasn't as though we needed him on the line-up. We'd already sold out all the shows on the strength of the comedians - without even mentioning any musician names. And anyway, Geldof wasn't that big a name then. So he was unlikely to add a huge monetary value to Amnesty for its film or soundtrack album. But I thought he might add a little edge... a little frisson... When I called him up, he was initially incredibly rude to me, in a sort of punk, anti-hippie way." Lewis says Geldof's initial denunciation of the effectiveness of this type of event triggered an angry response in him as he was very proud of everything that he, Cleese, the Pythons, Townshend, and the rest had worked very hard on for the preceding five years. Surprisingly, the heated exchange eventually resulted in Geldof's agreeing to perform. "He was incredibly captivating on that show," Lewis remarks. "Backstage, he met Midge Ure of the new-wave band Ultravox. For somebody who initially wasn't into doing the show, not only did Bob enjoy it, but on the grand all-star finale of Dylan's I Shall Be Released(performed by Sting with Clapton, Beck, Collins & co) he's singing and dancing next to Ure - who he later collaborates with on Band Aid and Live Aid. Sting summarizes this best: 'The seed was planted at Amnesty for Bob Geldof. He saw what they were doing. He saw how entertainment could help that process and then he took the "Ball" and ran with it. Further than anybody could possibly imagine...' So I give huge credit to Bob for that because never in my wildest dreams could I come up with anything as big as he did with Live Aid and Live 8. What he did subsequently was brilliant. I'm just thrilled and proud that he caught the bug from seeing what Townshend, Sting, Clapton and the others were doing."
Lewis was subsequently asked by Amnesty's US organization to explore producing an American version of the Secret Policeman's Ball that could be turned into a movie, but discovered that the British tradition of sketch comedy being performed live on stage by comedians even after they had become big TV and movie stars did not carry over to the US. And he thought that a show featuring primarily stand-up comedians would be better suited to TV than to a movie. But from all the explorations for that show, the A Conspiracy Of Hope US tour was spawned in 1986, building on just the musical side of the Secrte Policeman's Ball shows, with a drafting of The Police, Peter Gabriel, Jackson Browne, Lou Reed, Bryan Adams, and, of course, U2.
In 1987, Jack Healey, the Executive Director of Amnesty's US section and Lewis were having lunch in Los Angeles and trading war stories of their various endeavors working with entertainers on behalf of Amnesty. Healey mentioned that 1988 would be the fortieth anniversary of the signing of The Universal Declaration of Human Rights, one of the inspirations for Amnesty International. Healey had an idea to celebrate the anniversary with a 24-hour musical marathon at Madison Square Gardens. Lewis told him, "That sounds like torture! I thought we're trying to end torture!" As they brainstormed together for other ideas, Lewis suggested that Amnesty take the best elements of the Secret Policeman's Ball shows, the Conspiracy Of Hope tour and Live Aid and add in a touch of John & Yoko's bed-ins for peace - and wrap it all into one big entity that would tour the world. With press conferences by the musicians to augment the concerts - just as Healey had incorporated into the 1986 US tour. It would be about raising awareness rather than raising funds. Lewis thought that it was important that such a tour visit all five continents. And that it should be scheduled to happen between the Summer Olympics and America's presidential election to receive maximum media attention.
"To be honest, I didn't really think it would happen Lewis says. "It was just my grand conceptual notion of what I thought would be ideal in an perfect world. I scribbled all the ideas on a napkin and gave it to Jack. But since we don't live in a perfect world - the thought that he might actually be able to pull it off just didn't seem likely to me. I thought it would get put away in the 'nice pipe-dream' file. But it is absolutely to Jack's credit that he DID manage to make that tour happen. He secured Sting and Peter Gabriel - who were both alumni of the Secret Policeman's Ball shows and the Conspiracy Of Hope tour. He enlisted Bill Graham to promote the tour and together they got Bruce Springsteen on board. And then they just really did it. The Human Rights Now! tour played all five continents just as outlined on that napkin. And it made a stunning worldwide impact. All props to them for making a crazy idea happen."
"It's good to get behind a good cause, and we're in a position to influence what people think about," says Neil Innes, Monty Python's longtime songwriting and live-show associate. "We're all in the midst of our daily lives, a lot better off than other people in the world. I heard a terrifying statistic the other day. If everyone in the world lived the lifestyle that we've got in America, we'd need five more planets." Innes has been associating with the organization for three decades, and remembers his introduction to the movement. "None of us had a clue what those first Secret Policeman's Ball shows were going to be. The people who did the very first show, which was called A Poke In The Eye (With A Sharp Stick) all knew of each other of course. The Pythons were certainly apprehensive about meeting their heroes from Beyond The Fringe which for example occurred when Terry Jones substituted for Dudley Moore in the famous Beyond The Fringe spoof of King Lear. All we found out was, if you do these things, they normally run over by at least an hour. It became a social event, in many ways, though the cause is paramount in terms of the purpose of the evening. As far as bigger causes, you can't get a more important cause than trying to see fair play around the world. When you think of the enormity of the crimes that are happening to individuals in other countries...I mean, the fact that you can't do anything about the poor women in Burma or the people of Zimbabwe, it always seems to be some alpha male causing all this trouble, protecting his does from the other bucks or something. Can't we do better than that? We seem to be caught between homo erectus and homo corruptus. And where are the homo sapiens, you might ask...who put the 'bop' in the 'bop-shoo-wop,' and who put the 'sap' in 'sapiens'!"
Innes pal and Python/Rutles orchestrator, John Altman (noted also for his period piece musical contributions to James Cameron's Titanic and his Emmy-winning score for HBO's RKO 281), was there from the beginning, overseeing the Ball's own bop-shoo-wops. Since the setting for the 1979 show was less about big production and more about natural performance, Innes and Altman decided to have a little fun with that, although their prank never made it to the film of that show. "Neil was doing the 1979 Amnesty show, and he had this character who was sort of a Sinatra type, lounge lizard," recalls Altman. "We had an idea for a joke playing off the fact that the music in the show was all minimalist - just solo stuff -- Pete Townshend doing some acoustic numbers, John Williams playing classical guitar. We thought it would be great for Neil - dressed in a ridiculous 'showbizzy' suit - to start out accompanied just by a pianist, like he was doing a lounge act. Then, midway through the tune, the curtain rose and we had a full-size, big band on stage -- six saxes, ten brass, the whole thing. Really huge. People fell back in their seats, you know, they couldn't believe it, and that closed out the first half of the show every night. It went down great on stage, but unfortunately, it never made it to the film because all the cameras were set up to film intimate one-on-ones, and suddenly, there were 24 people on stage."
More shows ensued every few years - yielding films, TV shows, videos, albums and books - and as the years passed, awareness of the Secret Policeman's Ballshows spread throughout the world, and as Bono is quoted saying after seeing a show, "It sowed a seed." "After The Secret Policeman's Balls 1 through 3, everyone knew Amnesty," informs Sandee Borgman, Amnesty's Director of Entertainment Relations. "And after The Secret Policeman's Balls, that's when all the other concerts and tours came. So, the Conspiracy of Hope US tour, the Human Rights Now! world tour, those were inspired by the Secret Policeman series. The executive director of Amnesty USA at the time was Jack Healey, and there had been these 'Balls' that were having a lot of great success for Amnesty UK. He had a meeting with Bono, and his manager, Paul McGuinness. U2 came in because Bono was interested in the Secret Policeman's Ball and taking it a little bit further. Everyone thought it was a great idea and they grabbed the legendary promoter, Bill Graham, who got his machinery behind it. Sting came on, Peter Gabriel came on, and just a flurry of incredible, incredible musicians. Then Amnesty became this darling of the music industry."
Innes suggests, "The things that Amnesty are doing are some of the things we could be doing at home," and these days, there are signs of more and more rallying for social justice by musical acts such as Rage Against The Machine's Tom Morello, State Radio, Anti-Flag, and Against Me! who are all strong Amnesty supporters. "Now, more than ever, there are a lot of musicians that are starting their own organizations," says Karen Scott, who runs the Music for Human Rights program for Amnesty. "I think the bands from the '80s that were involved with those concerts, where it all started, inspired a lot of musicians carrying the torch now. I found that there are certain musicians who will give monetarily, and there are those who are activists. These musicians are very important to us because they have such a voice. They play concerts, they speak about Amnesty, and they get their fans involved as well. When they go on a world tour, we'll have tables at their shows, and it's a way for us to reach a global audience." And many of these artists--some already having established charitable entities or being inspired to do so as a result of their association with Amnesty -- have made it a lifestyle. "The band State Radio has their own organization called Calling All Crows, and on every single tour spot, they take time to do something in the community, whether it's planting a tree or going to a soup kitchen. When most bands are on the road, it's like the last thing they want to do... they need to sleep, roll in, and do their soundchecks. But the guys in State Radio are amazing human beings, and really great humanitarians."
The band's Chuck Fay explains it further: "State Radio has tried to incorporate a community service element to our touring, and we've been doing local events in all the cities we go to, trying to deal with regionally specific organizations." Fay adds, "It's been a great success, we've met a lot of great people, and gotten a lot of work done across the country."
So, from local to global, one of the goals of the Secret Policeman's Ball's creators seems to have taken root. That is for a person to think beyond his or her own borders -- personally, as well as globally. Though it's the steady stream of elaborately produced, consciousness-raising concerts of the last three decades that have gotten the most press, it's that little engine that could and the one that started it all -- The Secret Policeman's Ball -- that is a symbol that anything is possible when you're trying to do the right thing for the planet.
Sorry, Newt, we are all citizens of the world...
MORE ON HUFFINGTON POST ABOUT THE FILM FESTIVAL
• Having a Ball for Amnesty... (includes ultra-rare film clips)

• Having a Secret Policeman's Ball
• Monty Python & The Holy Grail... of Human Rights
OFFICIAL FESTIVAL WEBSITE
• The Secret Policeman's Film Festival -- Official Website