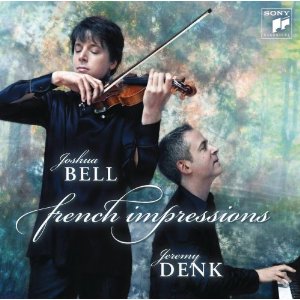 A Conversation with Joshua Bell
Mike Ragogna: Joshua, thanks for your time. How are you?
Joshua Bell: I'm great, thanks for having me here today.
MR: You have a new album, French Impressions, that you recorded with pianist Jeremy Denk. What inspired your recording together and the album's theme?
JB: Well, French Impressions is just a clever little title that brings three of the great works from the late nineteenth century and early twentieth century French repertoire. It's three of the great pieces for violin and piano. Jeremy Denk and I have been playing together for about seven years, touring around the world for quite a while and playing these pieces very often. After about six years of that, we thought, "Let's put these three together. They'll fit on a CD, and they're three of the great works for the two instruments." We just felt ripe and ready to record it. So, that's how it came about.
MR: Can you give us some insight into the material and its composers?
JB: Yes, the pieces are by Camille Saint-Saens, Cesar Franck, and Maurice Ravel, who are the three great French composers. Although Franck was Belgian, he was from the French school. The Franck sonata is probably the most beloved and one of the most popular pieces for violin and piano. That's sort of the centerpiece of the album, and the Saint-Saens is this exciting and wonderful piece, and the Ravel is in its own little world. It's also French, but more modern, of course, as it was written in the 1920s. With its blues middle movement, it has its jazz influences as well.
MR: Now, you're no stranger to the Franck pieces, you even learned some as a twelve-year-old.
JB: Well, yeah. I mean, these pieces are very important to the repertoire for any violinist. But with the Franck in particular, I believe I was twelve years old or thirteen when I first studied it. I even recorded it once before with Jean Yves Thibaudet, who is a French pianist, when I was about twenty. So now, twenty years later, I'm getting to re-record the Franck. The Franck has been in my life for a long time. The Franck was written for the superstar violinist of the end of the nineteenth century, Eugene Ysaye. He was sort of a household name at that time, and one of the great musical figures. Franck wrote it for him as a wedding present, actually, and presented it to him as gift. It became so popular. Ysaye ended up teaching my teacher, Josef Gingold, which is kind of awesome because Ysaye was living in the nineteenth century and I'm connected to him through just one man. I had this direct sort of connection with him that I treasure.
MR: I'd also like to ask you about your connection with Jeremy Denk.
JB: Well, Jeremy and I didn't meet until 2004 at the Spoleto Festival in Charleston. We both had spent many years performing at it but at different times. We also went to school at Indiana University at different times. He came in exactly the year after I left. We just missed each other at so many places and had heard about each other over the years. My mother, who lives in Indiana, kept calling me and saying, "You've got to hear this Jeremy. You've got to play with him. He's the best." Finally, we had a chance at the Spoleto Festival in 2004. We hit it off musically and then we spent the next seven years playing often together.
MR: And, as you mentioned earlier, it was during one of your recent tours that you decided it was time to record these works together.
JB: Yeah, we had played together seven years and it's getting more and more difficult to get a chance to play with him because he's in such demand in his solo career. I've also an incredibly busy schedule, so to carve out time to get together is getting more and more difficult. But it's something we wanted to do. We wanted to document something--make a record, after seven years--and we thought, "This is the repertoire we've done the most and we really feel comfortable with." I mean, someday, I'd love to record the ten Beethoven Sonatas with him or something, but this is our first full album and it's a testament to our time together.
MR: Speaking of your busy schedule, you're the musical director of the Academy of St. Martin in the Fields now.
JB: That's true. That's another sort of venture I'm doing, another sort of chapter I'm heading into, which I'm very excited about. It's a band--or orchestra or whatever you want to call it--that I've known for several years as a guest. I would sort of tour with them or play with them, and they asked me to be their new music director, which is very exciting. So, I get to explore other areas of repertoire with them, play with and direct them, and even record Beethoven symphonies starting this Spring with them. It's a whole new area of repertoire for me.
MR: And you also worked on the Flowers Of War soundtrack.
JB: Flowers Of War is something that just came up rather recently. It's a film that's coming out that I think is the hugest-budget Chinese film in history. It stars Christian Bale and is this sort of epic Chinese film. They asked me to play on the soundtrack. There's a violin melody throughout the film that they asked me to play. It's always fun to be part of films. My first big experience with film was with The Red Violin back in 1999, and John Corigliano, the composer of that score, won the Oscar. It was such a great experience for me. I'm always looking for films here and there to be a part of because I love that whole world.
MR: And the score was composed by Quigang Chen.
JB: He's a very respected Chinese composer and a very clever guy. Actually, they came out to San Francisco, where I was playing concerts because I had no time to fly to them. They just came and set up a studio and had me record these melodies for them. I just saw it on DVD two nights ago for the first time, so I'm looking forward to seeing it on the big screen.
MR: What is the biggest growth that you've had as an artist?
JB: Well, since I've started, I've grown about five and a half feet. (laughs) I did start when I was very young. I was four years old and being a musician and a violinist is a constant growth process. You're always learning. It's hard to answer that question. I mean, I still feel I'm going in the right direction. Each year, I feel I'm still getting better and finding more insight into the music. The Franck that I just recorded, for instance, I recorded twenty years ago. I think I would have a hard time listening to it because I've experience so much in between, in music and in life in general. Your whole approach changes as you get older, and I have a better violin now. I have a wonderful, many-million-dollar Stradivarius violin that was made in 1713. One sound changes over the years and you refine it. It's a fun job because you're always evolving and learning. I'm very privileged to be in this business.
MR: One of the great things about watching you in concert is that you perform with a lot of passion, even utilizing your body much of the time.
JB: Well, thank you. If the music calls for it, then I hope that's the case. Certainly, I believe that when you play music, you have to feel like it's the most important thing on earth--almost life or death--and I think that affect the audience. You can't be blasé about what you're doing. (laughs) If that seems passionate to you, I guess that's a good thing. Thank you for saying that.
MR: You're very welcome. Joshua, what advice might you have for new artists, now that we've talked a bit about your own history?
JB: Well, there's no blanket advice except for that you have to follow the music that you love. That can be a different journey for every single person. I've been accused or praised for doing or choosing repertoire outside of the classical field. I've been accused or praised for not tackling certain repertoire of modern atonal music, for instance, because I didn't connect with it. But you have to forget about what people say or demand of you. You have to follow your own path. That's the most important thing, and you have to do it for the right reasons. If fame and success come, that's great, but it's not why we're musicians. We're musicians because it's the greatest thing on earth, to be able to make music and be an artist.
MR: Beautiful. What's on the horizon for Joshua Bell?
JB: Well, my schedule is pretty much set in stone for the next three years. They book things so far ahead of time, so God willing, I'll be continuing my hundred-and-forty-concerts-a-year schedule, which is kind of crazy but exciting for me. Directing the Academy of St. Martin in the Fields is now taking up a lot of that time, which is going to be interesting for me. And the new album, French Impressions with Jeremy Denk, is coming out in January. I don't know what's next, but that's alright. The fire is stoking. We'll see what happens.
MR: Joshua, again, thank you very much for your time. All the best with French Impressions and everything in the future.
JB: It was nice talking with you, thank you.
Tracks:
1. Sonata No. 1 for Violin and Piano in D minor, Op. 75; Allegro agitato
2. Sonata No. 1 for Violin and Piano in D minor, Op. 75; Adagio
3. Sonata No. 1 for Violin and Piano in D minor, Op. 75; Allegretto moderato
4. Sonata No. 1 for Violin and Piano in D minor, Op. 75; Allegro molto
5. Violin Sonata in A Major (1886); Allegretto ben moderato
6. Violin Sonata in A Major (1886); Allegro
7. Violin Sonata in A Major (1886); Recitativo - Fantasia: ben moderato - molto lento
8. Violin Sonata in A Major (1886); Allegretto poco mosso
9. Sonata for Violin and Piano (1927); Allegretto
10. Sonata for Violin and Piano (1927); Blues: Moderato
11. Sonata for Violin and Piano (1927); Perpetuum Mobile:
Transcribed by Claire Wellin

Joshua Bell & Jeremy Denk Play Cesar Franck's Sonata in A Major for Violin and Piano, 4th Movement at WQXR