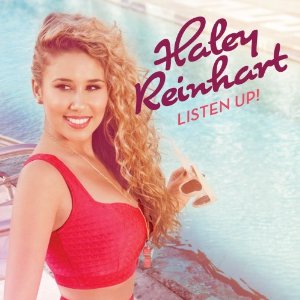 A Conversation With Haley Reinhart
Mike Ragogna: Hello, Haley! Let's jump right into this. Listen Up! your new album, is on 19 Records and Interscope?

Haley Reinhart: Yes, 19, and Interscope Records, you got it!

MR: Your track "Free" is a breakup song. Can you go into the details?

HR: Actually, this is the only tune that I picked up while I was touring, and it's the only song on the record that I did not co-write. I simply picked it out of dozens more, and it just stuck out to me. You know, it's an empowering, mature way of going about a breakup, and it's a nice way of saying, "As much as I care about you still, I figure the way I can be happy is if we break this thing off."

MR: Have you personally ever had that kind of a relationship?

HR: Yes, several of my relationships feel this way. There are still so many things I adore about the person, yet something about it is bringing me down, and I have to break free from it.

MR: Now, in the "Free" video, you have said dude that you're breaking up with in the background. Why would one break up with said dude? In other words, did you have a story line going through your head when you were singing this?

HR: Yeah, well, it was really cool to be able to set the tone for the video as far as the '50s style diner and the attire as well as the storyline. You know, I didn't want to have this boy being fully aggressive and angry about what's happening. I wanted him to just be able to listen, although it tears him up a little bit. I like the whole mature factor about a breakup.

MR: Right. Now you performed this song on American Idol recently, didn't you?

HR: Yes, yes I did a couple weeks ago.

MR: What was it like returning to the set?

HR: Amazing. I mean, it's a whole brand new stage set, but the people are still the same, so it was really cool being able to reunite and meet the new contestants, and it was very nerve racking. You know, I just kind of jumped back into this threshold of stress, in one light, but at the same time, it was my own material, you know, the song I'm coming out with, and to have everybody stand behind me and be proud of me for how far I've come was just an amazing feeling.

MR: And wasn't it great to not have to compete?

HR: Oh yeah, you know it was! (laughs)

MR: And you had a television cameo on the CW's 90210?

HR: Yeah, that was really nice of them. They could have only put two seconds of the song, but they really showed it for a while, so that was very nice of them. And I got a little acting in there, even though I was playing myself with scripted lines and all. It was a cool experience. I absolutely love acting, almost as much as singing, so it's something that I'm very much interested in doing more and more in my career.

MR: Haley, how do you go back after acting? You have to have the bug now.

HR: Yeah, really. I mean, I've grown up doing improv and different kinds of monologues and different roles, so I think that as soon as I can establish myself, when the timing is right, I would really love to get more and more into it.

MR: Your new album, Listen Up!... Like you said before, there's one song you didn't write or co-write, but you did write or co-write the rest of the material, right?

HR: Right.

MR: How would you describe the feel of the album?

HR: It's very retro, yet it has this modern twist to it, so you'll hear different elements of soul, R&B, kind of a new wave Motown feel, and some rock in there. As far as vocals, it has all that and a little bit of a jazzy flair on them. It's just all the stuff that I really, really enjoy myself, and I've just kind of made this marriage between all these different genres and created a sound of my own, which I haven't made up one word to describe yet. That's as much as I can tell you.

MR: Haley, I have to ask you, what was it like singing with Tony Bennett that night on American Idol?

HR: Yeah, please! I mean, I've grown up with Tony in my house on my record player, spinning everything including the Christmas album. It was just a dream come true, even more so for my family, and now, each day that goes by, I'm more and more appreciative about it. He was such a cool, cool cat, and it felt natural. It really, really did.

MR: Haley Reinhart, a couple years from now. Predictions?

HR: You know, it's crazy to say that I just turned 21 while I was touring. That was a tour all the way out to the Philippines and all over the States, and I've performed with Tony Bennett. All of my dreams are coming true as we speak. I've met legends that I've been waiting to meet my whole life, so I'm really where I want to be right now. I can only imagine, I just see it going up from here, and I'm excited to see what the future brings.

MR: You're working pretty hard, aren't you.

HR: I'm working my tail off right now! Yeah, I'm doing promotional touring day-in, day-out, full days. I'm exhausted, but it's exactly what I need to do right now, and I have people really listen up and hear me and hear the music that I've created.

MR: And that title, Listen Up!...you really mean it.

HR: I do! I want it to stand out and have people listen to it as a bold statement.

MR: Since you're working so hard and playing all over, how often do you get back to your native Illinois?

HR: Actually, luckily enough for me, I just went back home for Easter. I miss family. I miss my friends. It's been a really long time, and the most I get to go home is only for a couple days, so I had about four or five days at home, and I'm a happy girl. It was really cool to be able to go home, show everybody my material, have them all dig it, and really just be able to let loose for a little bit.

MR: Nice. Listen Up!'s deluxe edition has this display flip-book thing as well as this sort of vintage postcard theme going on.

HR: Yes, yes! The original album is ten songs, and then the deluxe is fourteen. I highly recommend the fourteen because there are some really, really cool tracks on the four left. As far as the fan booklet, it's all different kinds of postcards. There are behind the scenes shots--very vintage looking. We turned them into postcards. I wrote a couple lines each about each song, a little behind the story, behind the scenes stuff. Some of it is even really personal. Well, it's all very personal to me, and there are even some shots of places that I've been to all over the world, so I hope everybody enjoys it.

MR: What is your future touring going to be like in support of the album?

HR: For now, I'm bouncing around city to city every day. As far as the future, we're waiting to see who's the best match up for me, but as far as I can tell, as long as I'm performing live for crowds, it's going to be great. I have a wonderful band behind me now that I've chosen wisely, so I can't wait to do this.

MR: You're just living the dream right now.

HR: (laughs) Yeah, I know! You'd think it's all easy-peasy, lemon squeezy. I try telling all my friends, as much as my dreams are coming true, it is a lot of hard work, so you'd better believe it! (laughs)

MR: Since we can put the word out there right now, who are some performers you would like to tour with? Does anybody come to mind?

HR: There are some upcoming people that we were checking out--even people like Mayer Hawthorne--just different acts that have a very retro feel to their music that I feel like I could mesh with. Right now, it's all a matter of who's actually going out on tour, and I really hope that it's somebody that I mesh perfectly with, you know?

MR: I have to ask you, even though you're at the beginning of your career, what is your advice for new artists?

HR: I would say there's going to be a whole sea full of opinions, a sea full of eyes and ears that are watching and preying on you and betting on you and all of that kind of stuff. But when you want to come back down to the roots and the grand scheme of things, you have to be able to take it all in, not go crazy, keep your feet on the ground and your head on your shoulders, and go from there and do what you know is best for you.

MR: What do your friends and family think about what's going on right now?

HR: They're 110% behind me. My parents are now living vicariously through me, and it's something that they've always wanted. But they've been content with living their passion, seeing it through, and playing for their whole lives. So me being able to do this now is just a dream come true for the both of us.

MR: Beautiful. One thing we need to know about Haley Reinhart...got one?

HR: That's like the hardest kind of question! (laughs) What do you want to know?

MR: Anything you want...your favorite color is blue, whatever. (laughs)

HR: Right. Well, my hair is straightened today, so I can do different things with it, even though I like to have it curly most of the time. (laughs)

MR: There you go! Okay I will badger you no longer, and I wish you all the best for your future and with your new album Listen Up! I really appreciate your time here today, Haley.

HR: My pleasure! Thank you, I appreciate it.
Tracks:
1. Oh My
2. Free
3. Liar
4. Wasted Tears
5. Undone
6. Now That You're Here
7. Wonderland
8. Keep Coming Back
9. Hit The Ground Runnin'
10. Walking On Heaven
11. Follow Me (I'm Right Behind You)
12. Spiderweb
13. What You Don't Know
14. Let's Run Away
Transcribed by Kyle Pongan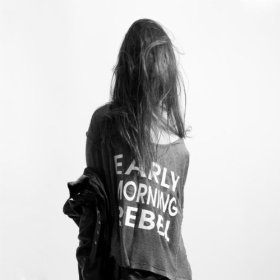 A Conversation With Early Morning Rebel's Nathan Blumenfeld-James
Mike Ragogna: Nathan let's get the backstory on Early Morning Rebel.

Nathan Blumenfeld-James: My partner and I, Dustin Bath, we've been playing music together here in Los Angeles and producing other bands and other records for a while now, and about eight months ago, we decided to start a new project and kind of the foundation and catalyst for the project was to be really creative and inspired by what we were doing. We really wanted to be surrounded by what we're inspired by. We really wanted to immerse ourselves as we were already immersed in the fashion and the art world and the photography world. We shoot our own videos and produce our own records and record everything ourselves. It was really a labor of love project just to spark more creativity in our lives. We started about eight months ago and it's been really great.

MR: You mention about fashion and photography, can you go into that a little bit? What are the origins of all that?

NBJ: Dustin and I have been surrounded by the fashion world, by the photography world, by the film and television world pretty much our whole lives growing up here in Los Angeles. The fashion world has been a huge inspiration for us--a lot of designers and lines, we are inspired by. For us, the marriage between fashion and music is very obvious. There's something that makes a lot of sense, how much fashion influences music and music influences fashion. We really just wanted to surround ourselves with these creative people, these artists, and let each other's work inspire each other and create a community around that.

MR: Who are some of the people that you've been associating with?

NBJ: Out here, we're really connected with the photographers and a lot of models and stuff like that. We just came back from London about a month ago where we attended about 15 shows or so, hanging out with a lot of the up-and-coming designers in London from Francesca Marotta to some of the bigger named stuff. A lot of the stuff that really gets us going is the up-and-comers who are taking a lot of risks, who are not afraid to be avant-garde and really expressive with their work.

MR: Do you see a wave of that happening? I'm personally noticing things shaking up a little bit in the status quo.

NBJ: Absolutely. That was the basis of why we started this project. We wanted to do something that was a little bit out of the box; that felt like something that we would listen to and be inspired by. The fashion world is such a form of express. When you put on a piece of clothing, you really feel something, or when you see someone in something, you really feel something. You get inspired by other people's garb. Hopefully, it'll continue to evolve and people will see the potential of that expression. We're going for the more art side of the fashion world that we love.

MR: The song "Lifeboat" from your EP was in Grey's Anatomy.

NBJ: Yes, it was.

MR: Did you catch the usage of it?
NBJ: It was in January. It was an amazing usage, they're notorious for how well they use music and their taste in music. It was a really amazing usage. It really complimented the scene and was a brilliant moment for the song.

MR: Now, the song is about a person going through a sort of self-destructive period, and you're basically trying to be the "Lifeboat" there.
NBJ: There's hopelessness to the song, and at the same time, there's an admission. But there's a dark quality that you can't save this person.

MR: And yet you still want to reach out and try, huh.

NBJ: Absolutely.

MR: Your other track, "Find An Easier Way." What is that about?

NBJ: Originally, when I wrote that song, it was about finding an easier way to deal with the fact that I can't let this girl, this person, go. It's a pretty quintessential love song. It's a heartbreak song at the end of the day where I'm holding on to this thing that I'm not going to be able to let go. I think we've all been in that place, where we're chasing this person and they may be turning their back and we just can't let it go.

MR: What's the percentage of that happy ever after really working when you can't let go? How do you feel about that?

NBJ: It's obviously a life journey that we all have, our own experiences. It takes what it takes and I think a lot of experiences are huge growth experiences. I think those are very powerful moments in people's lives where they learn how to let go. Or they look back in hindsight and realize they were clinging on to this thing that was doomed.

MR: And that can extend. It could be anything--people you know, relationships, not just romantic, eras of your life that you're seeing fading away...

NBJ: It could be as deep as that or just a material possession you're clinging onto. It's that kind of clinging vibe and knowing that it's temporary but not being able to let it go.

MR: In music, who are some of the acts you've worked with?

NBJ: Here in LA, I've produced stuff for up-and-coming alt country to hip-hop and a lot of my own records. We've worked with Mark Hoppus in Blink 182 to up-and-coming rappers. We collaborated with a friend who is now in M83. It really runs the gamut.

MR: Your collaborating with other artists must leave some remnants. Do you find yourselves incorporating things from acts you've worked with?

NBJ: Each time you do a record or write a song, you build something. It's that old saying that you put ten-thousand hours into something before you're a master at it. Each moment is just another learning experience, another building block to becoming the artist or the person you want to be. Each time we jump in the studio, we become more efficient. It's another milestone and another investment into our creativity.

MR: What is your advice for new artists?

NBJ: It's kind of a Wild, Wild West out there in the music industry right now, and no one really knows what the formula or the new model is going to be. I think, as an artist, the most important thing is to just do stuff you believe in. You really have to believe in it. However, that takes shape that's the most important thing. No one is going to believe in something more than you. Perseverance is 75% of it for me; continuing to fight, and a lot of it is uphill and it's hard.

MR: What song or songs do you feel encapsulate the spirit of Early Morning Rebel? Are there any more that especially resonate with you?

NBJ: I really feel like "Find an Easier Way" has a real EMR, as you would say, feel to it. (For the album), there's a song called "Burn Us Down" that's going to be on the record, and we're finishing up some other songs as well. You never know until it takes shape, but I feel like each song encapsulates what we are as EMR.

MR: You're taking off in Britain right now.

NBJ: We're really grateful to be going out there and having gone to Fashion Week and getting so much great reception out there. It's been really cool to go out and experience that.

MR: You full length album will be released in the Fall. Beyond that, any predictions as to where EMR is headed? Tours? What's the game plan?

NBJ: We're fortunate enough to have our own studio, so we'll be putting out tons of content, some remixes, videos. We're hoping to jump on a tour, we're looking to supporting a few acts. Definitely will be in the UK touring early fall and then probably back in the US for tour.

Tracks:
Lifeboat
War On Love
Lifeboat -- TC Spitfire Remix
Transcribed by Brad Taylor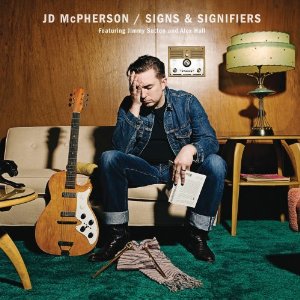 A Conversation With JD McPherson and Jimmy Sutton
Mike Ragogna: JD, your new album is titled Signs & Signifiers.
JD McPherson: It's a little bit of a tongue in cheek nod to art school pretentiousness I guess.
MR: (laughs) You were an art school student?
JDM: Yeah, I got a Bachelors Degree in Media Art and graduate Masters of Fine Art in Open Media, which was like weirdo art.
JDM: I experimented with film, video. I also did some sculpture and painting. I think I'm the only person in the world that has graduate credit hours in card magic as a fine arts.
MR: (laughs) So you incorporate magic into your live shows.
MR: Okay, let's get Jimmy Sutton, producer and uber-musician in here. What do you think of this new album Signs & Signifiers.
Jimmy Sutton: It's the best album I've ever heard in my whole life! (laughs) I'm pretty happy about it and I think we're pretty proud of it too. It seems like when I started working with JD about three years ago, we've been on the same page and everything has just fallen into place. So on top of the end result, it's also been a really great experience, and I truly mean that. The recording experience was wonderful and I think that really added to the whole album. When we were recording the record, this was the first time that I've ever recorded and walked into a control room and heard immediate results, because we're recording pretty much live to quarter-inch tape. It's a studio that took me eight years to build in my attic.
MR: You're mixing down to a quarter-inch tape, but did you also use tape as the medium with the multi-tracking?
JS: I built a studio like some guy in 1960 who decided to build a studio in his garage. That's the equipment I have.
MR: Do you have a Studer?
JS: Actually, what I have is just a bunch of mics, mixers, and I recorded on an old machine, a radio-broadcast quality. It's kind of like the classic Ampex 350, which are all our favorite old recordings and rock 'n' roll was made on early on. We would also record straight to the tape and then it would immediately bounce down to a computer. We did use a computer as a tool, so we were able to layer it. But it wasn't like multi-tracking, we did the bulk of the band and then we would layer some backup vocals and percussion at the same time to keep things very alive.
JS: Yeah, almost as if we were working on an Ampex tracking machine.
MR: So you attribute the band feel to it, that process?
JS: Yes, it definitely forced us to perform to the environment that we were in that week.
MR: JD, how do you see this project as a whole, how did these songs come about?
JDM: First, I had a couple of songs in my pocket and then I'm in that pressure situation where I can't really produce unless there's an intense amount of pressure that gives me ulcers, staying up late in the studio after having bought a plane ticket to Chicago, not telling Jimmy Sutton that I'm out of songs so I'm staying up all night writing songs. Most of the stuff was coming straight out of traditional rock 'n' roll and R&B music, but after a certain point, Jimmy and I were talking, "Hey, I like the Pixies, I like Wu Tang Clan, I like this kind of stuff." So those influences started subtly creeping into the recording and songwriting process, and that's when you start getting a couple of weirder songs like "A Gentle Awakening" and "Signs And Signifiers," the title track.
MR: Can you go into the story of a couple of songs?
JDM: "North Side Gal" was one of that I had previously written and I was almost like a slow ballad-y blues shuffle. Drums start that record, that's the grabber. But it's just about a cruise around the neighborhood, an unrequited love type of thing.
JDM: It could be a story. (laughs)
MR: It could be one of many stories?
JS: He's holding back, but that's good.
JDM: The trajectory of that song is a mystery to everybody, we're keeping that one close to our chest. Yeah, that's a story for sure.
JDM: That is "Big Gold Mine of Sweet Rock 'n' Roll." That was an on-the-spot recording, like, "Man, we need a New Orleans R&B on this thing," so that's just a bunch of gain vocals and bouncy, professor long-hair feeling to it.
JS: The title track was a little long, so me being the label guy and designer, we needed to do something about that. That's where the initials came from.
MR: Who are your influences?
JDM: Everyone from Irma Thomas to Little Richard to Joe Strummer to Billy Bragg, Bo Diddley, The Pixies... I love all music. All music is sacred, and it all comes from the same place and it's just there is so much good music out there. But what really gets me excited is R&B and black rock 'n' roll from the 1950s and blues based stuff.
JS: Yeah, black rock 'n' roll, gospel, late '70s punk rock, rock 'n' roll, The Ramones...huge. I think that was my first rock concert, so I think we're on the same page in many ways. But I've learned a lot from JD.
MR: JD what is your advice for new artists?
JDM: I can't say that this template would apply to everybody's situation but we were able, through a lot of playing, hard work, and building the studio over time, to keep the work 100% in-house. I think that it's really important to stay independent and keep control over what you're making and do as much as you can yourself. If you do it and you keep the quality up, people will start to listen to it as we have discovered.
JDM: Yeah, don't lie. Write songs that are relevant to you and the time. Use what technologies you have available, be pragmatic.
MR: Jimmy, what would you say, what advice would you have for new artists?
JS: I interjected "don't lie," but it's really important. Don't lie, do things that are relevant to you. Look at every great painter that's out there. There's this saying that says you have to paint 400 paintings before you're really considered an artist. But in a way, I jive with that because everybody has all their influences. We're influenced by our parents, that makes up our personalities.
JDM: "You're just like your father," we've heard that how many times?
JS: Also as artists you pick influence here and there, that makes you unique because not everybody picks up on the same influences. There are so many variables that make up who you are. I think, to be honest to those, let them in, embrace them, go with them, run.
MR: So what about 400 songs before you consider yourself an artist?
JDM: Well, I broke that a little.
MR: (laughs) What's the future looking like for JD McPhearson?
JDM: We're just excited that things are happening with this record. We're having an absolute blast playing shows around the record and running with it, making work, making videos, talking about things, talking about how things and how they look. We just signed on with Rounder Records with is a great boon to us. In Europe, Universal is releasing it on the Decca label and things are going great over there. Then we're talking about recording again soon and just seeing where it goes.
JDM: Don't buy pointy guitars.
JS: Don't buy pointy guitars and don't start playing the acoustic bass. This thing is hard to carry around sometimes, I'm dying!
MR: Thank you again for talking with me guys.
JS: Thank you, we appreciate it.
Tracks:
1. North Side Gal
2. Country Boy
3. Fire Bug
4. Signs & Signifiers
5. Wolf Teeth
6. Scratching Circles
7. A Gentle Awakening
8. Dimes For Nickels
9. B.G.M.O.S.R.N.R.
10. I Can't Complain
11. Your Love (All That I'm Missing)
12. Scandalous
Transcribed by Narayana Windenberger