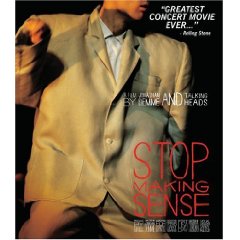 Interviews With Talking Heads Jerry Harrison & Chris Frantz
This year being the 25th anniversary of the release of the Talking Heads' concert classic Stop Making Sense, a new Blu-ray version of the Jonathan Demme-directed flick was prepared that includes a refurbished film transfer, new 5.1 sound, and a few interesting extras. Among them is a clip of David Byrne interviewing himself (with wardrobe changes including the "big suit"), and storyboards with multiple viewing choices. Talking Heads Jerry Harrison and Chris Frantz gave some quick insights and reflections on the cult favorite.
Mike Ragogna: How do you feel about having a 25th anniversary Blu-ray edition of the movie?
Chris Frantz: I'm very pleased to still be able to enjoy it! Who knew that the movie would have such a lasting impact, and I'm very pleased that we made it in the first place. Not only does it hold up very well, but I would say it's a really good work of art.
MR: Everything about it seems to be from an artistic angle.
CF: Well, the first band David Byrne and I had together was called The Artistics, and we kind of tried to carry that concept through to Talking Heads. The amazing thing about the movie is that everybody did such a wonderful job on it, and not only the music. The performers are fantastic, but our Talking Heads crew and the film crew were like Trojan warriors. They held up for three days of shooting, and they did a wonderful job.
MR: One of the most beautiful things about Stop Making Sense is how it builds with a minimalist approach. How scripted was the show in order to pull off the vision?
Jerry Harrison: Well, the set was the same every night, and what you see in the film is really what we performed every day. There wasn't anything done in particular for the film other than there was a terrific director of photography who added lighting to what we had as our normal stage lighting. But the basic look of it with the rear slide projections, that was all done every night, as well as the stage being built by (the adding of) musician after musician.
CF: The director of photography, Jordon Croneweth, was fantastic. We had been very impressed with his work in the movie Blade Runner.
MR: That build is the thing that many people, at the time, said that was what they liked best, how the film never stopped drawing you in.
JH: I agree. I think that one of the things--I really would give David credit for this--was that it was done with "simple tools," so it doesn't have a particular technology dating when we made it. Like if you go to big concerts now, they're going to be very defined by the current state of the art in video projection technology. You're in L.A., did you get to see U2 in the Rose Bowl?
MR: Yeah, loved it.
JH: It was fantastic, and the video screens were just amazing. But if that's going to be filmed, that video screen sets the concert in this time period as opposed to, say, five years ago when a U2 tour or any tour showed there was a certain possibility for technology. Stop Making Sense, I would say, is kind of timeless. Its technologies are something that were largely available in the 1920s, with the exception of the rear screen projection. It all has a very analog feeling with basically slides being projected. And because of that, there's nothing that seems to be rooted in a particular technology of the time period, and therefore, it gives it a more timeless and long-lasting power.
MR: Right, including the costumes that, though they may reflect a time period themselves, weren't a new technology, just good ol' staging.
JH: Yes, and that was very deliberate. Now with the Talking Heads, we always wore clothes that looked like we could be caddies on a golf course. We were deliberately trying to not have those kind of things be so flamboyant that they took away from the music and the simple artistic statement.
MR: How did you decide what would be captured on film from your concerts?
CF: Jonathan Demme's girlfriend at the time was named Sandy McCloud, and she was a filmmaker in her own right, and is to this day. Jonathan was busy doing some other movie called Swing Shift with Goldie Hawn, so he wasn't able to go to all the shows. But prior to the shooting, Sandy McCloud must have gone to twenty of our shows, and she took quite extensive notes on direction, like who does what at different times during the set. She was able to convey that to Jonathan who was then able to direct the cameras. One great thing about that movie is the shots are very long. The camera lingers on the different performers to the extent that you really feel like you're getting to know the people. That was quite different than many other concert films that were the visual equivalent of a tossed salad where there's a lot of fast cutting, and a lot of close-ups of people's fingers and stuff like that. Stop Making Sense is quite the opposite, I think.
MR: Even the editing seemed to be minimal, giving it a real graceful flow.
CF: I think you're right about that. The editor, Lisa Day, did a wonderful job. Like I said before, everyone involved did great work, from the cameras to the editing to the sound recording. You know, that was one of the first films ever made with digital recording.
MR: What are your favorite group performances from the film?
CF: There are so many favorites to chose from, but I'm especially fond of "Take Me To The River." That's one of those songs that you never get tired of playing. It was written by Al Green, and it's the only song Talking Heads recorded that we didn't write ourselves. I'm really glad we did it, it's a genius song. It's religious in a really transcendent, gospel way, and it worked really well at the end of the set there. And, of course, I love "Genius Of Love." The guitar player, Alex Weir, said to me once, "You know, my people come to the show to hear 'Genius Of Love.' That's one of the high points to me. And I've got to say, the song "This Must Be The Place (Naïve Melody)" is to die for it's so good.
MR: The inclusion of "Genius Of Love" was a nice nod to the Tom Tom Club side project.
JH: Well, there are a couple of things about that. "Genius Of Love," of our combined work, was one of our most successful songs of the time. It seemed that it should be included. And it gave David a chance to change into the "big suit."
CF: Yeah, David needed a chance to change into his "big suit," that's why we did it. In 1983, the song was still huge in all the clubs and all the basketball courts across America. And it was a real contrast to the rest of the set. I know that critic Pauline Kael was kind of harsh about it, she felt it didn't work with the rest of the set. But I thought, on the contrary, it's like a little vacation in the middle of a Talking Heads set. It was a little sorbet.
MR: How involved was the band in the Blu-ray reconstruction?
JH: I was the one who was the most involved, mainly by just checking it out, and asking questions. Jonathan Demme and I got advanced versions, so I went through it comparing it to the DVD, both for sound and picture.
MR: So you were included after the fact.
`
JH: I wished I'd been involved from the very beginning because, with ET Thorngren, we did all the remixes of all the Talking Heads albums in 5.1 that were put out on DVD audio. So I would have actually thought it would have been thrilling to remix it, although I don't think there would have been room to have multiple formats.
MR: Technically, it's in 5.1.
JH: Yeah it's got two 5.1 mixes of the stereo mix, and it's in DTS 96 which is great, but I had some questions in what they had done in the sampling rate. No matter, it still sounds much better, so it's a big improvement and it's great.
MR: So you feel there was a significant upgrade in the audio as well as the video?
JH: With the new dolby and DTS formats, you have something that's comparable to what DVD audio or SACD was. Potentially, it's a wonderful new world of home entertainment, you know? I think we live in a world where everyone's become so obsessed by the convenience of listening to things on their computer and iPod. There are friends of my kids, they talk about how many songs they have rather than how good the songs sound. I think people have a tendency to go for ubiquity rather than quality, so they don't care that they have highly digitally compressed versions. So, it's exciting for me to have something like Blu-ray where it's all about trying to raise the quality, and I wish there was more of it.
MR: Who was the force behind it coming out on DVD initially?
JH: It was me that put it together to come out on DVD earlier.
MR: Jerry, you oversaw the initial element transfers?
JH: That's right. And Jonathan got involved with the picture, and I left that up to him. But the deal was the result of a friend of mine, David Beal, who was running Palm Pictures, then I put the whole thing in motion. Then David (Byrne) and Jonathan and a whole bunch of people got involved.
MR: How would you rate Stop Making Sense with the rest of the Talking Heads catalog?
JH: I would say that if no one had heard of the Talking Heads, it would be the first thing I would point them to because, with the exception of the later records, it's very singular. As great as our records are, I think our performances often raise things to a higher level. That being said, thinking back, I think Remain In Light will probably go down as the most original album we ever did. I think it changed the way people thought about making music.
MR: When you watched the final cut back in the day, did the band and Jonathan sense this was going to be one of the great rock films?
JH: Yes. One of my goals when we did this was to do something that rivaled The Rocky Horror Picture Show, which a theater would start playing at midnight every week on like Saturday night. And it actually did that, it was one of the reasons why it was so important not to insert any interviews because they break the flow of concert movies.
CF: It was very popular in the art film circuit, and also in any theater near a college campus. I was just told by some friends that it was shown late at night in an IMAX theater in Chicago. I would LOVE to see it in IMAX!
MR: Were there endorsements from the art community?
CF: I know that the magazine Art Forum has featured it a few times as something that they highly recommend. It's a VERY serious art magazine, you know? I know that critics James Walcott and Pauline Kael were crazy about it.
MR: Twenty-five years later, what kind of impact do you think Stop Making Sense has had on the rock world?
CF: After we did that movie, a couple of people in rock 'n' roll decided they wanted to make a movie too. Theirs didn't fare as well as ours did. (laughs) If you don't have the songs and you don't have the performances, you can just forget it.
JH: Frankly, I don't think it's been surpassed. I think that, really, The Last Waltz and Stop Making Sense hold up as films that people keep coming back to. It's not that there haven't been some other great movies, like I think the one Scorsese did with the Stones was a terrific rock movie. But nothing's come along that just draws you in more. It is very exciting to have it in Blu-ray, where if you have a good 5.1 system, you really can have a more theatre-like experience than you ever could before. It's really, really satisfying.
MR: So what will Stop Making Sense's place be in rock history?
JH: I'd like that it could make as much money as that movie about Miley Cyrus, but I don't think it's going to. (laughs) But I do think it will just continue being one of THE rock performance movies.
MR: What do you think Talking Heads' legacy will be?
CF: My feeling is that it was a wonderful group and I'm so glad that we actually managed to pull it off. Talking Heads was really remarkable in many ways, especially in the fact that we sort of rewrote what a rock band should be like. Great rock bands before us were like The Beatles, The Who, The Rolling Stones--bands that were a great influence on us. But we felt like those guys had already done such a great job at that, there's no way we can outdo them at what they do. So we came at the rock band thing from a different angle. Thanks to that, a lot of normal kids from the suburbs feel like they don't have to dress up in leather clothes and stuff like that in order to get their message across. Also, we were one of the few bands who could have artistic credibility and commercial success at the same time. We could really kind of have our cake and eat it too which was remarkable. Especially today, it's very hard to balance artistic ability with commercial success. You don't see too much of that.
An Interview With Singer-Songwriter Robert Francis
Mike Ragogna: Your new album, Before Nightfall, seems to capture some of the same desperateness as Bruce Springsteen's Darkness On The Edge Of Town because your characters' lives and relationships are challenged by the times. Are all these adventures based on a certain relationship or a few different ones?
Robert Francis: I think this record is pretty much based around one relationship, though I've gone through a few stages in my life where I've had many different girlfriends. But this one was the end-all-be-all that shaped why I think about things in such a different way, that's how I started formulating the songs.
MR: You use "darkness" as your theme throughout. Was that due to the nature of the relationship, or was it more about fighting personal demons?
RF: I definitely was bailing her out a lot, there's so much ground that it covers. A lot of the darkness is literal and metaphorical, but it mainly had to do with memories and how I remember things during that time when I was sort of abusing a lot of substances like alcohol. The way my mind gathers these memories is sort of in black and white. I remember how the night, that darkness, actually felt, waking up, and the way that the light would fall across different objects. So, a lot of it is about the feeling of that darkness.
MR: In the song "Darkness," you have the line "No one's gonna find you if you ever get lost this time..." which captures how dangerous it is to fall into society's cracks. And most of your songs have at least one or two lines that dig this deeply. With your material coming from personal experience, it seems like feel you've had an intense life.
RF: Yeah. Definitely, I was thinking about it the other day. It feels like I'm so young still, but I've been through a lot already.
MR: "Junebug" also is a powerful yet addictive song with still more very original perspectives on life. It's also pretty hooky, and your falsetto kills. Is this your single?
RF: I think iTunes is featuring it as the single. I think Atlantic wants to get the album out there first as a body of work before they do the label thing with a single. But I think when they decide to go there, yeah, that'll be it.
MR: You can hear snippets of a few classic artists on Before Nightfall. Who are some of your influences?
RF: There are so many musicians that I love but those that really inspired me where the greats--Dylan, Neil Young, and Townes Van Zandt. The way those guys made records is real rare. There are no fillers, all the songs are heartfelt. You could take any of their songs and they're great.
MR: Who else?
RF: Other people that I love? John and Beverly Martyn, Karen Dalton, Glen Gray, Alexander Spence. I loved The Band, of course. They made records, and that's what I want to do.
MR: You got your National guitar from Ry Cooder. What was it like having him as a family friend?
RF: It was pretty incredible. I read an interview with him the other day on how he'd sit in a room with the Reverend Gary Davis. You could give him a dime and sit in a room with him and watch him play. I remember reading that you had to be there with that person, it's not something you can just see "live" or watch on TV.
MR: Like being within the presence of the teacher itself to pick up on subtleties, unconscious communication, all that.
RF: Yeah, it was the same thing with me, sitting there with Ry, being that close to him and watching him play throughout my childhood. It's that energy and magic you can't get otherwise. It isn't having that "sound," since that can only go so far. You kind of get removed from space and time, and I would just be able to sit there and soak it in. It was something I was extremely lucky to have done. He plays like no one I've ever heard, and he definitely gave me a real firm understanding of what "soul" really is and how it can be expressed at a really young age. I never got confused or got in on the technical part of guitar playing; I was always searching for that "soul," and that's what I got from Ry.
MR: So feeling is the most important element of your writing process?
RF: Yeah. What'll happen is that something will come over me like a feeling of elation or sadness, whatever it is, and that will spring some sort of melody or idea. I'll probably end up writing the chorus before I write the rest of the song, and figuring out the verses lyrically is how I find a way to pinpoint what I'm singing about in the chorus.
MR: Speaking of Ry Cooder, he supplied the music for Wim Wenders' Paris, Texas, and you've said it affected you profoundly.
RF: When I saw that movie when I was young, it was one of the most inspiring (films) I'd ever seen. I knew right then that I had to pursue my dreams, and I think it made sense--how people need to be searching for something, though it's never really clear what that is. I wanted to figure out exactly what it was that I was searching for. So that's how I began to play music, to envision what I'm doing now, to get this dream together and follow it.
MR: And eventually, you traded a college education for your first record, right?
RF: Pretty much. I was trying to get through school, and couldn't do it. I just dropped out and hit the road pretty quickly with my sister's band playing bass. Then I made my first record.
MR: Did your family have your back when you made the decision to pursue music?
RF: Without the support of my sisters and my parents, I wouldn't even come close to be doing what I do now. If they hadn't been as supportive and raised me the way they did, life would be very different from the way it is.
MR: How would you describe your first album, One By One?
RF: The first record's real innocent, and so much has changed since then, though it was just three years ago. Everything's changed in my outlook on life, on human beings, and relationships. Even my voice has changed a lot since then.
MR: Was it centered around the same cast as Before Nightfall?
RF: Yeah, it was the beginning of that same relationship.
MR: So trusting in yourself paid off since your first album was well received.
RF: Right, it got great reviews.
MR: Then you hooked-up with Atlantic. How did that come about?
RF: After One By One came out, there was probably more interest coming from labels than fans, press, or anything else. I think there were about five record deals on the table, and I was going to go with one of them. But my manger called this A&R guy at Atlantic, Sam Riback, and he got it to him and asked if there was anything that we were missing, like was there a label we should be going to, general opinions. Sam heard the record and fell in love with it. He got it more than anyone else did. The label then pursued me, and I got to know them after a while.
MR: How did you land Dave Sardy as your producer?
RF: I was trying to produce the record myself, and the label supported me. They gave me money to build a studio in the desert, so the band and I went out and demoed these new songs. But when I handed-in the recordings, well, looking back at it, I did need a producer. I heard Sardy always wanted to do the record. I met him in London about two years ago when I was playing a show there for One By One. He was doing the new Oasis record at Abbey Road (Studios). His reputation as a producer was that he's pretty intense, he'd tell you if something's not right. And I wasn't interested in a producer who wanted to make it all comfortable and cozy, I wanted to be around one that was as serious as I was about making it. So, I met with him and began recording the record about a week after that.
MR: And you set-up in the studio like it was your home.
RF: Yeah, we really made it like that. I brought a whole lot of furniture from my house, and we did it in the same way we'd do it in my living room, real intimate and personal. It definitely was a lot of fun.
MR: Where do you see yourself five years from now?
RF: I hope to have at least four or five more records, to try to keep creating as much as I possibly can, and for the records to be as successful as they can be. There's nothing that I enjoy more than just playing songs for my fans and for people who enjoy the music. I'd just like to see that go as far as it could. I have no real plans on intentionally burning out or stopping, this is just what I love to do, and I've always loved doing it. Hopefully, it will take me to a place where I can settle down on a little piece of ranch property and get some old cars, sort of relax one day...
Robert Francis - Before Nightfall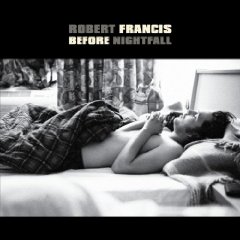 Tracks:
1. Darkness
2. Junebug
3. Nightfall
4. Climb A Mountain
5. I Like The Air
6. Keep On Running
7. Mescaline
8. Where You Came From
9. One By One
10. Hallways
11. Playground
12. Do What I Can
PRESS RELEASES DU JOUR:
JOHN MAYER ANNOUNCES "BATTLE STUDIES" TOUR WITH SPECIAL GUEST MICHAEL FRANTI & SPEARHEAD

MAYER'S NOV. 17 RELEASE TO BE CELEBRATED WITH LIVE CONCERT BROADCAST ON FUSE IN THE U.S. AND MILITARY BASES GLOBALLY VIA AMERICAN FORCES NETWORK

Today Show, Nightline, Late Show w/David Letterman, Ellen DeGeneres Show, The Jay Leno Show, Larry King Live Appearances Planned
(New York, NY - November 4, 2009) - There is no substitute to seeing John Mayer perform live and the release of Battle Studies later this month will kick off a North American tour beginning February 8th in Charleston, SC and feature special guest, Michael Franti & Spearhead (dates below). Tickets for the majority of dates are planned to go on sale to the general public on Nov. 21, with an American Express cardmember pre-sale window from Nov. 16-20. For those starting their holiday shopping early, a special offer on www.johnmayer.com allows fans who pre-order Battle Studies now through November 10th to access their own exclusive tour pre-sale to purchase up to 12 tickets before they're available anywhere else. Further information for on sale dates to be released soon on www.johnmayer.com.
Kicking off release week, Fuse today announced that their "Fuse Presents: John Mayer Live From the Beacon Theatre," broadcast will now be broadcast overseas to U.S. troops and their families by AFN, The American Forces Network, to reach those stationed in 175 countries and on 140 U.S. Navy ships at sea. Fuse, Madison Square Garden's national music television network and Madison Square Garden Entertainment have teamed up with the American Forces Network (AFN) - now Mayer's performance will air live on Fuse, in HD and SD, on November 17th at 9pm ET in the U.S. and will be simulcast live that night via AFN Radio. Additionally, AFN Television's "Spectrum" channel will air the concert on December 6, 2009 at 8pm and on New Year's Eve.

In addition to an intimate performance of his current single, "Who Says" on the Today Show on Thursday, November 19, Mayer has another special event up his sleeve with The Late Show with David Letterman. Mayer will perform as Letterman's musical guest, and then take over the studio for an extended concert for fans that will be webcast on Letterman's website. On November 19, Mayer will appear on The Late Show as a both a sit-in artist with Paul Shaffer and the CBS Orchestra and as the show's musical guest before performing a post-show fan concert, which will stream live and remain online through the beginning of the Battle Studies Tour. Other television appearances and special announcements are planned for December, including The Ellen DeGeneres Show, The Jay Leno Show and Larry King Live.
Battle Studies is the fourth studio album from the seven-time Grammy Award winning singer/songwriter/guitar player/producer and incorporates the warmth, melodies and simplicity of 70's and 80's California rock and pop. Battle Studies is a confessional, relaxed and liberated album recorded in a private home in California where Mayer lived and worked over the course of six months before wrapping at the famed Capitol Studios in Los Angeles. The album was co-produced by John Mayer and Steve Jordan and will be released on November 17th, 2009 on Columbia Records.
MAYER'S BATTLE STUDIES TOUR W/SPECIAL GUEST MICHAEL FRANTI & SPEARHEAD:
February
8 Mon Charleston, SC North Charleston Coliseum
9 Tue Birmingham, AL BJCC Arena
10 Wed Nashville, TN Sommet Center
12 Fri Auburn Hills (Detroit), MI The Palace of Auburn Hills
13 Sat Toronto, ON Air Canada Centre
16 Tue Ottawa, ON Scotiabank Place
17 Wed Montreal, QC Bell Centre
19 Fri Uncasville, CT Mohegan Sun
20 Sat Washington, DC Verizon Center
21 Sun Philadelphia, PA Wachovia Center
24 Wed Boston, MA TD Banknorth Garden
25 Thu New York, NY Madison Square Garden
28 Sun Grand Rapids, MI Van Andel Arena
March
1 Mon Milwaukee, WI Bradley Center
2 Tue St. Paul, MN Xcel Energy Center
4 Thu Omaha, NE Qwest Center
5 Fri Oklahoma City, OK Ford Center
6 Sat Houston, TX Toyota Center
8 Mon Austin, TX Frank Erwin Center
9 Tue Dallas, TX American Airlines Center
10 Wed New Orleans, LA New Orleans Arena
12 Fri Columbus, OH Nationwide Arena
13 Sat Louisville, KY Freedom Hall
15 Mon Greensboro, NC Greensboro Coliseum Complex
16 Tue Charlottesville, VA John Paul Jones Arena
17 Wed Atlanta, GA Philips Arena
19 Fri Memphis, TN Fed Ex Forum
20 Sat St Louis, MO Scottrade Center
22 Mon Kansas City, MO Sprint Center
23 Tue Denver, CO Pepsi Center
25 Thu Los Angeles, CA Staples Center
26 Fri San Jose, CA HP Pavilion
30 Tue Portland, OR Rose Garden
31 Wed Seattle, WA KeyArena
April
1 Thu Vancouver, BC General Motors Place
3 Sat Calgary, AB Pengrowth Saddledome
4 Sun Edmonton, AB Rexall Place
6 Tue Saskatoon, SK Credit Union Centre
7 Wed Winnipeg, MB MTS Centre
8 Thu Fargo, ND FargoDome
10 Sat Chicago, IL United Center
WEEZER INTRODUCES THEIR VERY OWN SNUGGIE, AVAILABLE TODAY

FANS GET A COPY OF NEW ALBUM RADITUDE AS BONUS GIFT WITH PURCHASE OF A WEEZER SNUGGIE

"THE BLANKET WITH SLEEVES" IS A NATIONAL SENSATION, WITH MILLIONS SOLD AND STILL GOING STRONG

Alternative rock band Weezer and Allstar Products Group, marketer and distributor of the Snuggie, America's favorite "blanket with sleeves," have joined forces to create the official Weezer Snuggie. It will be launched today and will bear the band's trademark "Weezer" logo. This latest addition to the Snuggie collection will allow fans of the band to stay warm while keeping their hands free to rock out. And rock out they will; fans who purchase a Weezer Snuggie blanket will also receive a copy of the band's brand-new album, Raditude, as a bonus gift.

The Weezer Snuggie will be available for $29.99 for purchase online. It arrives around the same day as the band's latest album, Raditude. This new offering sees the band trying a brand-new approach, choosing to collaborate with a wide variety of musicians, songwriters and producers. The result of this collaborative effort is a collection of songs that amplifies Weezer's musical trademarks- deep-digging pop hooks and raucous rock riffs- while at the same time breaking new ground for the band. Raditude features appearances by Lil' Wayne, Jermaine Dupri and even a host of traditional Indian musicians.

From the subtly ironic but club-worthy "Can't Stop Partying," to the gleefully lascivious classic arena-rocker "The Girl Got Hot," to the sleek electro groove of "I'm Your Daddy," to the slow-building, anthemic "Love is the Answer" and the clanking, Motown-flavored "(If You're Wondering If I Want You To) I Want You To," Raditude, like Weezer, is full of thrilling surprises. As lead singer Rivers Cuomo says, "It sounds like a roomful of people having a great time."

The Snuggie blanket was featured at New York Fall Fashion Week in September, where models graced the catwalk in some of the latest Snuggie designs, such Snuggie Wild Side in zebra and leopard print, Snuggie Soft Rose for breast cancer awareness and limited edition Snuggadelic Snuggie in funky tie-dye print.

The Snuggie blanket is more than a fun idea, impulse buy or kitschy TV ad; it is a truly innovative and ultimately functional product. It's made of lightweight, soft fleece that keeps people of all ages warm indoors and out, with large, roomy sleeves allowing for free movement. It answers a basic need shared by many - staying warm and comfortable while having hands free to do what you please - channel surf, snack, read a book... or crank up the volume on your favorite Weezer song.

CONGRATULATIONS TO COLUMBIA RECORDS ARTISTS WINNERS AT THE 2009 SOUL TRAIN AWARDS!

BEYONCÉ
Best R&B/Soul Artist Female
Song of the Year "Single Ladies"
Album of the Year

MAXWELL
Best R&B/Soul Artist Male

MARY MARY
Best Gospel Performance

The 2009 Soul Train Awards premiere on Sunday, November 29th at 9pm et/pt on BET and Centric
ROONEY TO RELEASE SELF-PRODUCED, LIMITED-EDITION EP, WILD ONE
BAND EMBARKS ON NATIONAL HEADLINING TOUR IN SUPPORT
L.A. five-piece Rooney is gearing up to release a new, limited-pressing EP, Wild One and will embark on a national headlining tour beginning November 27th at Los Angeles' El Rey Theatre, in support. Fans can get a first listen to Wild One as the EP will be available exclusively at these upcoming shows before becoming available at iTunes in early 2010. Only 5,000 EPs will be pressed.
Wild One was produced and engineered by the band, and features four brand-new tracks. The EP was mixed by Dave Trumfio (Wilco, Built to Spill and My Morning Jacket) and mastered by Dave McNair (Willie Nelson, Patti Smith.)
After signing with a major record label and working with some of the music industry's most esteemed producers since their inception, the band is proud to showcase this collection of songs they crafted entirely themselves. Rooney's latest offering features some of their best, most inventive and original material to date.
Rooney was signed to Geffen Records in 2002 after independently releasing a series of EPs and demos. They released their self-titled debut in 2003; shortly thereafter they saw significant success with single "I'm Shakin" and a cameo appearance on hit teen drama The O.C. The band has toured with a variety of superstar acts including Kings of Leon, Weezer and The Strokes.
Rooney is Robert Schwartzman (vocals/guitar,) Taylor Locke (guitar / vocals) Ned Brower (drums / vocals) Louie Stephens (keyboard / vocals) and Matthew Winter (bass).
Wild One track listing:
1. Suckceed
2. I Don't Understand
3. Wild One
4. The Days Keep Going By
Tour Dates:
11/27 - Los Angeles, CA - El Rey Theatre
11/28 - Pomona, CA - The Glass House
11/29 - San Francisco, CA - Slim's
11/30 - Eugene, OR - WOW Hall
12/1 - Portland, OR - Hawthorne Theatre
12/2 - Seattle, WA - El Corazon
12/4 - Salt Lake City, UT - In The Venue- Club Sound
12/5 - Denver, CO - Bluebird Theatre
12/7 - St. Paul, MN - Station 4
12/8 - Chicago, IL - House Of Blues
12/9 - Detroit, MI - Majestic Theatre
12/10 - Cleveland, OH - Beachland Ballroom
12/11 - New York, NY - Webster Hall
12/12 - Baltimore, MD - Club Stage
12/13 - Cambridge, MA - Middle East Underground
12/14 - West Chester, PA - The Note
12/16 - Atlanta, GA - The Loft
12/17 - New Orleans, LA - Tipitina's Uptown
12/18 - Houston, TX - Meridian
12/19 - Austin, TX - Emo's
12/20 - Dallas, TX - Granada Theatre
12/22 - Tucson, AZ - Club Congress
ALEC OUNSWORTH TAKES FLASHY PYTHON ON THE ROAD
ANNOUNCES DATES WITH COLD WAR KIDS
Anti-Records is proud to announce tour dates for Alec Ounsworth, whose new album, Mo Beauty, was just released. Starting with four shows opening for Cold War Kids, Flashy Python, featuring Ounsworth, Matt Sutton, Peter Modavis, Brian Ashby and Jonas Oesterle, will be playing songs from Mo Beauty, Flashy Python's debut Skin and Bones and Clap Your Hands Say Yeah's catalogue. The band gave their premiere performance at this year's CMJ Marathon.
Mo Beauty was recorded deep in the heart of musical New Orleans with an ensemble of local heavyweights including George Porter Jr. of the Meters and drummer Stanton Moore of Galactic, and was guided by veteran producer Steve Berlin (Los Lobos, Replacements). The album is a stunning union of powerful rhythms and imaginative arrangements in the service of evocative literary songwriting.
Praise for Alec Ounsworth's Mo Beauty has been strong:
"This sound is voluptuous and muscular, and it suits him well."- Pitchfork
"The Sharpest arrangements and best songwriting of his short career: Almost every tune on Mo Beauty equals or betters those on CYHSY's lauded 2005 debut." - Spin
"Ounsworth has crafted an album that transitions seamlessly from ballads to more frenetic tracks with a straightforward sound that lets the songwriting and hooks resonate without being over-produced." - Filter
"Strikingly compelling" - Relix
The dates supporting Cold War Kids are below. Flashy Python will be spending most of 2010 on the road. More shows will be announced soon.

January 2010
22 - Los Angeles, CA - Wiltern Theatre
23 - San Francisco, CA -The Fillmore
29 - New York, NY - Terminal 5
30 - Chicago, IL - Vic Theater